What Are My Rights When Buying a Car From a Private Seller?
If you've
bought a bad used car from a private seller
, you don't have a lot of recourse. Unless you can prove fraud. Let's look at the due diligence you should be doing to protect yourself—and what to do if it's too late.
While many states have lemon laws, these usually apply to car dealers, not private-party sellers.

Thankfully, you can take steps to protect yourself when buying from a private party. PrivateAuto offers vehicle history reports with all premium listings, and also has identity verification. These measures cut down significantly on fraudsters—but it always pays to be vigilant.
Are Private Car Purchases Better?
Buying from an individual can be a smart way to get more bang for your buck. Here are the advantages of skipping the dealership and buying from a private party:

• Dealerships charge documentation fees above and beyond all the other taxes and fees you have to pay (the other taxes and fees are exactly the same whether you buy from a dealer or a private seller, by the way). Documentation fees can be as high as $995.
• Dealerships usually have higher prices on comparable vehicles. Their business model is built around buying low and selling high to generate the spread that allows them to stay in business. To get the best deals, avoid the middleman and deal directly with private sellers.
• There are a lot more private-party cars for sale than there are dealership cars, so you have access to a much wider selection.
• Many private-party vehicles have been owned and maintained by the same person since they were new. A private seller may have a lot more insight into the vehicle's condition and maintenance history than a dealer does.

When you buy a used car from a private seller on PrivateAuto, you often get a better deal.

We admit that buying from a dealer provides a level of convenience that is not typically available when buying from a private seller. That is, after all, why we exist. We give you dealer-like convenience while also allowing you to transact with regular people like yourself.

Cutting out the middleman unlocks major savings. Our self-serve technology solutions—verified IDs, vehicle history reports, secure messaging, electronic docu-signing, instant fund transfers—give you dealer-like convenience in the palm of your hand. Buy directly from motivated sellers on your terms.

How Can I Avoid Vehicle Fraud?
When purchasing a car privately, be on the lookout for common scams such as faked vehicle histories, odometer tampering, or title scams.
Savvy buyers follow these protocols:
• Real-time
VIN
checks can surface reported accidents,
salvage titles
, or other problems
• Mileage analysis against vehicle records to detect odometer rollbacks
• Authentication of the seller's legal title and registration status
• Review of any existing liens or loans against the vehicle
• Do the transaction on PrivateAuto to take advantage of identity verification, instant payments, and other safeguards
• Vehicle history reports (included with all PrivateAuto premium listings)
Test Drive and Inspect
When buying a used car from a private seller, you have the right to test drive the vehicle and have your mechanic inspect it before releasing the funds to the seller. Test driving allows you to gauge performance, comfort, and identify any potential mechanical issues.
An
inspection
by a trusted mechanic can uncover problems like:
1. Leaks
2. Worn parts
3. Accident repairs
4. Damage indications
With PrivateAuto, you can schedule test drives directly within the app for added safety and convenience. Our sellers are verified for identity, so you avoid high-pressure sales tactics and scam risks. Take advantage of built-in test drive scheduling to evaluate motor vehicles on your own terms.
Don't finalize a purchase until you or a mechanic have given the car a thorough inspection. Use PrivateAuto's protections while exercising your right to confirm the condition before handing over your money.
Check the Odometer Disclosure
When purchasing a used car, be sure to carefully check the odometer disclosure from the seller. Inaccurate or tampered odometer readings are not only illegal but can greatly impact a vehicle's value.
Under the Federal Odometer Act, sellers must disclose the true mileage to buyers. If they misrepresent the numbers, it's considered
odometer fraud
, which is a criminal offense. This includes tactics like tampering to roll back the odometer or disconnecting it so mileage isn't recorded.
Always get a vehicle history report to check for odometer discrepancies and signs of tampering. Accurate mileage allows you to fairly assess the condition and value of a vehicle. Don't get duped by odometer fraud when buying a used car.
If you are not confident in your skills, have the records examined by your mechanic to ensure everything is legal.
Check Vehicle Documentation
Check your specific state laws to ensure you get all the
mandatory paperwork
when buying privately. This documentation is crucial to legally transfer ownership.
Here are some common documents that are typically needed:
•
Bill of sale
• Vehicle title
•
Registration
• Release of liability
• Odometer reading statement
• Proof of
auto insurance
• Valid state ID cards
• Inspection forms
What is PrivateAuto Pay?
PrivateAuto Pay
is the only safe, instantaneous, convenient, and contactless
payment option
for a used car transaction over $5,000. PrivateAuto Pay allows you to have escrow-like safeguards for free.
When it comes to buying and
paying for your car
, the benefits of PrivateAuto Pay include.
• Instantly move money from your bank account to PrivateAuto Pay and vice versa, 24/7/365.
• Secure transfers of up to $1 million from buyer to seller.
• No fees for buyer sending payment to the seller
• Payment transfers happen instantly, any time of day, every day of the year
• No exchange of contact information or banking info.
• Contactless payment reduces disease risk.
• Encrypted info protects your data from hackers.
• Saves money by eliminating the need for an
escrow service
• Peace of mind knowing you can pay immediately with no coordination needed.
• Conclude the entire transaction when you meet the seller for a test drive.
Private Auto allows you to purchase the vehicle quickly, safely, and easily. Protect yourself by choosing a secure, instantaneous, and convenient online platform.
If you've already found a car that you want to buy—even if it's not listed for sale on PrivateAuto—you can enjoy the power and convenience of
PrivateAuto's transactional infrastructure
to get the deal done.
Our
DealNow
feature allows you to skip the initial shopping and negotiation processes and go straight to the transaction.
Whether your dream car is listed on
Facebook Marketplace
or
Craigslist
—or is being sold by a friend of a friend, or being auctioned on a site such as
Bring a Trailer
—you can invite the seller to DealNow. You'll enjoy the advantages of PrivateAuto Pay and the PrivateAuto step-by-step transaction workflow.
What Do I Do if I Bought a Faulty Car From a Private Seller?
Buying a used car from a private seller does not come with many legal consumer protections. These are "as-is" sales, which means you don't have any assurances.
Most private sellers are not intentionally trying to scam buyers. They are regular people like you, simply trying to sell a quality used car.
The following precautions should help protect against the minority of fraudsters who are trying to pull one over on you:
1. Thoroughly
inspect any car
and test drive it.
2. Get a vehicle history report, which PrivateAuto provides with all premium listings, to uncover any salvage titles, accidents, or other events.
3. Purchase via PrivateAuto. We verify seller identities, which discourages outright scammers just looking to offload a lemon.
If problems do arise post-purchase, it does not necessarily mean the seller tricked you. It could be a coincidence. You can try to ask the seller to help with repairs, but you'll be at their mercy.
How Do I Buy a Car With Physical Cash?
Almost every private seller accepts cash for their car. Cold, hard cash is almost universally loved and is immediate (no waiting for a check to clear or a wire transfer to go through).
There are advantages and drawbacks to
paying cash
for large transactions.
PrivateAuto Pay has all the advantages of cash with none of the disadvantages.
If you buy a car with physical cash, here are the steps you'll go through:
1. Withdraw large sums of cash over multiple days, if banks even allow it. If you're doing this on the
weekend
, good luck!
2. Transport large quantities of bills, making yourself a target for theft.
3. Meet a stranger in a random location with no protection.
4. Spend what seems like an eternity manually counting and verifying stacks of cash under the burning eyes of the stranger.
5. Hand over the cash, crossing your fingers that the seller will sign over the title and not doublecross you.
6. Hope or pray if you encounter difficulties.
Forget the inconveniences of cash when you pay with PrivateAuto Pay.
Find your Dream Vehicle on PrivateAuto
Here's the PrivateAuto car buying process, and how we make it easier.
Browse used cars for sale
on PrivateAuto.
1. Make offers on cars you like (PrivateAuto is one of the only platforms that allows you to offer what you're willing to pay).
2. Message the owner and schedule a test drive without every giving out your contact info.
3. Meet up, inspect the car, and sign documents with the owner.
4. Send funds instantly.
5. Drive away with your new-to-you car.
6. Complete the
title transfer
and registration at your local DMV.
Looking to sell your car?
Create a listing on PrivateAuto
and connect with interested buyers today!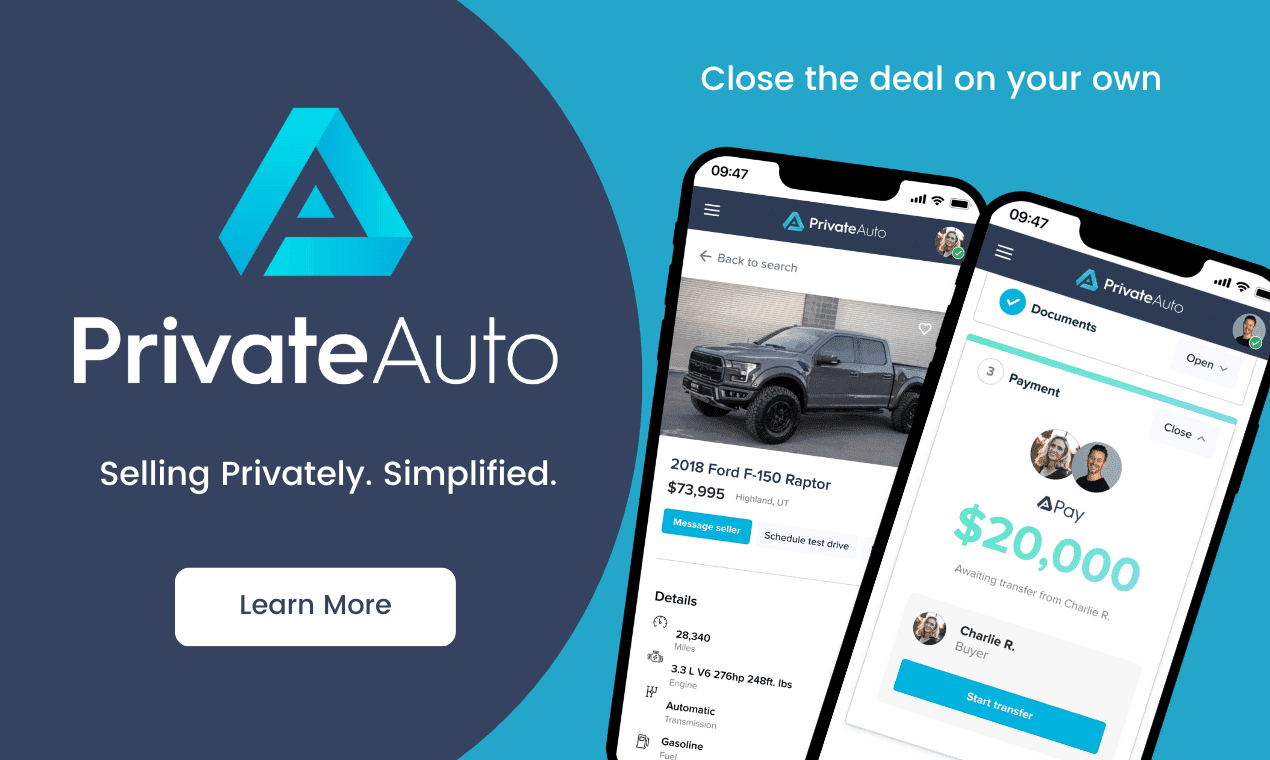 FAQ on Rights When Buying a Used Car From a Private Seller
---
Is it illegal to sell the vehicle without disclosing its problems?
In general, it is illegal for a private seller to intentionally hide or fail to disclose known major defects or problems with a used vehicle they are selling. This is considered fraud. However, it is often difficult to prove fraud and expensive to litigate.

1. Private sellers should disclose major issues like salvage titles, significant accidents, frame damage, faulty odometers, emissions system problems, or flood damage.
2. Private sellers generally don't have to provide a vehicle history report. However, knowingly providing false information if asked is illegal.
3. State "lemon laws" that provide consumer protection for defective vehicles usually only apply to sales by licensed dealers, not private parties.
4. Some states require private sellers to provide prospective buyers with a specific disclosure form documenting vehicle condition, accidents, etc. Failing to provide the form can carry penalties.
5. There is less transparency and recourse for buyers with private sales compared to dealer sales.

Private car sales are generally "as-is," meaning that the buyer has little recourse. That's why you should test drive and inspect the vehicle, as well as get a legit vehicle history report.

---
What if the seller didn't clear the title?
---
How secure is PrivateAuto Pay?
---
What to do after you buy a car from a private car seller?
---
When I buy a car from a private seller, can I drive it home?
---
Is paying with a check better than paying in cash?
---
How do I transfer the car title?
---
How do I register the car?
---
Does PrivateAuto offer payment plans?
---
How does PrivateAuto vet buyers and sellers?
---
Do I need an escrow service when buying a car privately?
---
What is the best place to buy a car from a private seller?
---
Popular Vehicles For Sale By Owner