7 Tips to Buy a Used Car Cheaply
When buying a used car from a private seller, avoid scams and buy smart to come out way ahead.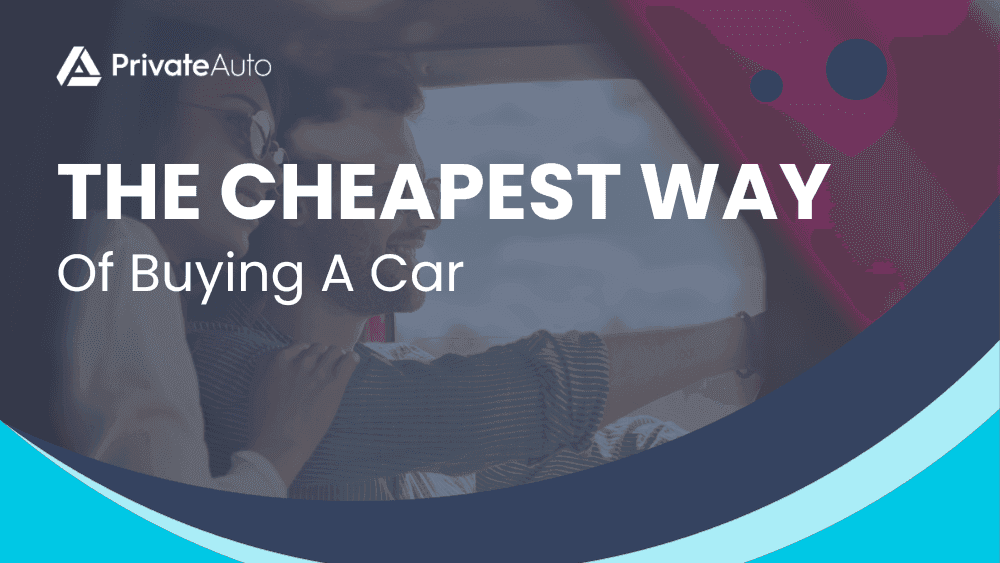 PrivateAuto offers revolutionary tools to help you come out ahead on your vehicle purchase.
Browse used cars for sale

by owner
and see how easy it can be.
Here are some proven methods that will get you the deal of a lifetime on your next set of wheels.
One: Buy Used Instead of New
Buying a used car instead of a new one can give you more bang for your buck if you shop smart.
Pros of Buying Used
Significant cost savings over new
Better value if you buy smart
Let the first-time owner take the biggest depreciation hit
Can get lightly-used so you still have a "like-new" car
Wider selection of models, colors, options—way more used cars for sale than new
Cons of Buying Used
No factory warranty, except on certified pre-owned
More wear and tear, higher mileage
Interest rates may be higher for used car financing
How Buying Used Can Save Money
Even though
used car prices have come down
from their all-time high, they are still quite high, historically-speaking. Still, if you implement all the tips in this article, you can often get far better value by buying used than you could by buying new.
Here are some things to consider:
1. Look for lightly used models that are 2-3 years old
2. Have a mechanic inspect before purchasing
3. Negotiate a lower price
4. Pay cash (digitally, of course, with
PrivateAuto Pay
) if you can
5. Consider liability-only insurance to save money
Two: Buy From a Private Seller
Many people believe that buying a used car from a dealer will save them money. Actually, going to a dealer is more expensive.

• Dealerships charge documentation fees above and beyond all the other taxes and fees you have to pay (the other taxes and fees are exactly the same whether you buy from a dealer or a private seller, by the way). Documentation fees can be as high as $995.
• Used car dealerships usually have higher prices. Their business model is built around buying low and selling high to generate the spread that allows them to stay in business. To get the best deals, avoid the middleman and deal directly with private sellers.

When you buy a used car from a private seller on PrivateAuto, you avoid the doc fee and get a better deal.

We admit that buying from a dealer provides a level of convenience that is not typically available when buying from a private seller. That is, after all, why we exist. PrivateAuto gives you dealer-like convenience while also allowing you to transact with regular people like yourself.

Three: Make Multiple Offers
PrivateAuto is the only automotive marketplace that allows buyers to make an offer on private-party used vehicles for sale. The seller can then accept your offer, make a counteroffer, or reject it outright.

Having the ability to negotiate on price directly with sellers gives PrivateAuto buyers more leverage to obtain a lower sales price. By casting a wide net with multiple offers across similar vehicles, you're more likely to get at least one accepted. PrivateAuto's offer feature makes no-haggle used car shopping easier.

Four: Pay Cash
Paying cash for a used car
can save you a bundle—if you can swing it. Financing a car can add thousands in interest over the life of the loan.
Paying with physical cash is inconvenient and potential unsafe, however. Good thing there's a better way.
Physical cash can be a bit sketchy, though, especially where large sums are involved. If you're a cash buyer, meetups with strangers can feel unsafe when thousands of dollars are involved. And how do you verify the legitimacy of the bills?
Here are some drawbacks to cash transactions:
• Trust: do you really know the person you're dealing with? How do you know they're not going to take your cash and run?
• Counterfeit cash: while counterfeiting is rare, can you prove to the seller that the bills are genuine?
• Counting bills: do you enjoy counting out stacks of bills under the watchful eye of a stranger?
• Paperwork: do you know how to do the bill of sale and title transfer for your state? Will you have a record of the transaction in case the seller wants to contest it?
What's Better Than Cash?
PrivateAuto Pay allows you to pay cash—digitally.
Actual dollars from your account to the seller's, instantly.
No security worries, no counterfeit concerns, no transfer fees, and no limitations on transaction size. Just a few taps and you can pay up to seven figures instantly and securely.
PrivateAuto Pay keeps what's best about cash and pairs it with 21st century convenience and security. Out with stacks of grubby bills, in with smooth digital payments.
But What If I Need to Finance My Car?
If you don't have $45,000 sitting around to buy that T
oyota Tundra
, we understand. Sometimes you need to finance a car purchase.
PrivateAuto offers integrated auto financing. This is hugely convenient, because you don't need to coordinate financing between a third-party lender and the seller. It all happens in the PrivateAuto app.
After a credit score check and approval, qualified buyers can have funds transferred into their PrivateAuto Pay account via a balance transfer between financial institutions.
Once financing is secured, you can instantly send money from your PrivateAuto Pay account to the seller's PrivateAuto Pay account. There's no need to coordinate with lenders or manage car loan paperwork.
If you're in the market, feel free to
get started with car financing here!
Five: Time Your Purchase Right
Properly timing your private party car purchase takes research, preparation, and strategy. But shopping when the car market is in a downturn could potentially save you thousands off the typical sales price.

1. If possible, delay your purchase until the car market is in a downturn.
2. Buy on weeknights or bad weather days. Fewer competing buyers improves your negotiation position.

Also, consider seasonality, vehicle type, and geography when timing your purchase. Here are some potential examples of timing these factors:

1. AWD/4WD vehicles in mountain regions. Prices are often lower in summer when there is less demand compared to winter months.
2. Convertibles in cold weather climates. The best deals on convertibles are in colder months, when demand drops.
3. Pickup trucks in the Midwest and South. Prices could dip in winter due to lower demand for trucks during farming off-season.
4. Sports cars in the northern states. The end of summer may have good deals, as enthusiasts are less likely to buy in winter.
5. SUVs and minivans near schools. Late summer is ideal, as parents have already purchased family vehicles for the school year.
6. Gas guzzlers when fuel prices rise. Lower demand for large SUVs and trucks when gas is expensive, so prices drop.
7. Electric/hybrids when gas prices drop. Higher efficiency models are less in-demand when fuel is cheap.

Six: Choose the Right Model
You want a vehicle that will hold its value well into the future while still having an affordable pricepoint. Here are some of the top used cars known for combining durability, affordability, and good resale value:
•
Toyota Corolla
. One of the most reliable compact cars available. Great gas mileage and low ownership costs. Holds value very well.
•
Honda Civic
. A longstanding, affordable, reliable compact car. Easy to find used models in good shape. Strong resale value.
•
Toyota Camry
. A proven midsize sedan known for dependability. Affordable to maintain. Retains value better than most in its class.
•
Honda Accord
. Spacious midsize option with reputation for longevity. Good bang for the buck that owners keep for a long time.
•
Honda CR-V
. A top-selling compact SUV with comfortable ride and versatility. Owners praise reliability and low cost of ownership.
•
Toyota RAV4
. Solid residual value for this popular crossover SUV. Reputation for durability, safety, and fuel efficiency.
•
Subaru Outback
. Rugged all-wheel drive wagon with loyal following. Holds value well and built to last over 200,000 miles.
•
Ford F-150
. Best selling pickup truck is known for its capability and longevity. Good selection of affordable used models.
The key is looking for mainstream models from brands like Toyota, Honda, and Subaru that are well-built, economical to own, and stay in high demand in the used market.
Seven: Choose the Right Platform
There are many
places to buy a car
, but most of them don't give you the transactional features to get the deal done safely, securely, and inexpensively like PrivateAuto does.
Here are some popular sites:
•
Craigslist
•
Facebook Marketplace
• PrivateAuto
•
Autotrader
• Cars.com
•
AutoTempest
There are tons of platforms for buying used cars online these days. But most don't provide the transactional tools to actually complete deals safely, securely, and affordably. As you choose where to shop, consider key factors like payments, protection, and convenience. PrivateAuto stands above
competitors
by offering unique benefits.
PrivateAuto is the only
transactional marketplace
that offers safe, instantaneous, convenient, and contactless payments. It's as easy as Venmo—but it works for payments up to $1M.
When it comes to buying and paying for your car, the benefits of
PrivateAuto Pay
include.
• Easily move money from your bank account to PrivateAuto Pay and vice versa. A balance transfer can be done 24/7/365 days of the year.
• Secure transfers of up to $1 million
• No exchange of contact information or banking info
• Contactless payment reduces disease risk
• Easy transfer of funds from your bank account into PrivateAuto Pay
• Verified funds keeps you from wasting time with sellers of cars you can't afford
• Encrypted info protects your data from hackers
• Peace of mind knowing you can pay immediately with no coordination needed
• Conclude the entire transaction when you meet the seller for a test drive
Private Auto allows you to purchase a vehicle quickly, safely, and easily from a private seller. Protect yourself by choosing a secure, instantaneous, and convenient online platform.
Found your dream used car somewhere else? Use our
DealNow
feature to fast-track a transaction with our infrastructure, even if you met the seller on another platform like
CarGurus
.
DealNow uses PrivateAuto Pay for payments and offers all the same conveniences, along with a fast-tracked deal flow. It not only bypasses the shopping, messaging, and negotiation steps, but it also saves money by eliminating the need for an
escrow service
.
How Do I Transfer the Car Title?
When you meet the seller to close the deal, they will
transfer the title
to you. You'll then need to complete the title transfer process at the DMV (or your state's equivalent agency).
A
bill of sale
is required in some states, but it is a good idea to sign one regardless, as it gives you written evidence of the transaction and the agreed-upon sale amount in case there's a dispute later on.
PrivateAuto automates the bill of sale by giving you an official bill of sale for your state. You and the seller sign it inside their PrivateAuto mobile app, and it stays there in your account for reference. If there's ever a question about the sale's legitimacy, you have this document to back you up.
If you want to learn more about vehicle titles,
check out our detailed car title guide
.
How Do I Register the Car?
In most states, you will need to register and transfer the title to a vehicle at the same time. This is because the registration process is what officially establishes you as the owner of the vehicle.

The specific requirements for registering a vehicle vary from state to state, but here are some general items that you will need to provide:

• The title to the vehicle
• A bill of sale
• Proof of insurance
• Proof of identity and residency
• A payment for the registration fees

Buy Your Dream Car Through PrivateAuto
Here's the PrivateAuto process, and how we make buying a used car easy.
1.
Browse used cars for sale
on PrivateAuto.
2. Make offers on cars you like (PrivateAuto is one of the only platforms that allows you to offer what you're willing to pay).
3. Message the owner and schedule a test drive without ever giving out your contact info.
4. Meet up, inspect the car, and sign documents with the owner.
5. Send funds instantly.
6. Drive away with your new-to-you car.
7. Complete the title transfer and registration at your local DMV.
Looking to sell your car?
Create a listing on PrivateAuto
and connect with interested buyers today!
FAQ on the Cheapest Way to Buy a Car
---
What state is the cheapest to buy a vehicle?
When it comes to affordable private party used car purchases, New Hampshire is the cheapest state overall. This is largely due to New Hampshire's lack of sales tax and extremely low vehicle registration fees.
Florida comes in a close second as the cheapest state. Florida has a price advantage in part because of its diverse inventory and high vehicle turnover, which enables you to find excellent deals. However, if you are not from Florida and you purchase a vehicle there, you will have to pay additional fees such as:
1.
Vehicle transport
2. Your state's sales tax rate
Other inexpensive states for used car purchases include Oregon, Montana, and Delaware, thanks to low fees and taxes. But buyers in any state can save by following strategic tips like buying off-season, negotiating prices down, and timing purchases around new model releases.
---
What to avoid when buying a used car?
---
What to do after you buy a car from a private seller?
---
What is the safest way to transfer money when buying a vehicle privately?
---
What paperwork is needed to buy a car from a private seller?
---
Do I need an escrow service when buying a car privately?
---
Is PrivateAuto Pay secure?
---
Does PrivateAuto provide the necessary paperwork for a successful transfer of ownership?
---
Does PrivateAuto offer payment plans?
---
Is buying a car with cash safe?
---