Buying a Car With Cash—a Better Way
Paying cash for a used car can save you thousands of dollars in loan interest. For car buyers who can afford it, paying cash means major savings.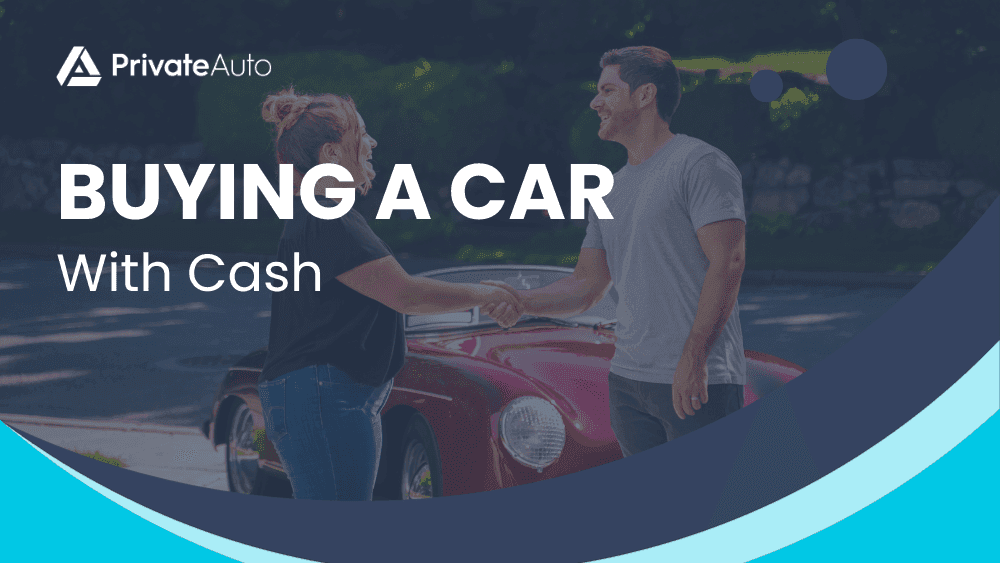 Unfortunately, physical cash is inconvenient, awkward, and potentially unsafe. If you don't like the idea of lugging $67,650 in bills to meet a stranger and pay for that lightly-used
Ford F-150
, there's a better way.
PrivateAuto Pay
combines the savings of cash with modern convenience and security. Get the benefits of paying cash without the headaches.
Can I Pay Cash for a Used Car?
Almost every private seller accepts cash for their car. Cold hard cash is almost universally loved, and is immediate (no waiting for a check to clear or a wire transfer to go through).

There are advantages and drawbacks to paying cash for large transactions.

PrivateAuto Pay has all the advantages of cash with none of the disadvantages.
What are the Advantages of Physical Cash?
Buying with cash has stood the test of time.

Here are the top reasons to pay cash for your used car purchase:

1. Immediacy: exchanging cash provides instant settlement. Once the bills trade hands, the deal is done. There's no waiting for checks to clear or wire transfers to be processed.
2. Security features: modern currency contains advanced anti-counterfeiting measures, from watermarks to color-shifting ink. While no system is foolproof, these features make successfully passing fake bills difficult for those who know how to check them.
3. No paper trail: cash transactions can offer more privacy since there is no bank record. For those who prefer to keep their finances under the radar, paper money provides anonymity.
4. Universal acceptance: cash in hand is universally accepted at face value. You never have to wonder if the other party will accept bills as payment. Cash plays anywhere, anytime.
5. Psychological appeal: physically exchanging paper money can provide psychological reassurance between strangers.

What are the Disadvantages of Cash Payments?
Cash may seem like the most straightforward
way to pay for a used car
, there are several cons of buying with cash:
1. Safety risks. Carrying large amounts of cash is dangerous and can make you a target for robbery or theft. This goes for both buyers and sellers. It's unsafe to meet with strangers while carrying thousands of dollars in cash. The other party could potentially be setting up a scam or robbery.
2. No recourse. With cash, there is no paper trail or proof of payment. If a dispute arises, you have no proof that you paid for the car.
3. Inconvenient. Withdrawing and transporting large cash sums is a major hassle. Banks will not hand over tens of thousands of dollars in cash at once. Also, counting and verifying a large stack of bills takes time.
4. Money laundering concerns. Large cash deals can raise red flags and get you scrutinized.
5. Counterfeit risk. Sellers may suspect fake bills and need to meticulously verify authenticity.
6. Tax implications. Private cash purchases make audit trails harder for the IRS, which expects documentation.
To minimize risks, meet in a safe public place like a bank parking lot. But the only way to completely eliminate the disadvantages of cash is to use PrivateAuto Pay instead. This allows large transfers without the headaches and dangers of cash.
A Better Way to Pay Cash for Cars
PrivateAuto Pay offers a better way to digitally pay cash for used car purchases. Our integrated payment system enables seamless and secure transfers directly between verified buyer and seller accounts 24/7.

Users simply initiate the bank transfer to their PrivateAuto account and trigger instant payment once the sale terms are met. There is no need to withdraw and handle physical money.

PrivateAuto Pay allows users to pay up to $1 million safely in just a few taps of the finger, whenever and wherever the deal occurs. By combining the immediacy of cash with modern digital convenience and security, PrivateAuto Pay provides the ideal cash payment experience. Users can focus on finding the perfect car rather than payment logistics.
What is PrivateAuto Pay?
PrivateAuto is the only safe, instantaneous, convenient, and contactless payment option for a used car transaction over $5,000. PrivateAuto Pay allows you to have escrow-like safeguards for free.
When it comes to buying and paying for your car, the benefits of PrivateAuto Pay include.
• Fee-free payments and transfers up to $1M.
• Instantaneous transfers enable real-time deals—no waiting or coordination. Close the deal when you meet for the test drive.
• Instant payments work 24 hours a day, 365 days a year. No coordinating around banker's hours.
• Easily move money from your bank account to PrivateAuto Pay and vice versa. A balance transfer can be done 24/7/365.
• No exchange of contact information or banking info—your sensitive info stays safe, protecting you from scammers.
• Encrypted data protects you from hackers.
• Eliminate the need for an
escrow service
and save money.
• You can even
buy a car remotely
with our escrow-like safeguards.
• Use PrivateAuto Pay for your transaction even if you met the seller on another site such as
Craigslist
. Just invite them to
our DealNow fast-track solution
and enjoy the power of PrivateAuto Pay and our other transactional features.
How Does PrivateAuto Pay Solve Cash Issues?
Forget the risks and hassles of cash when buying a used car. With PrivateAuto Pay, you can ditch paper money and pay instantly, safely, and conveniently right from your phone.

No more withdrawing thousands in cash, leaving you open to loss or theft. No more limited banking hours or coordinating complex wire transfers. Just seamless, instant digital cash payments between verified accounts, 24/7.

PrivateAuto Pay is the only solution that combines ironclad security protections with the speed and simplicity of cash. Pay safely in seconds without ever sharing personal information. Enjoy escrow-like safeguards without the third party fees.

Whether transacting in-person or buying a car remotely, PrivateAuto Pay is the smartest way to pay. It brings cash into the digital era, so you can act decisively on a great used car while keeping your money secure.

Ditch the risks and hassles of cash. Go all-digital for payments and transactions with PrivateAuto Pay.
How Do I Buy a Car With Physical Cash?
If you buy a car with physical cash, here are the steps you'll go through:

1. Withdraw large sums of cash over multiple days, if banks even allow it.
2. Transport large quantities of bills, making yourself a target for theft.
3. Meet a stranger in a random location with no protection.
4. Spend what seems like an eternity manually counting and verifying stacks of cash under the burning eyes of the stranger.
5. Hand over the cash, crossing your fingers that the seller will sign over the title and not doublecross you.
6. Hope or pray if you encounter difficulties.

Or, forget the hassles of cash when you pay with PrivateAuto Pay.
How Do I Buy a Car With PrivateAuto Pay?
PrivateAuto is the only
transactional marketplace
that makes cash purchases simple and secure.
Here are the steps to paying cash for a car with PrivateAuto Pay:
1. Browse PrivateAuto listings and negotiate terms with sellers through secure messaging.
2. Fund your PrivateAuto Pay account. You can initiate an instant funds transfer from your bank into your PrivateAuto Pay account, 24/7. No limits on transfer amounts. If you need to
get a loan for your car
, you can do so right in the PrivateAuto app. Once approved, the lender will fund your PrivateAuto Pay account.
3. Meet the seller via our in-app scheduler—without ever giving out personal info such as email or phone number.
4. Review your in-app
bill of sale
, financing terms, and other documents. Digitally sign them in the app. The seller signs them as well, and you get a notification when they have done so. Once you and the seller have electronically signed the bill of sale, they are legally obligated to transfer the title to you after receiving your payment.
5. Once you receive notification that the seller has signed the bill of sale, approve payment. PrivateAuto Pay will instantly transfer the funds to the seller's PrivateAuto Pay account.
6. The seller transfers the title to you and gives you the keys.
7. Drive away in your new-to-you car with a binding record of the entire transaction stored in your PrivateAuto account.
8. Complete the title transfer at the DMV and get new license plates and registration.
How Do I Avoid Scams When Buying a Used Car From a Private Seller?
Unfortunately, when purchasing a car with cash, fraud is a concern. Criminals use a variety of methods, such as faked vehicle history, odometer tampering, or title scams.
PrivateAuto offers vehicle history reports with all premium listings, and also has identity verification and the security of PrivateAuto Pay. These measures cut down significantly on fraudsters, but it always pays to be vigilant.
Beware of sellers pressuring you to pay with cash immediately. Don't hand over your cash without verifying the details and test driving. If a seller gives you a high-pressure "act now or lose out" ultimatum, it's best to walk away. There will be other listings available without undue seller pressure.
The key is taking your time—carefully inspecting the car, verifying the
VIN
, test driving carefully, and not paying until you're confident about going through with the transaction.
PrivateAuto helps by letting you schedule test drives securely and make payments only when terms are met. With a little patience, you can find the right car without being rushed into a fraudulent deal.
Found your dream used car somewhere else? No worries. Use our DealNow feature to fast-track a transaction with our infrastructure, even if you met the seller on another platform like
CarGurus
.
DealNow uses PrivateAuto Pay for payments and offers all the same conveniences, along with a fast-tracked deal flow. It not only bypasses the car shopping, messaging, and negotiation steps, but it also saves money by eliminating the need for an escrow service.
Is Paying With a Check Better Than Paying in Cash?
Many buyers prefer a
cashier's check for payment
over cash. A cashier's check seems more certain than a personal check for transferring funds. However, unless you're standing in front of the issuing bank during business hours and they verify the funds, the seller—if they're smart—won't see it as foolproof. Criminals have forged counterfeit cashier's checks to con sellers.
To be absolutely sure your cashier's check is valid, some sellers wait for it to clear their bank before releasing the title. This puts pressure on you to pay a large sum while trusting the seller to sign over the car later. It also means meeting twice, which is inconvenient.
PrivateAuto is safe, instantaneous, and guaranteed. With PrivateAuto Pay, funds instantly appear in the seller's account, unlike a cashier's check. The entire transaction can be concluded when you meet for a test drive.
While cashier's checks are a step up from personal checks, they're not all that great. For convenience and instant, guaranteed payments, use PrivateAuto Pay.
What If I Can't Afford to Pay Cash?
Financing a used car is perfectly normal; most people can't afford to pay cash upfront. With PrivateAuto's integrated financing, you can buy your next car with ease and confidence when you get a car loan through our integrated lending partner.
The entire process happens seamlessly within the PrivateAuto app. After a credit score check, you can get approved in minutes for competitive used auto loan rates. The lender then deposits the funds into your PrivateAuto Pay account.
You'll send payment to the seller from your funded PrivateAuto Pay account. The seller receives the funds instantly, the same as if you were sending your own money. No coordination with the lender required.
There's no waiting on checks or loan paperwork. You'll make payments to the lender afterwards just like a typical car loan.
PrivateAuto understands that financing is often needed to buy a used car. We make the entire experience—from auto loan approval to driving off—hassle-free, so you can focus on finding the perfect car at the right price.
No more going to an external bank for your personal loan and jumping through a ton of hoops. If you're in the market, feel free to
get started with car financing here!
What Is The Best Place To Buy A Car From A Private Seller?
There are many places to buy a car, but they don't give you the transactional features to get the deal done safely, securely, and inexpensively like PrivateAuto does.
Here are some popular platforms for buying used cars online:
•
Bring a Trailer
• eBay Motors
• Local classifieds sites (for example,
KSL Cars
)
• Craigslist
•
Facebook Marketplace
•
Autotrader
• Cars.com
•
AutoTempest
These are all "meetingplaces" rather than true marketplaces; they connect you to the vehicle owner but don't give you the transactional infrastructure to get the deal done.
PrivateAuto is the only transactional marketplace that offers a full suite of tools that let you get the deal done quickly, securely, and easily
Here's how we stand out from our
competitors
:
• Verified users for trusted transactions.
• Private in-app messaging with sellers.
•
Schedule vehicle transport
within the PrivateAuto app
• Eliminate the need for an escrow service.
• Send instant offers on any vehicle.
• Secure transfers of up to $1 million, instantaneous and fee-free
•
Shop for used car warranties
and get warranty coverage
• In-app test drive scheduling and document signing.
• Complete purchases remotely without meeting in person (perfect for
out of state transactions
).
• Apply for competitive financing from lending partners.
• DealNow feature to fast-track a deal using PrivateAuto infrastructure.
• Encrypted info protects your data from hackers
•
Shop insurance quotes
and get coverage right within the PrivateAuto app
We don't hate these "meeting places" at all. In fact, if you find a car on one of them and want to buy it, you can still use our transactional infrastructure to get the deal done. Simply
invite the seller to our DealNow fast-track feature
to enjoy the security, privacy, and immediacy of PrivateAuto Pay and our other features.
What are the Tax Implications of Buying a Car in Cash?
Unless you live in a state without sales tax, you'll need to pay sales tax on your vehicle purchase. Other than that, there aren't a lot of tax implications when buying a car—whether you pay cash or get a car loan.
Here's what you need to know about tax implications for vehicle purchases in a general sense. Always do your research on your state's requirements, as they may vary.
• No income tax. A car purchase is not taxable income, so no income taxes are owed.
• No gift taxes. Even gifting the car to someone later does not generally incur gift taxes unless it's a very expensive car. Individual state rules may differ
• Sales tax. You will owe applicable
state sales tax
on the purchase price. The rate varies by state but averages 4% to 7% of the car's value.
• Private sellers may not collect tax. You will need to formally self-report and pay sales tax to your local DMV when you register the car.
• Sales tax exemptions: research what exemptions are available in your state. Some states waive tax if a transaction is between immediate family members, or if the registrant is a religious organization, government body, or some other exempt status.
Find Your Dream Car on PrivateAuto
Here's the PrivateAuto car buying process, and how we make it easier.
1.
Browse used cars for sale
on PrivateAuto.
2. Make offers on cars you like (PrivateAuto is one of the only platforms that allows you to offer what you're willing to pay).
3. Message the owner and schedule a test drive without giving out your contact info.
4. Meet up, inspect the car, and sign documents with the owner.
5. Send funds instantly.
6. Drive away with your new-to-you car.
7. Complete the title transfer and registration at your local DMV.
Looking to sell your car?
Create a listing on PrivateAuto
and connect with interested buyers today!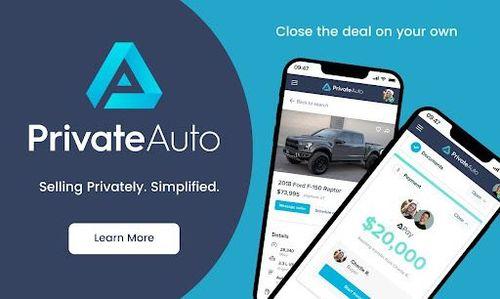 FAQ on Buying a Car With Cash
---
What do you do after you buy a car from a private seller?
Buying a car from a private seller rather than a dealership requires a few extra steps to make sure you can legally drive and register the car.
Key
steps after buying a car privately
are registering the vehicle,
transferring the title
, and getting new license plates issued in your name (unless you're in California or Minnesota).
Here are some more details on handling those specific post-purchase tasks:
- When you purchase the car, the seller should provide you with a signed
Certificate of Title
. Review it to make sure every applicable field is filled out, that all info is accurate, and that the seller has signed.
- Before driving off, contact your insurance company to add the car to your policy. You typically need valid insurance in your name to drive legally. Make sure you have proof of car insurance.
- Head to the DMV as soon as possible to transfer the title to your name and register the car. Bring the title, bill of sale, ID, and insurance documents. Pay any required sales taxes and registration fees.
- The DMV will provide you with new registration documents and license plates for the car in your name. These are required to legally drive the car.
- All states except California and Minnesota: install your license plates.
- Consider having the car inspected for safety and emissions testing, if required in your state. The DMV can provide guidance.
- Notify your insurance company that the car is now registered in your name. Provide them with the new VIN, plates, and registration.
Buying a car is sort of like starting a relationship. You'll be spending a lot of time together. Start things off right by handling all the details associated with buying a car from a private seller.
---
What paperwork is needed to buy a car from a private seller?
---
Do I need an escrow service when buying a car privately?
---
Does PrivateAuto offer payment plans?
---
Does PrivateAuto provide the necessary paperwork for a successful transfer of ownership?
---