Easy Funds Transfer in Private Car Transactions
In peer-to-peer car transactions, the payment process has always been full of friction. Not anymore.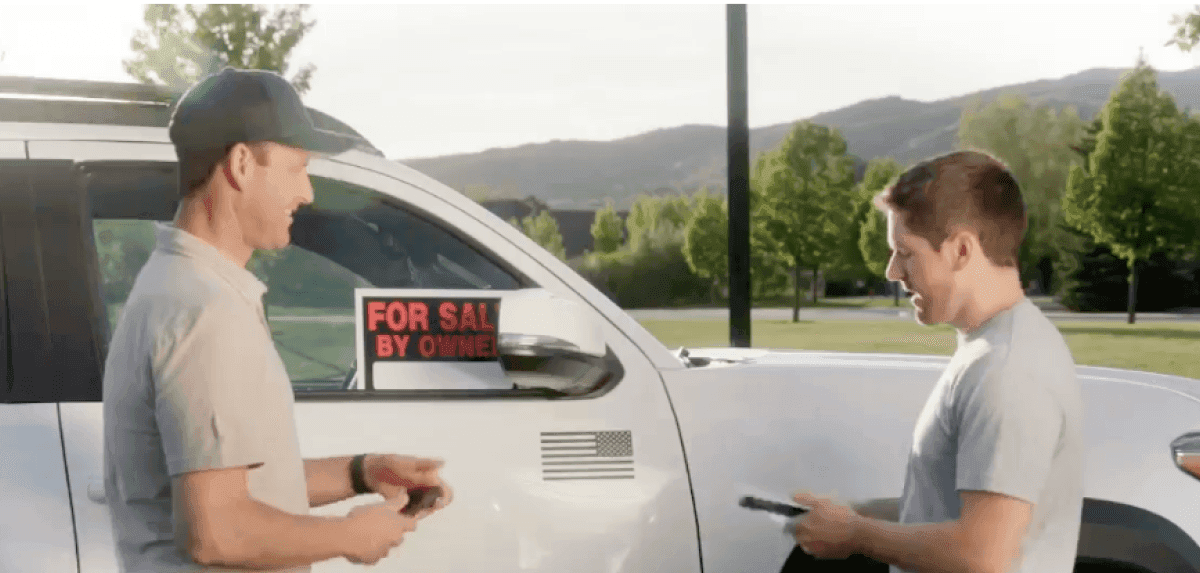 Whether you're trying to
sell a car
, or are in the process of buying one from a private seller, you should be able to transfer funds peer to peer instantly, fee-free, and securely.
You can. It's called
PrivateAuto Pay
, and it's revolutionizing the way private vehicle transactions are done.
How Can I Pay a Seller for a Car?
If you're buying a private-party car, there aren't a lot of great
ways to send money to the seller
. You could show up with a bag of cash, but that's a bit awkward, inconvenient, and potentially unsafe. Venmo has a $5K daily limit on payments. And a cashier's check is not as trustworthy as many assume.
PrivateAuto Pay is as instantaneous (and fee-free) as Venmo, but without the annoying daily limit. Send up to $1M any time of day or night, and the seller will get it immediately.
PrivateAuto Pay enables escrow-like safeguards, allowing you to forgo the cost and inconvenience of an
escrow service
and protect your interests by only sending funds after the seller has electronically signed the
bill of sale
in the PrivateAuto mobile app. Because the seller will immediately confirm receipt of payment, they'll be able to release the
title
and vehicle to you on the spot.
You don't even need to be present to buy a private-party vehicle. See how PrivateAuto Pay
enables remote vehicle transactions
.
How Can I Receive Funds From a Buyer?
It may be used, but that
Jeep Wrangler
is still worth a pretty penny. With all the vehicle scams going on out there, you want to make sure you get your funds before you
transfer the title
and hand over the keys.
A seller doesn't have any great options to get paid
for their car—until PrivateAuto Pay. Cash could be counterfeit (plus, counting out $40K is a bit weird). A bank transfer is inconvenient and exposes your financial info to a stranger.
PrivateAuto Pay allows the buyer to send funds to you instantly. You'll see them appear in your PrivateAuto Pay account in real time, and you'll be able to get the deal done on the spot.
Is Cash a Good Form of Payment?
Paying the full vehicle price in cash can save you thousands of dollars in interest payments—if you've got the funds.
But lugging around a bunch of physical dollars can be a hassle, risky, and just plain awkward. Who wants to meet up with a stranger carrying $50,219 in bills to buy that
Ford Raptor
?
Here are some drawbacks to
using physical cash as a form of payment
:
Trust: do you really know the person you're dealing with? No one wants to risk getting scammed or robbed by a stranger.
Paperwork
: do you know how to do the bill of sale and title transfer for your state? Will you have a record of the transaction in case the other party wants to contest it?
Inconvenient: banks and ATMs often have withdrawal limits. If you're trying to do it on the
weekend
, forget it.
PrivateAuto Pay allows you to pay cash—digitally. All the benefits of physical cash, none of the drawbacks.
Is a Bank Transfer Good?
Traditional bank wire transfers
are loaded with limitations.
1. Slow. Transfers can take days to fully process as buyers coordinate multiple transactions due to low account limits. This delays sales and frustrates sellers.
2. Potentially risky. Exposing bank account details also opens the door to fraud.
3. Fees. Bank transfer fees quickly add up, chipping away at the savings intended for the car purchase.
PrivateAuto Pay enables instant transfers between verified user accounts 24/7 with no limits or transfer fees. Encrypted data keeps your information secure. You get escrow-like safeguards in the palm of your hand and the PrivateAuto dealflow to keep both buyer and seller protected.
How About a Check?
A personal
check
doesn't fly for most sellers, who don't want to sit around waiting for it to clear. Cashier's checks are more trustworthy, but even they're not bulletproof. Plus, they're inconvenient.
Cashier's checks can be forged, so the only way for the seller to be absolutely certain is to meet the buyer at the buyer's bank and have the bank verify the funds. Skip the inconvenience and enjoy instant payments with PrivateAuto Pay.
Round-the-clock availability means no banking hours restricting transactions.
Can I Use Venmo or Paypal?
Peer-to-peer payment apps like
Venmo and PayPal
seem convenient, but they have transfer limits, fees, or both.
• Low sending limits are unsuitable for high dollar transactions—Venmo has a $5K limit and PayPal has a $10K limit on personal accounts.
• PayPal's fees of 2-3% quickly add up on large payments.
In contrast, PrivateAuto was designed specifically for high-value private party car transactions:
• Send and receive up to $1 million instantly, no limits
• Escrow-like safeguards
• Encrypted data keeps your information safe
While Venmo and PayPal work great for splitting bills, they're unwieldy for buying a $33K
Camry
, to say nothing of a $100K Porsche. For a secure car payment solution with ironclad protections, choose PrivateAuto Pay.
How to Pay on eBay Motors
eBay Motors has a lot of great inventory. Their transactional infrastructure? Not so great. When it comes time to
pay for a car you found on eBay
, we have the perfect solution.
Our DealNow feature lets use the PrivateAuto backend infrastructure to safely do your eBay deal. Simply
invite the seller to join you on DealNow
and enjoy PrivateAuto's streamlined process, security, and instantaneous payments.
There's no need to mess with mailing checks or risky wire transfers on eBay. DealNow lets you wrap up your eBay Motors deal quickly and securely.
Tap into PrivateAuto's modern transactional platform and say goodbye to the risks and hassles of eBay payments.
How to Pay on Craigslist
Craigslist doesn't have a payment system, so a buyer and a seller need to navigate payment outside the platform. The easiest way to
pay for a car on Craigslist
is to
invite the seller to DealNow
.
You'll gain access to PrivateAuto's identity verifications, e-signing of the bill of sale, and instant payments. Make frictionless payments via PrivateAuto Pay's fee-free, unlimited transfers between accounts in seconds. There's no need to meet up with cash or bother with slow checks.
DealNow handles messaging, documents, and payments seamlessly, so you can finalize your Craigslist deal quickly and safely. Don't take chances by paying strangers on Craigslist itself—use DealNow for security and ease.
What is PrivateAuto Pay?
PrivateAuto is the only safe, fee-free instantaneous, convenient, and contactless payment option for a used car transaction over $5,000. PrivateAuto Pay allows you to have escrow-like safeguards in the palm of your hand.

When it comes to buying and paying for your car, the benefits of PrivateAuto Pay include.

• Fee-free payments and transfers up to $1M.
• Instantaneous transfers enable real-time deals—no waiting or coordination. Close the deal when you meet for the test drive.
• Instant payments work 24 hours a day, 365 days a year. No coordinating around banker's hours.
• Easily move money from your bank account to PrivateAuto Pay and vice versa. A balance transfer can be done 24/7/365.
• No exchange of contact information or banking info—your sensitive info stays safe, protecting you from scammers.
• Encrypted data protects you from hackers.
• Eliminate the need for an escrow service and save money.
• You can even buy a car remotely with our escrow-like safeguards.
• Use PrivateAuto Pay for your transaction even if you met the seller on another site such as Craigslist. Just invite them to our DealNow fast-track solution and enjoy the power of PrivateAuto Pay and our other transactional features.

Private Auto allows you to purchase a vehicle quickly, safely, and easily from a private seller. Protect yourself by choosing a secure, instantaneous, and convenient online platform.

What if I Need to Finance My Car Purchase?
Not everyone can afford to pay cash upfront for a car. If you need financing, we're here to make it easier. No more coordinating between a bank and the seller. Everything happens seamlessly in the PrivateAuto ecosystem.
Here's how it works:
1.
Apply for competitive financing
through the PrivateAuto app and get approved by our FDIC-insured lending partner.
2. The lender funds your PrivateAuto Pay account.
3. You buy the car and pay the seller instantly via PrivateAuto Pay.
4. You make car payments to the lender.
It's so smooth, you'll wonder why this wasn't available all along.
What's the Cheapest Way to Buy a Car?
You can often find significant savings when you buy a car smart. Here are some guidelines to get the most car for the least cash:

1. Avoid paying interest to a lender; pay cash upfront (using PrivateAuto Pay for convenience, of course!).
2. Skip middleman fees and other dealer costs and buy directly from a private seller.
3. Use PrivateAuto's "offer" feature to offer sellers less than the asking price. You never know if they'll accept. Don't go too low; stay in the realm of reality.
4. Say no to payment transaction fees when you use PrivateAuto Pay.
5. Eliminate the need for an escrow service with PrivateAuto's escrow-like safeguards.

FAQ on Car Payments
---
How secure is PrivateAuto Pay?
PrivateAuto Pay is very secure. It is a direct banking integration that transfers up to $1M instantly between two users via an encrypted gateway. Buyers and sellers don't need to exchange banking info, so everyone is protected.

Typical private-party used car sales require handling a large amount of cash or dealing with the inconvenience of a cashier's check.

PrivateAuto Pay is a safe, convenient payment alternative that gives both parties peace of mind.

---
Does PrivateAuto offer plans for loan payments?
---
Do I need an escrow service when buying a car privately?
---
Is paying with a check better than paying in cash?
---
Which state is the cheapest to buy a vehicle?
---
Popular Vehicles For Sale By Owner