What Paperwork Do I Need to Sell My Car Privately?
There are countless advantages to selling your car to a private party rather than trading in at a dealer. For one, your car's value on the private market is much higher than the dealer's wholesale price.
Of course,
selling your vehicle privately
can feel like a daunting process, but PrivateAuto is here to help. Here's what paperwork you need to sell your car privately and why PrivateAuto is the platform of choice for used car sellers.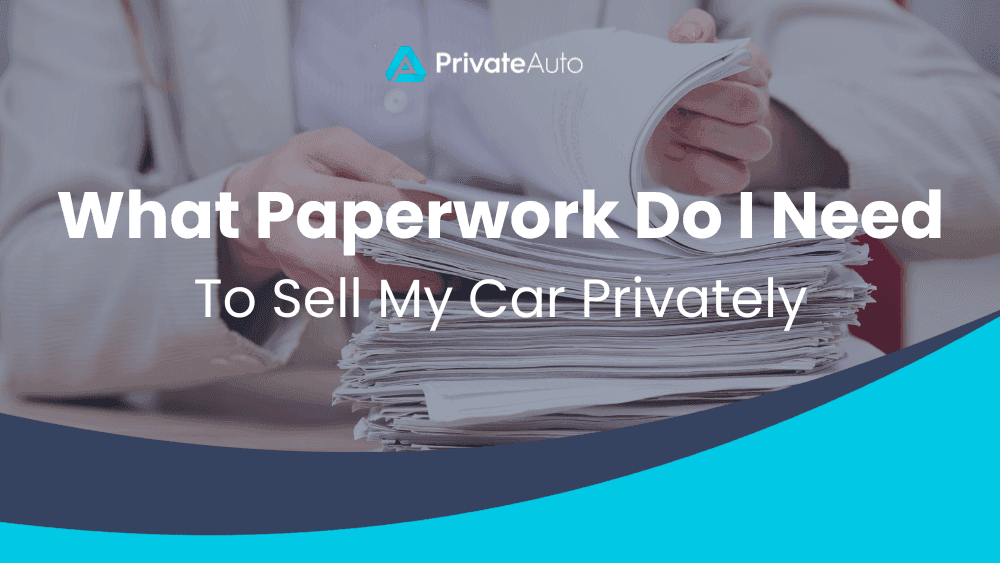 There are several key steps to take when selling your used car in the private market.
A valid VIN or License plate is required to list your car on PrivateAuto. 
Learn more

Documentation Doesn't Vary Based on Payment Type
Required documentation doesn't change based on the payment method you choose to accept. Whether you're accepting cash, a cashier's check, or some other form of payment, you'll still need the exact same set of documents.

For example, just because you're taking a cashier's check, that doesn't mean the bank records will suffice for recording the sale. Always read up on what your state requires of the buyer and the seller before you list your car for sale.
PrivateAuto Streamlines Documentation
PrivateAuto makes the process of selling your car simple. When selling through our app, you will be reminded of all the paperwork you need, customized to your state. We also offer in-app messaging, so you can arrange test drives with prospective buyers right from your phone.
What Documents Do You Need to Sell a Car Privately?
The documents you need to sell a car differ from state to state. Most states require at least three documents—the Certificate of Title, the Bill of Sale, and the Release of Liability—and additional documents vary depending on what state you're selling from. No matter what state you're selling your vehicle in, PrivateAuto helps you keep track of all the documents and makes the process quick, simple, and intuitive.
Certificate of Title
The most important document you need is a proof of ownership called the Certificate of Title. It's legal proof that you own the vehicle and have the right to sell it.
If you still owe on a car loan, the
car title
will have a lien, meaning the bank has the right to take possession of the car if you stop making payments on the loan. It's best to pay off any car loans and sell with a clean title.
If you plan to use money from the sale to pay off the loan, you won't be able to transfer ownership of the car's title until you pay it off and get a lien release. So, you'll need to inform the buyer accordingly.
When selling, you'll need to complete the notice of transfer section on the title. In most states, the notice of transfer section is on the back of the certificate. In a few states, you might find it on the front side, usually at the bottom.
Typically, the info you need to include is:
• Your name and address
• Buyer's name and address
• Odometer reading (cars 10 years and older are exempt)
• Signatures of both you and the buyer
Check with your local DMV to see if your state requires you to have the signatures notarized.
Odometer Disclosure
Most of the time, you won't need a separate document for the odometer disclosure because the odometer reading on the title transfer form will do. However, if there's no room for it on the title, you'll need a separate Odometer Disclosure statement. Check your local DMV website for the form that meets your state's requirements.
Service Records
Service records aren't required by law, but they help reveal the true value of your car. Typically, car values are higher for vehicles that are regularly maintained and have proof of it in the form of maintenance records.

Car buyers also feel more confident buying from a private party if they show that they've kept up with routine maintenance by having maintenance records. If you have "full service records available," you should emphasize that in your listing.
Vehicle History Report
A vehicle history report reveals important info about your car's past, such as:
• Accidents reported
• Vehicle reported stolen
• Fire or flood damage
• Total loss insurance claim
• Odometer discrepancies
• Other vital info
Similar to the inspection report and service records, a vehicle history report helps build trust with potential buyers. We recommend a report from
AutoCheck
, a PrivateAuto trusted partner.
Warranty Documents
When selling a car privately, your offer might be more attractive if you have a transferable
used car warranty
:
• Remaining factory warranty documents: Many factory warranties can transfer to a new owner. Usually, transfers only apply to warranties originally issued for 5 years or less. Warranties with longer terms, such as
10-year, 10,000-mile drivetrain warranty
, only apply to the original owner.
• Extended warranty documents: Even though it's called a warranty, the Federal Trade Commission (FTC) defines third-party warranties as a
service contract
. These are agreements where another party pays for repairs. These contracts typically last for 3 years, 5 years, or 7 years. You can transfer most service contracts to a new owner for the same car.
•
Mechanical breakdown insurance
(MBI): This is sometimes called an extended warranty, even though it doesn't meet the FTC definition. You will pay a monthly premium to cover certain types of mechanical and electrical failures. Some policies closely match a factory
bumper-to-bumper warranty
.
State and Local Documents
Many states require cars to get emissions testing once a year or once every two years. Often, the cars display a decal on the lower part of the windshield to show that it passes inspection. Usually, the inspection is transferable to the new owner.

California requires every buyer to get a smog test and have a smog certification when applying for a title. New Mexico requires an emissions inspection report when purchasing or transferring ownership in Bernalillo County, and Arizona requires the same for vehicles in Tucson and Phoenix.
Bill of Sale
Although many states don't require a bill of sale, it's still a good idea to have one. It shows legal proof of the terms and conditions of the sale.

Most states accept a general bill of sale, which is what we provide in PrivateAuto for buyer and seller to electronically sign.

For those few states that require a notarized bill of sale (see list below), visit your state's Department of Motor Vehicles (DMV) website to download the state-approved form, fill it out, and go to a notary public with the buyer to have it notarized.
States Requiring a Bill of Sale
- Alabama
• Arkansas
• Colorado
• Connecticut
• Hawaii
• Idaho
• Maine
• Nebraska
• New York
• Ohio
• Rhode Island
• South Dakota
• Vermont
• Washington
• West Virginia
• Wyoming
States Requiring a Notarized Bill of Sale
- Louisiana
• Maryland
• Montana
• Nebraska
• New Hampshire
• West Virginia
• Pennsylvania
Release of Liability
After transfer of ownership, you need to inform the state that you no longer own the vehicle. This is important because you can be held liable if the new owner:
• Fails to get liability insurance
• Is in an accident
• Abandons the vehicle
• Uses the car while committing a crime
Most states will have you submit a
release of liability form
. You'll want to turn it in right away so that you aren't held accountable for the actions of the new owner. You'll need to include:
• Your name and contact information
• The name and contact information of the person who purchased the car
• The car's license plate number
• The car's make, model, year, and color
• The vehicle identification number (VIN)
• The reading on the odometer at the time of the sale
• The date of the title transfer
Many states let you complete the form online while others may have you download a PDF form or pick one up at an office location. You can either submit it online, mail it in, or deliver it in person to your local office. For details on how to submit the liability release in your state, it's best to check with your local DMV office.
Paperwork Is Easy with PrivateAuto
When you list your car for sale on PrivateAuto, you get state-specific documents that you can complete and sign using the PrivateAuto app.
Your listing comes with other great benefits as well, like a secure communications platform, the ability to easily manage offers, a printable window brochure, a test drive scheduler, and more. Plus, you get free tips for selling and
buying vehicles privately
in your state.
Selling Your Vehicle Online Has Never Been Easier
Selling your vehicle privately takes some time and effort, but it doesn't have to be difficult. If you're organized and gather up the paperwork before you sell, everything should go smoothly.
Usually, you'll need a Certificate of Title, Bill of Sale, and Release of Liability, but every state's requirements are different. Fortunately, PrivateAuto helps keep the paperwork and the entire sales process simple.
If you're ready to sell, go ahead and
create your listing
! It's fast, easy, and you'll get all the help you need along the way.
The PrivateAuto Advantage
Here's what makes PrivateAuto the best place to sell your used vehicle:
Buyer and Seller Identity Verification
Avoid scammers with email, phone, and drivers license verification, including facial recognition technology.
Low Seller Fees
Our listing fee is a one-time payment of just $150. For that price, you get a vehicle advertisement listing that will stay up on our app until you sell the vehicle at no additional cost.
Fast and Secure In-App Messaging
You don't have to share your information with the buyer in order to communicate. All communication is done through the messaging integration on our app.
Scheduling Made Easy
Schedule a test drive with the buyer through our useful scheduling feature. No more messaging back and forth for hours to determine when you're both free.
Sign Documents Through Our App
You can sign documents necessary to make the sale right from your phone, thanks to our e-sign feature. Plus, with our shared documents feature, you'll be able to locate the paperwork needed after the sale quickly and easily.
Integrated Banking System
Our integrated banking system, PrivateAuto Pay, is the safest way to receive money from a vehicle sale. You'll receive the payment instantaneously, no matter when the sale is completed, and will be able to retrieve the payment 24/7/365.
Steps for Selling Your Vehicle through PrivateAuto
PrivateAuto makes selling your used car hassle-free. The sales process consists of a few simple steps:
1. Gather necessary documentation
You'll need your vehicle title and other documentation
discussed above
. Have it handy, so you're not scrambling to find it at the moment of completing a sale.
2. Register on PrivateAuto and get verified
To make PrivateAuto a safe place for everyone, we require email, phone, and driver's license verification, including facial recognition.
Get started here
.
3. List your car
Easily create your PrivateAuto listing with our step-by-step guide. Bonus: we include a window brochure with a QR code scannable to your listing.
4. Set your terms
It's your car, so you drive the deal! You can control where, when, and who you meet. Decide whether to accept only ID-verified buyers, or buyers with verified funds. Don't waste your time with buyers who aren't verified to your preference.
5. Vet incoming offers
Manage offers in one place with the ability to accept, reject, or counter offers within the app. Listing on multiple sites? Filter all communications through PrivateAuto by sharing your listing link on all platforms. Your personal info is protected: no more giving out your phone number or email address. All communication happens in our app.
6. Choose a buyer
When you find an offer you like, accept it and proceed to the next step with that buyer.
7. Schedule a test drive
The buyer will want to test drive your car. No more back and forth texts. You never have to give out your phone number. Rather, use our handy scheduling feature to coordinate a time and place for a test drive. (Oh, and you'll be able to finalize the transaction instantly at the test drive location, FYI.)
6. E-sign documents
After the buyer is satisfied with your car and the two of you have agreed on a purchase price, you can easily e-sign the Bill of Sale within our app, from your phone. With our shared documents feature, you can easily locate the paperwork needed after the sale.
7. Get paid, instantly
Before PrivateAuto, receiving funds was the most stressful part of the entire selling process, especially for any used car sale over $5,000. There just aren't a lot of good ways to move large amounts of money quickly and conveniently. Those days are over! Verify and receive funds instantaneously with PrivateAuto Pay, our innovative banking integration. Guaranteed funds for transactions large and small.
8. Transfer title
When you sell your vehicle, fill out the necessary information on the back of the title transfer document.
9. Cancel car insurance
You don't want to pay for insurance on a car you no longer own, so be sure to remove the sold vehicle from your insurance plan.
FAQ on Private Car Sales
---
How do I replace a lost title?
If you've misplaced the title, or it's been stolen or damaged, you can
replace the car title
by requesting a duplicate title. You can usually do this in a few simple steps:
1. Identify your state's motor vehicle authority
It's usually called the Department of Motor Vehicles or DMV. Some states may call it by a different name, such as the Registry of Motor Vehicles or the Bureau of Motor Vehicles. In some states, motor vehicle authority falls under another department, such as the Department of Revenue or the Secretary of State.
2. Complete the proper form
You'll likely find the forms in a PDF format on your state's website. They're usually formatted so that you can fill it out on your computer or device before printing.
3. Submit the form and pay the fee
You might be able to submit the form and pay for the fee online if you live in:
- District of Columbia
- Indiana
- Maine
- Maryland
- Massachusetts
- Michigan
- New York
- South Carolina
- Virginia
- Wisconsin
In other states, you will need to submit the form and the payment by mail or in person.
---
Who pays the sales tax on a used car?
---
What is the safest method of payment when selling a car?
---
Should you accept a cashier's check when selling a car?
---
How to protect yourself when selling a car privately?
---
How does PrivateAuto vet buyers and sellers?
---
How to sell a car quickly?
---
Is selling a car privately for cash a good idea?
---
What are the most popular vehicles sold in private sales?
---
Info on Selling Your Car Privately By State