Introducing PrivateAuto Pay
There aren't a lot of great ways for two strangers to
transfer large amounts of money
quickly and securely. PrivateAuto Pay changes all that. It is the only way to instantly and securely transfer up to $1M in a private car transaction.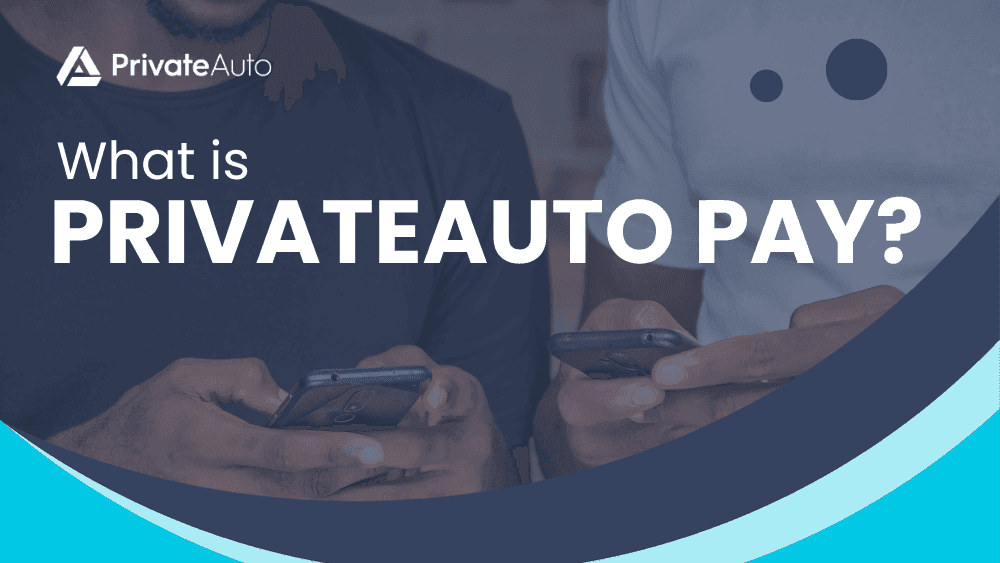 Most payment apps don't allow more than $5000 in transactions per week, which can be a major issue when buying and
selling a vehicle
. Luckily, with PrivateAuto Pay, you can transfer any amount of money easily, securely, and instantly. Let's take a look at what makes PrivateAuto Pay the future of private vehicle transactions.
The Future of Private Car Payments
In a sea of payment options, each has serious drawbacks. From
cash
to payment apps to cashier's checks to escrow agencies, existing payment methods are one or more of the following:
1. Risky
2. Time-consuming
3. Inconvenient
4. Subject to funding limits (usually $5,000)
5. Expensive
To remove payment friction from buying or selling a used car privately, PrivateAuto launched a self-service payment app called PrivateAuto Pay. After you experience it, you'll wonder where it's been all your life.
How Does PrivateAuto Pay Work?
When you create a PrivateAuto Pay account, you are creating a traditional bank account with our integrated banking partner. Except, you're doing it all within the PrivateAuto app as part of the PrivateAuto experience.

• Buyers fund their PrivateAuto Pay account by linking their regular bank (checking or savings) account. They are then shown as having "Verified Funds" in the PrivateAuto marketplace when they make offers on vehicles.
• Sellers also create a PrivateAuto Pay account and link their regular bank account. This allows them to move money out of PrivateAuto Pay after the sale.

Once the buyer and seller are ready to close the deal, the flow of funds becomes an interbank transfer. Money moves from the buyer's PrivateAuto Pay account to the seller's, instantly. On weekends, holidays, evenings, or the middle of the night. Soon as the deal is finalized and the buyer initiates payment, the seller receives the money.

Because sellers instantly receive legal custody of funds, negotiating and completing deals is a stress-free process. Bonus: there are no fees associated with the transfer of funds through PrivateAuto Pay.

PrivateAuto Pay Advantages
PrivateAuto Pay offers features you won't find in any other vehicle payment integration. The transaction features this self-service solution offers are:

• Available in all US states: no matter where in the US you're buying or selling a vehicle, PrivateAuto Pay will work for you
• Split payment options: seller and buyer can opt to split up payments between crypto, cash, and PrivateAuto Pay
• Large fund transfers: PrivateAuto Pay allows you to transfer up to $1,000,000, which is more than enough for most used vehicles
• Remote transactions: a buyer can do an over-the-phone deal with a seller in another state via a third-party agent who can be on-site and verify the pertinent details.

PrivateAuto Pay for Sellers
PrivateAuto Pay eliminates the stress related to receiving a large sum of money. It also eliminates the trust problem associated with non-instantaneous payment methods.

Since you get your money immediately after the buyer pays for the vehicle, there is no risk of fraudulent funds.

In addition to it being safe, sellers praise PrivateAuto Pay for the following reasons:

• Instant money transfers: weekends, nights, holidays, it doesn't matter. Get paid as soon as the buyer transfers funds to your account.
• Depositing funds to your personal account after the sale is quick and easy
• No fees

PrivateAuto Pay for Buyers
Buyers can fund their PrivateAuto Pay account prior to finding a vehicle, so they don't risk missing out on the perfect car due to insufficient funds. Plus, PrivateAuto Pay allows buyers to:
• Buyer financing: buyers can
apply for used car financing
within the PrivateAuto app and receive lender funds directly to your PrivateAuto Pay account
• Transfer large amounts of money without any transfer fees
• Buy a vehicle without having to carry around a large amount of cash
• Avoid the issue of sellers not trusting you (associated with payment methods that are not instantaneous)
Use Cases of PrivateAuto Pay
PrivateAuto Pay offers a seamless payment experience for every vehicle transaction. There are certain use cases where it really shines, though.
•
Buyer and seller don't know each other
. PrivateAuto Pay reduces fraud with driver's license verification, facial recognition, and banking compliant checks like Know Your Customer (KYC), Anti Money Laundering (AML), and government watch lists.
•
Parking lot transactions
. If the seller has title in hand and you want to buy a vehicle (especially over $5K) on-the-spot after looking at it, PrivateAuto Pay is ideal.
•
Long distance deals
. You can remotely purchase a car in another state via a third-party agent or inspector, and pay upon the agent's confirmation of the vehicle's condition and other key facts.
•
Transactions over $5,000
. For larger transactions, PrivateAuto Pay is the only instantaneous, safe, and secure payment option.
•
Nights, weekends, and holidays
. You can transfer funds anytime with PrivateAuto Pay without being subject to banker's hours.
•
Finance a privately listed vehicle
. Approved loan funds from our partner bank will be deposited directly into the buyer's PrivateAuto Pay account. Now the seller can be paid instantly and doesn't have to worry about a cashier's check or bank draft not clearing.
Pre-purchase Advice for PrivateAuto Pay Users
If you are planning on buying a car, it is in your best interest to onboard the funds you plan on using to pay for the car as soon as possible.
There are 2 ways to fund your PrivateAuto Pay account:
1. ACH transfer from your bank account via Plaid integration (can take up to 5 days)
2. Wire transfer (can be received the same day)
For example, if you have a Bank of America account and plan on spending 10k on a new car, you should deposit those funds into your PrivateAuto Pay account in advance, so they are available to transfer instantly during the deal.
Your PrivateAuto Pay account is a new bank account created in YOUR NAME with our partner bank*. YOU are the sole owner of that account and can move money in or out at any time. There are no fees for you to transfer money via ACH in or out of this account.
*Account services are provided by USALLIANCE Financial, a licensed and insured banking institution. PrivateAuto does not facilitate or handle any funds throughout the transaction. All funds are in the custody of USALLIANCE.
FAQ on PrivateAuto Pay
---
Can I reverse a payment made to another party with PrivateAuto Pay?
No, once you
release funds to a car seller
, those funds move instantly into their PrivateAuto Pay account and are irretrievable by you.
Make sure you've done all your due diligence before sending funds.
---
If the car breaks down after the sale, can I get a refund?
---
What banking institution is holding my funds with PrivateAuto Pay?
---
How secure are my funds on PrivateAuto Pay?
---
Is PrivateAutoPay available for my business?
---
Are my funds on PrivateAutoPay insured?
---
Should I accept a cashier's check for my car?
---
Are wire transfers safe for selling a car?
---