The mileage of a used car is one of the most important factors to compare. The amount of miles traveled on a vehicle affects its value and maintenance schedule. Find out how odometer fraud can occur and how PrivateAuto can offer safe buying tips and a secure shopping experience.
What Is Odometer Fraud?
An odometer is a component that tracks the number of miles that a vehicle has traveled. In the past, this system used gears with numbers on them to track miles. Most modern odometers are digital readouts.
Odometer fraud is when a person intentionally changes the mileage display. Previously, a seller could physically remove and alter the gears or tampering with the speedometer cable.
Modern fraud techniques rely on digital technology connected to a vehicle. Once a dishonest seller gains access to the system, there are two ways to tamper with the reading:
Rollback the mileage to display a lower number
Temporarily disconnect the odometer to drive without adding to the total
Both of these are crimes that the United States Department of Transportation is working to prevent. Despite many measures by the Federal Government and auto manufacturers, there are still risks of fraud.
The Dangers of Odometer Fraud
Why is it such a big deal that you don't know the exact amount of miles your vehicle has driven? A small change isn't a major issue, but a significant change can affect the value of your new ride. Consider the following ways that this type of scam can affect you.
If the meter is reading tens of thousands of miles less than is actually on your vehicle, a lot of major repairs may sneak up on you. New spark plugs, serpentine belts, timing chains, and other major maintenance steps are scheduled based on the current mileage of your vehicle. Some of these tasks can cost $1,000 or more.
A false reading on the odometer may also cause you to miss one of these services. If you don't replace a belt, water pump, or other items at the correct time, you could be looking at major engine failure.
Mileage has a real impact on the value of a vehicle. The fair asking price of the actual vehicle mileage may be thousands less than the price offered due to a tampered reading. These are some of the reasons why odometer fraud is so serious a crime.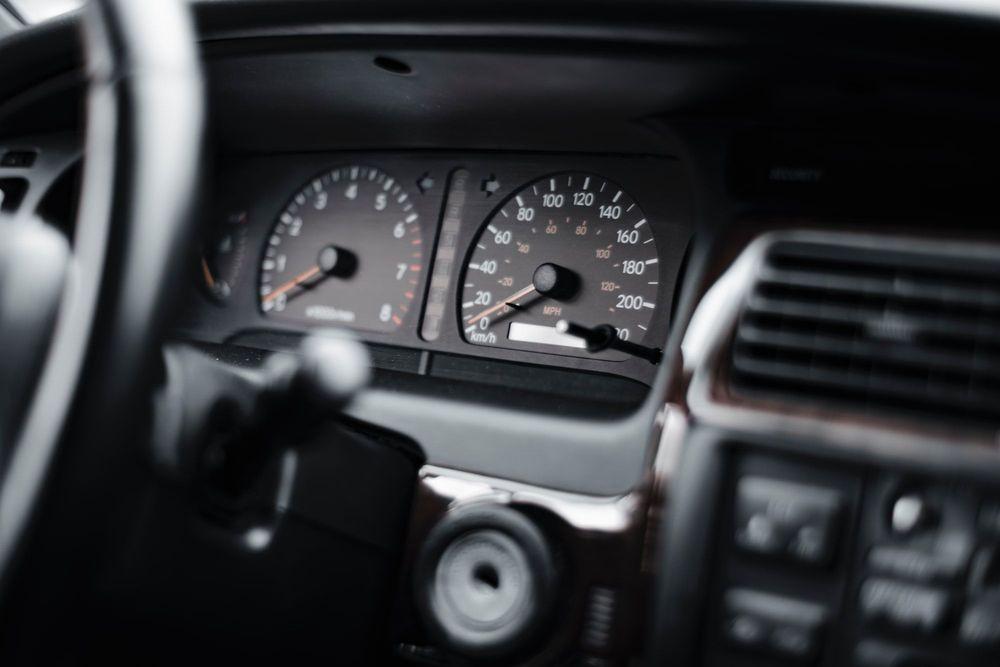 How Can You Spot Odometer Fraud?
Many old odometers were designed to prevent fraud. If the gears were rolled back for any reason, the numbers wouldn't line up evenly. Digital odometers don't have the same built-in safety feature, so you'll need to check out these signs of fraud.
Inaccurate Mileage Records
You shouldn't purchase a vehicle before checking its maintenance records. These records show you the maintenance services performed and the mileage of the vehicle when they were performed. Any rolled back numbers or suspicious gaps in the timeline may be cause for concern.
Vehicle History Report Discrepancies
An older vehicle or one with a salvage title may have a known odometer issue. It's not illegal to purchase a vehicle with a damaged meter, but the buyer must include an odometer disclosure form with the title.
This form states that the buyer and seller are both aware of a discrepancy in the reading or damaged odometer. It also outlines estimates of mileage driven by previous owners to give you and any future owners an idea of the number of miles on the vehicle.
Signs of Physical Tampering
Another sign is physical damage around the odometer. This sign is best uncovered by a mechanic because you shouldn't be concerned with surface-level scratches or wear around the dash.
Instead, a trained mechanic can remove the interior panel covering the instrument panel of your car. Unusual wear or signs of tampering are going to be most noticeable in the wiring around the odometer.
More Wear Than Expected
The final sign that you or a professional mechanic may notice is more wear than expected on your vehicle. Some used cars have had a hard life, but a car registering 20,000 on the odometer shouldn't look like it's traveled 100,000 miles.
A mechanic is best equipped to perform this. Ask for a pre-purchase inspection on any vehicle before purchasing, particularly if you're concerned with some signs of wear. This detailed inspection by a certified mechanic can point out the estimated wear on components. If this is significantly higher than the number on the odometer, you may be at risk for fraud.
Odometer fraud is just one trick available for dishonest sellers. There are many other car buying scams to be aware of. A tampered mileage record could occur at any point in the vehicle ownership, so there's a chance that the seller may not be aware of the fraud.
Where Can You Shop Safely for a Used Car?
After reviewing all the scams out there, it can feel like it's impossible to find a reliable used car. Thankfully, there are some steps you can take to avoid scams and find a reliable car in your area.
Search for Used Cars Online
Start by searching for vehicles on a reputable listing service. PrivateAuto offers security for both buyers and sellers. You will only see vehicles with verified title and VIN information. Once you find a vehicle you're interested in, you don't need to give out your personal phone number or other contact information. Communicate through a private messaging system to arrange for a test drive.
Inspect, Sign and Pay for Your New Ride
Inspect the odometer and ask for a vehicle history report. Consider taking your vehicle to a trusted mechanic for a pre-purchase inspection. This helps you identify odometer fraud and other warning signs. Sign the necessary documentation and transfer money electronically for a safe, hassle-free used car purchase.
Search listings on PrivateAuto today to explore used vehicles in your area from verified owners. Use this convenient online listing service and these tips to avoid this scam and make an offer on the car of your dreams.