North Carolina Used Car Buying Process
In North Carolina, you will go through the following steps when buying a used car from a private owner:
Find a car
Agree with the seller on a purchase price
Arrange the test drive
Transfer funds to the seller
Have the seller sign over the title
Register the car in your name
Transfer the vehicle title with the NC DMV
Pay the sales tax and fees
Let's go over the North Carolina car-buying process in more detail.
Find a Car
Whether you are searching for a hybrid, a fully electric vehicle, or an SUV, you're better off purchasing from a private party than a North Carolina used car dealership. To make a profit, dealerships buy low and sell high. It's best to avoid the middleman.
PrivateAuto has a wide range of used cars for sale in North Carolina. We also have safety and convenience features our competitors don't have.
We verify seller identities so you know who you're negotiating with. Within our app, you can look at listings for cars and make offers. If the seller accepts your offer, you can use our handy scheduling feature to set up a test drive. Everything takes place right within the app, and you never have to share your personal information.
Schedule the Test Drive
When you've found a car you like and agreed on a price, it's time to take it for a spin.
Other marketplaces leave organizing the meetup up to you and the seller. That requires exchanging personal info and having a lot of back and forth. We keep your personal info private and secure. Our in-app scheduler makes it easy for you and the seller to find the best time and place to meet.
Research the Vehicle History
Before committing to a car, you may want to research its history. Services such as CarFax can provide you with a thorough vehicle history report.
We have teamed up with AutoCheck to provide our buyers with a motor vehicle history report. When a seller chooses a PrivateAuto Premium listing, we provide a car history report for your peace of mind.
Optional Mechanical Inspection
Before buying the car, you may want to have it mechanically inspected. This is important for vehicles that have a higher mileage or haven't been driven in a while. For more info on this, read our guide to used car inspections.
Required Documents for North Carolina Title Transfer
Documentation is a key part of the transaction process. Different states have different documentation requirements; here is the required paperwork when buying a used vehicle in North Carolina.
Car Title
The seller will need to transfer the vehicle title to you. Both parties need to fill out the title certificate thoroughly. The following info is required:
Name
Address
Signature (completed after payment)
Vehicle identification number (VIN)
An odometer disclosure statement
Damage disclosure statement
To understand more about car titles, give our vehicle title guide a read.
Odometer Reading Statement
When buying a vehicle, Federal law requires the seller to complete the odometer reading statement (also known as an odometer disclosure) on the back of the title.
If there's no room left on the vehicle title, make sure to complete the Federal Odometer Disclosure Statement.
By inspecting the odometer, you can ensure that the reading on the title is correct. Keep in mind that sellers who tamper with a car's odometer to obtain a false reading can face serious consequences.
The PrivateAuto app has a field for the odometer reading so that both the buyer and the seller can check the mileage before moving forward.
North Carolina Bill of Sale
In the state of North Carolina, a bill of sale is not required for transferring the title. A bill of sale is still a good idea, though, as it's a legal document that acts as a receipt to protect both buyer and seller.
Here are the necessary elements in a bill of sale:
Your full name and notarized signature
The other party's full name and notarized signature
Price of the car
The make, model, and year of the car
A description of the car
A warranty disclaimer stating the car is being sold as-is
Date of the transaction
PrivateAuto provides an official North Carolina bill of sale as part of our standard in-app transaction process. At the right time, the buyer and seller will be asked to sign the North Carolina bill of sale electronically through the PrivateAuto app.
The whole transaction, bill of sale included, can be completed in just a couple of minutes when you meet for the test drive and approve the car. It's quick, easy, and convenient. You won't have to keep track of all your papers: you will always have the electronic bill of sale accessible in your PrivateAuto account to prove that the transaction was legitimate.
Vehicle Identification Number Check
When buying a used car, always do vehicle identification number verification. Compare it to the actual VIN on the vehicle. When you go to register your new-to-you car with the State of North Carolina, you want to avoid having the wrong vehicle identification number on the car title.
The PrivateAuto app has a field for the VIN, where both the buyer and seller can check it for accuracy. This helps to eliminate errors (or the rare case of outright seller fraud).
Emissions Testing
Certain North Carolina counties require emissions testing in order to complete a title transfer and register a vehicle.
North Carolina Emissions Requirements
In the State of North Carolina, the following counties require emission testing:
Alamance
Buncombe
Cabarrus
Cumberland
Davidson
Durham
Forsyth
Franklin
Gaston
Guilford
Iredell
Johnston​
Lincoln
Mecklenburg
New Hanover
Randolph​
Rowan
Wake
Union
Emission Check Exemptions in North Carolina
In the 19 counties where emission checks are required, cars in the following categories are exempt:
Light-duty cars less than 3 years old or that have 70,000 miles or less
Cars that are 20 years old or older​​
Diesel-operated cars
Kit cars
Plug-in hybrid cars
A NC emissions inspection costs $30.
Transfer the Money to the Seller
Now is the time to pay the car's seller. There weren't many safe ways to send large sums of money in a private car transaction before PrivateAuto arrived on the scene.
PrivateAuto Pay
You can send up to one million dollars instantly using our integrated banking gateway, PrivateAuto Pay. The seller will receive the money immediately, whether it is after business hours, on the weekend, or on a holiday. We don't charge a fee for processing payments. It truly is revolutionary.
If you don't like the idea of carrying a briefcase full of cash or waiting for your check to clear, PrivateAuto Pay is for you.
Easy Financing Available
Oh, and if you don't want to pay cash for your next vehicle, you can apply for a used auto loan directly from the PrivateAuto app. When your application is approved, your profile will show that you have verified funds, which will set you apart from other buyers.
Our lending partner will pay the seller in full when we close the deal and send payment. You will make monthly car payments to the lender. It's that simple. Curious as to how much your payments will be? Our car loan calculator will tell you.
North Carolina Title Transfer
Transferring the title from the seller to the buyer is the most crucial phase of the entire transaction. The vehicle is legally yours once there is a seller's signature on the document and they hand it to you. After transferring the title, there are a few more steps to complete before the car is legally yours.
What If There Are Multiple Car Owners?
If there is more than one seller listed on the title, all of them must sign the document for it to be legal.
Should You Research the Title?
It's always a good idea to do preliminary research on the car title before meeting with the seller.
To protect yourself from fraud, the North Carolina Department of Justice suggests looking up the title of a used car you might buy on the National Insurance Crime Bureau website. It doesn't happen often, but sellers will occasionally try to mislead or outright deceive. They might try to pass off a salvage title as a clean title, for example.
Good title research will help you check for:
Reports of the car having been stolen
The car having been declared a total loss in an insurance claim
Release of lien
Finalize with North Carolina DMV
In North Carolina, you have to finish the process of transferring the title at the North Carolina Division of Motor Vehicles (DMV). They will require you to complete the following:
Getting North Carolina License Plates
Some states allow the license plates to remain with the car when sold. Unfortunately, North Carolina requires the seller to remove the plates from the car. As the buyer, you'll apply to the DMV for new license plates, and pay the $38.75 North Carolina license plate fee which is included in vehicle registration.
See our state-by-state guide to license plate requirements if you're considering buying or selling a car in another state.
Registering a Car in North Carolina
To register your North Carolina vehicle, you will need to provide the following registration paperwork and payments:
Valid photo ID or NC driver's license
Notarized vehicle title
Proof of a valid car insurance
Completed title application (Form MVR-1)
Completed damage disclosure statement (Form MVR-181)
Payment for sales taxes
Registering a NC Vehicle by Mail
You can also register your vehicle by mail. You will need all the documentation you would provide in person, and a copy of your valid driver's license mailed to:
Vehicle titles/liens, duplicate registration
3148 Mail Service Center
Raleigh, NC 27697
Buying a Car in North Carolina with PrivateAuto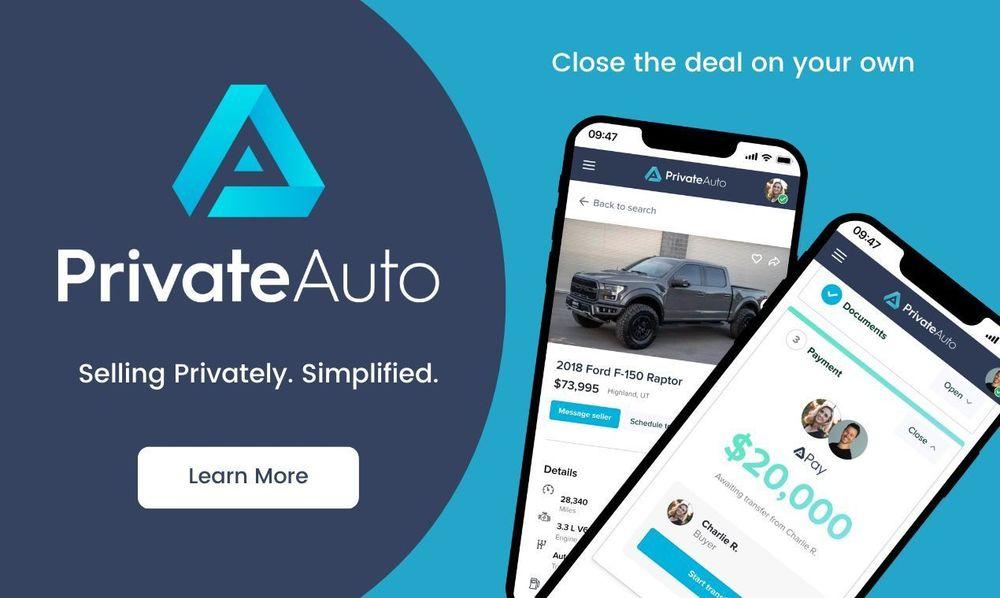 Buying a Car in North Carolina with PrivateAuto
It's easy to buy or sell a used car online with PrivateAuto. Whether you're looking for a Toyota Tacoma, a Ford Maverick, a Range Rover, or a Nissan 350z, North Carolina car buyers will find a great deal on the ride of their dreams.
We are the only end-to-end vehicle buying platform that gives you everything you need to get the deal done, from making offers to sending payments.
Browse our used cars for sale in North Carolina.
The PrivateAuto buying process consists of a few simple steps:
Sign up for PrivateAuto and get verified
We require email, phone, and driver's license verification, as well as facial recognition, to make PrivateAuto a safe place for everyone.
Search for a car you like
PrivateAuto makes it simple to browse our used car listings. Filter by model, make, mileage, year, and other criteria to make your search faster.
Make offers
Make an offer on any vehicles that catch your eye. It is entirely up to you whether to accept the seller's asking price or to make a lower offer. You can also decide whether to accept only ID-verified sellers.
Go for a test drive
As the buyer, you will want to test drive the vehicle. There will be no more back-and-forth texting. You never have to give out your phone number. Instead, use our easy scheduling feature to set up a time and place for a test drive. (Oh, and FYI, you'll be able to complete the transaction immediately at the test drive location.)
Gather all the documents
When you're happy with the car and the two of you have agreed on a price, you can easily e-sign the bill of sale from your phone using our app. With our feature for sharing documents, it's easy to find the paperwork you need after the sale.
Transfer the funds to the seller
Before PrivateAuto, getting the money was the most stressful part of buying a car, especially if you were buying a used car for more than $5,000. There aren't many good ways to move large sums of money quickly and easily.
Those days are over! With PrivateAuto Pay, you can instantly send funds anytime of the day.
Need used vehicle financing? Use our app to apply for a used car loan. If accepted, your profile will show "verified funds," and our financing partner will pay the car's seller. After that, you will make monthly payments to our partner. You will then make monthly payments to our partner. So convenient and easy.
Title transfer
The seller will transfer ownership of the vehicle to you by signing over the title. Afterward, you'll complete the transfer of title with the North Carolina DMV.
Selling your car? Choose PrivateAuto to get the best price and transact easily and safely!
North Carolina Car Buying FAQ
What kind of insurance does a used car need?
Used cars, like new cars, are required to have at least liability auto insurance. Every insurance company will have different rates, so make sure you look for the best auto insurance quotes.
North Carolina law enforcement requires you to keep proof of your car insurance in your car at all times.
Who pays for the car title transfer fees in North Carolina?
When applying for a NC title, the title transfer fee is paid by the buyer. The buyer will also pay registration fees and license plate fees, they are not included in the purchase price.
Does North Carolina lemon law apply to used cars?
Unfortunately, there are no used vehicle lemon laws in North Carolina. Lemon laws only apply to cars purchased from the dealership.
What are temporary tags?
Temporary tags, also known as paper license plates, are issued to car buyers as a type of temporary registration while license plates and registration are pending. They are also issued for demonstration cars in dealerships, vehicle transfers, or loaned cars.
Is buying a car privately for cash a good idea?
Purchasing the car privately for cash in North Carolina can be a good idea, but only if you buy from a reputable seller.
North Carolina car buyers are better off choosing a private party over a car dealership because it will result in better deals.
PrivateAuto provides the immediacy of a cash payment without the risk. When a buyer authorizes funds transfer through our app, money instantly moves from their PrivateAuto account into the seller's account—24/7, 365 days a year.
Are title certificates ownership documents?
Yes. A certificate of title is a legal document that proves ownership of a car. Whether you're selling or purchasing a used car, the transfer of ownership is the most important step of the whole car-buying process.
How to protect yourself when buying a vehicle privately?
To protect yourself when buying a car from a private seller, we recommend the following practices:
Never give out your contact information
Deal with verified sellers only
Have a bill of sale to legally validate the transaction
Send the payment through PrivateAuto Pay
The best way for car buyers to protect themselves when buying a car privately is by buying it on a secure platform that offers these features (such as PrivateAuto).
How can I get a duplicate title in North Carolina?
Replacing the car title is required if it's damaged, stolen, or if a lien needs to be removed.
To apply for a duplicate title you need the following:
The application for duplicate title (Form MVR-4)
A lien release form from your lien holder for any liens on the vehicle
Proof of ID
Payment for the NC duplicate title fee of $21.50
How do you transfer an out-of-state title?
If you have an out of state title, you will need to take your out-of-state title certificate to the nearest NC DMV office.
Additional documentation that you need to have with you during this process:
Where can I go to transfer a vehicle title in North Carolina?
There are many different North Carolina Division of Motor Vehicles locations, but these are the most common ones:
North Carolina Division of Motor Vehicles
27 Plaza Pkwy
Lexington, NC 27292
Division of Motor Vehicles
1022 Randolf Street Ste 13
Thomasville, NC 27360
Can you get extended warranty for used cars?
For used cars, including those bought from private sellers, there are third-party providers who offer extended warranties. These providers may offer a variety of coverage options and prices, so it's important to carefully read the terms of the contract and compare prices and coverage before making a choice.
We didn't find any matches
Try changing your search criteria or remove filters.