Is It Safe To Buy a Car With Venmo or Paypal?
When buying a vehicle privately, transferring money is often the most challenging part of the whole transaction. Almost every form of
payment
has drawbacks—even Venmo and PayPal.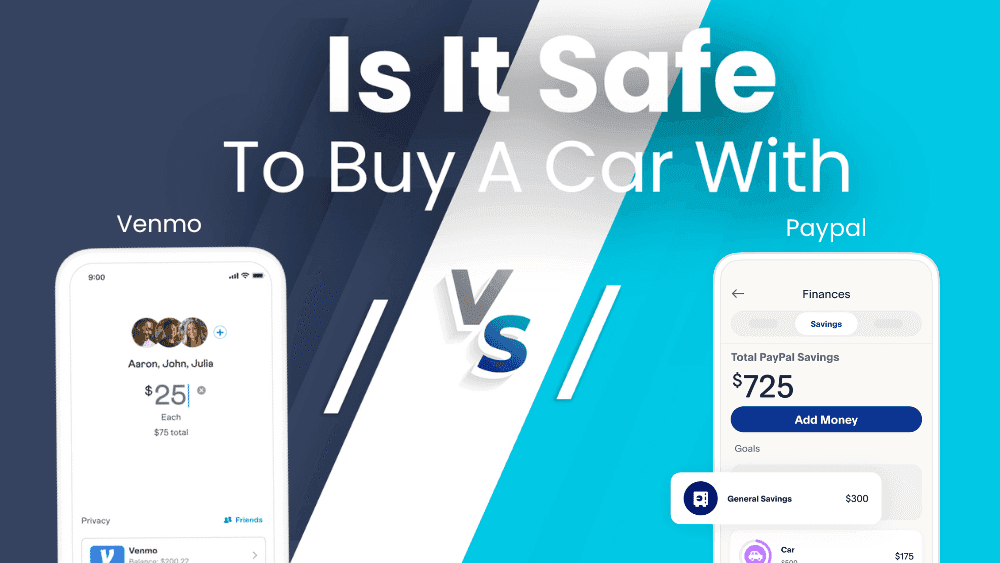 The right payment method should offer convenience, security, and financial protection between buyer and seller.
We created
PrivateAuto Pay
because other payment methods are too awkward, unworkable, or risky. It's fee-free, instantaneous, secure, and it works 24/7, 365 days a year.
Before we get into how amazing it is, let's look at why PayPal and Venmo are less than awesome.
Is Venmo a Good Payment Method?
Peer-to-peer money sharing apps like Venmo are handy for splitting bills and transferring funds to your friends and family. But when it comes to larger payments, like a car transaction, they fall short.
With a weekly sending limit of $5,000, Venmo won't work for buying a $20,000 vehicle—to say nothing of a $100,000 vehicle.
Peer-to-peer apps make sense for splitting dinner, but not for buying a
Land Rover Defender
.
PrivateAuto Pay offers a better solution. You can securely send and receive up to $1 million fee-free and instantaneously, 24/7/365. As convenient as Venmo, but for large purchases.
Is PayPal a Good Payment Method?
PayPal lets you send up to $10,000 per transaction and $60,000 per day. Better than Venmo's $5K per day, but still inadequate and awkward. Then there are the fees.
Unless you opt for the "friends and family" option (not recommended due to the added risk), PayPal charges a fee of 2.9%. For a $45K
Silverado
, that's an extra $1,300 bucks you'd probably have better use for.
Plus, using PayPal is awkward. PrivateAuto Pay, in contrast, is integrated into your transaction workflow. After you and the seller are prompted to sign the
bill of sale
in the PrivateAuto app, you'll be notified that it's safe to initiate payment, and the seller will confirm receipt immediately. They can then
transfer the car's title
and hand over the keys.
Introducing PrivateAuto Pay
PrivateAuto is the only safe, instantaneous, convenient, and contactless payment option for a used car transaction over $5,000. PrivateAuto Pay allows you to have escrow-like safeguards for free.
When it comes to buying and
paying for your car
, the benefits of PrivateAuto Pay include.
• Your PrivateAuto Pay account is actually a bank account that you own, on the PrivateAuto app.
• Easily move money between your PrivateAuto Pay and your external bank account via a balance transfer.
• Send up to $1 million instantly from your PrivateAuto Pay account to the seller's.
• No exchange of contact information or banking info.
• Contactless payment reduces disease risk.
• Encrypted info protects your data from hackers.
• Peace of mind knowing you can pay immediately with no coordination needed.
• Conclude the entire transaction when you meet the seller for a test drive.
•
Buy a car remotely
and forgo costly and inconvenient escrow services.
Protect yourself by choosing PrivateAuto Pay. Avoid fees and transfer limits that come with paying for a car via PayPal or Venmo.
What is DealNow?
If you've already found a car that you want to buy—even if it's not listed for sale on PrivateAuto—you can enjoy the power and convenience of PrivateAuto's transactional infrastructure to get the deal done. Our
DealNow
feature allows you to skip the initial shopping and negotiation process and go straight to the transaction.
Whether your dream car is listed on
Facebook Marketplace
, is being sold by a friend of a friend, or is being auctioned on a site such as
Bring a Trailer
, you can invite the seller to DealNow and enjoy unparalleled security and convenience.
DealNow uses PrivateAuto Pay for payments and offers all the same conveniences, along with a fast-tracked dealflow.
Here are some of the advantages of using DealNow:
• Streamlines the transaction process when you already have a car in mind
• Bypasses the shopping, messaging, and negotiation steps
• Provides end-to-end transaction support including legal documents and instant payments
• Enables you to close a deal after meeting a seller on another platform—or in real life
• Gives you escrow-like safeguards in the palm of your hand, for free
• Allows long distance transactions with instant payment capabilities
• Saves money and time by eliminating the need for an
escrow service
• Reduces risk through identity verification safeguards
• Saves time by concluding deals faster
• Fee-free payments up to $1 million that process instantly
What is the Best Way to Finance a Car?
PrivateAuto offers auto financing via a third-party FDIC lender that is integrated into our technology infrastructure. This integration makes the financing process a seamless part of your PrivateAuto deal flow. Here's how it works:
1. Apply for financing through the PrivateAuto app and get approved after a credit check.
2. Our lending partner funds your PrivateAuto Pay account.
3. You buy the car and pay the seller instantly via PrivateAuto Pay.
4. You make car payments to the lender.
It's so smooth, you'll wonder why this wasn't available all along. Gone are the days of coordinating between seller and lender and trying to get everything lined up.
Here are some other key advantages:
• Everything happens in the PrivateAuto app, from car search all the way through securing your auto loan and sending payment to the seller.
• Fast approvals. Get approved in minutes without having to fill out extensive paperwork.
• Funds deposit quickly. Once approved, you'll have funding deposited into your PrivateAuto account within days.
• Instant transfers. Send money instantly to the seller right from your PrivateAuto Pay account.
• Competitive rates. PrivateAuto offers financing from an FDIC partner that offers competitive loan rates.
If you're in the market, feel free to
get started with car financing here
!
How to Avoid Fraud When Buying a Car
Unfortunately, when purchasing a car privately, fraud is a major problem. Scammers use a variety of methods, such as faked vehicle histories, odometer tampering, or
salvage title
scams.
We offer vehicle history reports with all premium listings and also have identity verification. These measures cut down significantly on fraudsters, but it always pays to be vigilant.
Don't let a seller rush you into accepting a high price or paying without verifying the details and test driving. If a seller gives you a high-pressure "act now or lose out" ultimatum, it's best to walk away. If the car is priced fairly, there will be other listings available without undue seller pressure.
The key is taking your time—carefully inspecting the car, verifying the
VIN
, test driving carefully, and not paying until you're confident about going through with the transaction.
PrivateAuto gives you safeguards such as seller identity verification, keeping your sensitive info secret, test drive scheduling, and instant payments via PrivateAuto Pay.
When I Buy a Car From a Private Seller, Can I Drive it Home?
Most states require the seller to remove their license plates before turning the car over to you, so you'll be driving without plates. You should check with your local DMV to see what they advise.
In general, here's what to know about driving your new-to-you vehicle home after the purchase.
1. In most states, you can legally drive a newly purchased vehicle home without temporary tags or registration, provided you have a bill of sale and title transfer paperwork with you. However, be sure to check your state's DMV regulations before hitting the road.
2. Some states do give temporary registration tags that let you drive for a short period before receiving permanent plates in mail. For example, in California, you can get a temporary operating permit to drive for 90 days after a private party purchase. Check with your local DMV on options.
3. If you register the car immediately, some DMV offices can provide same-day temporary permits after processing the title transfer paperwork.
4. If you already have auto insurance, contact your provider to add the new car to your policy before driving it. If not, you'll need to purchase a new policy. Insurance is required to drive legally.
5. Keep documentation like the bill of sale, title paperwork, and insurance card with you when first driving the car. Also, be prepared to explain the situation if pulled over before receiving plates.
You might find
our state-by-state guide to license plates
a handy resource. It covers what happens with license plates when a used car is sold, and you can learn more about the requirements of your state.
What to Do After I Buy a Car from a Private Seller?
Buying a car from a private seller rather than a dealership requires a few extra steps to make sure you can legally drive and register the car.
Key steps after buying a car privately are registering the vehicle, transferring the title, and getting new plates issued in your name (unless you're in California or Minnesota).
Here are some more details on handling those specific post-purchase tasks:
• When you purchase the car, the seller should provide you with the signed title. Review it to make sure their name is listed and they signed it over to you.
• Before driving off, contact your insurance company to add the car to your policy. You typically need valid insurance in your name to drive legally. Make sure you have proof of insurance.
• Head to the DMV as soon as possible to transfer the title to your name and register the car. Bring the title, bill of sale, ID, and insurance documents. Pay any required car
sales taxes
and registration fees.
• The DMV will provide you with new registration documents and license plates for the car in your name. These are required to legally drive the car.
• All states except California and Minnesota: remove the old license plates and put on the new ones. Destroy the old registration and replace it with the new one for your records.
• Consider having the car inspected for safety and emissions testing if required in your state. The DMV can provide guidance.
• Notify your insurance company that the car is now registered in your name. Provide them the new VIN, plates, and registration.
Buying a car is a lot like starting a new relationship. You'll be spending a lot of time together. Start things off right by handling all the details associated with buying a car from a private seller.
Buy a Car Through PrivateAuto
You'll love how smooth and secure the car buying process is when you use the PrivateAuto mobile app.
1. Browse
used cars for sale by owner
. Filter by location, vehicle type, or other criteria.
2. Make offers on vehicles you like (PrivateAuto lets you offer less than the asking price)
3. Message the seller with any questions without giving your contact info
4. Schedule the test drive while keeping your personal details private
5. Electronically sign the bill of sale along with the seller
6. Instantly send payment and take ownership of the car when the seller signs the title and gives you the keys
Frequently Asked Questions
---
What are the advantages of buying from a private seller vs car dealers?
Many people believe that buying a car from a dealer will save them money. Actually, going to a dealer is more expensive.

- Dealerships charge documentation fees above and beyond all the other taxes and fees you have to pay (the other taxes and fees are exactly the same whether you buy from a dealer or a private seller, by the way). Documentation fees can be as high as $995.
- Used vehicle dealerships usually have higher prices. Their business model is built around buying low and selling high to generate the spread that allows them to stay in business. To get the best deals, avoid the middleman and deal directly with private sellers.

When you buy a used car from a private seller on PrivateAuto, you avoid the doc fee and get a better deal.

We admit that buying from a dealer provides a level of convenience that is not typically available when buying from a private seller. That is, after all, why we exist. PrivateAuto gives you dealer-like convenience while also allowing you to transact with regular people like yourself.

Cutting out the middleman unlocks major savings. Our pioneering protections, like verified IDs and secure messaging, enable private sales with peace of mind. Buy directly from motivated sellers on your terms.

---
What is the best place to buy a car from a private seller?
---
Is paying with a check better than paying in cash?
---
Does PrivateAuto provide the necessary paperwork for a successful transfer of ownership?
---
Do I need an escrow service when buying a car privately?
---
Can I pay by bank transfer for a used car?
---