When you sell your car online, you can reach a wider pool of potential buyers than you would with traditional classified ads. Discover how to get more from online private auto sales with PrivateAuto.
Traditional classifieds reach only local buyers. Online vehicle ads can reach potential buyers from all over the world. Why would someone from a faraway place be interested in buying your vehicle? There are several reasons:
You're selling a classic. Vintage automobiles which had high-volume sales for the year become known as classics and tend to increase in value. A buyer may be willing to travel to buy such a vehicle.
You have a rare or exotic vehicle. Like classics, limited-production cars may increase in value and attract buyers from faraway places.
Someone who is planning to move to your area in the near future. For example, a college student that's about to graduate and move to your town or a nearby community. Also, someone about to be discharged from service in the armed forces and is looking for cars for sale by owner.
Someone who doesn't mind traveling to get a good deal. Even if you're selling a junker, there may be interested buyers from outside your local area looking for a great deal.
Before You Sell Your Car Online
There are a few things you need to do before listing your car on a website. These will help smooth out the process of selling your vehicle and also help you get the best price.
What's Your Car Worth?
Before you set the asking price for your ride, you'll want to know its fair market value. Here are some of the most popular sources for finding a car's value.
Kelley Blue Book. The Kelley Blue Book was first published in 1926 by Les Kelley, a dealer in Los Angeles. It gathers data from wholesale auctions, car dealers, automobile manufacturers, rental fleets and other related sources to determine a vehicle's value.
Consumer Reports. Consumer Reports is the trusted buyer's guide for all kinds of consumer goods. It estimates your car's value with data from Black Book, which was previously only available to auto dealers.
CARFAX. The CARFAX report determines the value based on the car's history. For example, if the car's been in an accident, it will likely be valued less.
NADA Guides. In 2015, J.D. Power acquired the National Automobile Dealer Association (NADA). J.D. Power provides the data based on dealership pricing by location.
Edmunds. The Edmunds tool collects data about the selling price of similar automobiles in your region to determine "true market value." When you use the Edmunds tool, be careful not to exaggerate the car's condition. Most private auto sales vehicles will rate "clean" or "average." Very rarely will a car rate "outstanding."
Get an Inspection
When preparing for online private auto sales, you'll want to be sure it's roadworthy, so take it to a trustworthy mechanic.
ASE certification is the most reliable way to tell if you're dealing with a competent mechanic. The National Institute for Automotive Service Excellence (ASE) is a nonprofit organization founded in 1972 to support consumers in finding competent auto mechanics.
Look for a shop where the lead mechanic has the Master Automotive Technician ASE Certification. This shows that the mechanic is skilled in inspecting and servicing most cars and light trucks.
If you're selling a hybrid or EV, look for a mechanic that has ASE credentials for electric vehicles. The same goes for vehicles that run on alternative fuels such as compressed natural gas (CNG).
Make Repairs
You can spot some defects without a mechanic's inspection — for example, a broken headlight or taillight. But a good mechanic will uncover hidden problems that can affect your car's value:
Proper functioning of the standard and optional equipment.
Condition of brake pads
Underlying problems with the frame, body or engine
Mechanical or electrical problems
Hidden rust, fluid leaks, burned out bulbs and fuses
Worn tires can also lower the value during private auto sales. The Department of Transportation recommends that you replace tires with a tread depth of 2/32 of an inch or less.
If you don't have a tread depth measuring tool, you can measure with the "penny test."
Using a U.S. penny, rotate the coin so that the top of Abe Lincoln's head is turned toward the tire.
Insert the penny into the tread groove.
The distance from the edge of the coin to the top of Lincoln's head is 2/32 inches. If the top of his head doesn't go inside the groove, it's time to replace the tires.
However, consider getting new tires even if yours are only moderately worn. It could make a difference in how much you get for your car.
Car Detailing
Market value is one thing, but the value to the buyer is what really matters. Spend a little time and money to make your ride look good. Besides exterior wash and wax, get the interior professionally cleaned. Replace old, worn-out floor mats with new ones.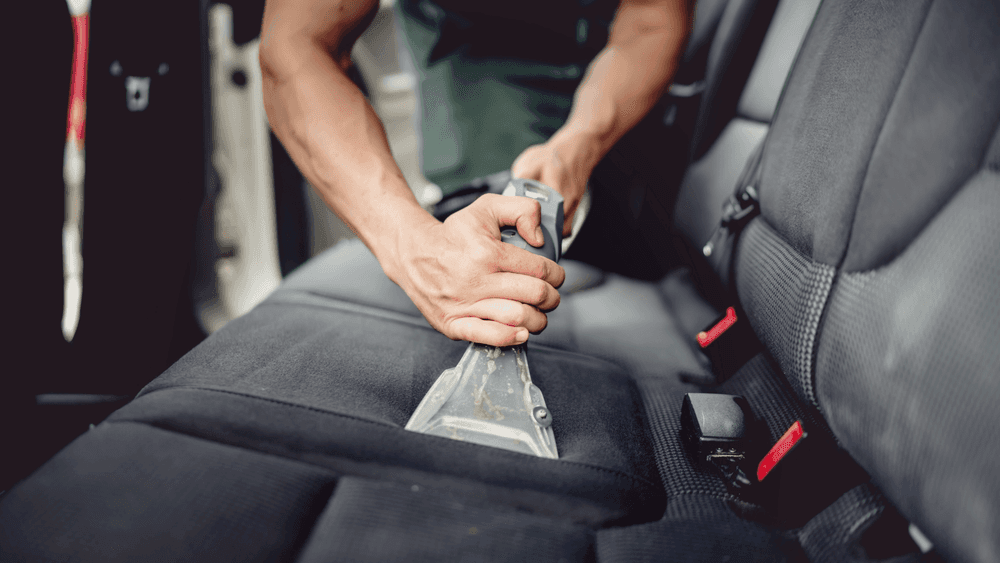 Create an Ad to Sell Your Car Online
You'll want to place an ad that gets attention from qualified buyers. Let's say you're selling a black 2019 Ford Mustang. You want to get the people who are interested in a black Mustang to look at your Mustang for an effective private auto sales experience.
Description
In the vehicle's description, start with the basics:
Year
Make and model
Mileage
Transmission type: manual or automatic
Color
Two doors, four doors or hatchback
Fuel type: gas, diesel, hybrid or EV
Highlight what makes your vehicle great:
Upgrades (like sound system, navigation, and so on)
One owner
Non-smoker
No accidents
Fuel economy
Photographs
When selling your car online, keep in mind that most buyers won't even look at your ad if it doesn't have photos. The more photos, the better — be sure to get many exterior and interior shots.
Wash your car and vacuum the interior before your photoshoot so that your potential buyers see a shiny and clean vehicle. Shoot in a place where you have plenty of room to walk around the vehicle to get photos from every angle.
Take the photos in the early morning or late afternoon so that the sun isn't too bright. Otherwise, shoot when there's a cloud cover. Bright sunlight creates hard shadows which will distort the image. Reflections from your car's surface will make the colors look wrong.
A softer light, on the other hand, makes the images crisp and the color outstanding. Get photos from many angles. As a minimum, you should take photos from the front, back and side view.
Take interior shots. Get photos of the instrument cluster, the shift terminal and the seats. If there are any special features, like decorative stitching on the upholstery, get photos of those too. Include photos of any dings or scratches. Potential buyers will appreciate your honesty.
List Your Car for Sale Online
There are hundreds, if not thousands of places where you can sell your car online. Some, like Autotrader, began in print media long before the internet was born. There's a good chance you'll use more than one.
The best way to handle multiple listings at once is to use a listing on PrivateAuto as your primary listing. Use the link to this listing as your contact information for a listing on Craigslist, Facebook Marketplace or other site. This gives you the full advantage of multiple listings with the security of the PrivateAuto site.
Selling your car online has the potential to reach a lot of prospective buyers and can get you terrific offers. You can list your vehicle for sale on a virtually infinite number of websites. Some are free. Others you have to pay, usually monthly, to list your ride.
Why List on PrivateAuto?
PrivateAuto is more than a place to list your car for sale online. We equip you with tools to help you complete the sale smoothly, quickly, and with little expense. Our listings include all the features you need to list your car effectively. They also come with a benefit you won't get from any other online car listing — a free, printable window brochure.
You can park your car in a public place, like a mall parking lot. The window brochure can tell interested buyers about the car (special features, options, mileage, and more). Be sure to find out if any ordinances or property owner rules are against you using the area for private auto sales. Expenses that go with getting towed will kill profits.
Managing Offers
PrivateAuto's offer management tool lets you reject offers you don't want and keep others in play until you get the best offer. You can even send potential buyers from other listings a link to your PrivateAuto offer page.
You can avoid scammers with PrivateAuto. We verify potential buyers' email, phone, and driver's license. With our listings, we verify that they have the funds to buy your car.
Arranging for a Test Drive
When it comes time to arrange a test drive for a potential buyer, it can lead to endless phone calls and texts. PrivateAuto's test drive scheduler eliminates all that. Set up a location and let the customer pick from times that are convenient for you.
Transferring the Title and Signing Documents
Your listing on PrivateAuto comes preloaded with the documents you need to sell a used car online in your state. Your buyer can electronically sign the Bill of Sale, DMV release of liability and other documents straight from the app.
Accept a Secure Payment
There are a lot of car buying scams that make buyers understandably nervous to shop online. At PrivateAuto, you can accept a payment without putting yourself or your buyer at risk.
Direct banking integration verifies funds from the buyer before you hand over the title. You can enjoy direct electronic transfer of payment, so you don't have to carry around a large pile of cash or worry about accepting a check.
For the buyer, financing options can be conveniently handled on the platform. This gives more buyers the opportunity to make an offer on your vehicle.
Create a Listing Today
With PrivateAuto, you can verify that your prospects have the money to buy your car. You get preloaded documents for your state which your buyer can sign right in the app. It also lets your buyer transfer funds so you can complete the sale quickly and easily.
It's easy to get started. Create a listing today for reliable private auto sales with PrivateAuto.