Transferring a Car Title Over To Another Party Can Be Challenging
A title transfer document isn't difficult to come by, but it's a lot of work for both buyers and sellers. Officiating a vehicle transfer is more time-consuming than expensive, involving plenty of paperwork and running around to make sure the documents get to where they need to be.
What makes this process even more frustrating, especially for folks who move frequently, is that every state has different requirements. Some states mandate that all vehicles must pass an inspection and emissions test before being put on the market.
When you use PrivateAuto to buy or sell a car, we simplify the entire transaction process by having both buyer and seller follow guided prompts within the PrivateAuto mobile app. You'll know when it's time to e-sign the bill of sale, transfer the title, and transfer funds.
Documents Needed to Transfer a Title
To legally transfer a vehicle title, you obviously need the title document itself. Additionally, many states require additional documentation. Here are the most common documents required:
Certificate of title
Bill of sale
Odometer disclosure
Emissions report
Certain states have additional requirements, including but not limited to, insurance coverage, vehicle history reports, and a damage disclosure form.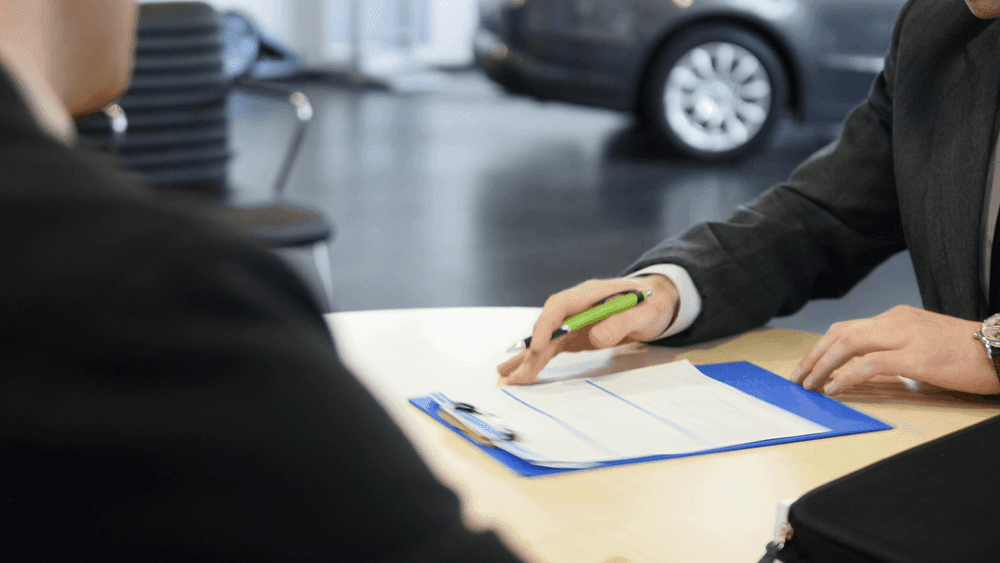 Steps For Signing Over a Car Title
Here are the basic steps a seller will take to transfer ownership of a used car to its ne buyer.
Locate The Current Title Or Apply For a Duplicate
When signing over ownership of your old car, you must hand over the current title to the buyer. This is crucial, particularly for the new owner, since they're required to have it for insurance and registration purposes.
If you've misplaced or lost your vehicle's title, you'll need to get a replacement title before you can transfer ownership of the vehicle. It may sound silly to order a copy of a misplaced title when you're planning on transferring the title anyway, but it's the law.
You can obtain a duplicate title through the DMV, either in-office or by mail. Applications are also available for download on most state DMV websites. Certified copies of titles are available upon request, and you can choose to either pick up your title in person or have it mailed to you. Please note that it may take longer to receive your title if you choose to mail it.
Draft a Bill of Sale
According to Nolo, an online legal encyclopedia, "The bill of sale is a hybrid legal document with two purposes: it confirms transfer of title to (ownership of) the property and, in doing so, serves as evidence of a contract."
Since the bill of sale states the transaction date, it can offer legal protection to the seller, should they be accused of violations they didn't commit. This document is also very important for tax purposes, especially if the vehicle is considered a capital gain. Even if you took a loss on the sale, you should still keep a copy of this information just in case.
The bill of sale should include the following:
Purchase date
Legal name, mailing address and physical address of the seller and buyer
The EXACT purchase price*
Vehicle description (make, model, year, body style)
Vehicle mileage (and/or odometer disclosure form)
Vehicle Identification Number (VIN)
A formal disclosure statement that the vehicle is free of any claims, liens, and offsets.
Warranty information
Signatures of the seller and buyer
Additionally, many states require a signature from either a notary public or two witnesses.
*Sellers can face legal action if the sales price listed on the bill of sale is less than the amount paid. Putting a fraudulent price tag on the bill of sale is a common scam used by crooked sellers to evade steep tax rates.
Many states are cracking down on "sales tax shortcuts" by comparing vehicle sales prices to the book values. It's a good idea to keep any bank statements that prove the price is genuine, especially if you're selling the vehicle for less than it's worth.
PrivateAuto makes the bill of sale process easy. Buyer and seller each e-sign it in our mobile app at the appropriate point in the transaction process.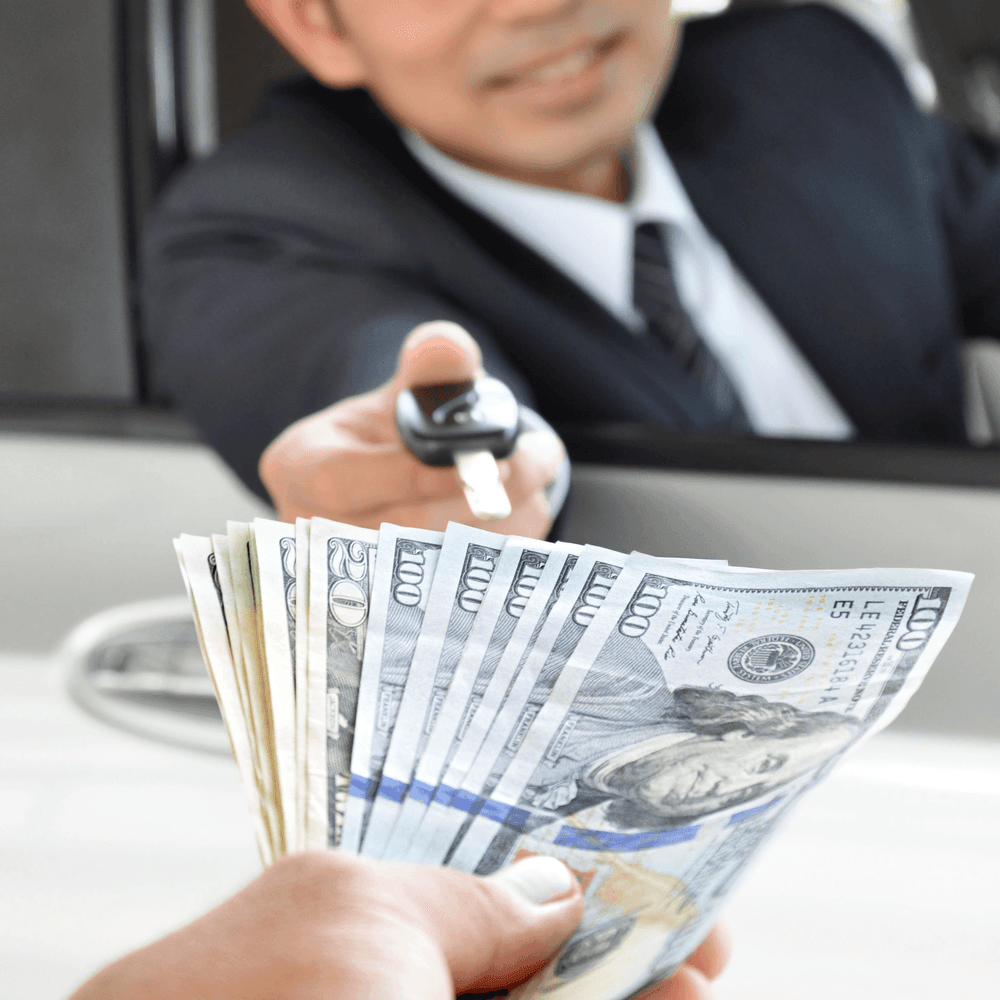 Exchange payment
Payment is another essential part of the vehicle transaction process.
As a seller, do not hand over the title or complete the title transfer documentation until the buyer pays for the car. Once the title transfer is complete, the buyer is the legal owner of the car, regardless of if you received payment or not.
Until PrivateAuto, no payment method existed for private vehicle transactions that met all of the following criteria:
Good for any transaction amount
Instantaneous
Secure
Safe
Verified funds
Cash is risky; cashier's checks require time to clear and are not foolproof; Venmo has transaction limits—each payment method has significant drawbacks.
PrivateAuto Pay solves all of these issues. It is a direct banking integration that operates as a seamless part of the PrivateAuto application. At the appropriate step in the transaction process (after both parties have e-signed the bill of sale), the buyer will be prompted to transfer funds and the seller will receive them instantaneously. Any amount. Any time of day. Any day of the year.
No more suitcases of cash, no more waiting for checks to clear. No more payment hassle.
Release Liens
Upon receiving payment for the car, the seller should contact lienholders to settle any outstanding debt on the vehicle, should any exist.
The lending institution should also give you a lien release document, upon paying off your balance due. The seller should receive the title between 10-30 days after the debt is settled, depending on how the information is submitted.
Transfer The Title
This is the crucial step that transfers ownership of the vehicle from seller to buyer. The buyer will need the certificate of title document for registration and insurance purposes.
The vehicle owner (seller) needs to bring a certificate of title. This can be a duplicate title, or the original. Both seller and buyer must fill out all fields on the title.
It's a good idea for the buyer to check the vehicle identification number and compare it with that listed on the vehicle title. Sometimes, VINs are falsified as part of some fraudulent scheme. Other times, the wrong VIN is listed on the title from a clerical error that was never rectified.
If you buy or sell through the PrivateAuto platform, the title will already be verified for added peace of mind.
You May Need To Provide Proof Of Insurance For The Vehicle
Some states require the owner to have active vehicle insurance coverage at the time of title transfer. Before beginning the process, check with your state's DMV website or call the local office to make sure all your bases are covered.
Notice of Release of Liability
Some states, like California, require that sellers file a Notice of Release of Liability (NRL) after a car is sold. In most states, however, this document is an optional precautionary measure.
An NRL offers the seller protection from being unjustly charged for traffic offenses that occur after the vehicle changes hands. It alerts the DMV that the owner and person responsible for the vehicle has changed. According to the California DMV website, an NRL is only needed when vehicle ownership has changed.
DMV Title Transfer Paperwork
Aside from the bill of sale, a Notice of Title Transfer (sometimes called a Motor Vehicle Transfer Notification) is the single most important document for signing over a car. Both parties must be present to fill out and sign their respective portions of this notice.
The following information is required on the title transfer form:
VIN
Make, model, year, and body style of the vehicle
Title document number
License plate number
Date of transaction
Legal names, addresses, telephone numbers, and email addresses of both parties
Signatures
At the bottom of this form, you'll find a certification portion where the transferor and the new owner must sign and date.
This section will read something like this:
"I, the above-listed transferor, am notifying the Department of Motor Vehicles that I have transferred the above vehicle, which was legally owned by me and had a title issued in my name.
I understand the department will notate the transfer on the vehicle record, and under law, the vehicle will remain in my name until the new owner(s) transfers the title into their name."
Don't wait to submit the paperwork to the DMV, since many states have costly penalties for filing a Title Transfer Notice after the deadline. Every state's different, with some allowing up to 60 days and others allowing buyers only 5 days to complete the title transfer process.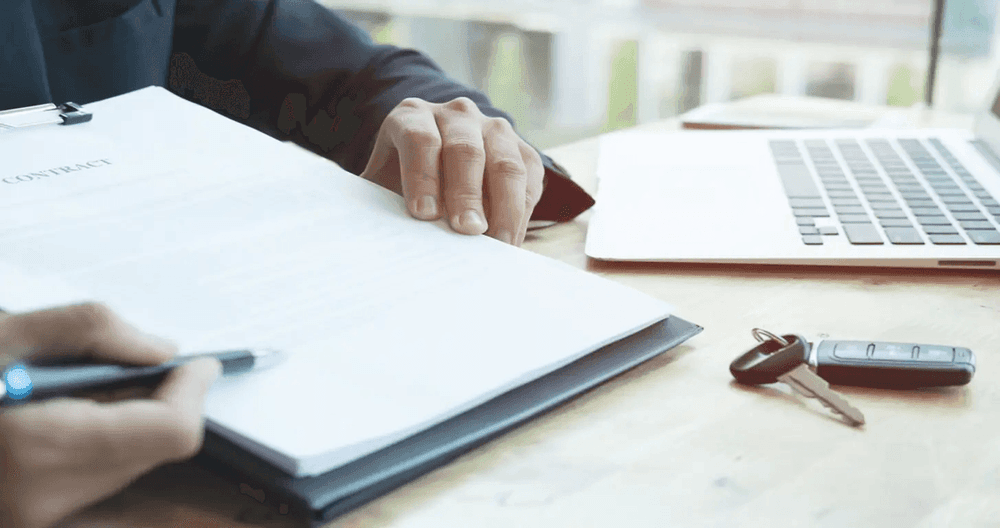 License Plates
Different states have different criteria for what to do with the license plates after a vehicle transaction. Some states specify that the buyer keep the plates with the car. In other states, the law requires that you remove the license plates from the car and surrender them to the DMV. Still other states allow the seller to transfer the plates to another vehicle they own.
Check out our state-by-state license plate guide for instructions on what to do with license plates in your state.
In states that require the seller to remove the plates, the buyer will need to get temporary plates or a vehicle transport permit from the DMV or county tax office to legally drive the car.
Vehicle transport permit laws differ from state to state. In Texas, drivers can either pay for a 72-hour or 144-hour permit, whereas in some other states, drivers are allowed 30 days before they have to get a permanent plate. Fees for these permits range substantially, so check with your local DMV to see how much you'll need to cover the cost.
Register The Car
New owners should head to the DMV as soon as possible to register the vehicle under their name. In addition to the Application for a Registration form, the DMV will request identification, proof of address, proof of insurance, and a bill of sale.
Tips For Filling Out a Title Transfer Notice
Use blue or black ink and refrain from using correction tape or liquid on the form. Otherwise, you could risk nullifying the document.
Sign your name on the title transfer as it appears on the original title. This is especially significant for those who've had their name changed.
Ensure the lienholder has filed the paperwork on their end to relinquish rights to the vehicle before you transfer ownership.
Sell Your Vehicle through PrivateAuto
PrivateAuto makes selling your used vehicle easy. The sales process consists of a few simple steps:
Gather necessary documentation
You'll need your vehicle title and other documentation discussed above. Have it handy, so you're not scrambling to find it at the moment of completing a sale.
Register on PrivateAuto and get verified
To make PrivateAuto a safe place for everyone, we require email, phone, and driver's license verification, including facial recognition.
List your car
Easily create your PrivateAuto listing with our step-by-step guide. Bonus: we include a window brochure with a QR code scannable to your listing.
Set your terms
It's your car, so you drive the deal! You can control where, when, and who you meet. Decide whether to accept only ID-verified buyers, or buyers with verified funds. Don't waste your time with buyers who aren't verified to your preference.
Vet incoming offers
Manage offers in one place with the ability to accept, reject, or counter offers within the app. Listing on multiple sites? Filter all communications through PrivateAuto by sharing your listing link on all platforms. Your personal info is protected: no more giving out your phone number or email address. All communication happens in our app.
Choose a buyer
When you find an offer you like, accept it and proceed to the next step with that buyer.
Schedule a test drive
The buyer will want to test drive your car. No more back and forth texts. You never have to give out your phone number. Rather, use our handy scheduling feature to coordinate a time and place for a test drive. (Oh, and you'll be able to finalize the transaction instantly at the test drive location, FYI.)
E-sign documents
After the buyer is satisfied with your car and the two of you have agreed on a purchase price, you can easily e-sign the Bill of Sale within our app, from your phone. With our shared documents feature, you can easily locate the vehicle paperwork needed after the sale.
Get paid, instantly
Before PrivateAuto, receiving funds was the most stressful part of the entire selling process, especially for any used car sale over $5,000. There just aren't a lot of good ways to move large amounts of money quickly and conveniently. Those days are over! Verify and receive funds instantaneously with PrivateAuto Pay, our innovative banking integration. Guaranteed funds for transactions large and small.
Transfer title
When you sell your vehicle, fill out the necessary information on the back of the title transfer document.
Cancel car insurance
You don't want to pay for insurance on a car you no longer own, so be sure to remove the sold vehicle from your insurance plan.
Interested in buying a used car? Browse used vehicles for sale!
Car Title FAQ
What happens if you don't transfer a title within 10 days?
In most states, car buyers have 10 days to transfer a car's title into their name. If they don't, they may face some consequences. If you bought your car from a dealership, they may charge you a late fee if you don't transfer the title promptly.
Your state's DMV could put a hold on your registration if you delay beyond 10 days, which means you wouldn't be able to get your license plates or tags until you transfer the title.
Additionally, if you're pulled over, the police may give you a ticket for driving an unregistered vehicle. So it's important to make sure you transfer the title within the allotted time frame to avoid any potential problems.
Can I just sign a car title to someone?
When you sell a car, you need to sign the title over to the buyer. This transfer of ownership is what allows the new owner to register the vehicle in their name and obtain insurance.
Signing over a car title is a pretty straightforward process, but there are a few things you'll need to keep in mind.
First, make sure that the person you're signing the title over to is qualified to drive the car. If they're not, then they won't be able to register the car in their name.
Second, you'll need to make sure that the title is free and clear of any liens or encumbrances. If there are still payments owed on the car, then you'll need to arrange for those to be paid off before you sign the title over.
Finally, be sure to have all of the necessary paperwork including bill of sale and odometer reading in order before you sign anything. Once everything is in order, simply sign your name on the dotted line and hand over the keys.
Can you transfer the title of a financed car?
When you finance a car, the lender holds the title until the loan is paid in full. This is to protect their investment in case you default on the loan and they need to repossess the vehicle.
Once you've paid off the loan, the lender will send you the title with their name removed and your name added as the sole owner.
If you're selling the car before it's paid off, you'll need to transfer the title to the new owner and add them as a lienholder. This can be done through your local DMV office. You'll need to provide the new owner's information, as well as proof of insurance and payment for any applicable fees.
Once everything is processed, the DMV will send you and the new owner the updated title.
Vehicle ownership is an important step in life. If you don't transfer vehicle ownership correctly, you could be held liable for any damages that occur while the car is in the new owner's possession. As a result, it's important to be familiar with your state's laws on vehicle transfer and title transfer before you sell or trade-in your car.
What should I do if I have a signed title, but no bill of sale?
When you purchase a vehicle from a private party, they should provide you with a bill of sale. This document is important as it proves that you are the new owner of the vehicle. The bill of sale should have the seller's name printed on it, as well as important information about the sale, such as the purchase price and any conditions or warranties that are attached to the vehicle.
In some cases, you may receive a signed title from the seller but no bill of sale. In this case, you should check with your local tag & title office to see what their requirements are. In most cases, a signed title with a statement of mileage is sufficient for proof of ownership.
When you buy a car through PrivateAuto, you'll have a signed bill of sale in your PrivateAuto account as part of the transaction process.
What is a transfer of ownership form?
A transfer of ownership form is a legal document that is used to transfer the ownership of property from one person to another. The form must be signed by both the seller and the buyer, and it must be notarized by a Notary Public. The date of the transfer, the owner names and addresses of the parties involved, a description of the property being transferred, and the signatures of witnesses must also be listed on the title.
In some cases, the form may also need to be registered with the state or local government. A transfer of ownership form is a simple way to ensure that the property is transferred legally and without any problems.
How do you sign over a car title in Alaska?
To sign over a car title in Alaska, the current owner must fill out the appropriate forms and submit them to the Alaska Division of Motor Vehicles. However, there are a few laws and rules that must be followed in order for the transfer of ownership to be valid.
The form will need to include the vehicle's identification number, make and model, as well as the buyer's name and address. Both the buyer and seller need to fill out a form and provide an identification card. The seller also needs to provide proof of insurance.
In some cases, the DMV may require an emissions test before vehicle registration can be completed. The process is similar for other types of motor vehicles, such as RVs and motorcycles. In most cases, the seller will also need to provide a bill of sale as proof of purchase.
Once the forms have been submitted, the division of Motor Vehicles will issue a new title in the buyer's name. The buyer will be able to register their new vehicle and obtain license plates.
How do you sign over a car title in Nevada?
There are a few things you need before you can successfully sign over a car title in Nevada. When you buy or sell a car, you'll need the current title for the vehicle, as well as a bill of sale. The bill of sale should list the date of purchase, the names, and addresses of the buyer and seller, and a description of the vehicle, including the year, make, model, and VIN. You'll also need to have the title signed by the seller, and both parties will need to provide their driver's license numbers.
Once all of this information has been gathered, you can take it to your local DMV office and they will help you complete the transfer process.
How do you sign over a car title in MA?
In the state of Massachusetts, there are a few requirements that must be met in order to sign over a vehicle title. This process can be completed at your local Registry of Motor Vehicles (RMV) branch.
To begin, the seller will need to sign the title over to the buyer. The next step is for the buyer to complete an application for title and registration application. This form must be accompanied by a bill of sale and the appropriate title fees.
If you transferred your title to a family member, you will need to fill out a completed Registration and Title Application. This form must be signed by both the seller and the buyer, and it must be notarized. The person gifting or donating the vehicle must submit the following sales tax exemption form (MVU-24).
Once the forms are completed, they should be sent to the address listed on the forms. The Massachusetts Registry of Motor Vehicles (RMV) will then process the transfer and issue a new registration certificate.
How do I transfer a car title in Alabama?
If you're selling or gifting a car in Alabama, you'll need to transfer the title to the new registered owner. The process of transferring a title in Alabama is relatively simple, but there are a few things you'll need to do first. Make sure you have the following documents:
The vehicle's current title
A completed Application for Certificate of Title (Form MVT 5-1), which can be obtained from your local county office
A bill of sale, if applicable
Proof of insurance
Your driver's license or ID card
The appropriate fees (which vary by county)
Once you have all the required documents, take them to your local county office. The title will be transferred to the new owner and you'll be given a release of liability form to sign. This form acknowledges that you are no longer responsible for the vehicle and releases you from any future liability. Make sure to keep a copy of the form for your records.
How to sign over a title if the vehicle owner is deceased?
If the owner of a vehicle is deceased, the title can be signed over to the surviving spouse or another family member to release ownership—or transferred to a new buyer. The process begins with obtaining a death certificate from the county courthouse where the death occurred. Once you have the death certificate, you can take it to your local DMV office and fill out a form to have the title transferred.
Family members of deceased owners will need to provide proof of relationship to the deceased, such as a marriage certificate. If you are not the surviving spouse, you may need to provide a power of attorney form that gives you permission to take possession of the vehicle. Once the form is complete, you will be able to take possession of the vehicle.
After the title is transferred from the deceased, the new titled owner may need to pay a registration fee, depending on the state. It will be important to get the vehicle registered under the new owner as soon as possible.