The Ultimate Car Transport Guide
If you've just
purchased a car in another state
and don't feel like driving it home, you probably need to arrange to have a company transport your vehicle home. This guide will help you figure out the best way to transport your new-to-you vehicle safely and securely.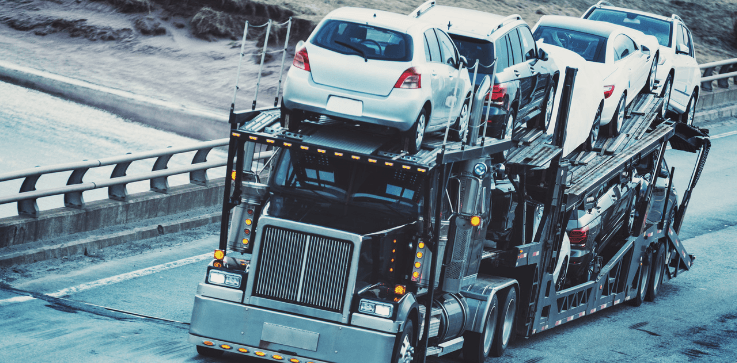 What Are Vehicle Transport Companies?
Vehicle transport companies specialize in shipping vehicles from one location to another. From luxury cars and rental cars to boats and motorcycles, these services can usually transport almost any type of vehicle. There are also niche transport companies that specialize in certain vehicle types:
• commercial car shipping
• military car shipping
• motorcycle shipping
• truck shipping
•
exotic car transport
• boat shipping
•
classic car shipping
• RV shipping
What is open transport?
Open car transport is the most common; cars are transported on an open trailer that is exposed to the elements. It's not hard to see why open transport is more economical than closed transport.
What is enclosed transport?
Enclosed auto transport
is a more specialized service that provides greater protection for the vehicle. This involves the use of an enclosed trailer, which shields the vehicle from the elements and road debris. Enclosed transport is often used for shipping expensive, classic, or luxury cars. Needless to say, enclosed transport usually costs a lot more.
What are the best transport services?
Different types of auto shippers have their pros and cons. Let's take a look at a few
auto shipping companies
that stand out from the competition. Of course, there are many other shipping options, but these are just a few that our customers have given good feedback on.
Note that the following companies are independent of PrivateAuto and that PrivateAuto gets no compensation for mentioning them. Nor does PrivateAuto accept any responsibility for the performance (or lack thereof) of these companies.
Montway Auto Transport
Montway Auto Transport
is a popular car shipping company that offers both open and enclosed car transport, as well as expedited car shipping. They also offer free instant quotes online, which makes it easy to compare their shipping prices with competitors.
SGT Auto Transport
SGT Auto Transport
is a full-service car shipping company that offers a "lowest price guarantee." They offer both open and enclosed transport and have a handy quote feature on their website.
Sherpa Auto Transport
Sherpa Auto Transport
is a highly-rated car transport company that offers excellent customer service. They also offer a price lock promise, which means that the initial quote they provide is the price customers pay unless there are changes to the shipment. While their pricing may be slightly higher than some competitors, Sherpa's commitment to customer satisfaction and high-quality service make them a popular choice.
Mercury Auto Transport
Mercury Auto Transport
is an auto transport company that offers open, enclosed, expedited, and door-to-door shipping. Mercury offers liability insurance coverage for all vehicles they transport.
Their auto transport price varies based on the distance and type of transport, but they do offer an online transport rates assessment that can help you determine
how much it will cost to transport your vehicle
with them.
UShip Auto Transport
UShip
is a shipping marketplace that matches service providers with customers who need something shipped, much like
PrivateAuto
matches car buyers and sellers. The average auto transport price on the platform seems to range from $500 to $1500.
Can I buy a car online and ship it?
When buying a used car from a private party, you may find a screaming deal far away from your home base. Until PrivateAuto, there was no great way to get the deal done. Escrow services are expensive and cumbersome, and buying a car remotely with no escrow is just plain risky.

PrivateAuto gives you escrow-like services in the palm of your hand. It's easy to buy a car long-distance and have it shipped.

Whether you buy from an online car retailer or a private seller, a good transport service can ship your vehicle directly to your address.

Once you decide on a shipping company, contact the vehicle seller through our in-app messaging to arrange a pick-up time that works for them. And, if you're selling a used vehicle through our app, you can help a long-distance buyer figure out the best shipment option.
How much does shipping cost?
Shipping pricing varies from a few hundred dollars to several thousand dollars. The cost of shipping your car depends on the following factors:

1. The distance between the seller's address and the delivery location
2. Whether the transport is land-only or across the ocean (for example, to Hawaii)
3. The type of transport (open vs enclosed, whether you need the shipment expedited)
4. The time of year
5. The specific details of your vehicle, such as dimensions, weight, and other criteria

It's best to get quotes from multiple auto transport companies to compare pricing and services. A given provider may offer better pricing for one type of transport but be less competitive for a different type.
How Can I Save Money on Car Shipping?
Shipping a car can be costly, but there are several ways you can save money on car transport services. Here are a few tips to keep transport prices low and get the best deal on vehicle shipping:
• Plan ahead: shipping companies usually require at least a week's notice, and the more time you give them, the better. If you're in a hurry, you'll likely pay a premium for expedited shipping.
• Shop around: getting quotes from multiple providers will help you get a sense of the market and find the best deal for your needs.
• Consider different transport options: open and enclosed shipping both have their pros and cons, and the prices can vary significantly, so research different vehicle shipping options and choose the one that best fits your needs and budget.
• Check for discounts: many car shipping companies offer discounts for military members, students, and senior citizens, and you may also be able to get a discount by shipping multiple vehicles at once or by choosing a slower shipping option.
• Prepare your vehicle to avoid any extra fees. Remove all personal items from the car, give it a good car wash, and make sure it's in good working order.
By following these tips, you can get your vehicle transported safely and affordably. To learn more about how you can save money on vehicle transport, take a look at
our article on cheap car transportation
.
What Is the Cheapest Way to Ship a Car Overseas?
The cheapest way to ship a car overseas is through container shipping. Comparing international shipping rates from different companies and booking in advance is crucial if you want to save money on overseas transport. Understanding the international car shipping process and choosing the right destination port can also help reduce costs. To learn more about this topic, take a look at our article on
international car shipping
.
How PrivateAuto Enables Long-Distance Car Purchases
Whether you're trying to sell a used car or are shopping for one, we'll help you get the deal done. We give you escrow-like services to
buy a car remotely
in a safe and secure manner, after which you can have it shipped with one of our preferred providers.
It's a good idea to
have the car inspected
, and many inspectors can act as your agent to help you get the deal done. Then you can send a fee-free, instantaneous payment via our integrated banking gateway after the inspector has verified the car is as advertised and the seller has signed the
vehicle bill of sale
.
Our innovative platform connects buyers and sellers and gives them all the tools to complete the deal, from in-app
financing
to secure messaging to integrated payments.
Get started with PrivateAuto today
.
Car Transport FAQ
---
What is the cheapest service to ship your car?
It's difficult to pinpoint the absolute cheapest car shipping company, as prices can vary depending on factors such as distance, type of transport, and vehicle size. However, some of the best cheap car shipping companies include Easy Auto Ship, SGT Auto Transports, and uShip's car transportation marketplace.
It's a good idea to compare low pricing options from multiple companies to find the cheapest way to ship your vehicle and to be aware of any additional fees that may be added to the transport costs. Learn more about the costs of vehicle shipment in our article about
car transport quotes
.
---
What is it called when you transport cars?
---
Is shipping a car a good idea?
---
How long is a car transporter?
---
What is the cheapest way to ship across the states?
---
What is the best company to ship a car?
---
Are there any auto transport companies to avoid?
---
What is the best way to evaluate car shipping quotes?
---
How much does enclosed car transport cost?
---
What are guaranteed pickups and deliveries when transporting a car?
---
Do I need to pay sales tax after transporting a vehicle from another state?
---
How do I transfer the vehicle title after having a car shipped?
---