All About Vehicle Inspections
It's a good idea to get a pre-purchase inspection when
buying a used car from a private seller
. That way, you know what you're getting, and you can potentially avoid unpleasant surprises down the road.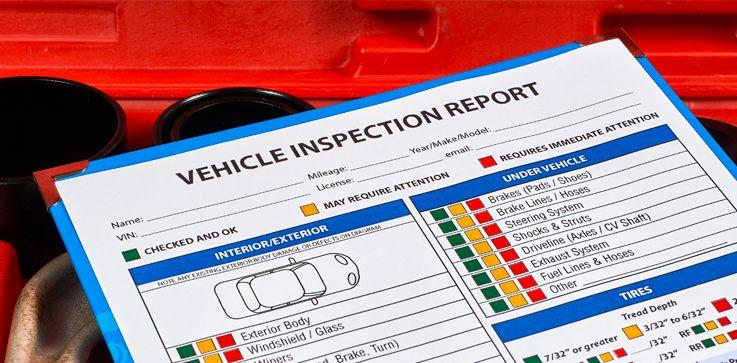 What Is a Car Inspection?
A vehicle inspection is a series of tests that are done on your car's main systems and parts to make sure they work well. Inspections can catch worn or damaged components so that they can be replaced.

Most states require drivers to have their cars inspected once a year to make sure that all the cars on the road meet safety standards. Some states leave inspections to the vehicle owner's discretion.

Regardless of your state's rules around car inspections, you'll probably want to get one on any used vehicle you're about to purchase. Otherwise, you risk getting a lemon—or worse.
What Does a Vehicle Inspection Consist of?
A valid inspection can be done by a mechanic or a licensed dealer, but some states may require the mechanic to have a vehicle inspection certification. Contact your local Department of Motor Vehicles (DMV) for information regarding inspection requirements in your state.

There are different aspects to a vehicle inspection.
• Exterior inspection
• Interior inspection
• Mechanical inspection
• Framework inspection

Exterior Car Inspection
During an exterior inspection, a mechanic will check the lights and reflectors, as well as the wipers, windshields, mirrors, and general body condition. While minor dents on your car will not fail an inspection, extensive exterior damage may. If your car's exterior is bad enough, you may be declined insurance coverage and even be issued a
salvage vehicle title
.
Interior Car Inspection
During the interior vehicle inspection, the mechanic will get inside your car to look at the seatbelts, airbags, steering wheel, and column. Your seatbelts must be in good shape and easy to use, and all of the mechanisms in your airbag, seatbelt, and steering wheel must work perfectly.
Mechanical Car Inspection
A mechanical vehicle inspection looks at the engine, transmission, brakes, and other major mechanical components. It also includes emissions testing in states that require it.

Vehicle emissions inspections aren't required in every state, but 33 states do mandate emission tests be performed as part of annual safety inspections. If you're buying a used car and are getting a voluntary inspection, you're probably less concerned with emissions and more concerned with major mechanical systems.

Vehicle Framework Inspection
During a framework inspection, a mechanic will look at your axles, frame, tires, and suspension. After making sure that these parts of your car work, they will take one last look at the vehicle in order to make sure they didn't miss anything.
What paperwork do you need?
You'll want to bring certain documents with you to a car inspection. Here are the most common.
• Your driver's license (or other form of identification, such as ID card or passport)
• Proof of valid
vehicle insurance
•
Vehicle registration
paperwork with vehicle identification number (VIN) listed
Your
car's Certificate of Title
may be required in some instances, so it doesn't hurt to bring it along to be on the safe side.
Car Inspection Costs
Vehicle inspection fees can range from $25 to $250. Fees vary from state to state and also depend on the type of inspection you receive. The model and make of your vehicle can influence the cost of vehicle inspections as well. It's best to contact your local Department of Motor Vehicles for information regarding fees in your area.
Vehicle Inspection Exemptions
In most US states, all vehicles that are driven on public roads must be inspected annually. However, car inspection exemptions do exist in cases involving historic and collector vehicles.

A historic vehicle exempt from inspection must be at least 25 years old and must not have been modified from the original specifications set by the manufacturers. Collector vehicle inspection exemptions include cars that are insured as "limited use collector vehicles" and haven't been driven for more than 3000 miles over the past year.

How Do I Find Vehicle Inspections Near Me?
If you want to find vehicle inspections near you, it's best to head to the nearest Department of Motor Vehicles and ask them for local inspection station locations.
PrivateAuto—The Best Place for Private Party Vehicle Sales
Now that you know what to expect from a vehicle inspection, how will you go about finding the ideal vehicle for you? Choose from the many cars available on PrivateAuto if you want to buy a dependable used vehicle that meets your needs but won't break the bank.
PrivateAuto
makes sure that the whole process of selling a car is quick, easy, and safe, from start to finish. Sellers can set a fair price and talk to potential buyers through our built-in messaging system without giving out any personal information.
Buyers can
search for used vehicles for sale from private sellers
, contact sellers, schedule test drives, and close the deal with PrivateAuto. Everything is fast, safe, convenient, and secure.
Our payment gateway, PrivateAuto Pay
, will transfer up to $1 million instantly, 24 hours a day, seven days a week. Buyers can pay sellers during the test drive and complete the transaction. That's all there is to it! It's quick, safe, and easy.
Car Inspection FAQ
---
Do you need a vehicle inspection for registration?
In many states, you need to pass inspection before your annual vehicle registration is approved. A major component of vehicle registration is ensuring your car is still in good driving condition, so it's integral to get a safety inspection in advance and take your inspection form with you when going to get your vehicle registered.
---
What is an inspection sticker?
---
Can you drive a motor carrier with learner permits?
---
What are the insurance requirements needed to pass a car inspection?
---
How much is a car inspection in California?
---
How much is a vehicle inspection in Michigan?
---
Does a 25 year old car need an inspection?
---
What happens if you fail a vehicle inspection in Texas?
---
What is a commercial vehicle inspection?
---
What types of vehicle titles are subject to inspection?
---
Do I need to bring my vehicle record to inspection station locations?
---
How do I find the DMV closest to me?
---