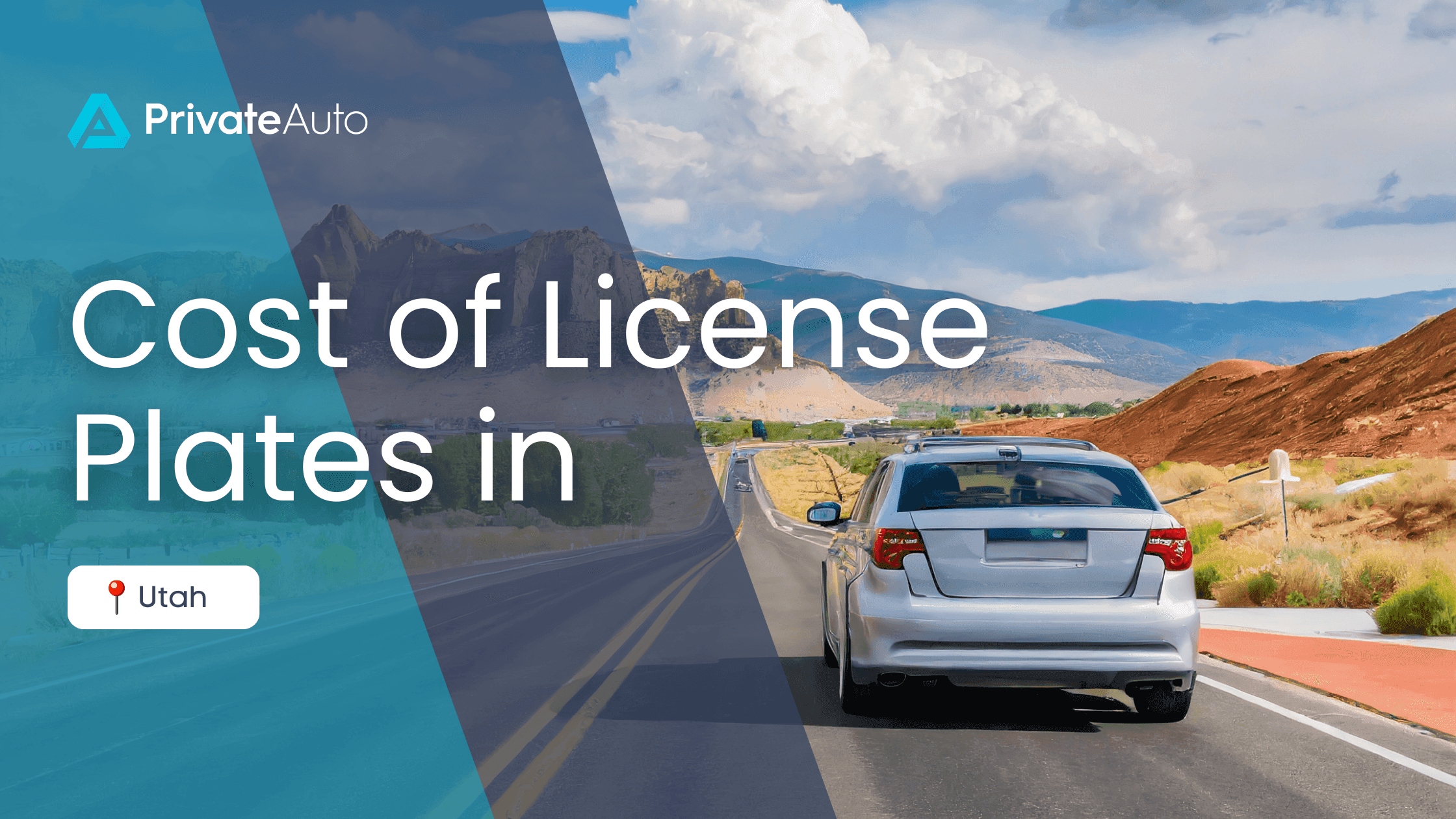 How Much Do Utah License Plates Cost?
When you buy a used car in Utah, you'll
get new license plates
when you register the vehicle. Standard Utah passenger vehicle plates cost $12.
Utah also has a variety of specialty and prestige plates to choose from, which cost more. Additional taxes and fees apply to both new and renewal registrations.
Let's get into the details of
license plate costs
in the state of Utah.
The Cost of Utah License Plates
Utah passenger license plates cost $12 to $106, depending on what type of plates you choose.

Here are the options for Utah passenger vehicle plates:

• Standard passenger plates
• Personalized plates
• Specialty plates
• Disability plates

Additional registration fees apply ($76), as well as potentially other taxes and fees.
How Much are Standard License Plates in Utah?
Utah standard passenger vehicle plates cost $12.
There are three designs you can choose from:
1. In God We Trust
2. Life Elevated Skier
3. Life Elevated Arches
You can get new standard Utah license plates in the following scenarios:
• Registering a car in your name
• Replacing lost, damaged, or
stolen plates
• Downgrading from specialty plates to standard plates
For more info on Utah's license plate types, visit the official Utah Department of Motor Vehicles (DMV)
page
.
How Much are Personalized License Plates in Utah?
Want to make a statement? Personalized plates cost from $26 to $106, depending which plate design you are personalizing. These are also referred to as prestige or vanity plates, and they allow you to customize your ride with a unique letter and number combo.

When selecting the lettering for your custom Utah plate, there are some restrictions:

• You are limited to five total characters and spaces
• No special characters or punctuation can be used
• Offensive or inappropriate words and phrases are prohibited
How Much are Utah Special Group License Plates?
Show some team spirit or support a cause with a specialty plate. You can sport a plate that supports your favorite Utah college, cause, or organization.

Utah specialty license plates cost between $17 to $26 in addition to the $76 registration fee.

Here are the available designs:

• Amateur Radio
• Autism Awareness
• Boy Scouts of America
• Boys and Girls Clubs
• Cancer Research
• Children's Issues
• Civil Air Patrol
• Clean Fuel Clean Air
• Collegiate Brigham Young University
• Collegiate College of Eastern Utah
• Collegiate Ensign College
• Collegiate Salt Lake Community College
• Collegiate Snow College
• Collegiate Southern Utah University
• Collegiate University of Utah (2 options available)
• Collegiate Utah State University
• Collegiate Utah Tech University
• Collegiate Utah Valley University
• Collegiate Weber State University
• Collegiate Western Governors University
• Collegiate Westminster College
• Disabled Person
• Disabled Veteran
• Donate Life
• Emergency Medical Technician (EMT)
• Farm Vehicle
• Firefighter
• Former Prisoner of War (POW)
• Fraternal Initiatic Order
• Gold Star
• Historic Black & White
• Honoring Heroes
• Humanitarian Service
• Martin Luther King
• National Basketball Association (NBA) Utah Jazz
• National Guard
• National Men's Soccer Real Salt Lake
• No More Homeless Pets
• Pearl Harbor Survivor
• Prostate Cancer Awareness
• Public Education Support
• Purple Heart/Combat Wounded
• Search and Rescue Teams
• Share the Road
• Snowmobiler
• Soil Conservation
• Special Interest Vehicle
• State Legislator
• United State Congress
• Utah Housing Opportunity
• Utah Law Enforcement Memorial
• Veterans Air Force
• Veterans American Legion
• Veterans Army
• Veterans Coast Guard
• Veterans Marines
• Veterans Navy
• Veteran Combat Theater Air Force Combat Action Medal
• Veteran Combat Theater Army Combat Action Badge
• Veteran Combat Theater Army Combat Infantry Badge
• Veteran Combat Theater Marine & Navy Combat Action Ribbon
• Vintage Vehicle
• Wildlife Eagle
• Wildlife Elk
• Wildlife Kestrel
• Wildlife Mule Deer
• Wildlife Trout
• Women's Suffrage
• Zion National Park

How Much are Utah Disabled Plates and Placards?
Utah offers disability license plates and placards to accommodate residents with qualifying disabilities. These provide designated parking access and privileges.

Eligible applicants can get:

1. Disabled person license plates: $17
2. Disabled windshield placards: no fee

Here are the steps needed to get a disability placard or plates in Utah:

1. Get the Disabled Person and Physician Disability Certification form (TC-842) from the DMV office or website.
2. Have a licensed physician complete the medical certification section.
3. Submit the completed TC-842 to the DMV office or by mail.
4. The Utah DMV reviews and approves or denies applications.
5. Approved applicants receive disability plates or placards from the Utah DMV.
How Much are Commercial License Plates In Utah?
The cost for a Utah commercial license plate is between $50 and $320 depending on the age and weight of the vehicle. To find out how much license plates will cost for your specific commercial vehicle, it's best to check with your local DMV office.
How Much are Motorcycle License Plates In Utah?
To determine the cost of motorcycle license plates in Utah, you would need to contact the Utah DMV, as fees can vary based on engine size and registration period. The DMV can confirm the precise fee including plates when registering your motorcycle.
How Much are Trailer License Plates In Utah?
The cost for a Utah trailer plate is between $10 and $175. The specific cost of your trailer license plate in Utah would need to be confirmed with the Utah DMV, as fees vary based on trailer specifics. Contact the DMV to find out the exact fee when registering your trailer.
How Much are RV Plates In Utah?
The cost for a Utah RV license plate is between $90 and $690. The Utah DMV can provide the current cost of a recreational vehicle (RV) license plate when you register, as fees depend on factors such as vehicles age and weight. Contact the DMV to find out your exact RV plate fee when registering your motorhome.
What do I do With Old License Plates in Utah?
When you sell your used car in Utah, you must
dispose of your old plates properly
.
Here are the options for old Utah plates:
1. Return: the DMV office will take back the old plates when issuing new ones. This is the safest option.
2. Recycle: remove any stickers and recycle the plate through local recycling.
3. Keep: some choose to save the old plates as memorabilia. Be sure to invalidate any active stickers first.
4. Transfer: In some cases, Utah allows you to put your old plates on another vehicle you own. Make sure to check with your DMV office for the proper paperwork for a plate transfer.
It's always a good idea to deface your old license plates before returning or recycling them. This prevents someone else from illegally using it. Always remove registration stickers before disposing of your plate.
See our
state-by-state guide to license plates
to learn which states require removal from the vehicle and which states allow the plates to remain with the vehicle when it's sold.
License Plate Trivia
Here are some interesting facts about Utah license plates:

• Utah requires a front license plate in addition to the rear plate, unlike some states that require a rear plate only.
• Passenger license plates measure 6 by 12 inches and are rectangular—in Utah and across the US.
• Motorcycle license plates are a bit smaller, measuring 4 by 7 inches.
• The Utah license plate has six characters. (Across the US, license plate formats range from 6 to 8 characters.)
• Utah issues over 60 different specialty license plate designs.
How to Apply for Utah License Plates?
After purchasing a used car from a private seller in Utah, follow these steps to get new plates:
1. Gather required documents such as your
title
, insurance, and driver's license.
2. Visit your local DMV office in your county.
3. Pay applicable Utah registration fees, plate fees, and
sales tax
.
4. Receive your new Utah plates and registration from the DMV office.
5.
Attach the new plates
to the front and rear of your vehicle as Utah requires two plates.
How Much is a Title Transfer in Utah?
Transferring a vehicle's title
in Utah is a two-part process.
1. The seller signs over the certificate of title after you
pay them for the car
.
2. You complete the title transfer at the county treasurer's office. At the same time, you apply for a new title, pay sales taxes and fees, complete the registration process, and apply for new
license plates
.
Once the seller has given you the signed vehicle title, you need to visit your local Utah DMV and submit the following:
• A completed Application for Utah Title (Form
TC-656
)
• A completed Odometer Disclosure Statement (Form
TC-891
)
• Safety and/or Emissions Inspection certificate
• Payment for title transfer fee: $6
• Payment for
Utah sales tax
: 4.85% of vehicle's purchase price
Read our complete guide to a Utah title transfer
for more info on the subject.
How Much is Registration in Utah?
To register your vehicle at the Utah DMV office, you must show proof of insurance.
The first time you
register a passenger car
, you need to transfer ownership if you've just acquired it.
Here are the fees you may owe when you register a car in Utah. Note that you'll owe a title transfer fee and Utah sales tax the first time you register a newly-purchased car, whereas the registration fee is due annually.
Buy Your Dream Vehicle With PrivateAuto
You'll be amazed at how smooth and secure the PrivateAuto car-buying process is:
1.
Browse used cars for sale
by owner. Filter by location, car type, or other criteria.
2. Make offers on cars you like (PrivateAuto lets you offer less than the asking price).
3. Communicate via in-app messaging without giving your contact info.
4. Arrange the test drive while keeping your personal details private.
5. Electronically sign the
bill of sale
along with the seller.
6. Instantly send payment and take ownership of the car.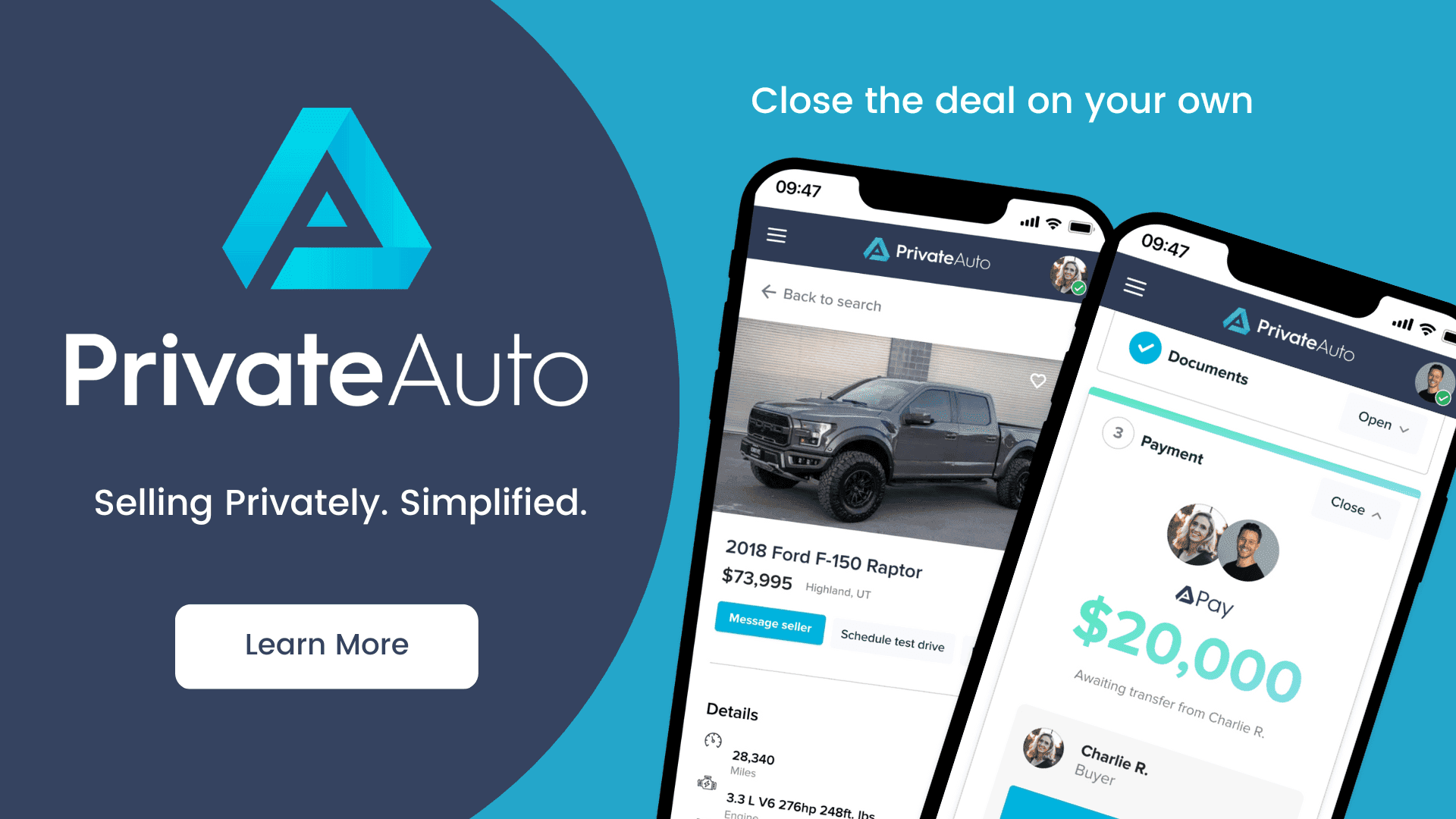 Our innovative platform connects buyers and sellers and gives them all the tools to complete the deal, from
in-app vehicle financing
to secure messaging to
integrated payments
. You can also schedule a test drive and negotiate the price without ever disclosing your personal information.
License Plates FAQ
---
How much does a license plate transfer cost in Utah?
In Utah, a license plate replacement costs between $12 and $17, depending on the type of plate you had. If your
license plate is stolen
, damaged, or otherwise disappears, residents must replace it right away.
Visit your local Utah Department of Motor Vehicles office with:
1. The current car registration certificate.
2. Either your license plate number or
vehicle identification number
(VIN).
3. Proof of payment for:
Standard license plate: $12
Special group license plate: $17
License plate decal: $5
---
How long can you drive without plates in Utah?
---
How do I calculate vehicle sales tax in Utah?
---