What Is The Process For Getting Alaska Plates?
Passenger vehicles must display a plate on the rear, and commercial vehicles are required to display it on the front.
Every state in the US requires a rear license plate. While some states require rear plates only, other states require a front license plate in addition to the rear plate.
Here are the steps for getting new license plates from the Alaska Division of Motor Vehicles (DMV).
Get Alaska insurance. To register your vehicle and get license plates in Alaska, you must have Alaska insurance that meets the state's minimum liability requirements. When you register your vehicle, you must provide proof of insurance.
Register your vehicle. In Alaska, you can register your vehicle in person or by mail by visiting any of your local DMV offices. You must provide the certificate of title, proof of insurance, and payment for registration fees.
Select your license plate style. Alaska offers a variety of license plate options, including standard plates, personalized plates, and specialty plates. You can choose the type of plate that best fits your needs.
Get your new license plates. You will receive your license plates in the mail after you have registered your vehicle and selected your license plate type. If you need your plates sooner, you can pay an extra fee for expedited processing.
Install your license plates. In accordance with Alaska state law, you must securely attach your license plates to the front and rear of your vehicle after receiving them.
The Cost of License Plates In Alaska
There are different types of license plates: passenger license plates, commercial vehicle plates, special license plates, trailer plates, and motorcycle plates.
License plates measure 6 by 12 inches and are rectangular (motorcycle license plates are smaller, measuring 4 by 7 inches).
The Alaska license plate has seven characters (across the 50 states, license plates have anywhere from six to eight characters).
How Much Is A Standard License Plate In Alaska?
A standard Alaska license plate cost is included in the price of your initial two-year registration fee.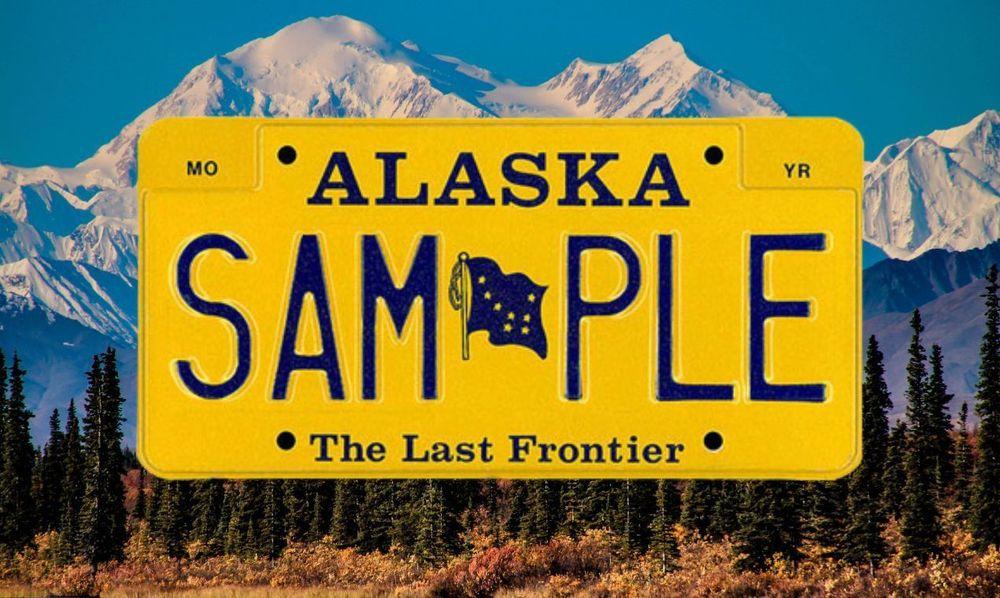 A standard Alaska license plate can be put on passenger vehicles, motorcycles, motorhomes, trucks, vans, trailers, and APVs.
Standard license plates are issued in any of the following scenarios:
The replacement of special interest license plates with standard plates
Purchase of a new vehicle
Replacing damaged, stolen or lost license plates
Alaska Personalized Plate
A personalized license plate, also known as a vanity plate, gives you the freedom to express your unique personality on the road by selecting any combination of letters and numbers that is legal in Alaska (see below for criteria).
The fee for a personalized license plate varies from $30 to $100, and you can only apply in person at the Alaska DMV.
Here is what you will submit to apply for a personalized plate:
Completed personalized plates application (Form 803)
Payment for $30 or $100, depending on the plate you choose
Alaska has a few rules and restrictions for vanity plate customization. First off, you're limited to just seven characters (think of it as a mini Instagram bio for your car). And while you can mix and match letters and numbers to your heart's content, you won't be able to add any punctuation or special characters to the mix (sorry, no hashtags here).
Of course, anything offensive or inappropriate is off-limits. Also, your personalized plate can't make any references to illegal activities or substances (we don't want any trouble with the law). Finally, be sure to pick something unique—no copycatting allowed!
The Alaska DMV will review and approve your custom license plate application after you submit it. If your application does not follow the guidelines or if the combination of characters is already in use, the DMV will probably reject it.
Here is a list of plate designs that you can personalize and their applicable fees:
Bear: $30
Caribou: $30
Mountain: $30
Standard Gold: $30
Supporting the Arts: $30
Seen someone with an offensive plate?
According to 2 AAC 92.120, DMV will not issue personalized plates that display symbols in a combination that is demeaning to a group of people or that is otherwise a vulgar, violent, or criminal reference or term.
If you believe that a license plate has been issued in violation of this regulation, please send an email to doa.dmv.webmaster@alaska.gov. The Division of Motor Vehicles (DMV) will immediately investigate the license plate, and if necessary, the DMV will recall the license plate.
Alaska Specialty Plate
Alaska, like many other states, lets you show your support for a cause or organization through a specialty license plate. From supporting military troops to showcasing your love for history, there is a specialty plate to fit your interests.
Some of the money from the fees for these plates goes toward funding related programs and projects. This means that you can show off your passion and help your community at the same time.
Here are the specialty designs Alaska has to offer:
Support plates
National Rifle Association: $50
Choose Life: $30
In God We Trust: $30
Support Our Troops: $40
Pro-Family, Pro-Choice: $30
Commemorating Veterans: $100
Breast Cancer Awareness: $50
Blood Bank Of Alaska: $50
Celebrating The Arts: $30
Alaska Children's Trust: $100
University plates
UAA: $50
UAF: $50
UAS: $50
PWS: $50
Military plates
Air Force: $30
Army: $30
Coast guard: $30
Marines: $30
Navy: $30
Veterans, dependents and survivors plates
Purple heart: no additional charge
Laos vet: $30
Pearl Harbor survivor: no additional charge
Former prisoner of war: no additional charge
Gold star family: no additional charge
Organization plates
International Association Of Fire Fighters: $50
Freemason: $50
Knights of Columbus: $50
Lions Club: $50
Pioneers of Alaska: $50
Special issue plates
Amateur radio: no additional charge
Custom collector: $50
Firefigerts: $30
EMS: $30
Historic vehicle: $10
Iditarod fisher: $50
Sample Plate
Collectors can purchase Alaska's gold rush centennial license plates, which celebrate statehood, the last frontier, and grizzly bears. The cost of a sample plate is $10. The word "SAMPLE" is stamped on each of the plates.
To purchase a single sample license plate, send your request and a check or a U.S. Postal Service money order to:
Alaska Division of Motor Vehicles
ATTN: SAMPLE PLATES
3901 Old Seward Highway, Suite 101
Anchorage, AK 99503
Here are the sample plate designs you can choose from:
Celebrating statehood
Gold rush centennial
Grizzly Bear
Last Frontier
Disability Plates
Your first set of standard disability license plates is free.
To apply for any of the disability license plates with parking privileges, you must have a Special Disability Parking Permit (Form 861) proving a permanent disability. Bring it with you if you have not yet submitted it.
To qualify for a Disabled Veteran's Plate (with or without wheelchair logo parking privileges), you must provide proof from Veterans Affairs (VA) that you have a service-connected disability of at least 50%.
Veterans Plate
The Alaska State Legislature has designated a number of special license plates to honor individuals who have served or are currently serving in the United States Armed Forces.
You must provide proof that you have served or are currently serving in a branch of the United States Armed Forces in order to get a veteran's plate.
The following are examples of acceptable proof of service:
Copies of discharge papers (DD Form 214)
A letter of verification from the VA
Military Identification card
or other comparable proof of service
Depending on the location, license plates can be picked up at the public service desk or mailed to you within two business days.
Alaska Title Transfers
When purchasing a used car, you will need to provide your local Alaska DMV office with the following:
A completed title signed by the sellers and you
A bill of sale (optional)
An odometer verification
A valid driver's license
A completed title and registration application
Payment for the title transfer fees: $15
See our guide to transferring an Alaska car title for more information on the process.
Alaska Vehicle Registration
For passenger vehicles, registration costs $100 plus your city's tax. To register your vehicle, you will first need to transfer the title.
You will need to submit the following documents to your local DMV office:
How to Order An Alaska License Plate
You can order a license plate in Alaska by mail, online, or in person at a DMV office. Here are the steps for ordering license plates in Alaska:
Pick out a license plate design. Alaska offers several license plate types, including standard plates, personalized plates, and specialty plates. Choose the best plate for your needs.
Check for availability. If you want a personalized plate, make sure the letters and numbers you want are available.
Submit your application. Fill out the license plate application form, which includes your personal and vehicle information, the type of license plate, and any customization details. Submit the form to the Alaska DMV, along with any applicable fees.
Wait for the processing to complete. License plate order processing times vary, so please be patient while your application is reviewed and processed.
Get your license plate. Your new license plate will be mailed to you once your order has been processed.
Alaska License Plate Replacement Fees
The fee to replace a single license plate is $5.
To get a replacement, you need to mail the following:
Complete and sign (Form V1)
Enclose check or money order for $5
Mailing address:
State of Alaska DMV
3901 Old Seward Highway, Suite 101
Anchorage, AK 99503
ATTN: Correspondence
How To Register An Out Of State Vehicle In Alaska?
New Alaska residents must title and register their vehicle in person at the Alaska DMV office 10 days after establishing residency or employment in the state.
Individuals visiting Alaska may operate their vehicle in the state for no more than 60 days if they have a current out-of-state car registration.
New Alaska residents who need to register their vehicle can go to their local Alaska DMV office and provide the following information:
The vehicle's title
Complete an Application for title and registration (Form 812)
Provide payment for all titling and registration fees and taxes
Read how PrivateAuto helps you buy a car remotely if you're thinking about purchasing an out of state car from a private party.
How To Check If a Car Has Alaska Back Fees?
Before you buy a used car in Alaska, find out if it has any hidden fees. If it does, you could be responsible for them.
The first step is to get the vehicle identification number (VIN) from the seller. With the VIN, you can contact your closest Alaska DMV location and request a title search. The Alaska DMV will be able to tell you if there are any unpaid fees associated with the car, such as a vehicle registration fee or unpaid parking tickets.
Quick and Easy Alaska Car Transactions with PrivateAuto
We make buying or selling a used vehicle simple. Alaska car buyers will find a great deal on the car of their dreams.
PrivateAuto is the only end-to-end vehicle purchasing platform that provides you with everything you need to complete the transaction, from making offers to sending payments.
Alaska License Plates FAQ
How do I apply for a duplicate registration in Alaska?
A duplicate registration costs $2. You can get a duplicate online, by mail, or in person ($10 walk-in fee).
You will need to provide the following:
A copy of your vehicle registration
A plate number, VIN number, and your vehicle's make and model
Complete (Form V1)
Personalized check or money order for $2
Mailing address:
State of Alaska DMV
3901 Old Seward Highway, Suite 101
Anchorage, AK 99503
ATTN: Correspondence
How often do I need to renew registration in Alaska?
Alaska drivers are required to renew their registration every two years, unless they're seniors and qualify for permanent registration.
You can renew your registration online, in person, or by mail by submitting the following:
A copy of your last registration
A vehicle transaction application (Form 812)
If you are military make sure you include your current LES showing Alaska as your home state
Personalized check or money order for fees and taxes
Being late on registration renewal can lead to late additional fees, fines, and other problems when pulled over for a traffic stop. To avoid this, it is important to pay careful attention to the registration expiration date.
What are the most important facts about car registrations in Alaska?
Here are some of the most important facts about registering a car in Alaska:
Alaska requires vehicle registrants to have adequate insurance that meets the state's minimum liability requirements.
To register a car in Alaska, you'll need to provide proof of ownership, proof of insurance, and pay your motor vehicle registration tax.
Leased vehicles will require additional documentation, such as a power of attorney, when transferring a vehicle title.
If you're planning on taking scenic drives on the Seward Highway, you'll need to ensure your vehicle is not registered as an off-highway vehicle.
Like other states, Alaska requires titles and registrations for all noncommercial vehicles and most commercial vehicles, including cars, trucks, and motorcycles.
Plate transfer is allowed if you're replacing a currently registered vehicle with a new vehicle.
Lien recording is available for those who have a loan on their vehicle.
The Alaska DMV oversees motor vehicle registration and any other transportation-related issues.
House Bill 250, which was passed in 2018 by the Alaska Legislature established new fees and requirements for Alaska vehicle registrations and titles.
What is Alaska's equivalent to the Department of Motor Vehicles?
The Division of Motor Vehicles (DMV) is Alaska's equivalent to the Department of Motor Vehicles. The DMV is the government agency responsible for handling Alaska vehicle registrations, issuing driver's licenses, license plates, and maintaining vehicle ownership records. The Alaska DMV also handles other transportation-related services, such as boat registration and titling, and oversees commercial driver's licensing and other transportation safety programs.
Do fishery management personnel in Alaska need a special license plate?
In Alaska, there are no special license plates required for fishery management. If you use your vehicle for commercial fishing or other commercial marine activities, the Alaska DMV may require you to obtain special license plates or permits. Commercial license plates, which allow you to drive a vehicle for commercial purposes, or commercial fishing permits, which are required for those who engage in commercial fishing activities, are examples of these. It's always a good idea to check with the Alaska Division of Motor Vehicles or the Alaska Department of Fish and Game for the most up-to-date and accurate information on any specific license plate or permit requirements related to fishery management.
Does Alaska have a used vehicle sales tax?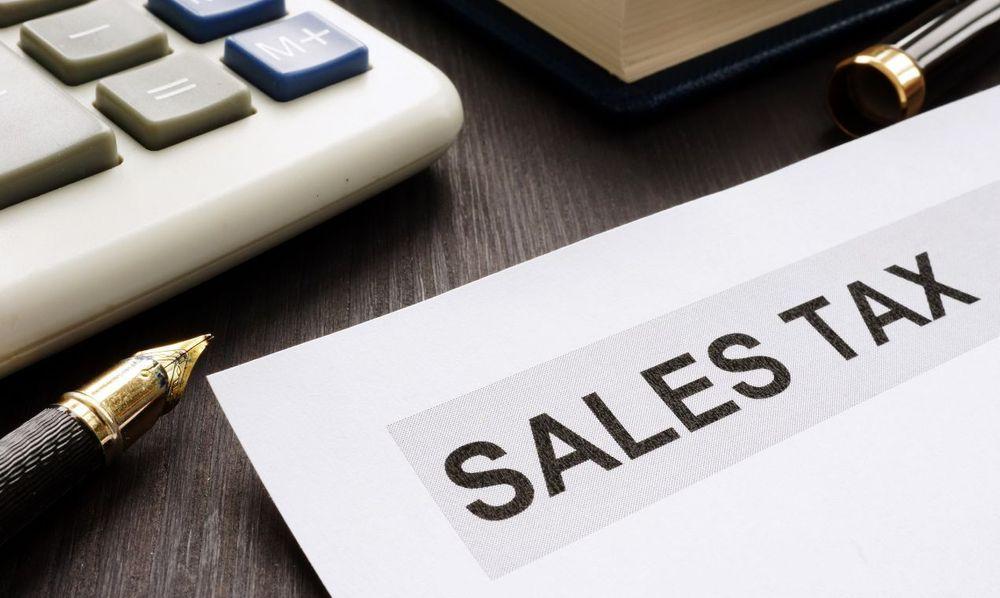 No, the state of Alaska does not impose a sales tax on any purchases, including the purchase of used automobiles. Some cities in Alaska have a local sales tax on vehicle purchases, so it's always a good idea to check with the local government to see if there are any additional taxes or fees associated with buying a used vehicle in that specific area. Alaska requires the payment of a motor vehicle registration tax, which is calculated based on the vehicle's value and is due at the time of registration.