What Is The Process For Getting Connecticut Plates?
In Connecticut, vehicles are required to have both a rear and front license plate.
Every US state requires a rear license plate. Some states require a rear plate only, while other states require two license plates.
Here are the steps for getting new license plates from the Connecticut Department of Motor Vehicles (DMV).
Get used vehicle insurance. Before you can register your car in Connecticut and get license plates, your car will need to be insured.
Complete a vehicle identification number (VIN) inspection. This can be done at your local DMV office or through a licensed Connecticut dealer.
Gather required documents. You'll need to gather certain documents to register your vehicle and get license plates. Proof of ownership (such as a certificate of title or bill of sale), proof of insurance, and a completed registration application are all required.
Visit a DMV office. Once you've gathered all of your documents, you'll need to go to a DMV office to register your vehicle and get your license plates. Depending on the DMV location, you may need to make an appointment in advance.
Pay the applicable fees. In Connecticut, you must pay certain fees to register your vehicle and get license plates. These include a registration fee, a title fee, and any applicable sales tax.
Receive your license plates via mail. You'll receive your Connecticut license plates once you've completed the registration process and paid the fees. You must attach your plates to your vehicle before driving on the road.
The Cost of License Plates In Connecticut
There are numerous types of license plates: passenger license plates, commercial vehicle plates, special license plates, trailer plates, and motorcycle plates.
License plates measure 6 by 12 inches and are rectangular (motorcycle license plates are smaller, measuring 4 by 7 inches).
The Connecticut license plate has seven characters (across the 50 states, license plates have anywhere from six to eight characters).
How Much Are Standard License Plates In Connecticut?
Standard Connecticut license plates cost $5.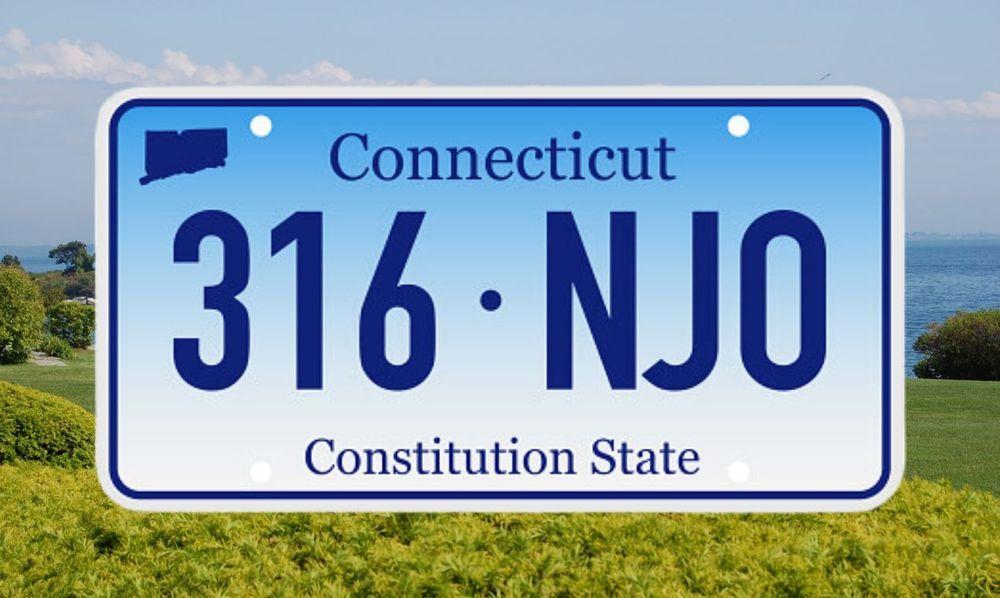 A standard Connecticut license plate can be put on passenger cars, commercial cars, and motorcycles. Permanent trailers, trailer coaches, and park trailers require different license plates.
Standard license plates are issued in any of the following scenarios:
The replacement of special interest license plates with standard plates
Purchase of a new vehicle
Replacing damaged, stolen or lost license plates
Connecticut Personalized Plates
If you're feeling fancy and want to make your ride truly your own, Connecticut allows you to personalize your plate. Of course, personalizing your plates costs more—$94, to be precise. To apply for personalized plates (also known as vanity license plates), you can do it in person at your local CT DMV or by mailing the special order plate application form to the following address:
Department of Motor Vehicles
Customized Plates Unit
60 State Street
Wethersfield, CT 06161
Connecticut has a few rules and restrictions for vanity plate customization. First off, you're limited to just six characters (think of it as a mini Twitter bio for your car). And while you can mix and match letters and numbers to your heart's content, you won't be able to add any punctuation or special characters to the mix (sorry, no hashtags here). Of course, anything offensive or inappropriate is off-limits. Also, your personalized plate can't make any references to illegal activities or substances (we don't want any trouble with the law). Finally, be sure to pick something unique—no copycatting allowed!
The Connecticut DMV will review and approve your custom license plate application after you submit it. If your application does not follow the guidelines or if the combination of characters is already in use, the DMV will probably reject it.
Connecticut Specialty Plates
Like most states, Connecticut lets you show your support for different groups or causes by getting a special license plate. Whether you're passionate about environmental conservation, animal welfare, or supporting our troops, there's a plate for you. A portion of the proceeds from many of these plates goes towards funding related programs and initiatives.
The price of Connecticut specialty license plates varies from $50 to $70, depending on the organization you choose.
Here are the types of special interest license plates Connecticut has to offer:
Animal plates
Animal population control
Ducks unlimited

Environmental plates
Connecticut greenways
Conserve wildlife
Long Island sound
Preservation Connecticut
Save our lakes

Military and veteran style plates
Disabled American veterans
First company governor's foot guard
First company governor's horse guard
Flag-style veteran
Gold Star family
Greater Hartford chapter of the 82nd airborne
Iwo Jima survivor
Korean War veterans association inc.
Laos veterans of America
Marine corps league
Military order of the Purple Heart plate
National guard association of Connecticut
National guard association of Connecticut
Pearl Harbor 1941 survivors
Second company governor's foot guard
Support our troops
U.S. submarine veterans

College plates
Central Connecticut state university
Penn state alumni association
University of Connecticut
University of Hartford alumni
University of New Haven

City and Town plates
City of Meriden
City of Norwich
Town of Stafford

Organization Plates
Amistad license
Benevolent & protective order of the elks
Blue Knights international
Candlewood lake authority
Connecticut Knights of Columbus
Grand lodge of Connecticut
Hartford Whalers
IUOE local 478
Olympic spirit
P.T. Barnum foundation inc.
Red Sox foundation
Special Olympics
USS Connecticut commissioning committee

Recreational Style Plates
Amateur radio call letter
Candlewood Lake authority
Classic vehicle
Ferrari club of America
New England air museum
Federated garden clubs of Connecticut
Year of manufacture

Plates for Organizations with Varied Interests
Celebrate nursing
Children first foundation
Cure kids cancer
Cure prostate cancer
Fidelco guide dog foundation
Keep kids safe
Lions Eye research foundation
United we stand
Disability License Plates and Placards
If you or someone you know has a disability that affects their mobility, Connecticut offers special disability license plates that can make life a little easier. Not only do these plates help identify vehicles that need extra accessibility features, but they can also give people with disabilities access to parking spots that are set aside just for them.
Disability plates in Connecticut cost $5. Individuals with disabilities in Connecticut have two options for getting parking accommodations:
Handicap parking placards are intended for people who are temporarily or permanently disabled. The placard is removable and is hung on the front side of the rearview mirror.
Disability license plates, on the other hand, are issued to individuals with permanent disabilities and replace the regular license plate on the vehicle.
To get a placard or a license plate, you must have a qualifying disability or condition that limits your mobility. You need to submit the following:
Completed application for persons with disabilities parking and plate credential (Form B-225)
A copy of the your vehicle's registration
A statement from a licensed physician, surgeon, or chiropractor that certifies the you have a permanent disability that affects their mobility
A copy of the individual's current driver's license or state-issued identification card
Connecticut Title Transfers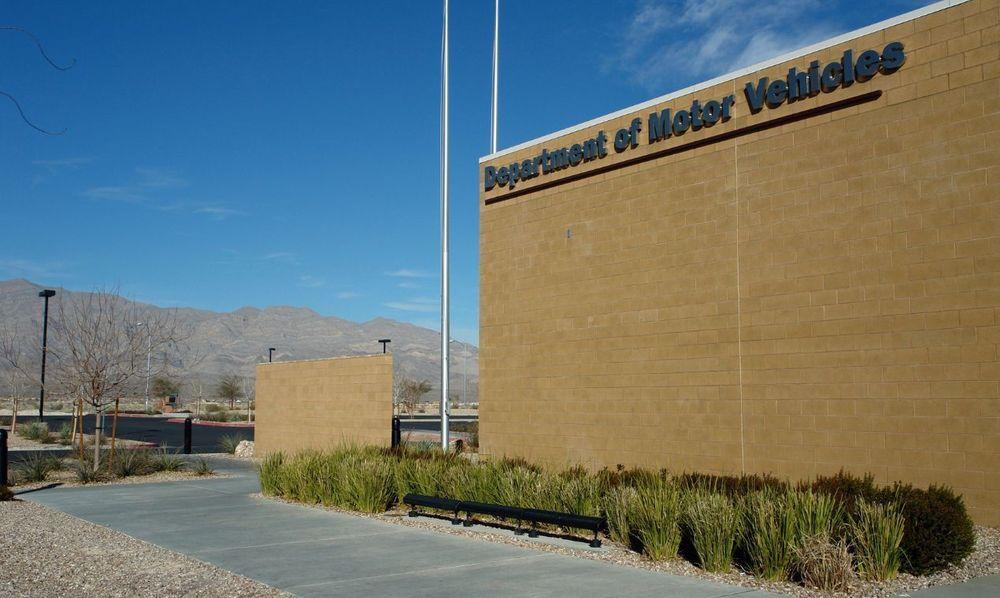 Connecticut Title Transfers
In the state of Connecticut, titling and registration are done at the same time. When purchasing a used car, you will need to provide your local CT DMV office with the following:
Completed application for registration and title (Form H-13B)
Vehicle title signed by the previous owner (seller)
A bill of sale
A lien release form (if applicable)
Proof of a valid Connecticut auto insurance policy
Title transfer fee: $25
Valid proof of identification (drivers license or ID)
See our guide to transferring a Connecticut car title for more information on the process.
Connecticut Vehicle Registration
Registration in Connecticut costs $120. To apply for a Connecticut license plate, you must have a valid Connecticut car registration card from the Connecticut DMV. To make things more efficient, title transfer and car registration are done simultaneously.
You will need to submit the following documents to your local DMV office:
A completed application for Connecticut registration and certificate of title (Form H-13B)
Current certificate of title and registration certificate
Proof passed emissions testing or VIN verification
The bill of sale
A valid Connecticut auto insurance policy
Clean air act fee: $10
A form of identification, such as a:
Driver's license
Learner's permit
Identification card
Non-driver ID
Payment for Connecticut registration fee
Payment for the Connecticut used car sales tax of 6.35%
Connecticut Emissions Testing
Connecticut takes clean air seriously; all vehicles registered in the state are subject to emissions testing. These tests are done to make sure that your car meets state and federal emissions standards. This helps cut down on pollution and protect the environment.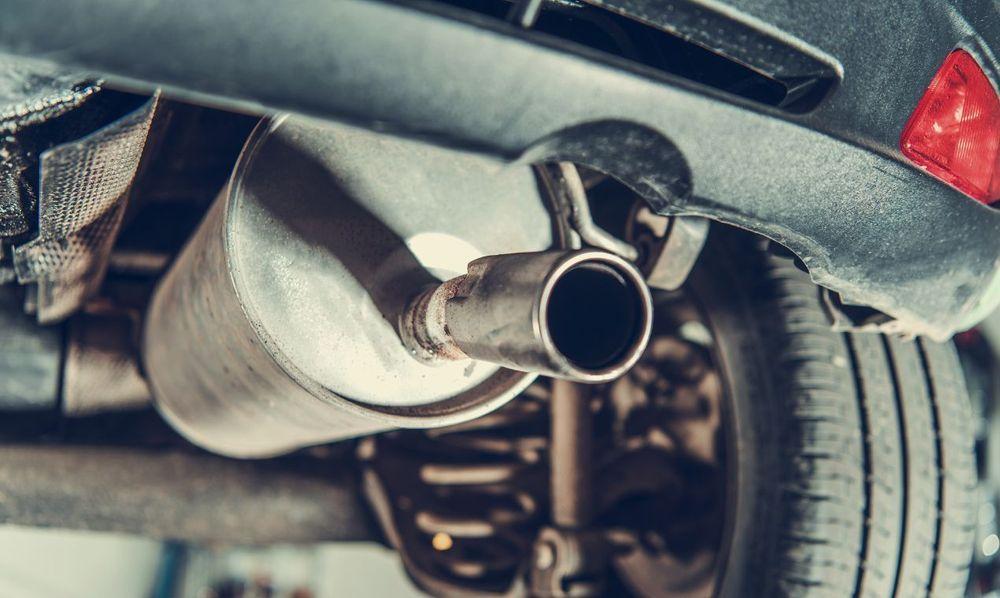 How to Order Connecticut License Plates
You can order license plates in Connecticut by mail, online, or in person at a DMV office. Here are the steps for ordering license plates in Connecticut:
Choose the type of license plate you want. Connecticut license plates include standard plates, personalized plates, and specialty plates.
Make sure you have all of the necessary documentation. Proof of insurance, vehicle registration, and identification may be required.
Visit your local DMV office and bring all required documentation. It is possible that you will need to schedule an appointment ahead of time.
License Plate Replacement Fees
The fee to replace lost license plates ranges from $5 to $25, depending on your situation.
To get a replacement, you need to submit the following to the DMV:
A completed marker plate notice (Form E-159).
A completed registration affidavit (Form B-301).
A copy of the police report (if applicable)
Connecticut insurance card
The remainder of the license plate (if applicable)
Payment for:
Stolen or intentionally damaged plates with a police report: $5
Lost or accidentally damaged plates: $5
Stolen license plates without a police report: $25
How Much Does It Cost To Register An Out Of State Vehicle In Connecticut?
Registering an out-of-state vehicle costs $120. To register a car after having moved to Connecticut, bring the following to your local Connecticut DMV office:
The out-of-state certificate of title
The vehicle's emissions report
Proof of a valid Connecticut auto insurance policy
An acceptable form of identification
Payment for all applicable registration fees
Read our guide to purchasing a vehicle remotely if you're thinking about buying an out-of-state car.
How To Check If a Car Has Connecticut Back Fees?
Before you buy a used car in Connecticut, find out if it has any hidden fees. If it does, you could be responsible for them.
The first step is to get the vehicle identification number from the seller. With the VIN, you can contact your closest Connecticut DMV location and request a title search. The Connecticut DMV will be able to tell you if there are any unpaid fees associated with the car, such as a vehicle registration fee or unpaid parking tickets.
Buy or Sell a Car with PrivateAuto
PrivateAuto makes buying or selling a used car fast and simple. Connecticut car buyers will find a great deal on the ride of their dreams.
We are the only end-to-end vehicle purchasing platform that provides you with everything you need to complete the transaction, from making offers to sending payments.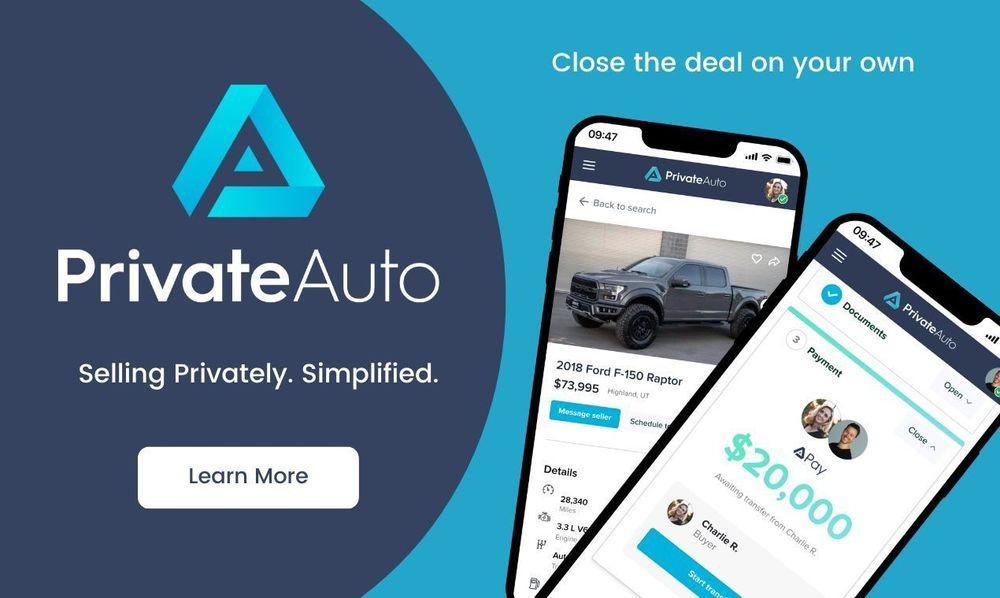 Connecticut License Plates FAQ
Can I get a temporary registration in Connecticut?
If your vehicle's registration has expired but it requires a safety inspection or emissions testing, you can buy some time with a temporary registration.
Temporary licenses can't be renewed, so you have to pass your safety inspection or emissions test within 10 days of getting your temporary license.
Does Connecticut offer online registration renewals?
Connecticut drivers can renew their registration online.
Here is what you'll need:
The personal identification number (PIN) on your renewal notice, or
First and last names as it appears on your license or ID card
CT driver's license or non-driver ID number
Date of birth
After gathering all of the required information, complete your renewal online and print the document to keep in your vehicle. You can renew online up to 30 days after the expiration of your registration.
Does the Connecticut DMV send a registration renewal notice?
You will receive an invitation to renew your registration in the mail or email inbox 45 days before the expiration date. You can renew your registration up to 30 days after the expiration of your registration.
You will have to pay a $10 late fee if you renew five or more days after expiration.
What is the Connecticut Passport to the Parks Program?
The Connecticut Passport to Parks Program is a state park fee system that allows Connecticut residents to park for free at state parks, forests, and recreation areas.
To take part in the Passport to Parks Program, people must register a vehicle that is eligible for the program and put the special "CT PARKS" sticker on their license plate. The sticker is free and indicates that the vehicle qualifies for free parking at state parks.
The Parks fee is $10, and it is added to the cost of registering a non-commercial vehicle in Connecticut to fund the program. Certain individuals, such as active duty military personnel and people with disabilities, are exempt from paying this fee.
Is there an emissions exemption fee?
Connecticut has no emissions exemption fee. If a vehicle meets the eligibility requirements for an emissions exemption, there is no need to pay a fee or apply for the exemption separately. Note that even if a vehicle is exempt from emissions testing, it must still meet all other Connecticut vehicle registration requirements.
Which are acceptable forms of payment at the DMV?
The Connecticut Department of Motor Vehicles accepts cash, checks, and both VISA and Mastercard credit cards as forms of payment. Please note that not all DMV services can be paid for with credit or debit cards, so be sure to check with your local DMV office to see what payment options are available for your specific transaction.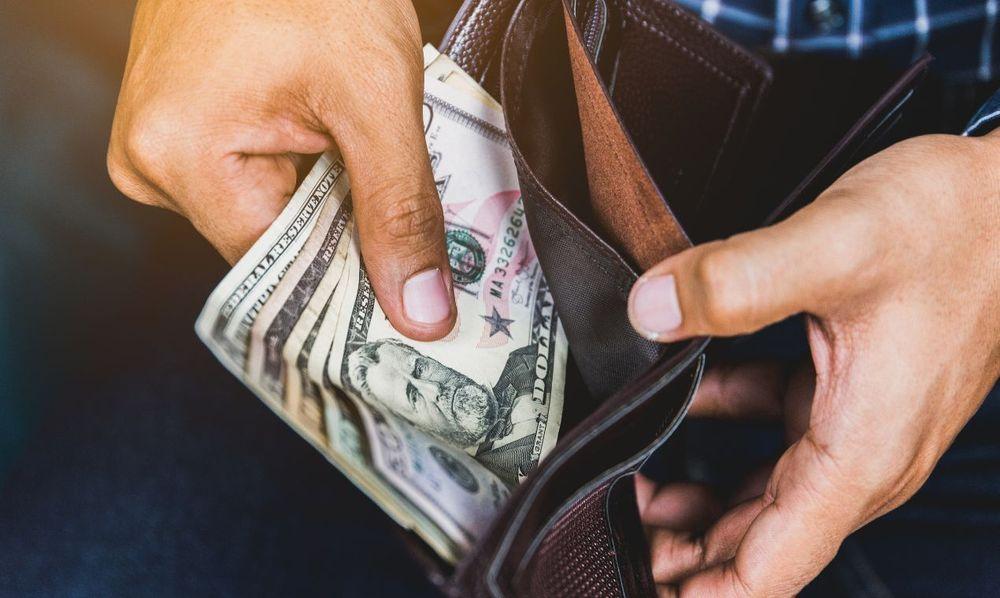 Is the process of getting motorcycle license plates different from getting passenger plates?
Getting Connecticut motorcycle license plates is similar to getting passenger plates, but with some minor differences. You'll need to make sure you have a valid Connecticut motorcycle license and registration, as well as proof of Connecticut motorcycle insurance. Once you have all of the required documentation and have completed motorcycle registration, you will be able to apply for your motorcycle license plates.
If you're not sure where to begin or have questions about the process, the Connecticut DMV website is a great place to get answers.
How do I replace a lost registration sticker?
If you're dealing with a lost registration sticker, make an appointment for a duplicate registration at a DMV hub or branch office location. Bring your license plate number and payment for the $20 duplicate registration fee.
You'll need to complete a request for a duplicate motor vehicle registration (Form B-341) and bring it to your in-person appointment.
What is CT car registration and why is it necessary?
You can't legally drive a car on public roads in Connecticut without a valid registration. It's a rather important step. During the registration process, you will receive license plates and a registration certificate that must be kept in your vehicle at all times.
What are some important facts about Connecticut vehicle registration?
Here are some interesting facts on the topic of vehicle registration in Connecticut:
Your passenger vehicle registration fee includes a $5 greenhouse gas fee aimed to reduce carbon emissions.
A leased vehicle is subjected to different registration requirements and fees than owned vehicles.
A certificate of origin is required for any new vehicle being registered in the state.
Commercial drivers must have a commercial license plate on their vehicles.
The DMV provides a fee chart for registration and other related services on their website.
Connecticut motorcycle owners must register their vehicle and get a separate motorcycle license.
CT car owners must also register their vehicles and obtain a CT car registration.