Regulations for a Title Transfer in Illinois
Here are the state's regulations to transfer an Illinois title:
State law requires drivers to submit an Application for Vehicle Transaction for any service related to car titles, plates, or registration. You'll likely need an ID card and driver's license number to complete this form.
Illinois law requires the recipient or buyer of any car transferred in the state to complete a Private Party Vehicle Tax Transaction form (form RUT-50) and pay sales tax for the car within 30 days of the transfer.
Illinois law forbids the sale or transference of vehicles without a certified title.
State law requires an odometer reading and an odometer disclosure statement for any vehicle sold in the state that is under 16,000 pounds or less than 10 years old (except for cars manufactured without an odometer).
Interestingly, Illinois law doesn't require a bill of sale for private sales, though drawing one up still has its advantages.

Title Transfer Fee in Illinois
It costs $155 to transfer the title on a vehicle in Illinois. This fee does not include vehicle taxes or registration fees, which you will have to pay as well (except in tax exemption cases). A duplicate title or a corrected title will cost you $50, while transferring the title of a vehicle with a junking certificate is free.
What Do I Need to Transfer a Title in Illinois?
In order to transfer a vehicle title in Illinois, you will need the following documentation:
A Certificate of Title signed by the prior owner
Tax Form RUT-50 (available at the Office of the Secretary of State, and also through the Illinois Department of Revenue)
Bill of sale (optional)
Certificate of Origin (with the vehicle make and model)
A valid form of payment for taxes and fees
Application for Vehicle Transaction (Form VSD 190)
Odometer Disclosure Statement
Affidavit of Correction (if applicable)
Depending on your circumstances, you may need some additional paperwork for your car title transfer (such as an Emission Testing Certificate).
For instance, if you're listed as the co-owner of a vehicle and the other owner passes away, you'll need to provide a copy of their death certificate, in addition to the above paperwork and fees.
The title must also be signed by the prior owner if you are the new owner of the vehicle.
A Step-by-Step Title Transfer Guide for Illinois
Here are the steps you need to take when completing the title transfer of your vehicle in Illinois:
Obtain the Completed Title from the Transferor
The first step to transferring a title in any state is getting the completed title from the transferor. Written on the original title should be the VIN, mileage, your information, the transferor's information, and the signatures of both parties.
If for whatever reason, the seller doesn't have a paper title, they'll need to apply for a duplicate before the sale can move forward.
Make Sure All Information on the Title Checks Out
To streamline your Illinois title transfer, ask yourself the following questions as you examine the new title:
Are there any co-owners who haven't signed off on the title, including a friend or family member?
Do the signatures match the owners listed on the title?
Does the VIN listed on the title match the car?
Are there erasures, mark-throughs, or correction tape on the title that would make it invalid? If you have a corrected title, it must be an official copy.
Is the mileage section accurate?
Is the information readable?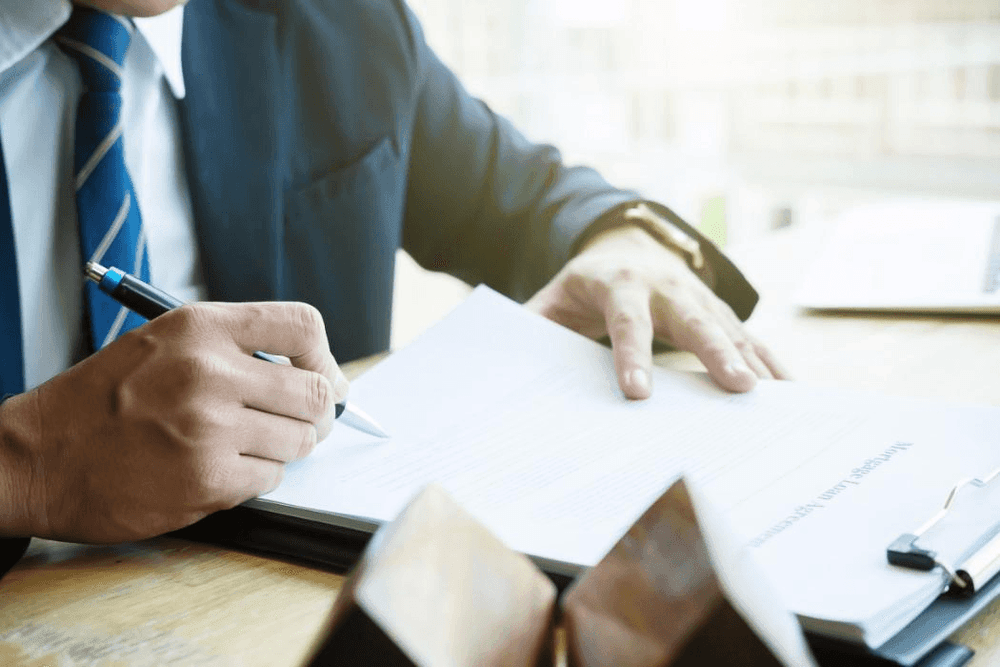 Create a Bill of Sale
Although not mandatory, most people choose to create a bill of sale for selling a used car. This document serves as a record of the transaction and may even offer legal protection and serve as proof of ownership in some circumstances. Drawing up a bill of sale doesn't take long, and there are many free templates online.
Fortunately, when you buy or sell a used car through PrivateAuto, the bill of sale gets automated. Both parties will e-sign it on their phones via our mobile app when they meet to finalize the transaction.
Have the Seller Fill Out an Odometer Disclosure Statement
All states require sellers to document vehicle mileage when selling a car, thanks to the Federal Truth in Millage Act. Most states accept the completed title or bill of sale as proof of mileage. Illinois, however, requires an entirely separate document.
The seller must give the buyer a written mileage statement—sometimes called a seller's report—to the buyer before the transaction takes place. Illinois law states this document must include:
Exact mileage
Date
Vehicle make, model, year, and color
Vehicle identification number
The names, addresses, and signatures of both parties
Submit an Application for Vehicle Transaction (VSD 190)
The Secretary of State office requires drivers to fill out an Application for a Vehicle Transaction form for just about every motor vehicle service they provide. In the section labeled "Type of transaction," you'll bubble in whichever service you need ("title and registration," "plate transfer," "title-only," and so on).
By having 1 form instead of 5, the SOS streamlines these processes, allowing drivers to tackle all their paperwork at one time. Put simply, it's an easier way to deal with an Illinois car title transfer. The cost associated with this form depends on the service(s) requested.
Fill Out a Private Party Vehicle Tax Transaction Form
In Illinois, as in most states, a buyer pays sales tax when buying a used car from a private seller. With any private car sale in the state, buyers must submit Tax Form RUT-50 and pay the 6.25% Illinois State sales tax to the county tax collector. This rate doesn't include any additional Illinois taxes, county taxes, or title transfer fees.

The total amount of tax collected depends on the car's model year, and the price paid. Cars worth more than $15,000 fall into a different tax bracket than those less than $15,000. Keep in mind that the tax rate is based on the "reasonable worth" of the vehicle.

Simply put, even if you buy a car for way less than it's worth, you'll still be charged a tax rate based on the vehicle's market value. Tax Form RUT-50 is used to estimate the tax owed on the vehicle based on the price paid or fair market value, as determined by a licensed dealer.

You can pick up the tax transaction form at any SOS facility. Return the completed form and payment within 30 days of the sale. You can submit this form either in person at your local office or by mail to the SOS Vehicle Services Department in Springfield, IL.
Owners of vehicles acquired from other states are required to complete a RUT-25 Vehicle Use Tax Transaction Return unless they fall into one of the exception categories.
Pay the Title Transfer Fees and Any Other Applicable Charges for the Transaction
Transferring a car in Illinois is costly. The total price for basic vehicle transfer is just over $300, even more, if your transaction requires additional paperwork. The cost for the vehicle title in Illinois alone is $150—then the SOS will tack on another $151 for the registration and tag.
If you need to update your name in the SOS database, that will be an additional $15. Vehicles being transferred from a deceased owner to the sole living owner will have to pay: $15 Application for Correction fee, $50 for a new title, and $3 to update the vehicle registration.
Apply for a New License Plate or a Plate Transfer
Different states have different rules about what to do with your license plates when you sell a used car. In Illinois, the seller should remove your license plates from the vehicle, rather than pass them to the buyer. The buyer can apply for new license plates, or, if they have plates from a different vehicle they have owned, they can apply for a transfer.
Note that it is illegal in Illinois for the buyer of a used car to drive with the same license plates that the vehicle had during the time the seller owned it.
Transferring your license plate is easy and can be done on the same Application for Vehicle Transaction as your title transfer, simply check the box that says "Title and transfer." The cost to transfer your plates is $25, and this fee will be tacked on to your registration costs, should you wish to do it all at once.
To apply for a new license plate, you'll select the "Title and plates" or "Plates only) box on the Application for Vehicle Transaction form. The cost for a new plate is $29 plus tax.
In some cases, drivers may need to submit an Affidavit of Correction (form VSD 393) before the license plate can be legally transferred. Here are some scenarios where an Affidavit of Correction is necessary:
The license plate is registered to you and a co-owner, but you're moving it to a vehicle for which you're the sole owner.
You've recently undergone a name change and haven't yet updated your information with the SOS office.
Your home address has changed since applying for the title.
Your name has legally changed, and the title and registration are listed under your old name.
Removal of persons listed on the title.
Make Sure to Have Car Insurance
Illinois requires liability insurance at a minimum. If you don't have it, you won't be able to register your car and legally drive it. Of course, you can opt for full coverage insurance if you want it. If you don't have car insurance, get a quick quote here.
Wait for Your Title to Arrive by Mail.
It typically takes about 6 weeks to get your new title by mail. If more than 6 weeks have passed and there's no sign of your pink slip, contact your local SOS office about locating your title or obtaining a duplicate.
Private Party Vehicle Tax Exemptions
You will need to pay taxes on all private party vehicles, except in the following circumstances:
Vehicles used only for a tax-exempt organization
Vehicles used only as farm or manufacturing equipment (like a cement mixer or piece of farm equipment.)
Railway vehicles
Cars that were in another state for at least 90 days of the year and whose owner recently moved to Illinois.
Vehicles passed from a deceased owner to a surviving spouse or relative.
Vehicles assigned from one person to another within the same organization.
Those who fall into one of these exemption categories will still have to pay a small fee, usually $15-$20, depending on which bracket you fall in. For more information on Illinois vehicle tax rates and exemptions, check out this tax chart from the Illinois Department of Revenue.
If you're still unsure about how much you owe, click here to estimate your tax liability. Things like use tax and registration fees in Illinois can be difficult to understand, but it pays to get them right.
Selling Your Car Privately with PrivateAuto
Selling Your Car Privately with PrivateAuto
Thinking about selling your car privately? Check out PrivateAuto—the easiest, safest, and only self-service way to sell your car privately. Sell your car in Illinois with a few simple steps.
Gather necessary documentation
You'll need your vehicle title and other documentation. Have all the paperwork you need to sell your car privately handy, so you're not scrambling to find it at the moment of completing a sale.
2. Register on PrivateAuto and get verified
To make PrivateAuto a safe place for everyone, we require email, phone, and driver's license verification, including facial recognition. Get started here.
3. List your car
Easily create your PrivateAuto listing with our step-by-step guide. Bonus: we include a window brochure with a QR code scannable to your listing.
4. Set your terms
It's your car, so you drive the deal! You can control where, when, and who you meet. Decide whether to accept only ID-verified buyers, or buyers with verified funds. Don't waste your time with buyers who aren't verified to your preference.
5. Vet incoming offers
Manage offers in one place with the ability to accept, reject, or counter offers within the app. Listing on multiple sites? Filter all communications through PrivateAuto by sharing your listing link on all platforms. Your personal info is protected: no more giving out your phone number or email address. All communication happens in our app.
6. Choose a buyer
When you find an offer you like, accept it and proceed to the next step with that buyer.
7. Schedule a meeting
The buyer will want to look at your car. No more back and forth texts. You never have to give out your phone number. Rather, use our handy scheduling feature to schedule test driving and coordinate a time and place for meeting. (Oh, and you'll be able to finalize the transaction instantly at the first meeting, FYI.)
8. E-sign documents
After the buyer is satisfied with your car and the two of you have agreed on a purchase price, you can easily e-sign the Bill of Sale within our app, from your phone. With our shared documents feature, you can easily locate the paperwork needed after the sale.
9. Get paid, instantly
Before PrivateAuto, receiving funds was the most stressful part of the entire selling process, especially for any used car sale over $5,000. There just aren't a lot of good ways to move large amounts of money quickly and conveniently. Those days are over! Verify and receive funds instantaneously with PrivateAuto Pay, our innovative banking integration. Guaranteed funds for transactions large and small.
10. Transfer title
When you sell your vehicle, fill out the necessary information on the back of the title transfer form and sign the title in order to transfer ownership of the vehicle to the new owner.
FAQ on Illinois Title Transfer Cost
How to transfer a car title in Illinois to a family member?
The process of transferring a car title to a family member in Illinois is similar to doing so to a private buyer. However, it is cheaper to transfer passenger vehicles to family members. You can expect to pay $95 on the title transfer if you got the vehicle from a family member, as opposed to the $155 fee when buying from a private party.
How much do plates and registration cost in Illinois?
Registration and license plates cost $151 in Illinois. In case you lose your registration card, you will need to get a replacement, which will cost you $3. Registration renewal in Illinois is done once a year and will cost you $20 per year. To learn more about registration, and how it differs from vehicle titles, check out our car title and registration comparison.
What is the penalty for not transferring title within 30 days in Illinois?
You have to transfer your vehicle title within 30 days after purchasing the car in Illinois. Whether you have an out-of-state title, haven't started the transfer process, or had the title signed but never transferred, you will face penalties if you are late on title registration in this state:
If the time of transfer is more than 30 days and less than 60 days, the penalty fee is $20.
If the time of transfer is more than 60 and less than 90 days, the penalty fee is $35.
If the time of transfer is more than 90 and less than 120 days, the penalty fee is $65.
If the time of transfer is more than 120 days, the penalty fee is $100.
How much does an Illinois plate sticker cost?
A plate sticker in Illinois costs $20. If you're replacing a plate with a sticker, the price is $26, and the price for both plates with stickers is $29.
What if a car has the wrong VIN on the title?
Checking a car's vehicle identification number (VIN) is important, as discrepancies sometimes arise between the actual VIN on the car's dashboard, and the VIN listed on the title. We've written an entire article about what to do if you discover the wrong VIN on a car's title; check it out!