How To Register a Car In Texas?
Texas vehicle registration is fairly straightforward. The state of Texas requires all personal car and light truck owners to pay a $50.75 state vehicle registration fee, which includes the price of the general issue (standard) license plates.
In Texas, you must initially register your vehicle in person at your local county tax office. You can renew your registration online. Late registration or expired registration may invoke an additional fee.
For the registration process, you'll need:
Completed and verified Application for Registration
Proof of ownership (usually in the form of your vehicle's title)
ID (driver's license, permit, or non-driver ID card)
Proof of insurance for your car (all drivers must carry liability insurance with a minimum coverage of $30,000 per person, $60,000 per accident in bodily injury protection, and $25,000 in property damage coverage.) If you don't have insurance on your car, you'll need to get it in order to legally drive. Get fast car insurance here.
Information about your vehicle, such as the vehicle identification number, make, and model
A vehicle inspection report
A valid smog inspection certificate
In certain cases, to register your vehicle, you may need any of the following: an odometer reading, a bill of sale, a car title release form, foreign evidence of ownership, military ownership document, or a medical certificate for disabled applications.
After you prepare all the required paperwork in the state of Texas, you will then be able to apply for your license plate at the Texas Department of Motor Vehicles (TXDMV).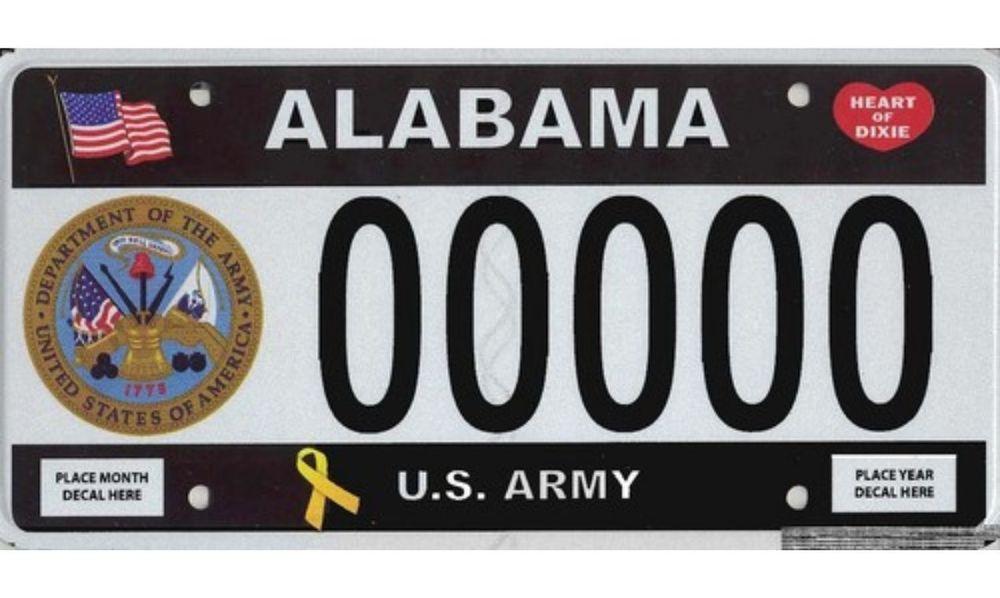 If you've recently purchased a used car, you'll need to apply to the Texas DMV for a transfer of title. Along with a completed transfer of title application, you will need to provide proof that you own the car, such as a bill of sale or Certificate of Title.
Your DMV application for title transfer must be processed before you may receive license plates. For that, you'll need to submit proof of valid liability insurance, an identity card, and any applicable sales taxes and fees (Texas car sales tax is 6.25% of the purchase price of the vehicle).
Need more info about the Texas title transfer process? Our Texas vehicle title transfer guide will tell you everything you need to know.
What Is The Process For Getting Texas License Plates?
Each vehicle in Texas must have 2 license plates: a front and a rear. Motorcycles and trailers need a rear plate only.
(All states require vehicles to have a rear license plate. Some states require a front plate, while others do not.)
When you register your vehicle in Texas, the Texas Department of Motor Vehicles (DMV) will issue you a set of license plates.
License plates issued after July 2012 are known as "The Texas Classic". The Texas DMV recommends license plate replacement every seven years due to readability declining over time.
Passenger vehicles, commercial motor vehicles, motorcycles, permanent trailers, trailer coaches, and park trailers all have Texas General Issue license plates that confirm registration and help identify them.
General Issue license plates are issued in any of the following scenarios:
Purchase of a new vehicle
Replacing plates that have been stolen, lost, or damaged
Surrendering special interest license plates and replacing them with standard license plates
The Texas DMV website provides useful information regarding licensing requirements, along with instructions for how to apply for plates.
Not in Texas? See our guide to how much license plates cost in each state.
How to Order License Plates in Texas
When applying for license plates, there are three ways to order.
In person at your local DMV office (find locations here)
Through the mail (find your county's DMV mailing address on this page)
Whether you apply online, in person, or by mail, you need to fill out an application form for the desired type of license plate that includes your personal information, address, and vehicle registration info.
Once you have submitted the form, you will be asked to pay the fee. The fee varies, depending on the type of license plate you choose.
If you order online or in person, you can pay with a credit card, debit card, or electronic check. If you mail in your application, you must enclose a check or money order made out to your local DMV office.
Texas Car Registration Fees, 2022
The Texas Department of Motor Vehicles is responsible for vehicle registration and driver licensing in Texas.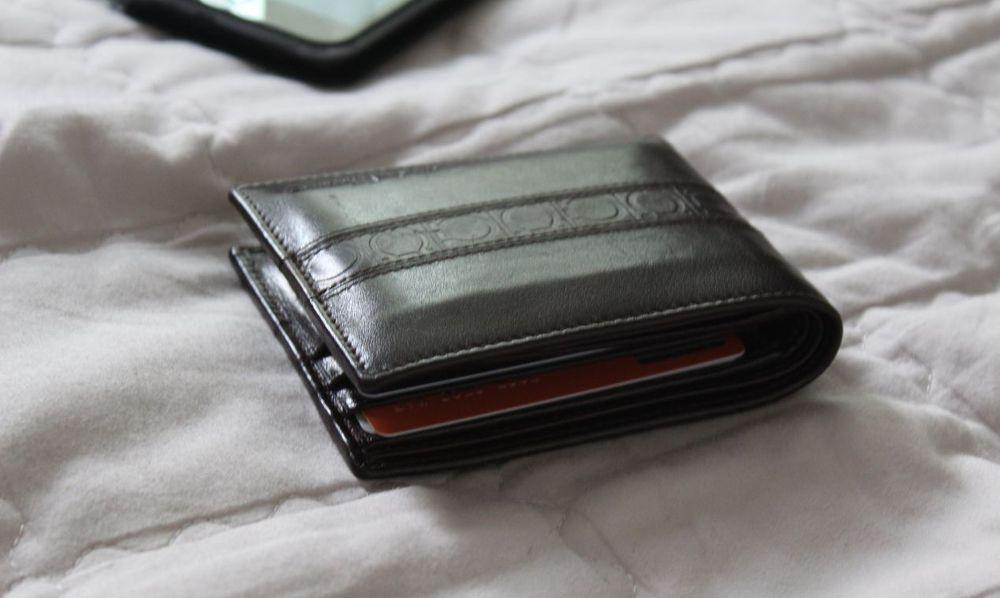 Texas will charge you a base car registration fee of $50.75, which includes general issue license plates. Depending on your situation, any of the following additional fees might apply:
An average $28 to $33 Texas title transfer fee which varies by county (if transferring a title from a previous owner)
Texas state sales tax of 6.25% of the vehicle price (if you've just purchased a car and are registering it in Texas)
An local fee from $0 to $31.50 (depending on the county of registration)
$4.75 processing and handling fee
A smog fee from $11 to $27 for air quality and emissions inspection
An average inspection fee of $7.50 to $16.75
How Much does It Cost to Register A Car In Texas From Out Of State?
To get your Texas registration and plates for an out of state vehicle, you'll need to pay:
A base registration fee of $50.75 (for passenger vehicles), which includes general issue plates
A vehicle title transfer fee between $28 and $33 (depending on the county—applicable if you recently purchased the vehicle and are registering it for the first time)
A $30.75 vehicle inspection fee
A local county fee of up to $30.50
A verification fee of $1
State sales tax (6.25%) and county use taxes according to your county of residence
A vehicle must pass Texas inspection in order to be registered in the state of Texas. There are inspection stations across the state that offer these services at a nominal cost, so it's easy to make sure your car is fit for the roads.
You'll then need to fill out the Texas Vehicle Registration/Title Application (Form MV-82), and provide documents such as:
The vehicle registration and title
Odometer statement
Lien or lease contract (if applicable)
Insurance verification
Types Of License Plates and Their Corresponding Fees
There are many different license plate types: passenger license plates, commercial vehicle plates, special license plates, trailer plates, and motorcycle plates.
US license plates measure 6 by 12 inches and are rectangular (motorcycle license plates are smaller, measuring 4 by 7 inches). They are made of aluminum, which is durable and resistant to rust.
Texas plates have 7 characters (across the 50 states, license plates have anywhere from six to eight characters).
Texas License Plate Options
When selling a car in Texas, the sold vehicle's license plates remain with the seller. They do not become the buyer's property. Make sure to remove them since they can ultimately be transferred to another vehicle for free.
Texas license plates are classified into three types: General Issue, Specialty, and Souvenir.
TX General Issue Plates
When you register your car in Texas and pay an annual registration fee of $50.75, you will be issued a set of two General Issue plates. These are the standard Texas license plate and the lowest cost.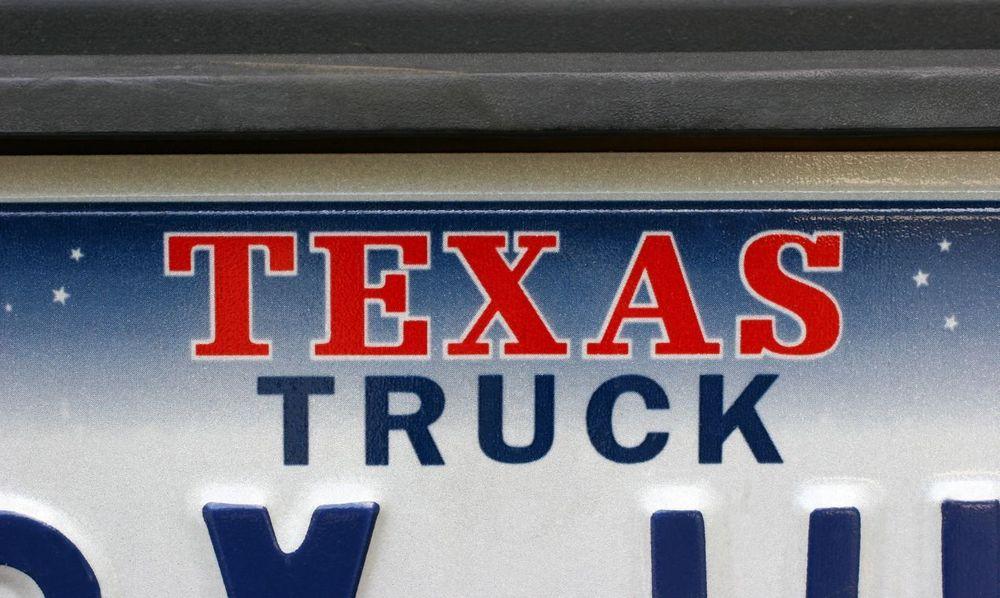 TX Specialty Plates
There are many license plate designs for specialty plates in Texas, ranging from educational college plates to highlighting wildlife species. Specialty plates cost $55 in addition to registration fees.
A custom license plate design not only provides the opportunity to support an organization, but also allow drivers to express their style.
You can choose from any of the following designs:
Lone Star colors
Texas themes
Plates that honor colleges or universities
Plates that honor fraternities and sororities
Plates that support sports
Plates that support charities and organizations
Antique, classic, and custom vehicle plates
Military and veteran plates
Occupational plates
Black license plates
The Texas DMV collaborates with myplates.com to design personalized plates. You may choose which organization you want to support, which plates you prefer, and whether you want a random or personalized number and letter combination.
TX Souvenir Plates
Texas souvenir license plates are purely for decorative purposes and are not street-legal. Each souvenir plate costs $20. Souvenir license plates can be personalized for $20.
Black License Plates In Texas
Black license plates are extremely popular in Texas. The most popular plate of 2021 was the Classic Black design from myplates.com. It has a minimalist retro aesthetic with a full black background. Several other black designs are popular, as well.
Digital License Plates Fees
In Texas, digital plates are not available to the general public, but are only permitted for government and commercial fleet vehicles. To obtain a digital license plate, the vehicle owner first must register the vehicle in Texas and pay a $95 administrative fee. The digital plates themselves cost between $500 and $800.
Digital plates can be ordered from the Reviver website.
Disabled Veteran License Plate Fees
To obtain a disabled veteran license plate, your veteran disability status must be confirmed by the Department of Veterans Affairs.
Currently, the Texas Department of Motor Vehicles provides 85 license plate designs recognizing retired and honorably discharged disabled veterans. For a $3 yearly specialty plate price, $0 annual motor vehicle registration and municipal fees, and any mandatory inspection charge for one vehicle, Texas provides disabled specialty license plates.
After completing the military paperwork and application, you may either deliver it to the DMV field office or send it by mail.
Texas License Plates Renewal Fee
Each state has different requirements for how often license plates need to be renewed.
In Texas, you need to renew your registration every year.
For a passenger car registration, Texas charges a $50.75 renewal fee. Texas counties assess additional fees, meaning that the exact renewal fee depends on the inspection fee in your county. These charges include the vehicle registration sticker.
Before your registration renewal date is up, you will receive a registration renewal notice. Getting your license plate renewed before your vehicle's registration expires can save you from fines or other penalties.You can renew your registration in person, or online.
To renew your license plates, submit the following in person or by mail to a local Texas county tax office:
Renewal notice or vehicle identification number or plate number
Copy of owner's current Texas drivers license or ID card
Proof of current vehicle insurance
Current Texas vehicle inspection
Fees: Contact a county tax office for exact fee amounts and payment methods.
Specialty license plates with random or personalized numbers can have terms of one, five, or 10 years. Your yearly vehicle registration renewal notification will remind you to renew at the end of each term, prior to expiration.
If your specialty plate option is not reissued within 60 days of expiration, the Texas DMV system will automatically cancel it, making it available for purchase by anybody.
Being late on registration renewal can lead to late additional fees, fines, and other problems when pulled over for a traffic stop. To avoid this, it is important to pay careful attention to the registration expiration date.
Texas License Plate Replacement Fees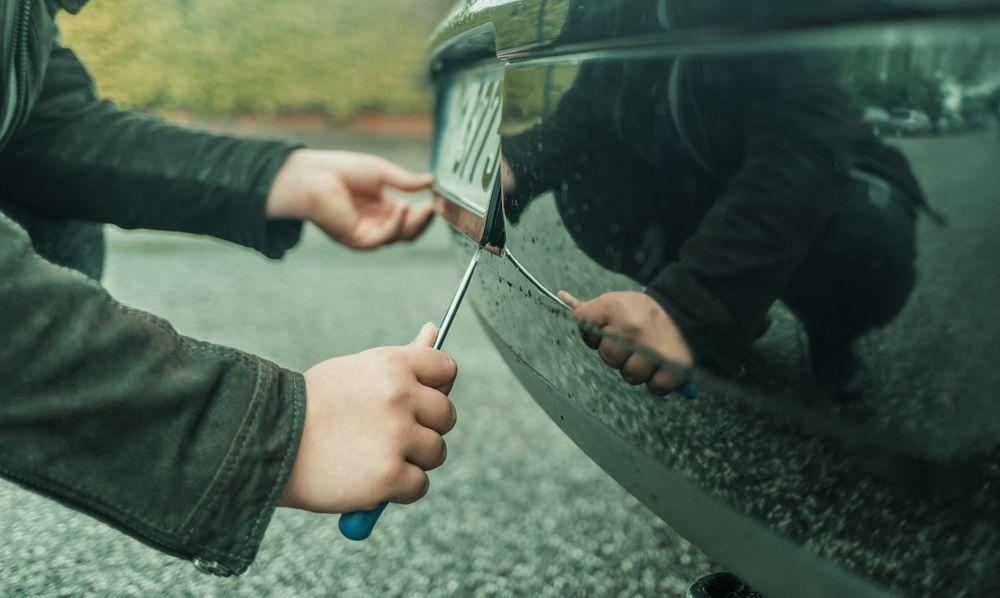 When you submit your application for license plate replacement to your local County Tax Assessor office, you must pay a $6 replacement registration fee and a $1 automation fee. If your license plates are damaged, you must submit them to DMV officials.
If your license plates were stolen, the first step is to report the theft of the license plate to your local police department. In many cases, you must verify your address with the vehicle licensing office before you can begin the process of replacing a plate that was lost or stolen.
Once the report has been filed, you will need to visit your local Department of Motor Vehicles office to obtain a replacement plate.
Lost or stolen plates and stickers on a currently registered vehicle can be replaced with an Application for Replacement License Plates and/or Registration Sticker and a $6.50 charge.
Texas Temporary Permits
If you are importing vehicles into Texas, or you're buying a vehicle from a Texas private seller you may be eligible to receive a 30-Day Permit from the Texas DMV. Texas DMV issues 30-Day permits for the temporary transportation of eligible non-commercial or light commercial vehicles that are subject to Texas registration rules. Vehicles that will not be operated in Texas are not eligible for 30-day permits.
You will need the following paperwork to receive a temporary permit:
Request for Timed Temporary Permits
Insurance documentation
Current proof of a passing vehicle inspection for the term of the permit
Payment for $25 fee
How To Check If a Car Has Texas Back Fees?
Before purchasing a used car in Texas, identify whether it has back fees—or you could be liable for them.
The first step is to obtain the vehicle identification number from the seller. With the VIN, you can contact your local DMV and request a title search. The DMV will be able to tell you if there are any unpaid fees associated with the car, such as registration fees or parking tickets.
Experience the PrivateAuto Advantage
Avoid scams, keep personal information private, and guarantee funds with PrivateAuto. Fast, convenient car transactions. Get started today.
FAQ on Texas License Plates
How much is a tag and title in Texas?
Depending on the county and type of vehicle, you'll usually pay between $28 and $33 for a car title in Texas. To get a new tag you'll need to pay the base registration fee of $50.75 plus any local fees.
How long does it take to get license plates in Texas?
After submitting registration documents to the state, it typically takes up to 30 days for a driver to receive their permanent license plates from the Department of Motor Vehicles. During this waiting period, temporary tags are issued so that drivers can legally drive.
How do I check the status of my Texas license plate?
Checking the status of your Texas license plate is easy and straightforward. To get the most up-to-date information, you can use the free Where's My Sticker feature provided by the Texas Department of Motor Vehicles website. With a few simple clicks, you will be able to access information about your license plate's registration renewal status and determine when it will arrive in your mailbox.
Can I have a black license plate in Texas?
Yes, you can have a black license plate in Texas by ordering a custom design. Passenger vehicles registered in Texas can feature black license plates from myplates.com.
If you have any questions, you can contact your local county seat or DMV location.