How to Transfer a Car Title in Massachusetts?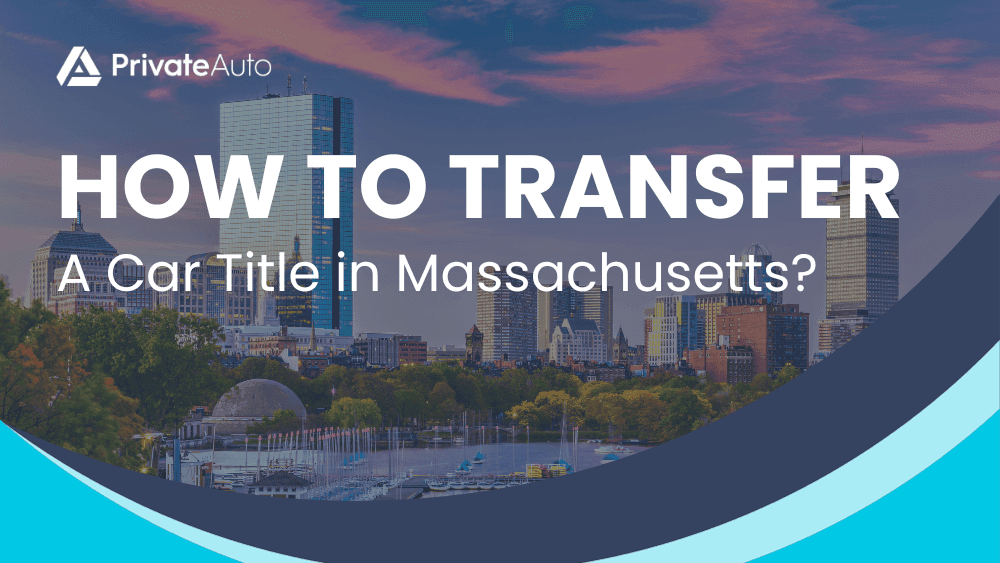 Private vehicle sales need a safe, legal title transfer process. Our Massachusetts title transfer guide gives you everything you need to know to sign over a car title in Massachusetts.

Massachusetts Title Transfer Process
The key component of the entire car-buying transaction is transferring a Massachusetts vehicle title from seller to buyer. A
vehicle title transfer
establishes the buyer of a car as the new owner.
When the seller signs the title and hands it to you, the car is officially and legally yours. There are still some steps remaining for you to take following the title transfer, but now you're the vehicle owner.
Signing the Certificate of Title The Right Way
When signing the title certificate, always keep the following in mind.

• Only use black or blue ink. Any other color will void the title.
• Do not use nicknames.
• Write neatly.
• Do not erase anything or use white-out.
• Mistakes make the document invalid.
Front of Title
The front of a Massachusetts title has a section for lienholders. If there is a lien on the title, the lienholder will need to release the lien in the green-colored section shown below.
Back of Title
The back of the title has sections for the buyer (teal), and the seller (red). Here is the process for filling out the back of a Massachusetts title.

The seller enters their full name, the buyer's full name, the date of the sale, and the buyer's state, county, city, zip code, and street address in the rectangle shown in red, above.

1. The seller enters the exact selling price, date of the sale, odometer reading, signature, and printed name (never induce tenths of a mile).
2. The buyer enters their signature, printed name, and the date in the teal rectangle marked "3".
Finalize Ownership Transfer with MA RMV
You've done the deal and are the proud owner of a new-to-you vehicle. Your work is not yet done. There are still steps you need to take to finalize the title transfer with the State of Massachusetts.
You also need to
get new license plates
and register the car with the Massachusetts Registry of Motor Vehicles (RMV).
You will need to submit the following documents to your local RMV office:
• A completed and signed
application form
for a car title
• The assigned certificate of title from the previous to the current car owner
• If the car is exempt from titling due to its age, the vehicle registration and bill of sale needs to be provided.
•
Sales tax
payment (
Massachusetts car sales tax
is 6.25%)
• Payment for title transfer (Massachusetts title transfer fee is $75)
In Massachusetts, title transfers can be done
online
.
To avoid any fees or penalties, make sure you are registering the car right after transferring the title.
Perform Emissions Testing
Massachusetts laws require the seller to provide the buyer with a passing emissions test that hasn't been used to register or renew a vehicle registration.
Cars manufactured after model year 2008 must pass an annual emissions test.
Emission Check Exemptions in Massachusetts
Cars that don't require emissions testing:
• New cars (for up to one year of the sale or lease date)
• Electric cars
• Diesel cars made before 1984
• Diesel cars older than 15 years old or made before 1997
• Diesel cars made before 2007 with a gross car weight rating of more than 10,000 pounds
If the car that you are buying does not meet any of these criteria, find a Massachusetts Registry for Motor Vehicles location and proceed with the test.
For locations of smog check stations visit the
Massachusetts RMV website
.
For most cars, the fee for performing this test will be $35.
Bill of Sale in Massachusetts
A
bill of sale is a legal document
that is required if purchasing a vehicle from a private owner in Massachusetts.
Here are the necessary elements in a bill of sale:
• Your full name and notarized signature
• The other party's full name and notarized signature
• Price of the car
• The make, model, and year of the car
• A description of the car
• A warranty disclaimer stating the car is being sold as-is
• Date of the transaction
PrivateAuto includes a Massachusetts bill of sale as part of our standard in-app transaction process. At the appropriate phase in the car-buying transaction, both you and the seller will be prompted to e-sign the bill of sale within their mobile PrivateAuto app.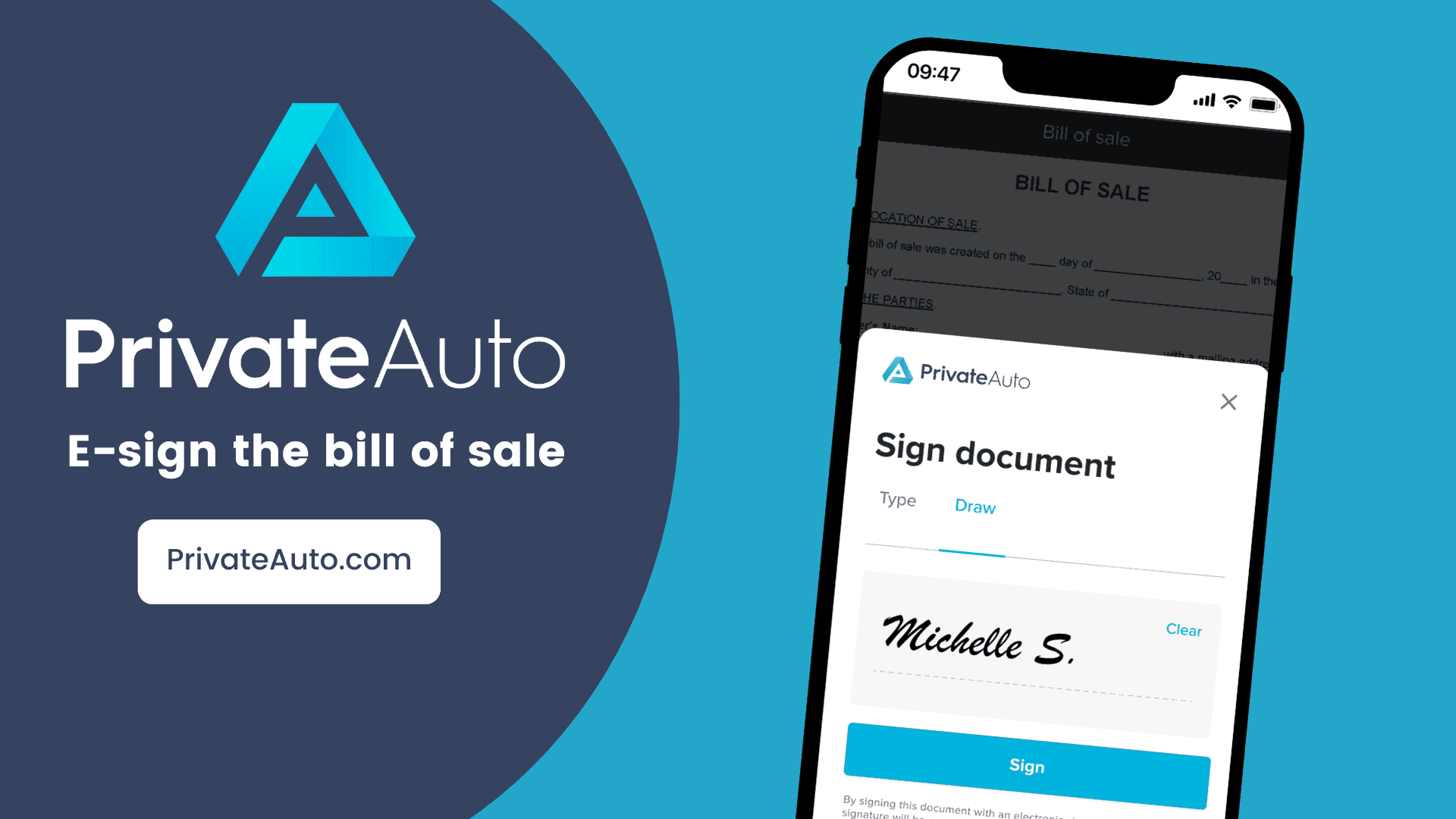 The whole transaction, including the bill of sale, can be completed in a few minutes when you meet for the test drive and approve the car. It's so fast and convenient you won't believe it. And then, you won't have to keep track of all your paperwork, you will always have the electronic bill of sale accessible in your PrivateAuto account to prove that the transaction was legitimate.
If you find that you need to invoke MA
private party lemon law
, a bill of sale will provide proof of purchase.
Make Sure to Have Car Insurance
Massachusetts requires liability insurance at a minimum. If you don't have it, you won't be able to register your car and legally drive it. Of course, you can opt for full coverage insurance if you want it. If you don't have car insurance,
get a quick quote here
.
Completing the Massachusetts Title Transfer Form
To complete the Massachusetts car title transfer form, you will need to provide the following information:
• A completed and signed
application form
for a car title
• The assigned certificate of title from the previous to the current car owner
• Payment for all applicable car title and registration fees
• If the car is exempt from titling due to its age, the vehicle registration and bill of sale needs to be provided
• Sales tax exemption form, if applicable (completed by the previous car owner)
Massachusetts License Plates
Buying and Selling Cars in Massachusetts With PrivateAuto
Complete the sales process easily and legally with the help of PrivateAuto. Our tech-driven platform connects you to private sellers, allows you to e-sign documents, sign documents online and receive state-specific steps to complete the sale. See how it works today to buy and
sell vehicles privately in Massachusetts
.
Sell Your Vehicle through PrivateAuto
PrivateAuto makes selling your used car hassle-free. The sales process consists of a few simple steps:

1. Gather necessary documentation
2. Register on PrivateAuto and get your account verified
3. List your car
4. Set your own terms
5. Go over incoming offers
6. Choose your perfect buyer
7. Meet for a test drive
8. E-sign documents
9. Get paid, instantly
10. Transfer title
11. Remove license plates
12. Cancel car insurance
Thinking About Buying a Used Car in Massachusetts?
PrivateAuto makes buying a used car hassle-free. Whether you're looking for a Honda Civic, Toyota Camry, Jeep Grand Cherokee, or a lightly-used Toyota Rav4, you're sure to find a great deal on the ride of your dreams.
Buying or Selling A Car with PrivateAuto
Conduct private car transactions easily and safely with PrivateAuto. Our innovative platform connects buyers and sellers and gives them all the tools to complete the deal, from
in-app financing
to secure messaging to integrated payments.
Get started with PrivateAuto today
.
10 Easy Steps for Selling A Used Car with PrivateAuto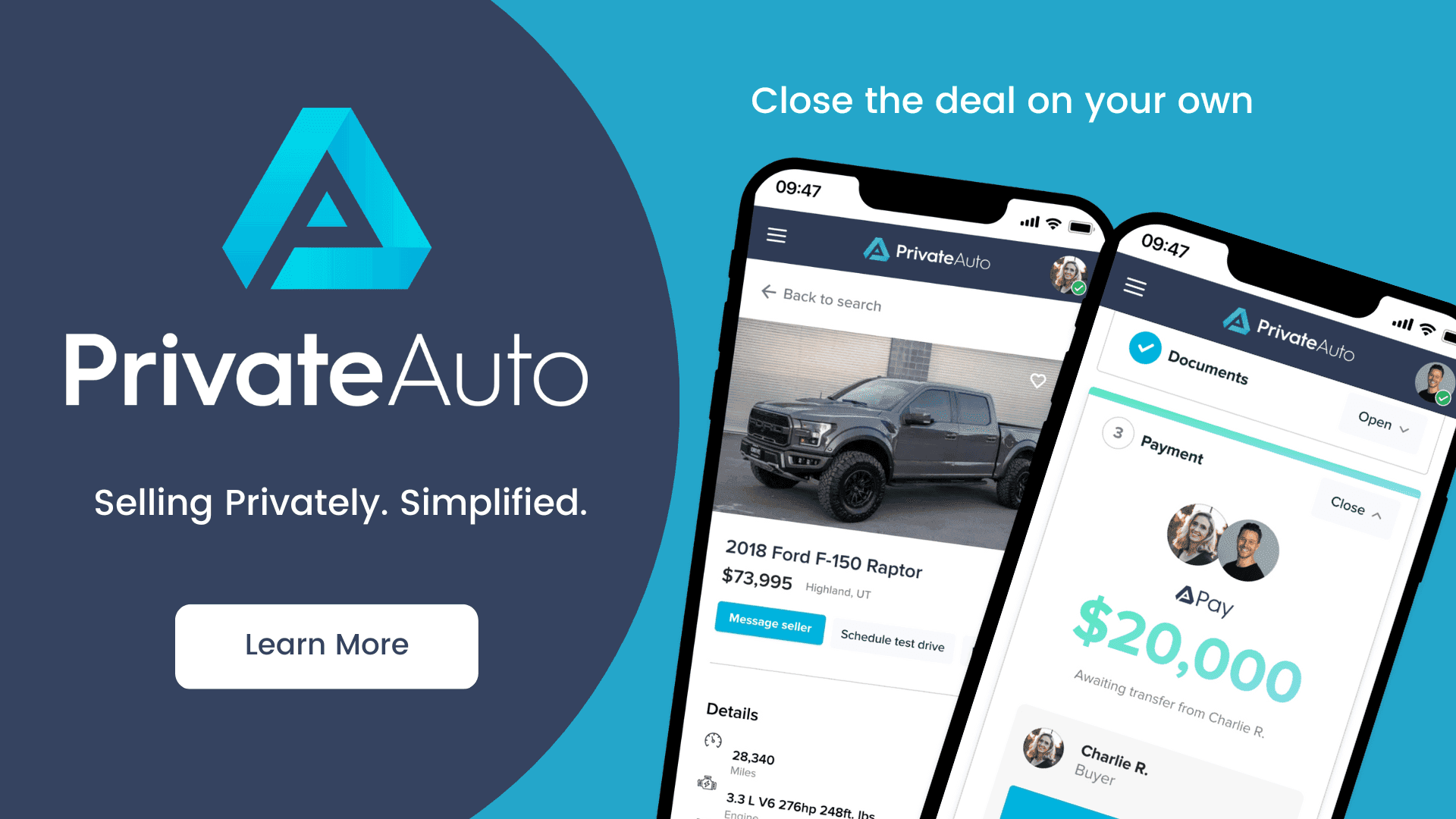 PrivateAuto makes
selling your used car
safe and easy. The sales process consists of a few simple steps:
1. Gather the
required documentation
2. Create your PrivateAuto profile and get verified
3. List the car
4. Set your own terms
5. Vet incoming offers
6. Choose the buyer you like
7. Schedule the meetup
8. E-sign paperwork
9. Get paid instantaneously
10. Transfer ownership
Massachusetts Title Transfer FAQ
---
How to transfer a car title when the owner is deceased?
When a car owner is deceased and a family member wants to keep the car, they will need to complete a Massachusetts title transfer.

Only a beneficiary, joint-owner, or surviving spouse can transfer the vehicle's title to another person if the owner has passed away.
---
Can I gift a car to a family member in MA?
---
Should I remove my license plates when I sell a used car in Massachusetts?
---
How to transfer a vehicle title when you have an out-of-state title?
---
How to request a duplicate vehicle title in Massachusetts?
---
What is the safest method of payment when selling a Massachusetts vehicle?
---
Where can I go to transfer a vehicle title in Massachusetts?
---
What is the Massachusetts Motor Vehicle Administration?
---