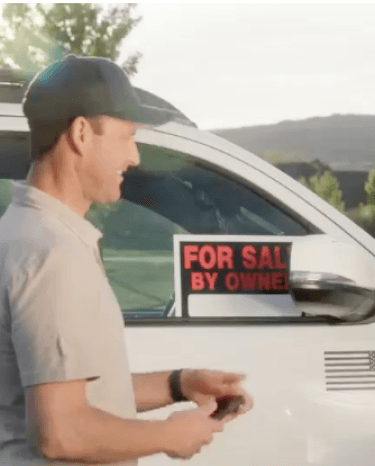 Start a DealNow
Already have a buyer or seller? Use our DealNow feature to easily send a deal link to ther other party to close the sale.
I want to buy a vehicle
Send a deal link to purchase the sellers vehicle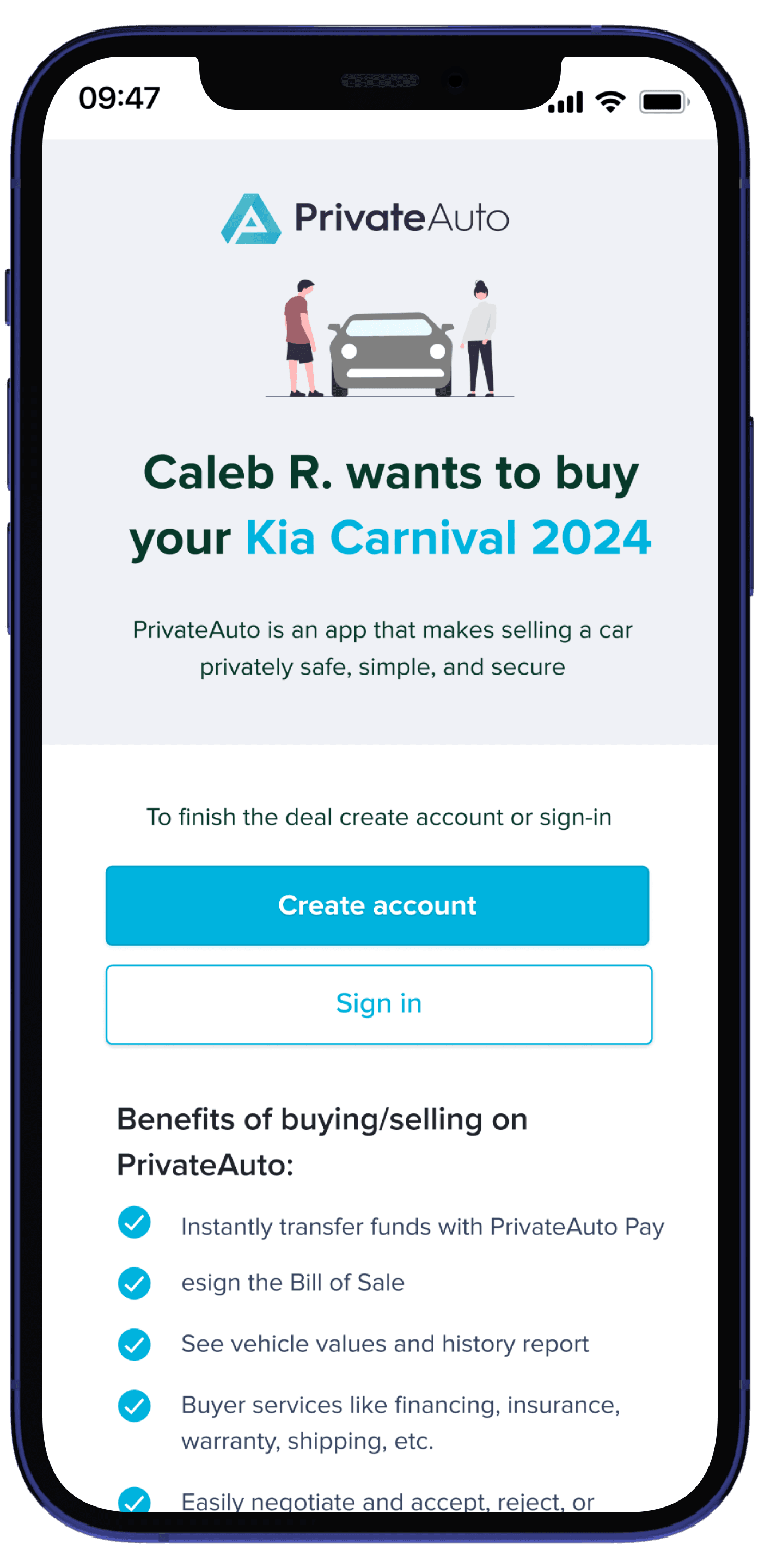 Hi John. I'd love to purchase your vehicle. Let's finish the deal on PrivateAuto. Here's the link:
privateauto.com/deal-now/64c06cc1acc7cb00146bebb9
Awesome! Joining the invite now!
What is DealNow?
DealNow is a way to quickly do a private party car transaction. It's ideal for when you have a buyer or seller already lined up and want a secure, fast, and convenient way to close the deal.
Skip the listing process and fast track a private party transaction.
Use PrivateAuto to close a deal no matter where the car is listed or located.
Instant transfer of money with no transaction fees.
PrivateAuto is not just the world's first automotive transasctional marketplace:
It's also a transactional infrastructure that can help you close a deal-even if you met a buyer or seller on another listing site.
How DealNow Works
1. A DealNow transaction can be initiated by either the buyer or seller, who invites the other party to complete the transaction on PrivateAuto.
2. The seller can bypass the
listing creation
process and go straight to confirming the sale. Alternatively, if the seller already has a PrivateAuto listing, the DealNow transaction can process that listing.
3. Buyer and seller can schedule a test drive with our secure and convenient calendar feature.
4. At the test drive, the buyer will confirm that the vehicle is as promised, and both parties will electronically sign an
official bill of sale
in the PrivateAuto mobile app.
5. The buyer will release funds to the seller via
PrivateAuto Pay
. The seller will instantly receive them and confirm receipt.
6. The seller will sign over the
Certificate of Title
and the buyer will be the new owner of the vehicle.
Here are some examples of how DealNow can make buying or
selling a used car
so much faster.
1. Ryan listed his
Ford Raptor
for sale on
Craigslist
. Samantha wanted to buy it but had no easy way to send $54,000 to Ryan. She asked him if they could complete the deal on PrivateAuto and sent him a DealNow link. Ryan accepted, and Samantha scheduled a test drive with the PrivateAuto in-app scheduler. At the test drive, Samantha loved the truck. They went through PrivateAuto's step-by-step process, including signing the bill of sale. Samantha sent the money. Ryan got it instantly. Ryan
transferred the title
to Samantha and handed over the keys. Everyone lived happily ever after.
2. Katie was selling her
Toyota Corolla
on
Facebook Marketplace
. Mia responded to the listing and wanted to buy the car. Katie saw that she and Mia had two mutual friends, which made her feel slightly better about doing business with her. Still, she knew that Facebook Marketplace doesn't have many safeguards or transactional features, and she'd recently heard how smooth and secure PrivateAuto was. She quickly entered the relevant details into the DealNow workflow and shared the link with Mia. The rest is history.
3. Raoul was thinking of selling his late model
BMW M3
. His cousin happened to know that a coworker, Chase, wanted to buy a low-mileage M3. The cousin connected Raoul and Chase. Raoul and Chase used DealNow to quickly conclude the transaction, including the $72K payment.
Escrow-Like Safeguards in the Palm of Your Hand
Do you need an
escrow service
to keep you safe in a high-dollar vehicle transaction? Not when you use PrivateAuto. We give you escrow-like control and protection. Unlike escrow, it's free and instantaneous.
• No more waiting for "regular business hours."
• No more forking over hundreds or thousands in escrow fees.
• No more coordinating between buyer, seller, and escrow agent.
With PrivateAuto Pay, you act as your own escrow agent. Here's how PrivateAuto Pay protects you in a DealNow transaction:
1. Buyer and seller each link their banking institution to their PrivateAuto Pay account. The buyer funds their PrivateAuto Pay account and the funds are verified to the seller.
2. The PrivateAuto mobile app takes the buyer and seller each through a series of confirmations and asks each to electronically sign the official bill of sale.
3. The PrivateAuto app confirms to each party that the other party has signed the bill of sale. At this point, the buyer is safe to transfer the money since the seller is bound by a legal agreement.
4. The app prompts the buyer to release funds and the buyer confirms payment.
5. The seller instantly gets confirmation that funds have appeared in their PrivateAuto Pay account. This works on nights, weekends, holidays, or anytime.
6. The seller signs over the title and hands the keys to the buyer.
No cost, no hassle, no wasted time. It's the ultimate way to handle escrow in a car sale. Using PrivateAuto Pay, you can even
buy a car long-distance!
DealNow FAQ
---
What problem is DealNow addressing?
DealNow is removing friction from the transaction process for buyers who already have a vehicle in mind or sellers that already have a buyer lined up. It makes no sense to force them to go through the process of creating a listing, uploading photos, and other steps; they're ready to finalize the transaction, and DealNow gives them a streamlined approach to do so.

DealNow also fills a need in the market for transactional infrastructure. Most so-called "marketplaces" are merely "meetingplaces"; they connect a buyer and seller but don't help them get the deal done. That's fine: the buyer and seller can get connected on another website and then hop over to DealNow to wrap things up.

---
What if I already have a PrivateAuto listing?
---
How much does it cost to use DealNow?
---