What Is KSL?
KSL Cars is a vehicle marketplace that allows you to post listings for used and new vehicles, browse through available listings, and contact a seller if you're interested in buying a used vehicle. KSL Cars is available in Utah, Wyoming, and Idaho.
What Is PrivateAuto?
PrivateAuto is an end-to-end platform for used vehicle transactions in the US. In addition to being a used car marketplace, this platform includes integrated banking, vehicle financing options, in-app messaging and scheduling, and an easy way to e-sign the bill of sale.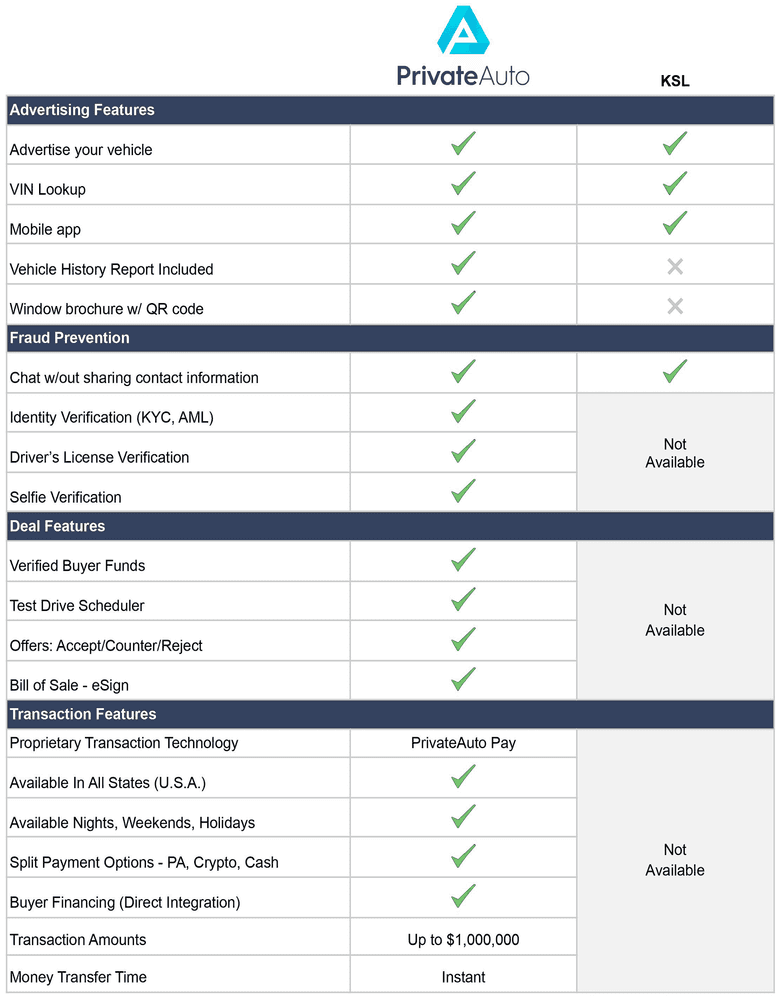 KSL Cars vs PrivateAuto
PrivateAuto and KSL Cars have dramatically different business models and offerings. True, they both feature a vehicle marketplace. However, KSL Cars is a vehicle marketplace and nothing more. PrivateAuto, in contrast, is an entire technology solution that includes a marketplace for buying and selling used vehicles.
PrivateAuto offers an entire tech stack to help you through every aspect of the transaction, while KSL Cars is feature-poor.
PrivateAuto is available in all 50 US states, while KSL Cars is only available in Utah, Wyoming, and Idaho.
KSL Cars offers dealer inventory and new vehicle listings, in addition to private-party inventory. PrivateAuto is exclusively for private party vehicle transactions.
PrivateAuto offers an integrated payment option (PrivateAuto Pay), while KSL Cars leaves the buyer and seller to figure out payment options on their own (spoiler alert: there aren't a lot of great ways to transfer large sums of cash for a vehicle—until PrivateAuto Pay).
KSL Cars doesn't charge seller fees. PrivateAuto charges $150 for sellers to list their car. Neither platform charges buyers; neither takes a cut of transactions.
KSL Cars Review
KSL Cars for Sellers
As a seller, you can create a listing on KSL Cars and add vehicle photographs and the price. Then, you wait for interested buyers to contact you through KSL's messaging feature. Once a buyer contacts you, the rest of the transaction occurs off the KSL platform. From arranging a test drive to receiving payment, you're on your own.

Since KSL Cars doesn't offer any fraud prevention features, you should be very careful when selling your vehicle. Give the buyer the vehicle only when you're sure that the payment is not fraudulent.
KSL Cars for Buyers
As a buyer, you can look through available listings on KSL Cars and content sellers through the KSL messaging feature once you're interested in a vehicle. All other communication and transactions are not done through KSL Cars. Since there is no way for you to verify your identity or funds, it can be difficult to get the seller to trust you (and vice versa), which can complicate the vehicle-buying process.
KSL Cars Pros
No seller fees
No buyer fees
Vehicle advertising available
Mobile apps for iOS and Android
In-app messaging
KSL Cars Cons
Not available in most states
No vehicle history report
No scheduling feature (for test drives)
No identity verification
No buyer's funds verification
No integrated financing options
No integrated payment feature
No fraud prevention features
No way to sign documents in-app
PrivateAuto Review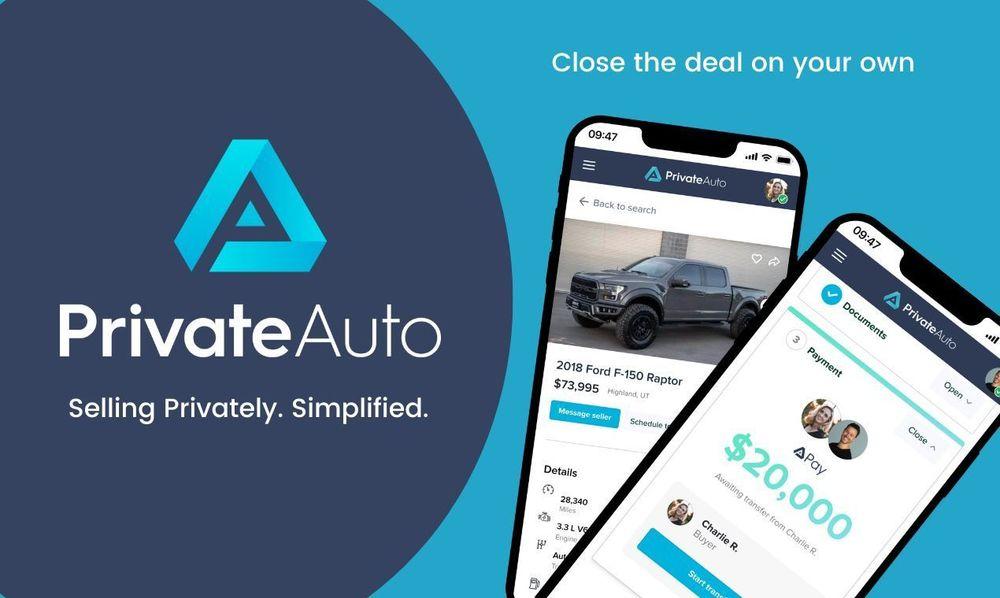 PrivateAuto for Sellers
Sellers can easily create a listing for their vehicle and can manage incoming offers via their listing dashboard, with the option to accept, reject, or make a counteroffer. They can chat with potential buyers via the in-app messaging feature without ever giving out their personal contact info.

With PrivateAuto's ability to verify funds, sellers can stop dealing with buyers who can't afford their car. When they accept an offer, the PrivateAuto scheduler allows sellers to arrange a test drive with the buyer without all the back-and-forth of other marketplaces. At the time of the test drive, buyer and seller can conclude the entire transaction via the PrivateAuto mobile app, which allows for the following to occur:
The app conducts each party through a step-by-step process that includes documentation, title, and payment
Both parties e-sign the bill of sale
The buyer pays the seller via PrivateAuto Pay and the seller receives the funds instantly, 24/7/365
PrivateAuto for Buyers
Buyers on PrivateAuto can place offers on vehicle listings and communicate with sellers. They can schedule with sellers for a test drive and can complete the entire transaction at the time of meeting—including sending unlimited funds instantaneously. PrivateAuto also allows buyers to apply for vehicle financing within the app. If approved, the buyer's status appears as "verified funds" to sellers.
PrivateAuto Pros
Available in all 50 US states
No hidden fees
No buyer fees
Vehicle advertising available
In-app messaging and test drive scheduling
Buyer and seller verification
Vehicle history reports available
Instantaneous payments of any amount, 24/7/365
In-app financing
E-signing of the bill of sale for both parties
Guided walk-through of necessary paperwork for buyer and seller
Verification of buyer funds
No dealer inventory to sort through
Mobile app for iOS and Android
PrivateAuto Cons
Seller fees
Less inventory than KSL Cars (younger marketplace)
KSL Cars vs PrivateAuto: Availability
KSL Cars is a regional marketplace and is only available in Utah, Wyoming, and Idaho. PrivateAuto is available all over the US. You can also buy used vehicles from out of state, which makes it easier to find a vehicle that fits your budget.
KSL Cars vs PrivateAuto: Pricing
Neither KSL Cars nor PrivateAuto have buyer transaction fees. When it comes to seller fees, KSL Cars wins out, as listings are free for individual sellers on this platform. PrivateAuto has a seller fee of $150 but includes a lot of technology to facilitate the private sale.

KSL Cars does have seller fees for businesses that want to sell vehicles on their website, but the exact pricing is unclear. If you want to explore this option, you'll have to contact KSL Cars directly to purchase a listings package.
PrivateAuto, in contrast, allows you to share your PrivateAuto listing to other platforms, including your website, at no additional fee.
KSL Cars vs PrivateAuto: Advertising
While both platforms offer advertising features, PrivateAuto offers more ways to advertise your vehicle.

KSL Cars allows you to advertise your vehicle on their website and mobile app, and it allows buyers to look up your vehicle's VIN and get more information about the car.

PrivateAuto also offers these features, in addition to two more advertising features not offered by KSL Cars: detailed vehicle history reports and a window brochure with a QR code that allows sellers to drive offline traffic to their car listing. Also, you can share your vehicle advertisements on your website at no additional fee.
PrivateAuto vs KSL Cars: Deal Features
PrivateAuto is the clear winner when it comes to features that make it easier for buyers and sellers to interact prior to the transaction. KSL Cars doesn't offer any deal features, except for in-app communication. On the other hand, PrivateAuto offers the following four helpful features:
Verified buyer funds
Messaging and test-drive scheduling
Accept and reject offers, or make counteroffers
E-signing
Verified Buyer Funds
PrivateAuto can verify buyer funds, and sellers can opt to receive offers only from buyers with verified funds. KSL Cars does not offer verification of funds.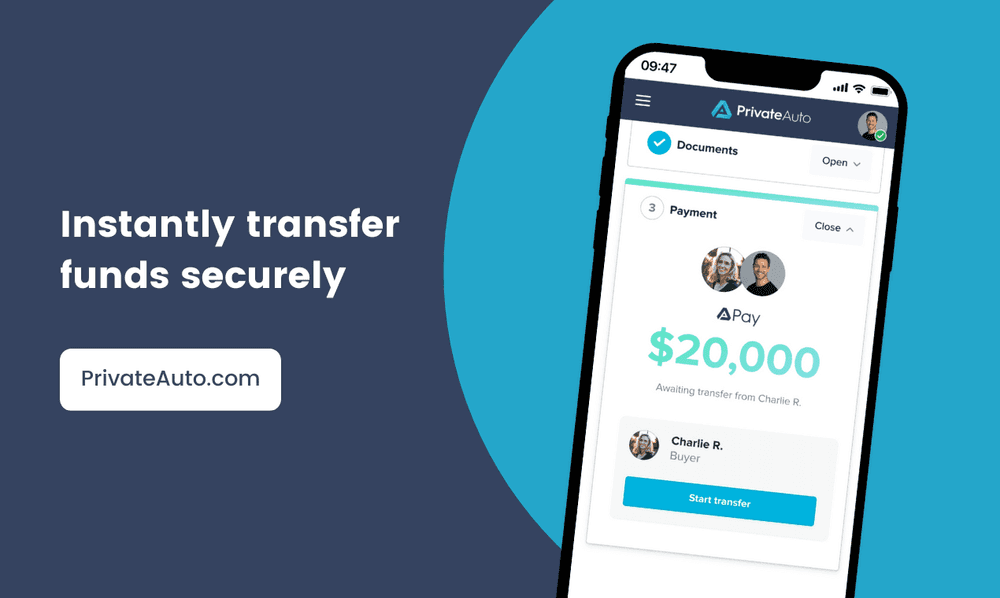 Messaging and Test-Drive Scheduling
PrivateAuto allows buyers and sellers to message inside the PrivateAuto app without exchanging contact information, and schedule test-drives through the app. KSL Cars does have in-app messaging, but does not have a scheduling feature through which you can arrange meet-ups with potential buyers. As a result, buyers and sellers end up having a lot of back and forth to get their schedules coordinated when they transact on marketplaces such as KSL.
Offers
PrivateAuto allows buyers to make offers, and sellers to accept them, reject them, or make counteroffers. KSL Cars only allows buyers to accept the listed price, or move on.
E-signing Feature
PrivateAuto allows both the buyer and the seller to e-sign documentation, such as the bill of sale, on their mobile app. KSL Cars does not have an in-app signing feature.
PrivateAuto vs KSL Cars: Payment Features
KSL Cars is simply a platform to connect buyer and seller, and does not offer any features that make the transaction process quicker and safer. On the other hand, PrivateAuto offers an integrated transaction feature called PrivateAuto Pay.

This feature is available in all 50 US states and works 24/7/365. That means sellers will get their money as soon as the buyer initiates payment—no more checking your bank account time and time again waiting for that payment to finally come through.

PrivateAuto also offers buyer financing and split payment options, so sellers can arrange whether they want to be paid in cash, crypto, through PrivateAuto Pay, or all three. PrivateAuto Pay can process unlimited funds, making PrivateAuto ideal for those high-end vehicles.
KSL Cars vs PrivateAuto: Fraud Prevention
PrivateAuto is the clear winner when it comes to fraud prevention. While KSL Cars does offer an in-app chatting option, they don't offer crucial identity verification features.

On PrivateAuto, both seller and buyer verify their identity via selfies and driver's license information. Sellers can choose to sell only to verified buyers, and vice versa.

The verification process is quick and simple, and PrivateAuto does not use your information for any purpose other than to verify your identity and make the vehicle-selling process safer for everyone.
Choosing the Best Online Vehicle Selling Platform
The verdict on KSL Cars vs PrivateAuto? PrivateAuto wins in almost every regard.
Best Platform for Sellers
PrivateAuto wins out over KSL Cars when it comes to selling vehicles quickly, easily, and securely. Especially for vehicles over $5,000, for which Venmo and other payment options fall short.
KSL Cars has the edge in pricing (free), but PrivateAuto's fee is well-deserved, considering the time savings, security, and transactionality the platform offers.

With identity verification, instantaneous payments, financing, and scheduling features, PrivateAuto has no comparison in the private-party vehicle space.
Best Platform for Buyers
PrivateAuto wins on the buy-side as well.

Neither platform charges buyer fees, and PrivateAuto offers many more buyer benefits than KSL Cars. To maintain their safety, buyers can choose to only contact verified sellers and those with a detailed car history report (including repairs, maintenance, and accident history) on PrivateAuto, while the same is not possible on KSL Cars.

PrivateAuto also offers split payment options, in-app financing, and instant payments. There's nothing else like it in the world of automotive transactions.
Selling Your Car Privately with PrivateAuto
Thinking about selling your car privately? Check out PrivateAuto—the easiest, safest, and only self-service way to sell your car privately. The sales process consists of a few simple steps:
Gather necessary documentation
You'll need your vehicle title and other documentation. Have all the paperwork you need to sell your car privately handy, so you're not scrambling to find it at the moment of completing a sale.
Register on PrivateAuto and get verified
To make PrivateAuto a safe place for everyone, we require email, phone, and driver's license verification, including facial recognition. Get started here.
List your car
Easily create your PrivateAuto listing with our step-by-step guide. Bonus: we include a window brochure with a QR code scannable to your listing.
Set your terms
It's your car, so you drive the deal! You can control where, when, and who you meet. Decide whether to accept only ID-verified buyers, or buyers with verified funds. Don't waste your time with buyers who aren't verified to your preference.
Vet incoming offers
Manage offers in one place with the ability to accept, reject, or counter offers within the app. Listing on multiple sites? Filter all communications through PrivateAuto by sharing your listing link on all platforms. Your personal info is protected: no more giving out your phone number or email address. All communication happens in our app.
Choose a buyer
When you find an offer you like, accept it and proceed to the next step with that buyer.
Schedule a meeting
The buyer will want to look at your car. No more back and forth texts. You never have to give out your phone number. Rather, use our handy scheduling feature to schedule test driving and coordinate a time and place for meeting. (Oh, and you'll be able to finalize the transaction instantly at the first meeting, FYI.)
E-sign documents
After the buyer is satisfied with your car and the two of you have agreed on a purchase price, you can easily e-sign the Bill of Sale within our app, from your phone. With our shared documents feature, you can easily locate the paperwork needed after the sale.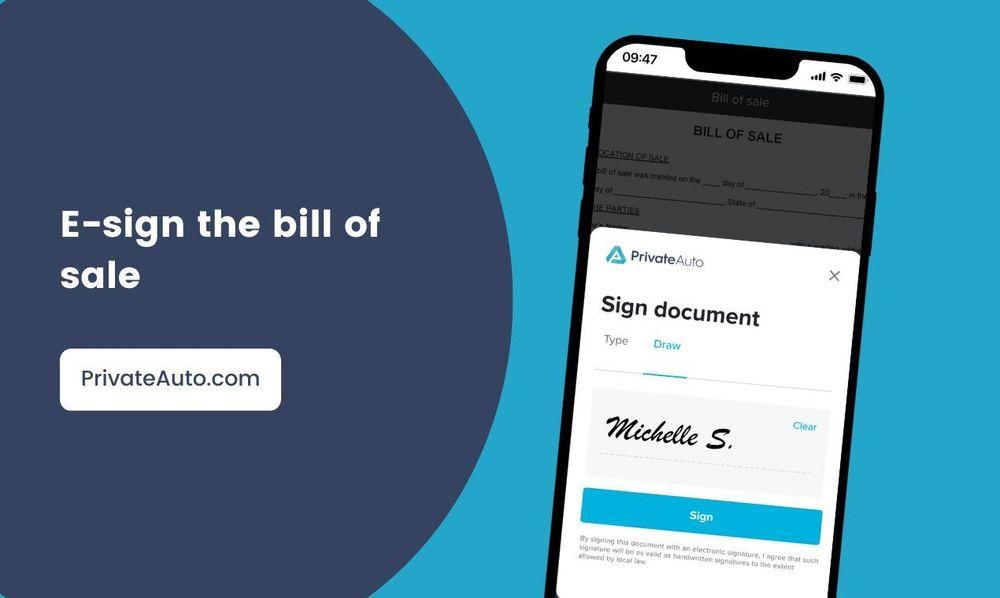 Get paid, instantly
Before PrivateAuto, receiving funds was the most stressful part of the entire selling process, especially for any used car sale over $5,000. There just aren't a lot of good ways to move large amounts of money quickly and conveniently. Those days are over! Verify and receive funds instantaneously with PrivateAuto Pay, our innovative banking integration. Guaranteed funds for transactions large and small.
Transfer title
When you sell your vehicle, fill out the necessary information on the back of the title transfer form and sign the vehicle title in order to transfer ownership of the vehicle to the new owner.
KSL Cars vs PrivateAuto FAQ
What does KSL mean?
KSL is an acronym for K-Salt Lake, a radio broadcasting company that later became a Utah media conglomerate.
Is KSL Classifieds only in Utah?
KSL Classifieds is also available in Wyoming and Idaho. Unlike KSL Classifieds, PrivateAuto is not regional, and is therefore available in all 50 US states.
Is PrivateAuto safe?
Yes, PrivateAuto is the safest vehicle-selling platform available. In addition to allowing you to communicate with vehicle buyers without sharing your contact information, PrivateAuto offers fraud prevention features including driver's license verification and selfie verification.
What is the best site for private car sales?
PrivateAuto offers more features than any other vehicle-selling platform, which makes it the best website for private car sales. You'd be pressed to find another platform that allows you to sell a vehicle as quickly and securely as PrivateAuto. For more information, take a look at how PrivateAuto stacks up against competitors.