What Are The Requirements To Get a License Plate?
The process of getting new license plates varies from state to state, so be sure to research the requirements for your specific state. You'll get new plates from your state's Department of Motor Vehicles (DMV) or equivalent organization.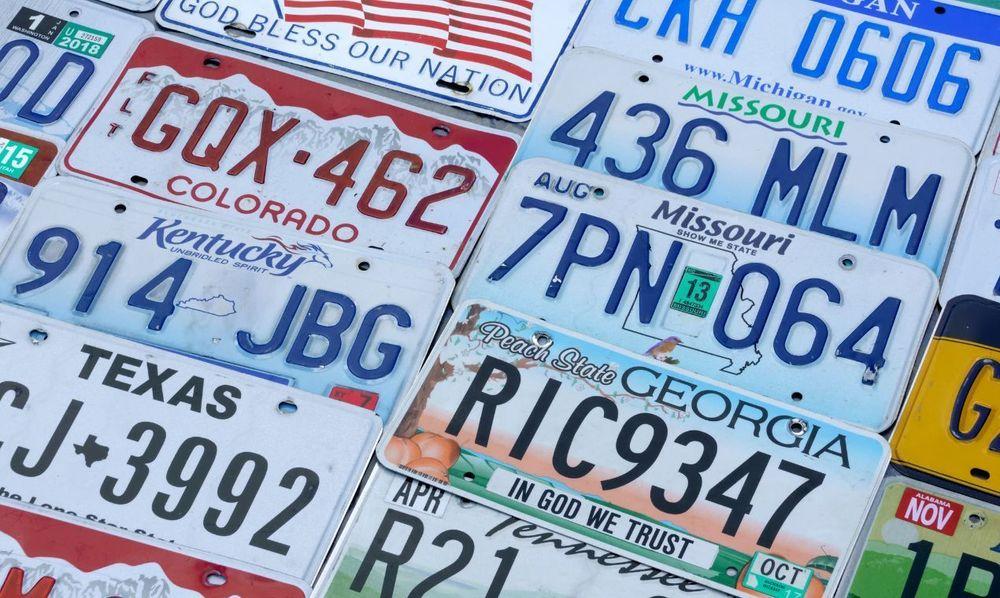 Most DMVs allow you to order plates online via their website.
Register Your Vehicle
To get a license plate, you must first register your vehicle with your state's Department of Motor Vehicles (DMV). You'll need to provide info such as the following:
Personal ID card or driver's license
Proof of car insurance
Odometer reading
Additionally, you must provide evidence that you are the rightful owner of the vehicle and you are trying to register by presenting either a copy of the vehicle title or your bill of sale.
Order License Plates
When applying for new license plates, there are three different ways that you can order:
Order license plates in person at your local DMV office
Order license plates online
Order license plates via mail
Whether you apply online, in person, or by mail, you need to fill out an application form that includes your personal information, address, title and registration number.
Once you have submitted the form, you will be asked to pay a fee. License plates cost different amounts in different states. The fee also varies depending on the type of license plate you choose. For example, in California, a standard license plate costs $23, while a personalized license plate costs $50.
If you choose to order online or in person, you can pay with a credit card, debit card, or electronic check. If you mail in your application, you must enclose a check or money order made out to the local DMV office, or in some states to the Secretary of State or Department of Revenue.
After all the paperwork has been provided to the DMV, they will issue some type of confirmation or receipt which proves the vehicle was successfully registered, and a license plate will be issued with it.
DMV Registration and License Plate Fees
The cost of registering a vehicle, obtaining a car title, and getting license plates can vary widely from state to state. In some states, the fees are fixed, while in others they are based on the age and weight of the vehicle or the manufacturer's suggested retail price (MSRP).
There are 45 states with fixed registration and plate fees. Vehicle registration in these 45 states ranges from $8 to $225. The cost for a title in these states ranges from $3 to $100.
There are five states with variable costs: Colorado, Iowa, Michigan, New Hampshire, and Utah.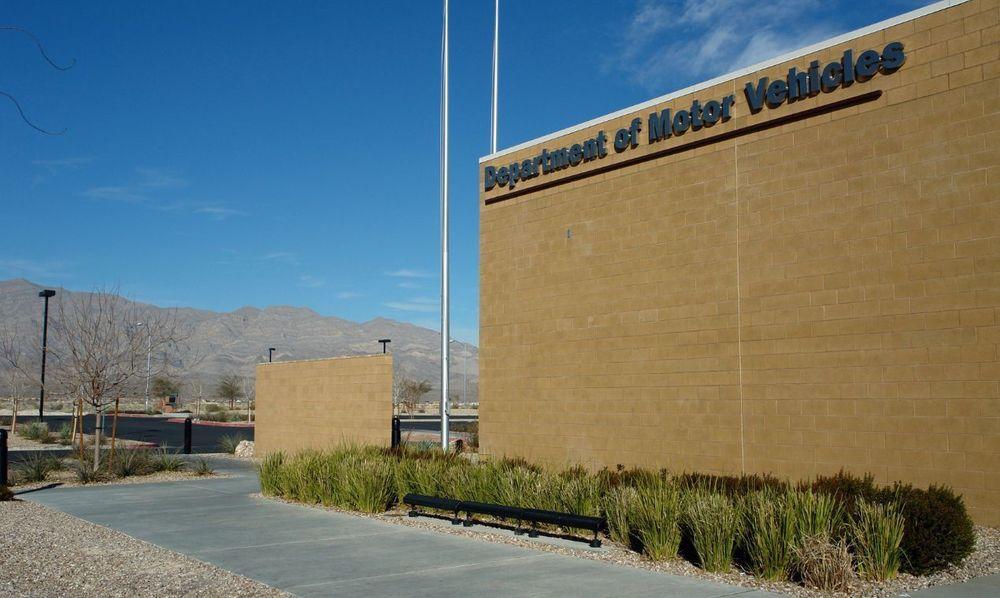 When you transfer ownership of a vehicle, you will pay a charge that varies by state. In most states, you will also pay sales taxes on a vehicle purchase.
If requesting a personalized or specialty plate, be prepared to pay more. Your state's DMV may also offer discounts for certain types of vehicle license plates, such as for electric vehicles or hybrid vehicles.
For more information on how much license plates cost in your state, you should contact your state's DMV office.
How Long Does It Take To Get a License Plate For a New Car?
Standard license plates normally arrive in 2 to 4 weeks. Personalized plates may take longer; feel free to contact your state's DMV for expected delivery time.
The amount of time it typically takes to receive a set of license plates for a new car from the Department of Motor Vehicles can vary state by state and even county by county. Filling out the paperwork and gathering any necessary documents before visiting your local DMV can make the process much faster, with most straightforward application processes taking only an hour or two.
Online applications are usually the fastest way to go since processing typically takes no more than two weeks. On the other hand, if you choose to mail your registration form for license plates, there is usually a waiting period of four weeks before the plates arrive.
However, in certain situations, such as when requesting specialized license plates, extra processing time may be necessary before they can be manufactured and mailed out.
How Long Does It Take To Get Replacement License Plates In The Mail?
If your license plate was stolen, damaged, or lost, you'll need to apply for a replacement plate. Depending on where you live, the average turnaround time on getting your new plates in your mail can run anywhere from two to four weeks.
If your license plates were stolen, the first step is to report the theft of the license plate to the local police department. In many cases, you must verify your address with the vehicle licensing office before you can begin the process of replacing a plate that was lost or stolen.
Most DMV websites provide information about estimated wait times, so check your state's DMV site. You may also want to apply for temporary plates that allow you to drive while you wait for your replacement to arrive.
When ordering replacement plates by mail be sure to include the following information with your request:
The license plate number of the vehicle for which you wish to order replacement plates.
The name under which the vehicle is registered.
Your complete mailing address, including your apartment number if you have one.
A daytime phone number where we can reach you in case we have questions about your order.
The type of plates you wish to order (standard or personalized). Please note that there is a fee for personalized license plates.
The fee for the replacement license plates. Fees may be paid by check or money order made out to the Commissioner of Motor Vehicles.
If you don't want to wait for your replacement plates to arrive in the mail, you can opt to pick them up in-person instead. Usually, you can pick up your new plates as soon as you submit your application and pay the fee.
For custom or specialized plates, you may have no option but to wait for them to be mailed to you.
How Long Does It Take To Get Custom Plates?
Depending on the state, the wait time to get custom plates might range from six to twelve weeks.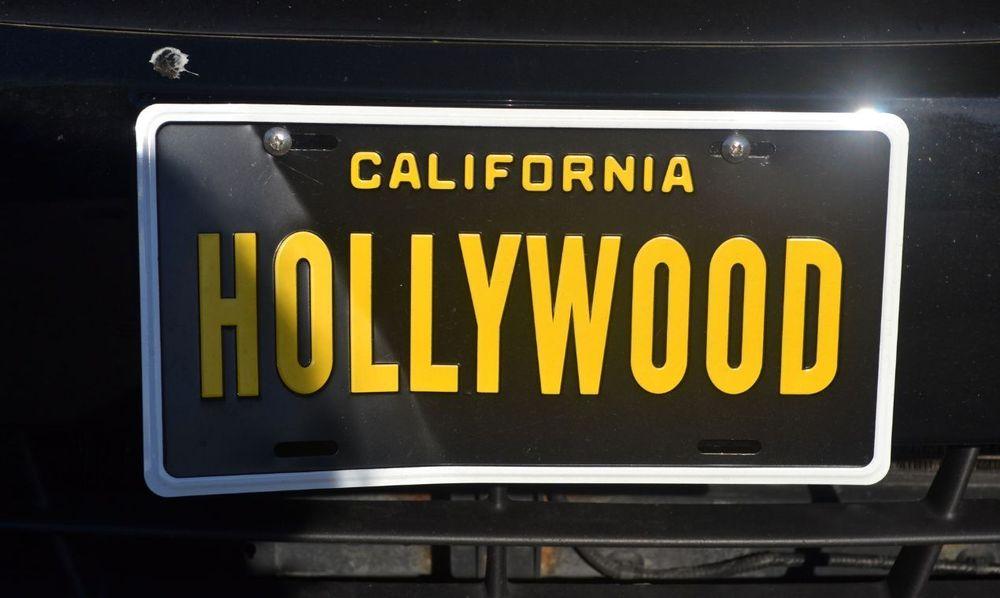 Custom license plates are a great way to express your unique personality on the road. You can order special license plates to recognize service, achievements, licenses, status, historical significance, occupations, etc.
Categories include:
Special license plates: exempt, livery, historical vehicles, HAM radio, military and veteran
Occupational license plates: dealers, dismantlers
Special Recognition license plates: Legion of Valor, Purple Heart, Gold Star Family, etc.
Apportioned license plates: power unit and prorate
Legislative license plates: senate, assembly
Special interest plates can be about supporting the arts, environmental causes, or various charities. You can order special interest plates in sequential (standard numbering) or personalized (custom numbers and letters) styles.
Before you order any type of custom plates check to see if the customization you want is available or permitted.
How To Track Your License Plate Order Mailing Status?
Keeping track of your license plate mailing status can be a challenge, but there are a few simple steps you can take to ensure that you don't miss any important updates.
To start, contact your state Department of Motor Vehicles (or equivalent organization in your state) and inquire about the expected timeline for delivery.
Additionally, utilize tracking services from the courier company that is responsible for delivering the plate. These services will provide real-time updates on the movement of your package and where it is currently located in transit.
Get an order confirmation number from your local DMV. This reference number will allow you to check the status online.
Online Plate Mailing Status Lookup
To keep on top of the mail-in services you have with the DMV, it's important to be aware of tracking how your license plate order is being mailed out. Fortunately, there are online tools available to make this process much easier, so you can easily stay informed.
Many DMV websites offer an online license plate mailing status lookup service. If you ordered your plates online you can use the Plate Mailing Status Lookup to check the status of your order. All you need to do is enter your vehicle's license plate number and state of residence and you'll be able to find out almost immediately if your request has been received, processed, and shipped.
DMV Mail-In Services
DMV Mail-In Services provide a convenient way to handle DMV-related activities without having to go into a physical location. This service allows customers to complete various transactions related to driver's licenses, ID cards, vehicle registrations, vehicle titles, and much more.
If you applied for new vehicle plates and registration by mail-in service at a local DMV office, you can use DMV mail-in services to track the status of your license plate order.
Buy Or Sell a Car Online With PrivateAuto
PrivateAuto is the best place to buy and sell cars online.
Our technology-driven, self-service solution makes it easy and safe to communicate, e-sign state documents, and send or receive payments instantly and securely. You can also schedule a test drive and negotiate the price without ever giving out your personal contact information.
Interested in buying a used car? Browse used vehicles for sale!
Steps for Selling Your Vehicle through PrivateAuto
PrivateAuto makes selling your used vehicle easy. The sales process consists of a few simple steps:
Gather necessary documentation
You'll need your vehicle title and other paperwork discussed above. Have it handy, so you're not scrambling to find it at the moment of completing a sale.
Register on PrivateAuto and get verified
To make PrivateAuto a safe place for everyone, we require email, phone, and driver's license verification, including facial recognition. Get started here.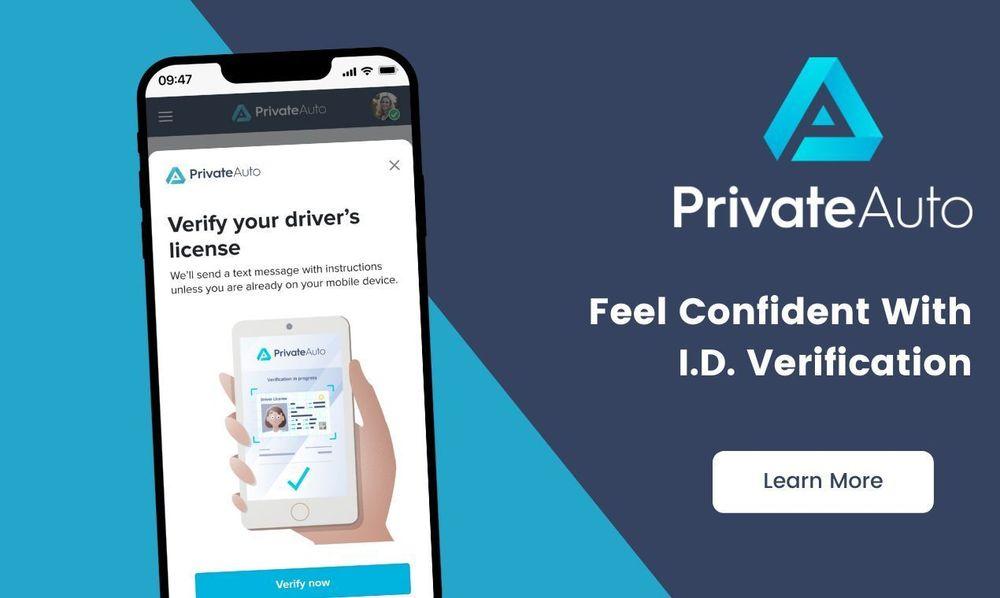 List your car
Easily create your PrivateAuto listing with our step-by-step guide. Bonus: we include a window brochure with a QR code scannable to your listing.
Set your terms
It's your car, so you drive the deal! You can control where, when, and who you meet. Decide whether to accept only ID-verified buyers, or buyers with verified funds. Don't waste your time with buyers who aren't verified to your preference.
Vet incoming offers
Manage offers in one place with the ability to accept, reject, or counter offers within the app. Listing on multiple sites? Filter all communications through PrivateAuto by sharing your listing link on all platforms. Your personal info is protected: no more giving out your phone number or email address. All communication happens in our app.
Choose a buyer
When you find an offer you like, accept it and proceed to the next step with that buyer.
Schedule a test drive
The buyer will want to test drive your car. No more back and forth texts. You never have to give out your phone number. Rather, use our handy scheduling feature to coordinate a time and place for a test drive. (Oh, and you'll be able to finalize the transaction instantly at the test drive location, FYI.)
E-sign documents
After the buyer is satisfied with your car and the two of you have agreed on a purchase price, you can easily e-sign the bill of sale within our app, from your phone. With our shared documents feature, you can easily locate the vehicle paperwork needed after the sale.
Get paid, instantly
Before PrivateAuto, receiving funds was the most stressful part of the entire selling process, especially for any used car sale over $5,000. There just aren't a lot of good ways to move large amounts of money quickly and conveniently. Those days are over! Verify and receive funds instantaneously with PrivateAuto Pay, our innovative banking integration. Guaranteed funds for transactions large and small.
Transfer title
When you sell your vehicle, fill out the necessary information on the back of the title transfer document to transfer the title to the buyer.
License plates
In some states, you'll remove your license plates, while in other states you'll leave them on and let the buyer take them with the car.
Cancel car insurance
You don't want to pay for insurance on a car you no longer own, so be sure to remove the sold vehicle from your insurance plan.
License Plates FAQ
Where are my Arizona license plates?
Any Arizona driver who needs to replace a lost, stolen, or damaged license plate can do so through the state's Motor Vehicle Division.
If the license plate is simply unreadable due to wear and tear, it can be replaced online. You will be able to choose the same numbers and letters for your new plate.
If the plate was lost or stolen, the driver must visit an MVD office or authorized third-party provider. They will issue you a new license plate with new numbers and letters.
The Arizona license plate fee is $25 for standard plates, including the license plate sticker.
How often should I renew my license plates?
Each state has different requirements for how often license plates need to be renewed, but most states require renewal every one to five years. In some cases, the expiration date of the registration and the license plate may not be the same, so it is important to check both dates to ensure that both are up-to-date. Failure to renew license plates can result in penalties such as fines or even having the vehicle impounded.
How do I check the status of my Texas license plate?
The Texas Department of Motor Vehicles offers an online tool that allows you to track the status of your registration renewal. Simply enter your information into the tracker, and it will tell you when your license plates were mailed to you.
Be sure to allow up to two weeks for delivery by the US Postal Service. If it has been more than 2 weeks since the mailing date on the tracker and you still haven't received your registration, you can contact your local county tax office for assistance.
How long does it take to get license plates in MN?
In Minnesota, it usually takes about ten days to receive your license plates after you've registered your vehicle. The process begins when you visit a Minnesota Deputy Registrar's office and submit the necessary paperwork and payment for registration fees. License plates cost $15.50 in Minnesota.
Once your registration is processed, the office will issue you a license plate number and a set of temporary plates.
Minnesota residents may update their addresses while registering by mail or by entering their information on the back of the application form.
The temporary plates are valid for up to 30 days, which gives you time to receive your permanent plates in the mail. In most cases, you should receive your plates within two weeks of registering your vehicle. If you haven't received them after that time period, you can contact the Deputy Registrar's office to check on the status of your order.
How long does it take to get personalized plates in NJ?
In New Jersey, you can order personalized license plates for a one-time fee of $50. The process takes 8-12 weeks from the time the request is received by the DMV.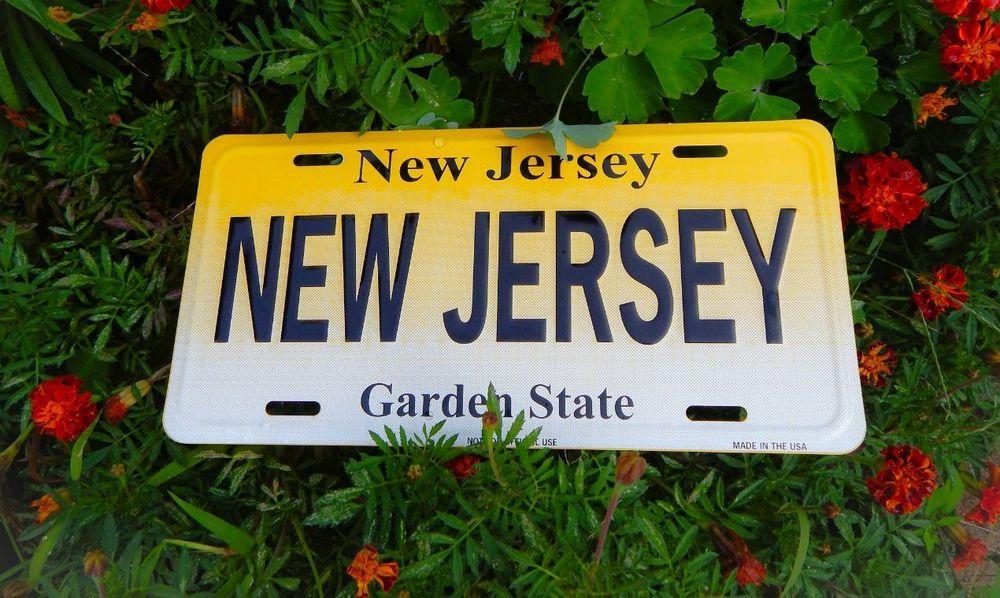 You can download the Personalized License Plate Application (Form SP-1) from the DMV website and mail it, along with a check or money order for $50, to:
Special Plate Unit,
New Jersey Motor Vehicle Commission
PO Box 15, Trenton,
NJ 08666-0015.
Your personalized plate must include at least three letters and a maximum of seven characters (letters and digits combined). If your registration has been inactive for more than two years, you will be charged an additional $50 to reactivate your personalized plates.
How long does a license plate take to come in the mail in California?
Once you register your vehicle with the DMV in California, you can expect to have your license plates in the mail within a month. However, if you purchase the vehicle from a dealership, you have the option of taking home the car with temporary license plates, which will be valid for 90 days. Whichever option you take, it pays to check with your local DMV office for their available services and processing times.
How long does it take to get license plates from a dealer in California?
Getting your license plate from a dealer in California can be a fairly simple and quick process. In most cases, you will receive your temporary license plates the same day you purchase your car from the dealership.
The dealership handles all of the paperwork for registration and licensing as long as you have proof of insurance,a registration card, and your driver's license. Afterwards, they will typically provide you with all the documents needed for filing with the DMV such as title transfers, smog certificates and so on.
How long does it take to get license plates from a dealer in Washington?
Getting license plates from a dealer in Washington is usually a straightforward process and can typically be completed within just a few hours. All vehicles purchased from dealers come with temporary plates and the dealer will submit relevant paperwork to the Department of Licensing to begin the permanent plate application.
The Department will then issue new plates, which can typically be picked up at the dealership within two weeks, depending on other factors including processing time.
How long does it take to get license plates in Utah?
Depending on which type of plates you are looking to get, the timeline may vary. Utah standard license plates cost $12 and typically take a couple of weeks to be sent out, while personalized and other special plates can take up to four weeks to be created and mailed.
If you are new to Utah, you have 60 days to register your car. A driver's license or ID card and a vehicle identification number (VIN) inspection are required when registering a vehicle for the first time in Utah. You'll also need to submit your title and most current registration documents, as well as emissions test results, depending on the vehicle. To register for car registration and plates, new residents will most likely need to visit a DMV office in person.
Utah drivers can use the DMV drive-through service or the state's online motor vehicle site to renew registration, change plates, or buy customized plates. This is also the location where you can quickly obtain customized license plates.
These three types of license plates are available to choose from:
Standard issue plates come in three options: a 5-character "In God We Trust" plate, the 6-character "Life Elevated Skier" plate, and the 6-character "Life Elevated Arches" plate.
Special group plates come in many different options, from occupational affiliations, U.S. Armed Forces branches, to non-profit organizations, and environmental causes.
Exempt plates are set aside for Utah State Highway Patrol vehicles or any other vehicle owned or leased by a state government agency.
How long does it take to get license plates in NY?
The New York state's Department of Motor Vehicles processes orders for standard plates quickly, with them arriving within ten business days or less from the time of ordering. Vanity or custom plates can take up to six weeks to arrive in your mail.
How long does it take to get license plates in Ohio?
When it comes to getting license plates in Ohio, obtaining them is relatively easy. After purchasing a vehicle, drivers can go about the process of acquiring their license plates by visiting their local Bureau of Motor Vehicles, or by utilizing the bureau's online services.
Once all the required documents and fees necessary for registration have been collected and submitted, drivers will be able to pick up their license plates directly from the bureau, or have them sent to their address—usually within a few weeks' time.
Is it legal to make your own license plate?
In most states, it is legal to design and create your own license plate—within certain guidelines. First, you will need to obtain the proper permission from your state's DMV. In some cases, you may also be required to submit a design for approval. Once you have been granted permission, you can start working on your plate. You will need to choose a material that is sturdy enough to withstand the elements and that can be easily attached to your car.
The DMV allows customized or personalized license plates, usually accompanied by a yearly fee. Nevertheless, the DMV discourages drivers from making adjustments or changes to license plates, such as altering license plate size.
What do you do with old license plates?
Different states have different rules for what to do with license plates when a car is sold. Most states require a seller to remove them from the vehicle. But what should the seller do with them after removing them? It depends on the regulations of each individual state.
Most people don't give much thought to their license plates when they sell a used car. However, old plates can actually be recycled or reused in a number of different ways.
If you're wondering what to do with your old plates, one option is to simply send the old plates back to the DMV. In most states, the DMV will recycle the plates or sell them to a scrap metal dealer.
Some states allow the seller to transfer the plates to another vehicle.
If your state allows it, you can sell your old license plate online. There are a number of websites that specialize in buying and selling collectible license plates.
Finally, you can take your old license plate to a recycling center. While you won't get any money for recycling the plate, you'll be doing your part to help the environment.
How do you put a license plate on a car?
The process of attaching a license plate to a car is relatively simple and can be done in a matter of minutes.
The first step is to remove the old license plate from the car. This can be done by unscrewing the screws that hold it in place.
Once the old plate is removed, drill holes into your new license plate. Next, secure the new plate to the car with screws. Be sure to use screws that are the appropriate size and type for your car.
Clear the license plate and mounting surface of any debris. This will help ensure that the new plate adheres properly.
Fix the sticky pads to your license plate and press it onto your car.
Make sure that the plate is level and securely attached before driving.
With a little time and effort, you can easily put a license plate on a car.
What is a digital license plate?
A digital license plate is a plate that uses a digital display instead of the traditional paper or metal license plate. The digital display can be used to show the current status of the vehicle, such as the registration or inspection expiration date. In addition, digital license plates can also be used to display messages, such as safety messages or Amber Alerts.
How can I cancel my license plates?
There are two ways to cancel your license plates. You can either turn them in to your local DMV, or you can destroy them yourself. See the requirements for your state in the article above.
What is a passenger license plate?
A passenger license plate is a type of license plate that is typically used on a passenger vehicle, such as a van or SUV. Passenger license plates usually have a simple design with the name of the state and a numbering system that is easy to read. In most cases, passenger license plates are made of metal, though some states also offer specialty plates that are made of other materials.
How to attach a license plate frame?
License plate frames are metal or plastic frames that go around your license plate, usually for decorative purposes. Many people attach them to the front of their car, but they can also be attached to the back. You can purchase license plate frames at most auto supply stores.
In order to properly and securely attach a license plate frame, it is first important to understand the different types of frames that are available.
The most common type of frame is the bolt-on frame, which attaches to the vehicle with bolts or screws. These frames are typically made of metal or plastic, and they can be decorated with designs or logos.
Another type of frame is the adhesive frame, which uses double-sided tape or an adhesive pad to attach to the vehicle. These frames are often made of plastic or vinyl, and they are less likely to damage the paint on the vehicle.
There are also magnetic frames, which use magnets to attach to the vehicle. These frames are often made of metal, and they can be removed and reattached easily.
If you are using a magnetic frame, simply position the magnets on the vehicle and attach the frame. Once all of the magnets are in place, the frame should be secure.
If you are using a bolt-on frame, simply align the mounting hole in the frame with the holes in the vehicle's bumper or fender. Next, insert the bolts or screws and tighten them until the frame is secure.
If you are using an adhesive frame, remove the backing from the double-sided tape or adhesive pad and press it firmly into place.