Transferring a car title is an important step when you buy, sell, donate, or inherit a vehicle. It involves changing vehicle ownership from one person to another and updating the state's motor vehicle records. Some states allow you to complete a title transfer online, saving you a trip to the DMV.
Quick links:
Which states allow online title transfer?
Why is a title transfer important?
How do I find the right website?
It's critical that you complete the title transfer process correctly and on time. Failure to transfer a title can have legal and financial ramifications, including fines, penalties, and liability concerns.
An online title transfer can save you time, money, and hassle, especially if you have a hectic schedule or live a long distance from a DMV office. Internet title transfers are usually faster, allowing you to receive your new title and registration sooner.
What is a Car Title?
A Certificate of Title is a legal document that establishes car ownership. It contains vital car information such as the manufacturer, model, year, and VIN (vehicle identification number).
The car title also includes the owner's name and address, as well as the names and addresses of any lienholders who have a legal claim on the vehicle (the most common type of lienholder is a lender for vehicles that have been financed).
A title serves as evidence of ownership when registering a vehicle, purchasing insurance, or changing the owner or registration. It is critical to keep your vehicle title safe and up-to-date, and to always know where it is.
Which States Allow Online Title Transfer?
The following states allow you to transfer a car title online. If you live in one of these states, click on your state to be taken to the online title transfer portal of the Department of Motor Vehicles (DMV)—or your state's equivalent motor vehicle registry authority.
Why is a Title Transfer Important?
A title transfer is important to both the buyer and seller of a vehicle.
Here are some of the reasons why a title transfer is necessary:
In most states, transferring the title is a legal necessity, and failing to do so can result in fines or other penalties.
As the seller, if the title isn't transferred properly, you may be held accountable for any accidents or damages caused by the car, even though you no longer own it. That's because you are still the registered owner in the DMV records.
As the buyer of a used car, the title serves as proof of ownership and allows you to legally gift or sell the car should you choose.
Registration and insurance: without a title transfer, the buyer cannot register or insure a car in their name.
In the end, transferring the title is important for both legal and financial reasons because it protects both the buyer and the seller.
Title Transfer for Sellers
For the seller of a used car, the title transfer portion is simple: you sign over the physical certificate of title to the buyer. You'll need to complete all the required fields on the document, including the odometer reading. In signing over the title, you legally transfer ownership to the buyer.
It's then the buyer's responsibility to register the vehicle in their name with their state's vehicle licensing regulatory body.
For instructions on how to sign over a vehicle title, read our complete guide to car title transfers.
Title Transfer for Buyers
After a car's seller signs the title over, you'll need to register your vehicle with the DMV or equivalent agency. You'll also need to file a notice of transfer so that they can update vehicle ownership in their records. Unless you live in Minnesota or California, you'll also apply for new license plates (see our state-by-state license plate guide for more on this).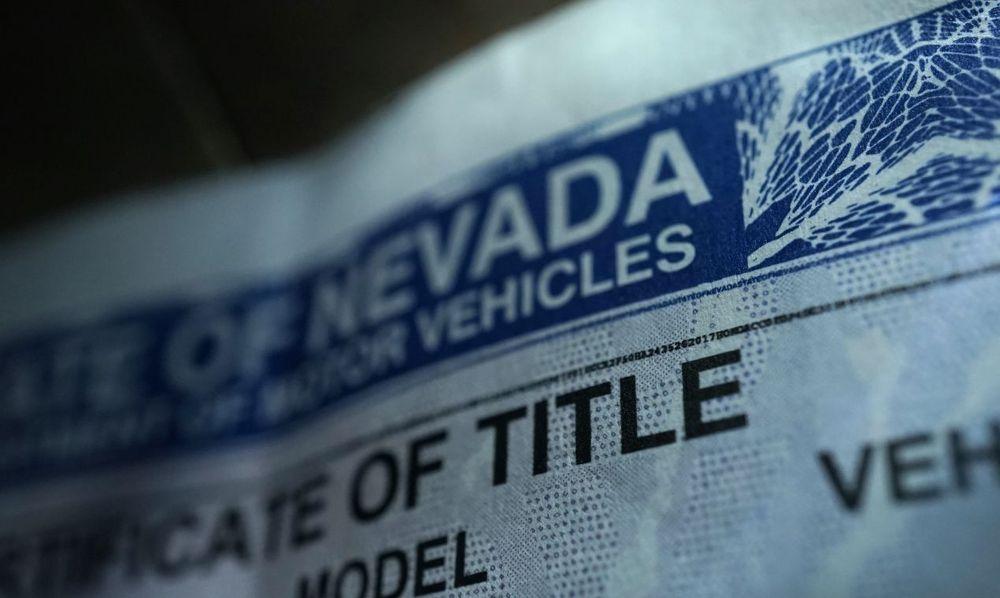 Required Documentation
Paperwork requirements vary somewhat by state, but here are some of the most commonly-required documents you'll need to provide.
The physical title signed by the seller (and lienholder, if applicable)
A bill of sale or purchase agreement (PrivateAuto makes the bill of sale super easy)
Vehicle registration application
Smog certificate or emissions inspection certificate (if required by your state)
Valid driver's license or identification card
Proof of insurance
Payment for applicable fees
Any additional forms or documents required by your state
Before you send in your title transfer and registration application, you should check with your local DMV or motor vehicle agency to find out what documents are needed in your state and to make sure you have all of them.
Taxes and Fees
After buying a used car from a private party, the new owner will need to pay a variety of taxes and fees when they register the car in their name and complete the title transfer. Fees and taxes vary by state but may include:
The title transfer fee covers the administrative costs of transferring the vehicle's title to the new owner.
The registration fee covers the cost of registering the car with the state's motor vehicle office as well as getting new license plates.
A vehicle sales tax is due in most states (unless you're lucky enough to live in a state that doesn't have sales tax). The sales tax is based on the vehicle's purchase price; the new owner may be required to pay state and municipal sales taxes also.
Fee for a smog check: several states need a smog check in order to register a car, and this charge covers the cost of the test.
County or city tax: in addition to the state sales tax, certain states may levy a county or municipal tax.
Late registration fee: if the new owner fails to register the vehicle within a particular term, a late registration cost may be imposed.
License plate fee: in states that require the owner to get new license plates, you'll need to pay your state's license plate fee. These costs vary significantly from one state to another.
It's important to check with your state's DMV or motor vehicle department to find out what fees and taxes are required.
Title Transfer Information by State
We've documented each state's title transfer process. Click on your state below to learn more.