How To Change a License Plate
Changing a license plate is pretty easy. Whether you're transferring your plates from your sold car to your recently-purchased one, or you've decided it's time for vanity plates, this article will get you sorted out.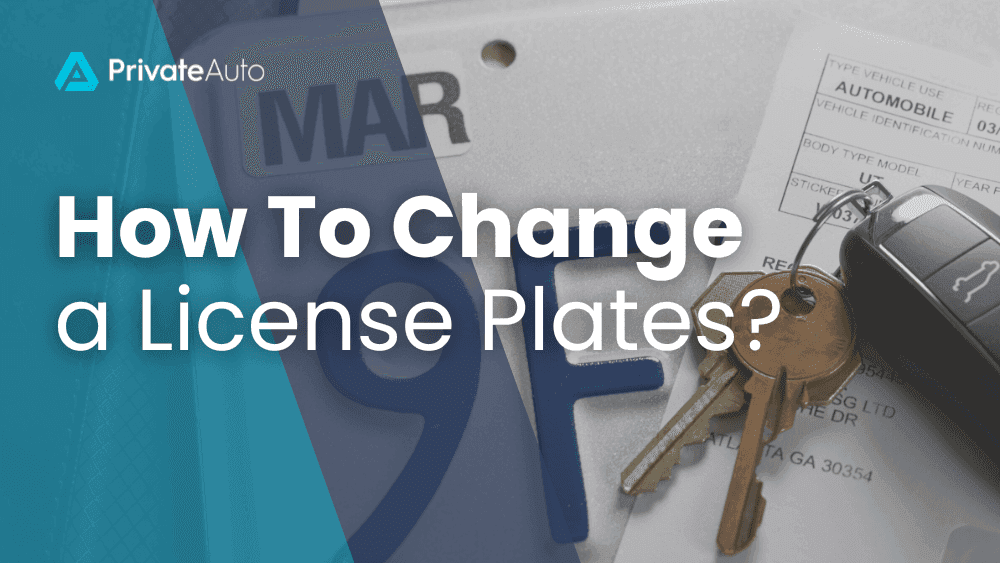 If you're getting new plates, you'll need to visit your local DMV or motor vehicle office and fill out a form. You may also need to submit proof of ownership, such as your vehicle registration or
car title
. You'll pay the required fee and receive your new license plate.
If you're getting a personalized or specialty license plate, you may need to follow different procedures. For example, you may need to submit a different sort of application and provide additional documentation.
Regardless of the reason, replacing plates is usually a simple process.

Types Of License Plates
In the United States, a variety of license plate types are issued. Here are some of the most common types of license plates:

• Standard vehicle registration plate
• Special interest plates
• Disability plates
• Vanity plates
• …and more
Standard License Plates
Passenger vehicles, commercial motor vehicles, motorbikes, permanent trailers, trailer coaches, and park trailers must all have valid license plates.

Every state has its own design for license plates, but they all typically contain similar information. Standard license plates have the vehicle registration number, state name, and usually the state motto or slogan. You'll get standard license plates when you buy a new vehicle, replace lost or damaged plates, or surrender special-interest license plates.

Standard license plates serve as proof of registration and help law enforcement identify vehicles.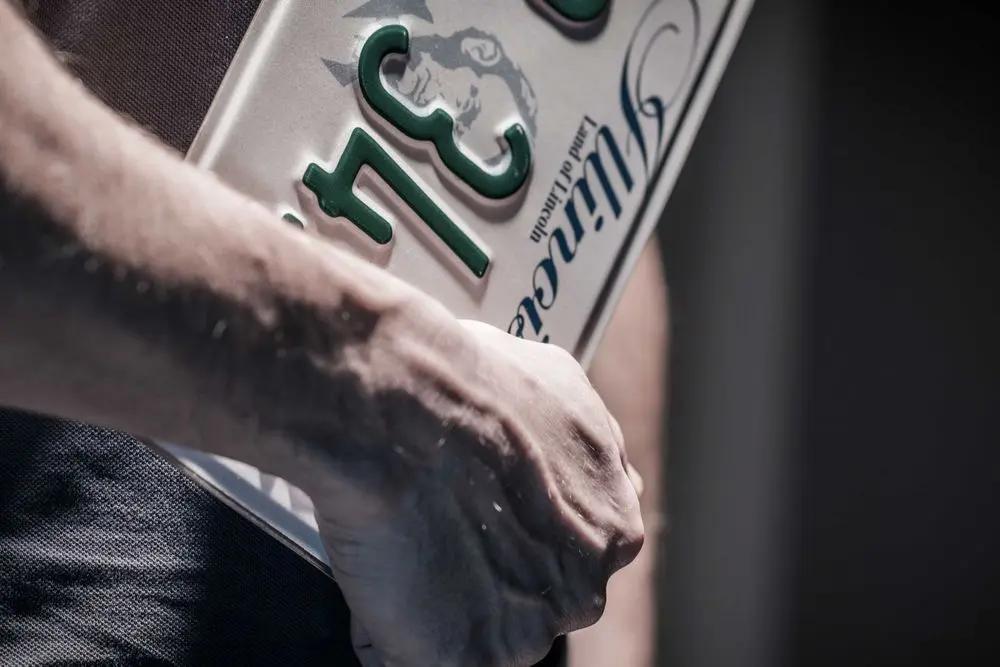 Special Interest License Plates
Most states offer special interest license plate options. When you order special interest license plates, a portion of your fee is donated to the associated charity or cause, making these plates a good way to support something you care about—while spreading the message to other drivers on the road.

You can order special interest plates in sequential (standard numbering) or personalized (custom numbers and letters) styles.

Special interest plates can be about supporting the arts, environmental causes, or various charities.
Special License Plates
You can order special license plates to recognize service, achievements, licenses, status, historical significance, occupations, etc.

Categories include:

• Special license plates: exempt, livery, historical vehicles, HAM radio, military and veteran
• Occupational license plates: dealers, dismantlers
• Special Recognition license plates: Legion of Valor, Purple Heart, Gold Star Family, etc.
• Apportioned license plates: power unit and prorate
• Legislative license plates: senate, assembly

Special license plates are not the same as special interest license plates, which are affiliated with specific organizations or charities, and receive donations from plate fees.
Decals and Placards
Some states issue special decals or placards that accompany a license plate or can be displayed within the vehicle. For example, people with disabilities may obtain a special license plate, decal or card. Here are some cases in which placards or decals might be used alongside license plates.
Disabled Persons (DP) Parking Placard
A disabled person parking placard is a type of permit that allows disabled people to park in designated handicapped parking spots. The placard can be obtained by permanently disabled people and is valid for two years. Those with a temporary disability can obtain a disabled parking placard valid for six months.

The process of obtaining a disabled parking placard includes filling out an application and providing proof of disability, such as a doctor's note. Once the application is approved, the placard will be mailed to the applicant. When using the placard, it must be displayed on the dashboard or rearview mirror of the vehicle so that it is visible to parking enforcement officials.

Disabled persons who abuse the privileges of the disabled parking placard may have their permit revoked.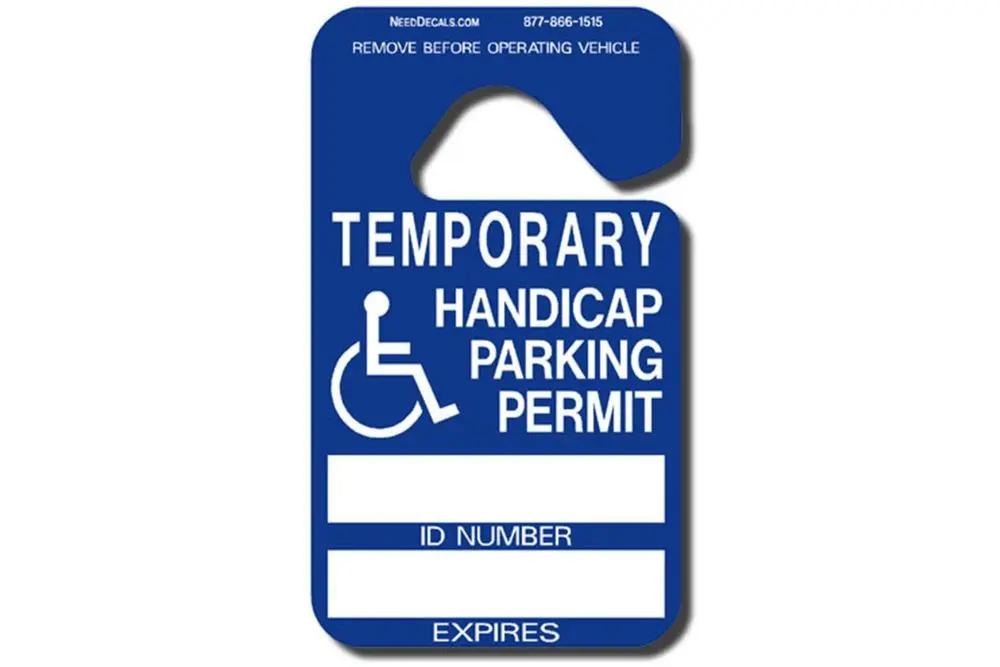 Motorcycle Transportation Permit
To transport a motorcycle on a public road, a motorcycle transportation permit is required. The permit must be clearly visible on the vehicle and must be attached until the motorcycle is either transferred to a new owner or removed. The permit is obtained from the Department of Motor Vehicles (DMV) and is valid for one year.
Off-Highway Motor Vehicle Plate
The off-highway vehicle "plate" is a self-stick decal that you affix directly to an OHV or other offroad-only vehicle. Upon renewal, a new decal is issued, displaying a new plate number and expiration year. New plates must be affixed in specific locations.

The off-highway vehicle "plate" is valid for use on all public roads and highways, except for those specifically posted as closed to off-highway vehicles. When used on a designated highway or road, the off-highway vehicle "plate" does not exempt the operator from complying with speed limits, seasonal closures, weight limitations, or other restrictions that may apply.

The plate is not required when operating off-highway vehicles on private property. However, if you are involved in an accident while operating an off-highway vehicle on private property, you may be held liable for damages.
Motor Carriers
A motor carrier is any company that operates motor vehicles for commercial purposes. The definition includes trucking companies, buses, and other types of commercial transport. Motor carriers are required to register their vehicles with the U.S. Department of Transportation.

Any business that operates a commercial vehicle transporting people or property in interstate commerce is required to register with the Federal Motor Carrier Safety Administration (FMCSA) and to display their US DOT number on the vehicles they use. US DOT vinyl decals are a long-term option for displaying a US DOT number while being legally compliant on the road.
Agricultural Vehicles
When it comes to license plates, agricultural vehicles have a few different options. A farm vehicle can either have a standard license plate, or an agricultural license plate. Agricultural license plates are available in most states and are usually less expensive than standard license plates.
When Am I Required To Replace a License Plate?
In most states, license plates remain with the owner when they
sell a used vehicle
. The new owner then registers the vehicle in their name and pays the required fees.
There are a few states in which the license plate stays the vehicle, transferring to the buyer. For more info, see our
state-by-state guide on what to do with your plates
when selling a car.
In some cases, the DMV may require you to replace your plate. This is usually the case if the plate is damaged, rusted, or illegible.
If a plate is lost or stolen, a replacement can usually be obtained by filing a police report and paying a small fee.
Overall, replacing a license plate is generally a simple process, but it can vary slightly from state to state. Check with your local DMV to be sure on the correct procedure for your state.
How To Change License Plates
In most states, license plates are valid for either seven or eight years before they need to be replaced. When the time comes to get new plates, drivers have a few different options. They can either go to their local DMV office and request new plates, order new plates online, or order plates by mail.

Once the new plates arrive, drivers simply need to remove the old ones and attach the new ones in their place.

In some states, drivers may also need to surrender their old license plates when they get new ones.

Most states allow you to initiate replacement license plates online via the state Department of Motor Vehicles (or equivalent organization) website.

In order to change your license plate online, you'll create an account and log in. Once you are logged in, you will need to find the section for changing your personal information, including name and address. Depending on the state, you should see an option for changing or replacing license plates.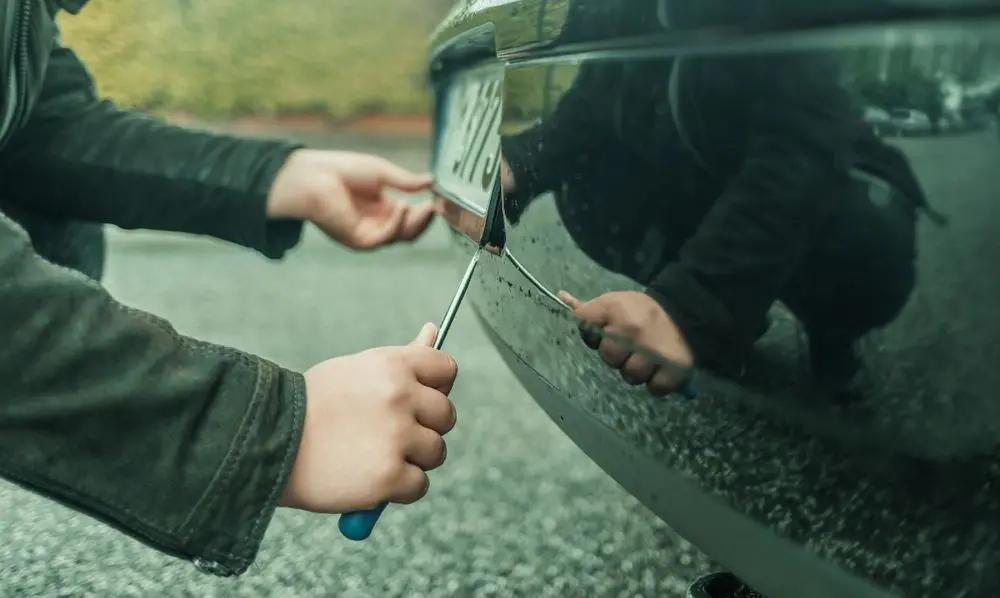 Ordering Replacement Plates In-Person at DMV
The process of ordering replacement license plates in person at the DMV can vary depending on your state.

First, contact your local DMV office to find out if you need to make an appointment. Many DMVs require appointments for license plate replacement.

Next, gather the required documents. You will typically need to bring your vehicle registration and proof of insurance. In some states, you may also need to show proof of residency. Once you have everything you need, simply go to your state's local DMV office to fill out a form called an "Application for Replacement License Plate." This form is available at most DMV offices, or it can be downloaded from your state's DMV website.

Once the form is complete, hand it to a DMV representative, who will process your request. In most states the DMV will also charge you a license plate replacement fee.

In most cases, you will be able to pick up the plates on the same day. If not, they will be mailed to you within a few days.
Ordering Replacement License Plates Online
Most State Departments of Motor Vehicles offer an online service for ordering replacement license plates.

The process is simple and straightforward: simply fill out a form with your personal information and plate number, select the type of plate you want, and enter your payment information.

Once you've placed your order, the DMV will mail your new license plate to your address on file. In some cases, you may be able to pick up your new license plate in person at your local DMV office.

Ordering Replacement Plates by Mail
Applicants who need to order replacement plates may do so by mail. When ordering replacement plates by mail be sure to include the following information with your request:

• The license plate number of the vehicle for which you wish to order replacement plates
• The name under which the vehicle is registered
• Your complete mailing address, including your apartment number if you have one
• A daytime phone number where we can reach you in case we have questions about your order
• The type of plates you wish to order (standard or personalized). Please note that there is a fee for personalized license plates.
• The fee for the replacement license plates. Fees may be paid by check or money order made out to the Commissioner of Motor Vehicles.
Special Interest and Personalized License Plate Orders
In the United States, over 150 million vehicles are registered with the Department of Motor Vehicles (DMV). That's a lot of cars, trucks, and motorcycles—and a lot of license plates! If you're looking for something different for your vehicle, you may be interested in ordering a specialty or personalized license plate.

Special interest plates are available for everything from alumni associations to zoos, and they can be a great way to show your support for a cause or organization. Personalized plates allow you to choose your own custom message, within certain guidelines.

If you have a special interest or would like to personalize your license plate, you will need to follow a few simple steps.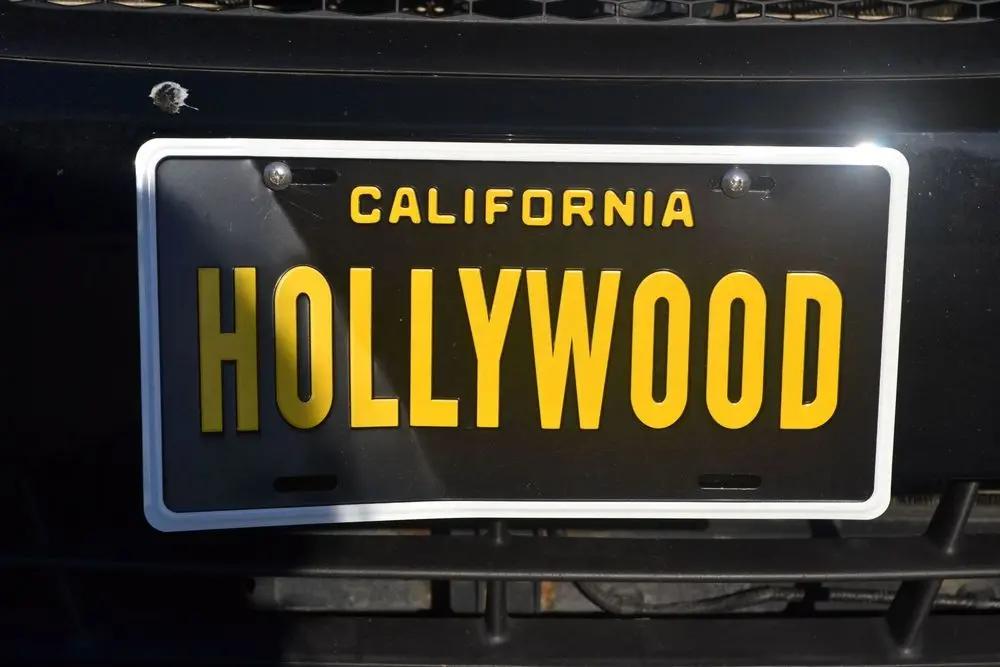 Contact Your Local DMV Office
To order a specialty plate, you'll need to contact your state's DMV office. Each state has different requirements and its own process and fee schedule for specialty plates, so be sure to check the requirements before you order.
Choose The Plate's Design Or Message
First, decide what you want your plate to say. The DMV has restrictions on what you can and can't put on your plate, so be creative but make sure your idea is within the guidelines.

Some specialty plates also are only available to individuals who meet specific criteria, so you may have to provide documentation to prove that you're eligible to have that plate. For example, you may have to provide proof that you are a veteran or member of the military to get a military-themed specialty plate.
Fill Out an Application Form
Once you have your slogan, head to the DMV website and fill out an application which includes your personal information, information about the vehicle . and the slogan you choose.
Pay The Fee
In most cases, you'll need to pay a one-time fee, in addition to the regular
car registration
fee. The cost of the custom plate will vary depending on the state, but it is typically around $50. Once your application is approved, your new plate will be mailed to you.
Dispose of Plates You No Longer Use
Contact your vehicle licensing office to find out the procedure for disposing of old plates. Some offices require you to surrender your old plates immediately, while others will allow you to keep them even though they're no longer valid.
How To Change a License Plate From Another State?
If you
recently moved to a new state, you may need to change your license plate
. The process for changing a license plate varies depending on the state, but here is a common sequence.
1. Contact your local DMV or motor vehicle office and notify them of your change of address.
2. Surrender your old license plate and registration card. In some cases, you may be able to transfer your old license plate to your new vehicle.
3. Once you have surrendered your old license plate, you will be able to apply for a new one. You will need to fill out an application and pay the required fee.
4. In most states, you'll have to submit your license, proof of insurance and your vehicle's title in order to complete registration and get a new license plate
5. Once you have received your new license plate, you will need to affix it to your vehicle in the proper location.
Replacing Lost or Stolen Plates
If your
license plates were stolen
, the first step is to report the theft of the license plate to the local police department. In many cases, you must verify your address with the vehicle licensing office before you can begin the process of replacing a plate that was lost or stolen.
Once the report has been filed, you will need to visit the local Department of Motor Vehicles (DMV) office to obtain a replacement plate. When your plates are lost or stolen, you must be able to prove that you are the registered owner of the vehicle before you can get replacement plates.
If the year sticker for your currently registered vehicle was lost, stolen, damaged, or is illegible, you must request a replacement sticker and pay a substitute sticker fee.
Once you have reported the loss and provided the necessary documentation, you will be issued temporary license plates. This temporary plate will allow you to continue driving while you wait for your new permanent license plate to arrive.
For a standard replacement, you typically can pick up your new plates as soon as you submit your application and pay the fee. If you had a custom order for a specific configuration, you may have to wait for your plate to be mailed to you.
Installing Your New Plates
Whether you're updating your vehicle's look or replacing a damaged or lost license plate, you'll need to remove the old plate before installing the new one.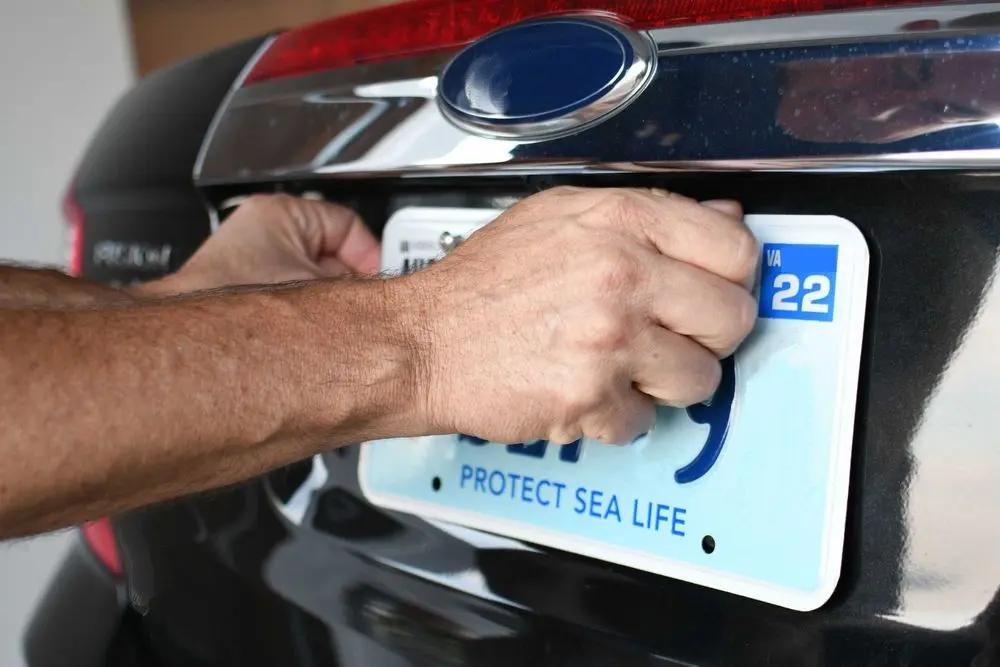 Buying or Selling A Car with PrivateAuto
Conduct private car transactions easily and safely with PrivateAuto. Our innovative platform connects buyers and sellers and gives them all the tools to complete the deal, from
in-app financing
to secure messaging to integrated payments.
Get started with PrivateAuto today
.
10 Easy Steps for Selling A Used Car with PrivateAuto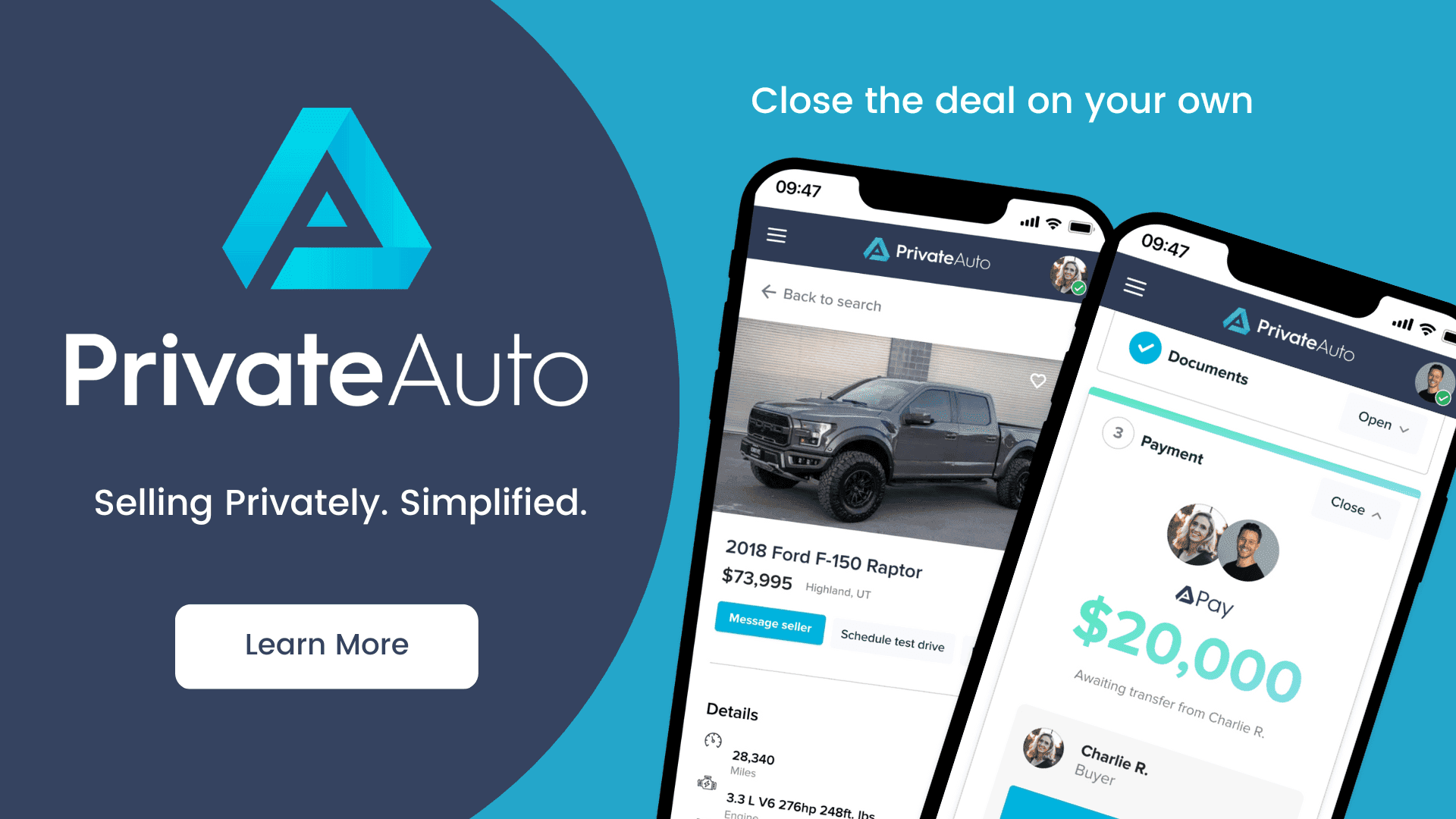 PrivateAuto makes
selling your used car
safe and easy. The sales process consists of a few simple steps:
1. Gather the
required documentation
2. Create your PrivateAuto profile and get verified
3. List the car
4. Set your own terms
5. Vet incoming offers
6. Choose the buyer you like
7. Schedule the meetup
8. E-sign paperwork
9. Get paid instantaneously
10. Transfer ownership
License Plate FAQ
---
How to change license plate name?
In most states, you can change the name on your vehicle registration as long as you have the proper documentation. The first step is to contact your local DMV and request a change of name form. You will need to provide proof of your new name, such as a marriage certificate or divorce decree. Once you have submitted the form, you will usually need to pay a small fee. Once the DMV has processed your request, they will send you new vehicle registration with your new name.
---
How to change license plates in NY?
---
Can someone order a replacement plate on my behalf?
---
How much does it cost to change your license plate in California?
---
How much is a custom license plate in Texas?
---
How do I change my license plate in California?
---
Can I change my license plate number?
---
What does a black license plate mean in California?
---
How to change the license plate frame?
---
Can I have a black license plate in Texas?
---
How do I change my license plate in Florida?
---
How to get temporary license plates?
---
Should I Remove License Plates When Selling a Car In Illinois?
---
Sell Your Car Online With PrivateAuto
Looking to buy or sell a car privately? Look no further than
PrivateAuto
! Our technology-driven, self-service solution makes it easy and safe to communicate, e-sign state documents, and send or receive payments instantly and securely. You can also schedule a test drive and negotiate the price without ever giving out your personal contact information.