Carvana vs PrivateAuto for Buying and Selling Cars
Gone are the days of settling for a physical dealership when seeking to buy or
sell a used car
. A new wave of car companies are redefining the rules. One such company is Carvana, bringing an online-first approach to automotive dealerships. Let's see how Carvana stacks up against PrivateAuto.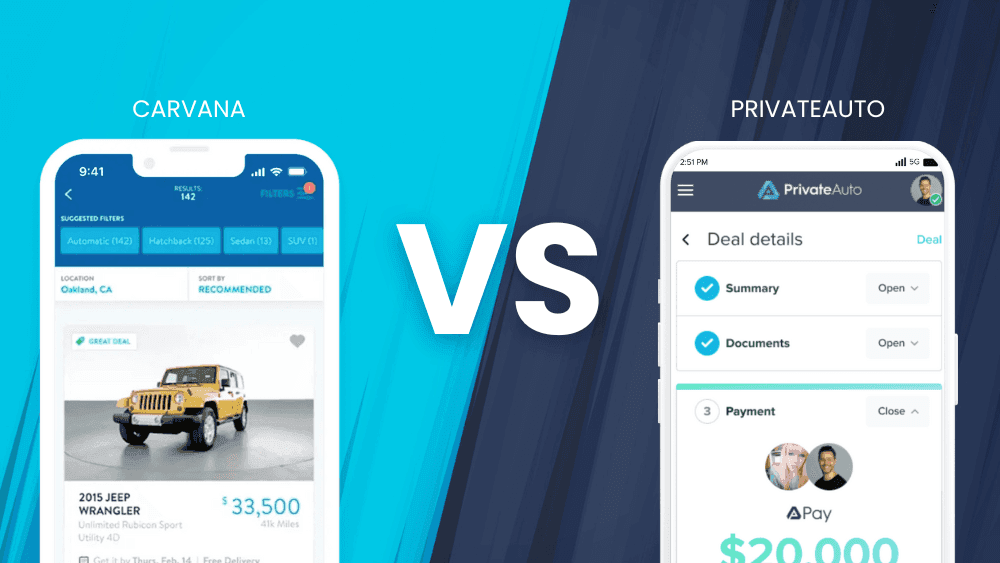 PrivateAuto and Carvana have very different business models, features, and benefits, but they do have one thing in common: they aim to make vehicle transactions fast, intuitive, and easy.

PrivateAuto is a full tech stack (marketplace, payment gateway, scheduler, and more) that covers every aspect of a used car transaction. It connects buyers and sellers to one another and provides the infrastructure for them to get the deal done safely, quickly, and securely.

Carvana, in turn, is a dealership, albeit one without physical locations. The company buys cars from private sellers, and sells them to private buyers.

Let's see how the two companies stack up across a variety of metrics that matter.
What Is Carvana?
Carvana co. (CVNA) is an online used car dealership. Essentially, this company functions just like any traditional vehicle dealership: the seller gets an offer from the company, accepts the offer, and sends in their vehicle. The buyer, in turn, buys the vehicle directly from Carvana. The only difference is that the whole process is done online.
What Is PrivateAuto?
PrivateAuto
is an end-to-end platform for selling and buying used cars. It includes intuitive features that make the vehicle selling process quicker, easier, and safer. These include an integrated payment gateway, in-app messaging, vehicle financing options, and e-signing documentation.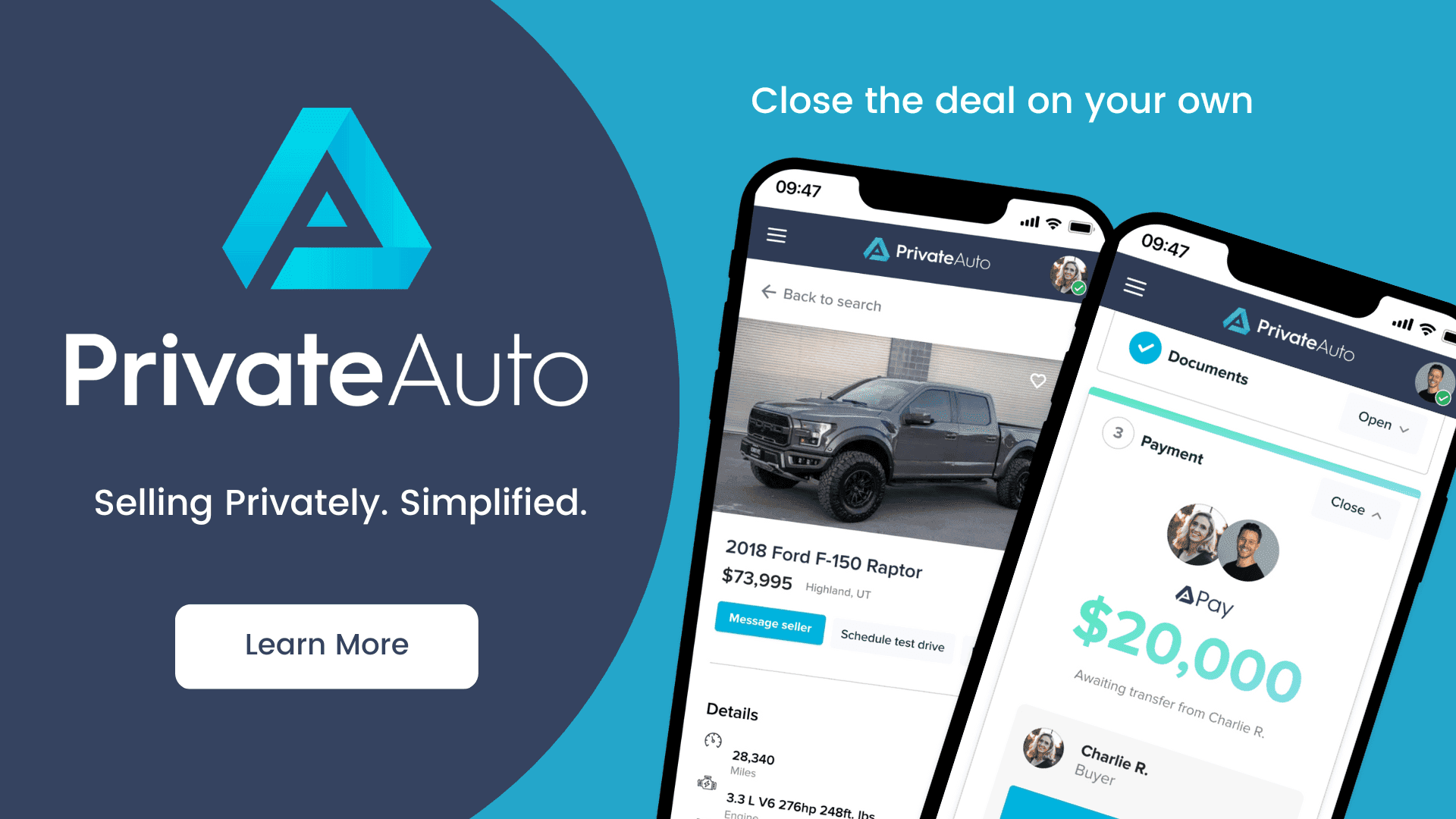 Carvana vs PrivateAuto
Carvana is a car retailer that offers a great alternative to traditional vehicle dealers, and doing the whole vehicle selling process from your home does have its benefits. However, you can do the same (and much more) when you sell or buy a vehicle through PrivateAuto.
Carvana Review
Until recently, Carvana has been a primary option for people wanting to sell or
buy used cars
online. Even now, with online car marketplace competition heating up, Carvana does offer some interesting features few other platforms do—such as financing and an app.
However, Carvana is limited by its business model. Like any dealership, Carvana aims to buy low and sell high, so you'll likely sell your vehicle for less than it's worth and end up paying more than you expected when buying a used car.
Carvana for Sellers
As a seller, you don't get to negotiate a fair price at Carvana. You get an offer based on your car make, model, and miles driven, which you can either accept or deny within seven days.

If you accept the offer, you can drop off your vehicle at one of the car vending machines this company offers, or have Carvana pick up the vehicle.

This process is simple enough, but the main issue vehicle sellers face with Carvana are lower offers. 9 times out of ten, you'll get paid more for your car by selling directly to a buyer.
Carvana for Buyers
As a buyer, you can browse available used vehicles through the Carvana app, which is intuitive and simple to use. This company offers financing options for adults that earn over $4000 per year.

Once you buy the vehicle, you can track your delivery through the app. However, you will have to pay for delivery based on the distance the car is transported. It can cost up to $600.

Carvana buyers can have difficulty finding the exact vehicle model, make, and color they're looking for at a fair price. Because of Carvana's middleman markup, you can expect to pay more than you would if you were buying from a private seller.
Carvana Pros
- You can sell or buy a used vehicle fairly quickly
• The Carvana Buy/Sell Used Cars app is available on iOS and Android
• Buyers can track their vehicle delivery through the app
• Financing options are available
• A more streamlined, convenient process compared to traditional dealerships
Carvana Cons
- You will sell your vehicle for a lower price than you would in the private market
• You will buy a car for a higher price than you could negotiate with a private seller
• Vehicle delivery fees (up to $600)
PrivateAuto Review
PrivateAuto is a peer-to-peer platform designed to simplify every aspect of a private vehicle transaction. The PrivateAuto tech stack includes a marketplace, an instantaneous payment gateway, scheduling, identity verification, and messaging.
PrivateAuto for Sellers
Sellers can easily create a listing for their vehicle and can manage incoming offers via their listing dashboard, with the option to accept, reject, or make a counteroffer. They can chat with potential buyers via the in-app messaging feature without ever giving out their personal contact info.
With PrivateAuto's ability to verify funds, sellers can stop dealing with buyers who can't afford their car.
When they accept an offer, the PrivateAuto scheduler allows sellers to arrange a test drive with the buyer. At the time of the meeting, the buyer and seller can conclude the entire transaction via the PrivateAuto mobile app, which allows for the following to occur:
• The app conducts each party through a step-by-step process that includes documentation,
vehicle title
, and payment
• Both parties e-sign the bill of sale
• The buyer pays the seller via PrivateAuto Pay and the seller receives the funds instantly, 24/7/365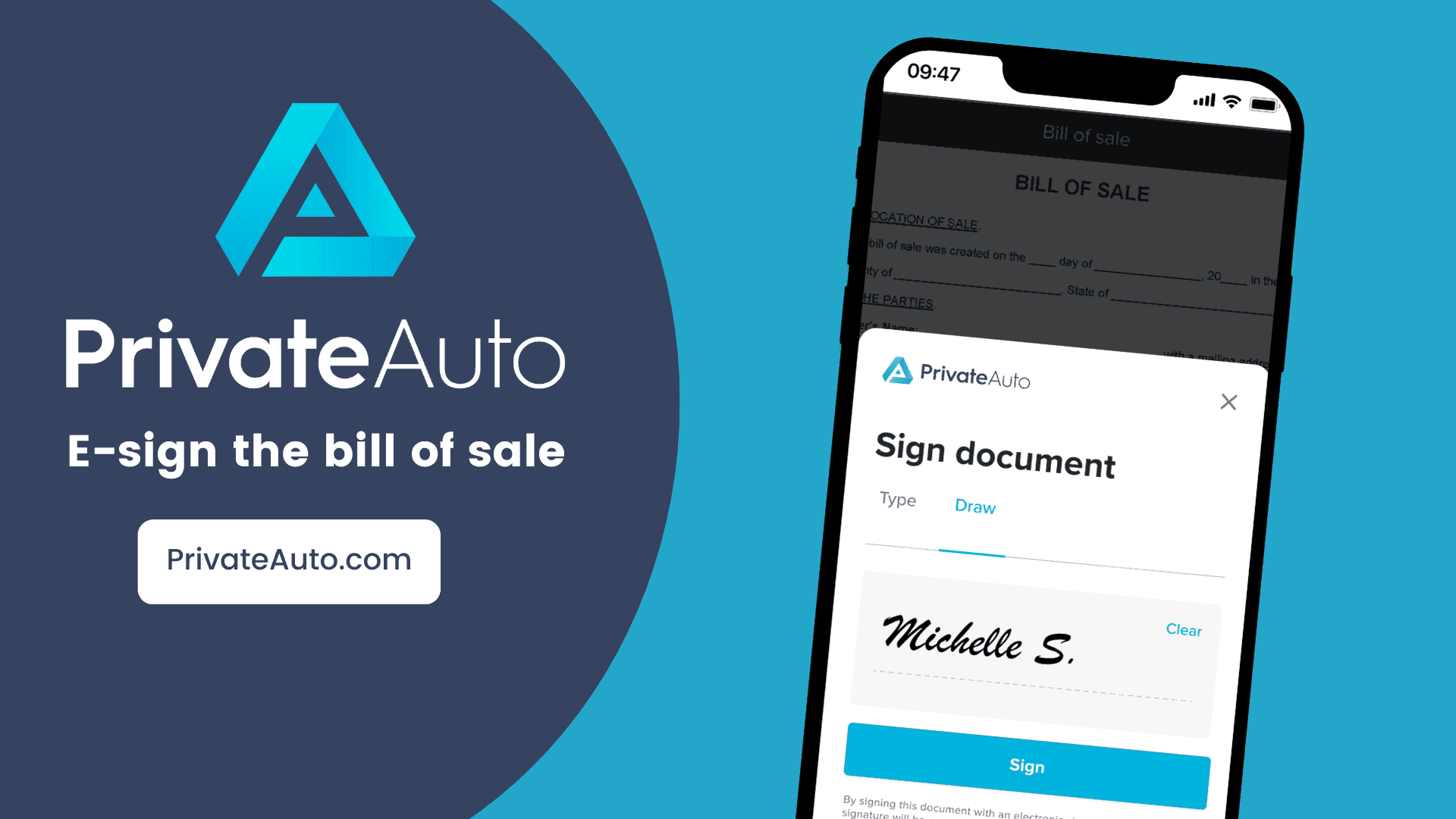 PrivateAuto for Buyers
Buyers on PrivateAuto can place offers on vehicle listings and communicate with sellers. They can schedule with sellers for a test drive and can complete the entire transaction at the time of meeting—including sending unlimited funds instantaneously.

PrivateAuto also allows buyers to apply for vehicle financing within the app. If approved, the buyer's status appears as "verified funds" to sellers.
PrivateAuto Pros
- Connects buyer and seller directly
• No middleman cut of transactions
• No hidden fees
• No buyer fees
• Low seller fees ($150)
• Vehicle advertising available
• In-app messaging and test drive scheduling
• Buyer and seller verification
• Vehicle history reports available
• Instantaneous payments of any amount, 24/7/365
• Intuitive mobile app and website
• Integrated banking system
• In-app auto loan application for easy
vehicle financing
• E-signing of the bill of sale for both parties
• Guided walk-through of necessary paperwork for buyer and seller
• Verification of funds
• Mobile app for
iOS app
store and
Google Play
PrivateAuto Cons
- Lower inventory of certain vehicles than Carvana

Choose the Best Online Vehicle Selling Platform
Whether you're looking for a used car that fits your budget or want to sell a used vehicle for a fair price, PrivateAuto offers better value than Carvana. Buying or selling privately gets you a much better deal than transacting with a middleman.
Best Platform for Sellers
While Carvana does offer some convenient features, it requires you to accept a fee set by the company, which will certainly be less than what you can sell your vehicle for on the private market.

PrivateAuto offers features that ensure you sell your vehicle quickly and safely. You get to set your own price, make counter-offers on offers sent by potential buyers, and converse with the buyers without sharing personal information. Plus, receiving money through PrivateAuto Pay is instantaneous, no matter what time of day or night you sell your vehicle.
Best Platform for Buyers
If you're looking for a used car that fits your budget, PrivateAuto is the place to be. You get to suggest a price that you think is fair for a vehicle, don't pay a middleman (dealer) spread, and don't have to pay any buyer fees.

Features that ensure buyer safety—such as identity verification, and in-app messaging without sharing contact information—are crucial when buying a vehicle online. PrivateAuto offers them all and more.

With features such as verified buyer funds and in-app documentation e-sign, PrivateAuto streamlines the vehicle buying process, so you'll likely find the vehicle of your dreams as quickly as you would at any dealership, and at a better price.
Selling Your Car Privately with PrivateAuto
Thinking about selling your car privately? Check out PrivateAuto—the easiest, safest, and the only self-service way to sell your car privately. The sales process consists of a few simple steps:
Gather necessary documentation
Register on PrivateAuto and get verified
To make PrivateAuto a safe place for everyone, we require email, phone, and driver's license verification, including facial recognition.
Get started here
.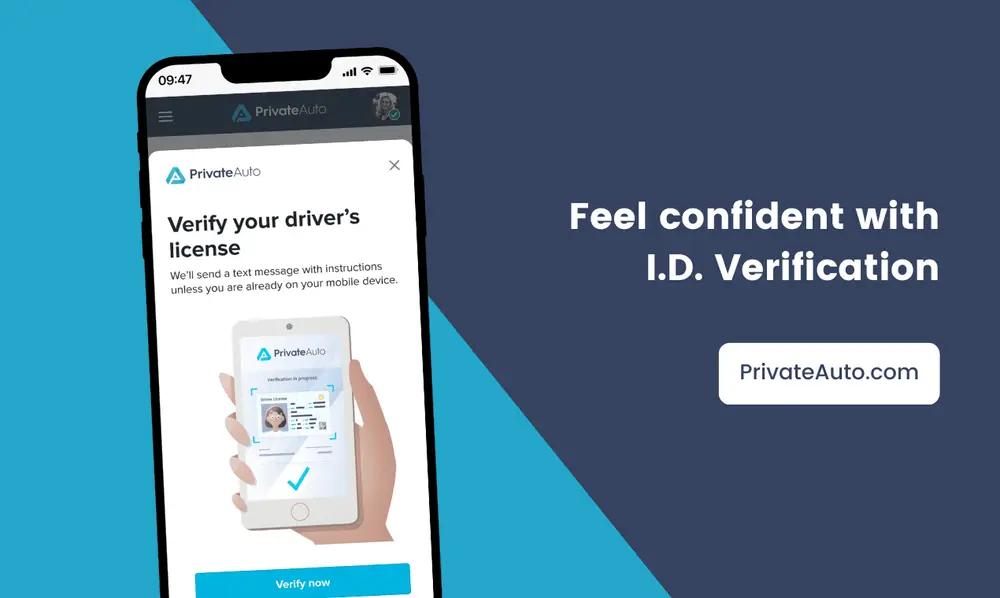 List your car
Easily create your PrivateAuto listing with our step-by-step guide. Bonus: we include a window brochure with a QR code scannable to your listing.
Set your terms
It's your car, so you drive the deal! You can control where, when, and who you meet. Decide whether to accept only ID-verified buyers or buyers with verified funds. Don't waste your time with buyers who aren't verified to your preference.
Vet incoming offers
Manage offers in one place with the ability to accept, reject, or counter offers within the app. Listing on multiple sites? Filter all communications through PrivateAuto by sharing your listing link on all platforms. Your personal info is protected: no more giving out your phone number or email address. All communication happens in our app.
Choose a buyer
When you find an offer you like, accept it and proceed to the next step with that buyer.
Schedule a meeting
The buyer will want to look at your car. No more back and forth texts. You never have to give out your phone number. Rather, use our handy scheduling feature to schedule test driving and coordinate a time and place for meeting. (Oh, and you'll be able to finalize the transaction instantly at the first meeting, FYI.)
E-sign documents
After the buyer is satisfied with your car and the two of you have agreed on a purchase price, you can easily e-sign the
Bill of Sale
within our app, from your phone. With our shared documents feature, you can easily locate the paperwork needed after the sale.
Get paid, instantly
Before PrivateAuto, receiving funds was the most stressful part of the entire selling process, especially for any used car sale over $5,000. There just aren't a lot of good ways to move large amounts of money quickly and conveniently. Those days are over! Verify and receive funds instantaneously with PrivateAuto Pay, our innovative banking integration. Guaranteed funds for transactions large and small.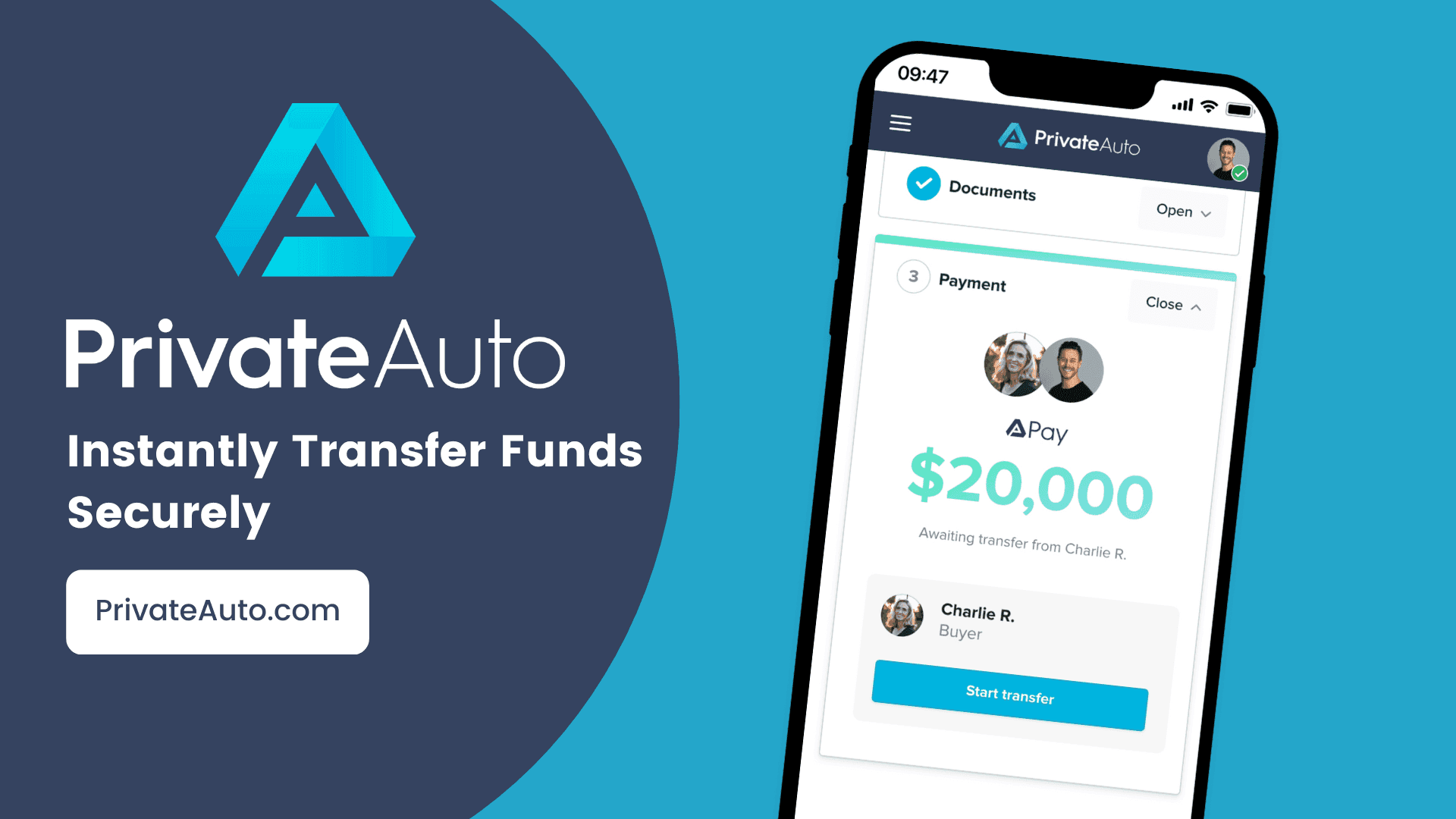 Carvana vs PrivateAuto FAQ
---
Does Carvana have hidden fees?
No, Carvana does not have any hidden fees. However, buyers do have to pay a hefty delivery fee when buying a vehicle through Carvana. If you care about your personal finances and don't want to pay for a middleman spread (plus, spend up to $600 on delivery fees), opt for buying a vehicle from a private seller near you instead.
---
Does PrivateAuto have hidden fees?
---
Is Carvana the same as CarMax?
---
Are cars more expensive through Carvana?
---
Can you negotiate Carvana prices?
---
Does PrivateAuto let you test drive?
---
Does Carvana let you test drive?
---
Is Carvana going out of business?
---