Buying a used vehicle is a great way to get a great deal on your next ride. There are a few important steps you have to take after you buy a used car and transfer money in California. Explore the key steps you need to take to safely and legally drive your used car.
Transfer a Car Title in California
There are a few key steps you need to take to legally receive ownership of a vehicle in California. After you agree to purchase a vehicle in California and transfer funds, you'll need to gather the necessary documents and follow these steps to sign the title and become the new owner.
Different Ways to Transfer a Title in California
The documents you need to sign for a sale between private parties depend on the situation. Here are some different situations that may require different steps and paperwork for purchasing a used vehicle in California:
From a buyer to a seller
From an individual to an estate
From one family member to another
From a deceased owner to an heir
Most used car sales are between a buyer and seller who aren't family members. Gather the following documents and prepare for the following steps to make this transfer safely and legally.
Documents to Transfer a Car Title
Purchasing a used car from a private seller doesn't mean you'll need to navigate the title transfer process on your own. You may not have a dealership to assist you with gathering and signing the right paperwork but a technology-driven, self-service platform can help after you buy a used car. Here is the required information for the state of California Department of Motor Vehicles to transfer a title:
Application for Replacement or Transfer of Title
Smog certification
Bill of sale
Buyer(s) and seller(s) signatures
Transfer fee
Name, address, and driver's license number of the buyer(s) and the seller(s)
Vehicle license plate number
Vehicle identification number, or VIN
Year, make and model of vehicle
Read through the title transfer application, or use a self-service platform to e-sign the application, to be sure you have all the information you need. This application will need to be sent to a California DMV office and failure to properly fill it out can stall the entire process.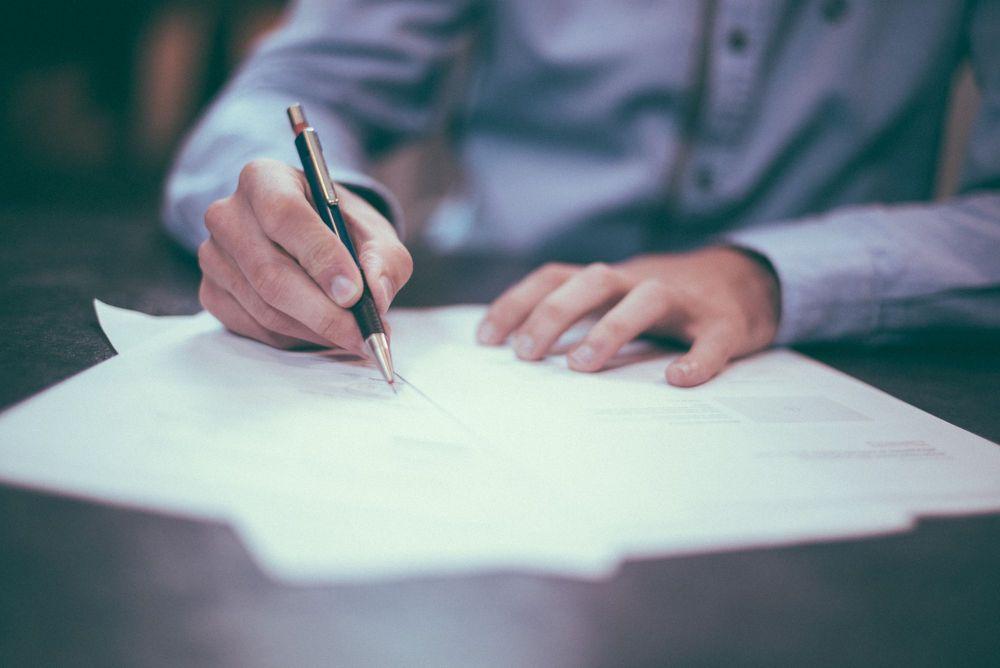 Steps to Transfer the Car Title
Be sure both the buyer and seller sign all the necessary documents, including the transfer of title application and a bill of sale. Vehicles that are more than four years old and newer than 1998 need to complete a smog test up to 90 days before the title transfer. Check for other exemptions to see if the vehicle you're purchasing qualifies.
Once all the documents are gathered and submitted, you'll need to pay registration fees, taxes, and other fees. These are typically paid by you as the buyer and must be paid within 30 days to your California DMV.
It's easy to forget a form or forget a step in the process when you first purchase a used car. Be sure you follow these steps within 10 days to legally transfer the vehicle to your name.
Insure Your Used Car
Car insurance is required in California after you buy a used car. Like most states, you're required to have proof of auto insurance before you register or drive your vehicle. Review the different types of car insurance to see the minimum required insurance and additional protection options available to you for your used vehicle.
Insurance Types
Insurance policies can be tailored to protect your used vehicle from almost any incident. Coverage ranges not only in the deductible and maximum coverage amount but also in the covered incidents. Here are some common insurance types to consider as you shop for a policy:
Liability coverage: This includes bodily and property damage. California sets minimum liability coverage amounts but you can increase your coverage in these areas as well.
Uninsured motorist coverage: This covers medical and auto repair bills in the event of an accident with an uninsured, underinsured, or unidentified driver.
Personal injury protection: Also known as no-fault insurance, personal injury protection covers injuries to you and passengers in your vehicle. It's similar to a health insurance policy but often offers more extensive coverage to automotive-related injuries.
Collision: Insure your vehicle for incidents that don't involve another driver. Backing into a tree or hitting a parked vehicle are examples of events typically covered by collision.
Comprehensive: Not all incidents occur while you're behind the wheel. Comprehensive coverage is used when your vehicle is damaged while you're not operating it. A falling tree limb or another driver hitting your parked car are common examples.
Gap: Damaging a depreciated vehicle that's been financed can make you liable for the difference between the financing and the value of the vehicle. Gap insurance covers that difference.
Required Auto Insurance in California
The California DMV requires you to not only carry evidence of your auto insurance while in your vehicle but also mandates these policy features:
$5,000 for property damage
$15,000 for injury or death to one person
$30,000 for injury or death to more than one person
You can consider purchasing collision, comprehensive, and gap insurance for your vehicle, but these policy features are beyond the minimum required liability insurance in your state.
Inspect Your Vehicle
A pre-purchase inspection isn't required to purchase a vehicle in California. It is, however, a great step to make sure you're confident you're getting a great deal from a private party. It's best to inspect a vehicle before you buy it, but you can still schedule an inspection after you buy a used car.
Schedule an inspection with a licensed and experienced mechanic in your area. A full inspection can take a few hours or more to complete. Ask for a printed report detailing any required repairs.
How Much Does an Inspection Cost?
Expect to pay a few hundred dollars for a full inspection of your used vehicle. A basic inspection should be $200 or less but you may pay more for a larger vehicle or a more thorough engine inspection.
What Does a Vehicle Inspection Include?
You can receive an 18-point inspection with a standard oil change from reputable mechanics or service technicians. A full vehicle inspection, however, covers far more than the air filters and fluid levels. Here are some areas that should be covered in your vehicle inspection:
Brake system
Body
Tires
Frame
Suspension
Radiator
Belts, hoses, lights, and fluids
Glass
Battery and electrical system
Engine and transmission operation
Some mechanics will perform a more in-depth engine or transmission inspection for an additional fee. Most inspections will include a short test drive to give a mechanic a good sense of any major mechanical issues in these two systems.
A professional inspection won't guarantee your vehicle is free from damage, but it can give you peace of mind knowing that a qualified professional has inspected it before you make a purchase or drive it daily.
Register Your Ride
Registration is the process of verifying your ownership with the California DMV. This is a required step that proves you're not only the legal owner but also removes any liability for the vehicle from the previous owner.
This step is typically taken while you're transferring the title. Once the title transfer paperwork is completed, including the smog certification and bill of sale, you'll bring the registration forms to the DMV in California and pay the necessary fees after you buy a used car.
Renewing Your Registration
Vehicle registration in California must be completed every year. The registration sticker on your license plate shows the month and year your registration expires, but be sure to check the exact day it expires.
Your registration card has a specific day, month, and year written on it. You'll be liable for late payment fees if you wait until after the date shown on the card.
Penalties for Late Registration
Late registration fees start one day after the date shown on your registration card. A payment that's one to 10 days late results in the following fees:
$10.00 registration late fee
$10.00 CHP late fee
10% of the yearly license fee
10% of the weight fee
These fees continue to increase and can become significant if you wait two years or more. Be sure to schedule reminders to pay your registration fees on time or early to avoid these and other costs.
Schedule Necessary Repairs
Every car comes with maintenance needs but a used vehicle can have some immediate repair issues. You should know about any repair issues required after you buy a used car thanks to a pre-purchase inspection.
Issues showing up on a pre-purchase inspection shouldn't be a deal-breaker, but they should be addressed promptly. Continue to monitor your vehicle after you've purchased it to avoid driving with known repair issues.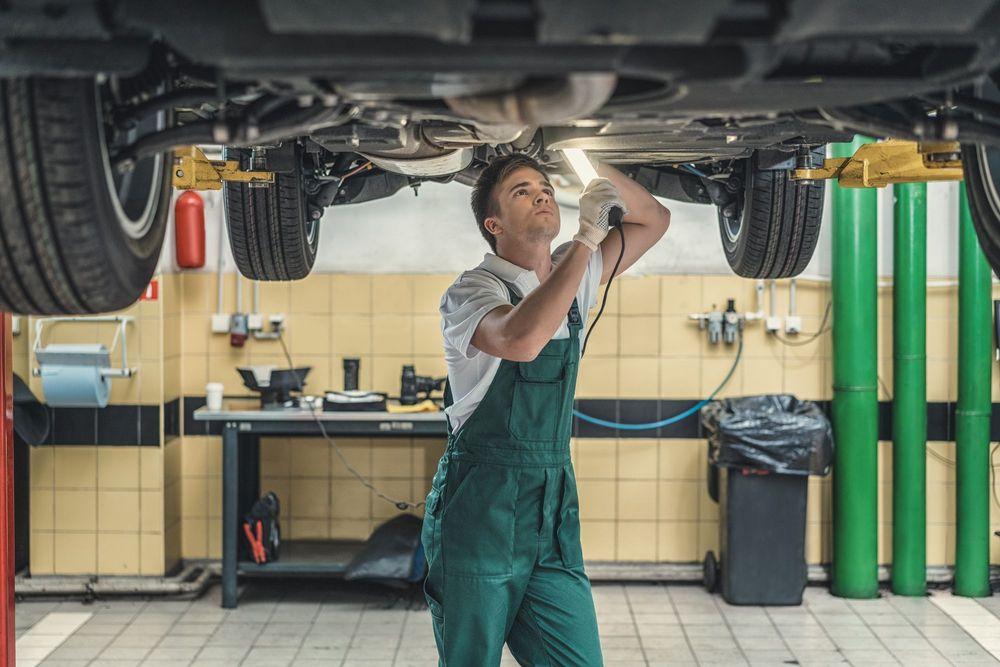 Common Repair Issues
Here are some of the top issues that should be addressed quickly to avoid unsafe driving conditions or further damage to your used vehicle:
Damaged oxygen sensor, mass airflow sensor, or other sensors
Bald tires
Worn brake pads
Low fluid levels
Compromised battery
Burnt out light bulbs
Oil, coolant, or other fluid leaks
Worn timing belt or chain
Some repairs, like low fluid levels, are easy to perform and are very affordable. Others, like bald tires or a timing belt, represent a more significant automotive investment. All of these issues can cause further damage if you continue to drive without addressing them.
Signs You Need to Schedule a Repair Service
It's easy to notice if your car won't start or if smoke is billowing from your engine, but other repair issues come with more subtle signs. Even if you've already invested in a pre-purchase inspection, be on the lookout for one or more of these signs that it's time to schedule an automotive repair:
Check engine light turns on
Brakes grind, squeal or scrape
Low fuel economy
Leaking fluid
Discolored fluids
Unusual engine performance while idling or driving
Difficulty steering your vehicle
Treat all of these seriously and schedule a repair at your earliest convenience. A little leak in a brake line could quickly prevent you from stopping your vehicle at all. Difficulty steering your vehicle could cause an accident.
Create a Maintenance Plan
Maintenance steps are typically more frequent and less serious than repair tasks. Some maintenance items you may wish to perform on your own, while others are best left to the professionals. These steps are very important after you buy a used car. They not only improve the value of your vehicle but can also keep you safe while you drive.
Most maintenance steps include checking fluids and filters. Some of these steps don't apply to electric vehicles, so always consult your owner's manual before looking for a particular fluid reservoir or other maintenance tasks. Here are the most common maintenance tasks to plan after you buy a used car.
Check and Change Your Oil
Motor oil is one of the most common, and important, maintenance items. This fluid keeps your engine running smoothly and safely. Check the oil reservoir for the appropriate oil level. Be sure to check if it's discolored or overly thick.
Mechanics used to recommend drivers change their oil every 3,000 miles or three months. Modern automotive oil can usually go longer, so you can expect to drive between 5,000 and 7,500 before an oil change. Check with a mechanic and explain your driving habits for more accurate oil lifetime estimates.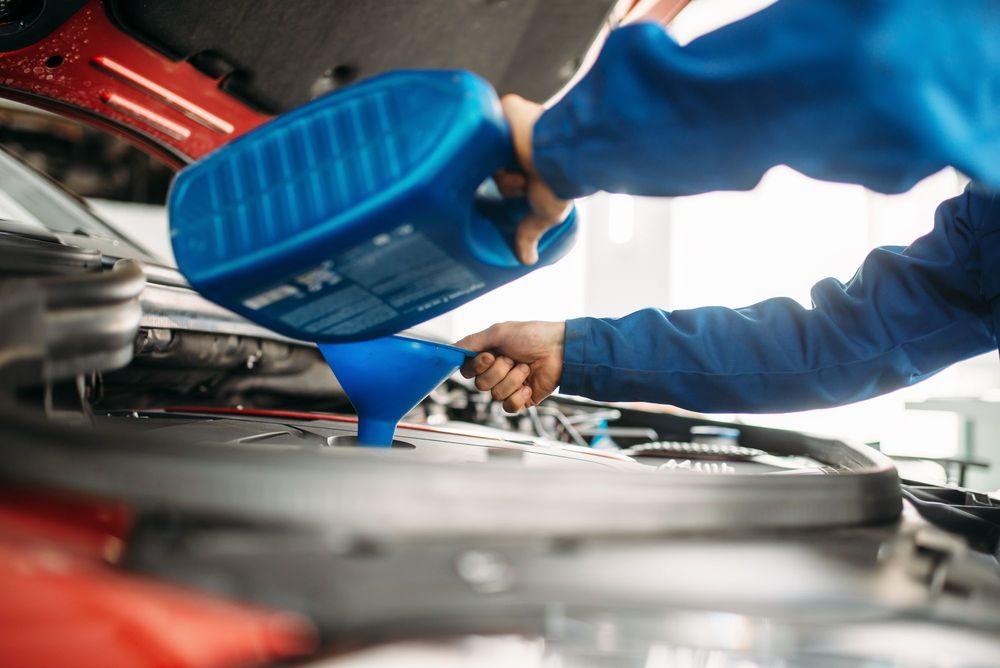 Check Other Automotive Fluids
There are plenty of other fluids that keep your car running smoothly. Here are some common ones you need to check for signs of discoloration, low levels, or high mileage:
Transmission fluid
Coolant
Brake fluid
Power steering fluid
Windshield washer fluid
Test Your Lights
A burnt-out light can be a safety issue on the road. Periodically check that your brake lights, turn signal lights and headlights are all working. Headlights are usually obvious as you drive but other lights are difficult for you to test while operating your vehicle.
Check and Change Air Filters
Both the engine and cab air filters need to be replaced periodically, typically every year. Swap out the engine air filter to improve engine efficiency and the cab filter to keep your automotive air clean.
Replace Windshield Wipers
You may not think about your windshield wipers as safety features, but these essential components help you see clearly in low-visibility conditions. Check them and consider replacing them after six to 12 months.
Inspect Tires
Tires should last up to five years or 15,000 miles, depending on your driving habits and the quality of your tires. Inspect them yourself or have a mechanic inspect them for signs of wear. Any cracks or thin treads are signs that it may be time.
You should also have your tires rotated every six months or 6,000 miles. If you live in Northern California or plan on heading north for a winter road trip, consider snow tires to improve traction and extend the lifetime of your tires.
Inspect Hoses and Belts
Hoses and belts are essential internal components to keep your car moving and operating safely. The location and type of these components vary between vehicles. This may be a task best performed by a mechanic.
If you wish to inspect your own, then park your vehicle and wait for it to cool down. Open the hood and look closely for any unusual signs. Belts that are unusually thin or frayed should be replaced before they break.
Hoses can dry out and appear cracked. You may also notice they need to be replaced by checking for fluid leaks.
Both hoses and belts are best replaced by a mechanic. Serpentine belts and timing belts in particular require a lot of time, training and tools to safely remove and install.
Check Your Brake System
As the most important safety feature in your vehicle, your brake system deserves routine attention and maintenance. Here are the most common parts that wear down through normal use:
Brake pads
Brake calipers
Brake rotors
Brake fluid
Brake pads are the most common maintenance item in your brake system. They typically last between 10,000 and 20,000 miles, depending on your driving habits and vehicle type. Worn brake pads usually start to grind or squeal. Continuing to drive with worn pads can reduce your stopping performance and increase the risk of a collision.
Wash Your Car
Washing your vehicle is an excellent maintenance step to keep its body, paint job, other fluid leaks and, other components looking great and lasting longer. If you're planning to wash your car, then be sure to use microfiber towels and car shampoo for the best results. Otherwise, head to a local car wash for easy maintenance.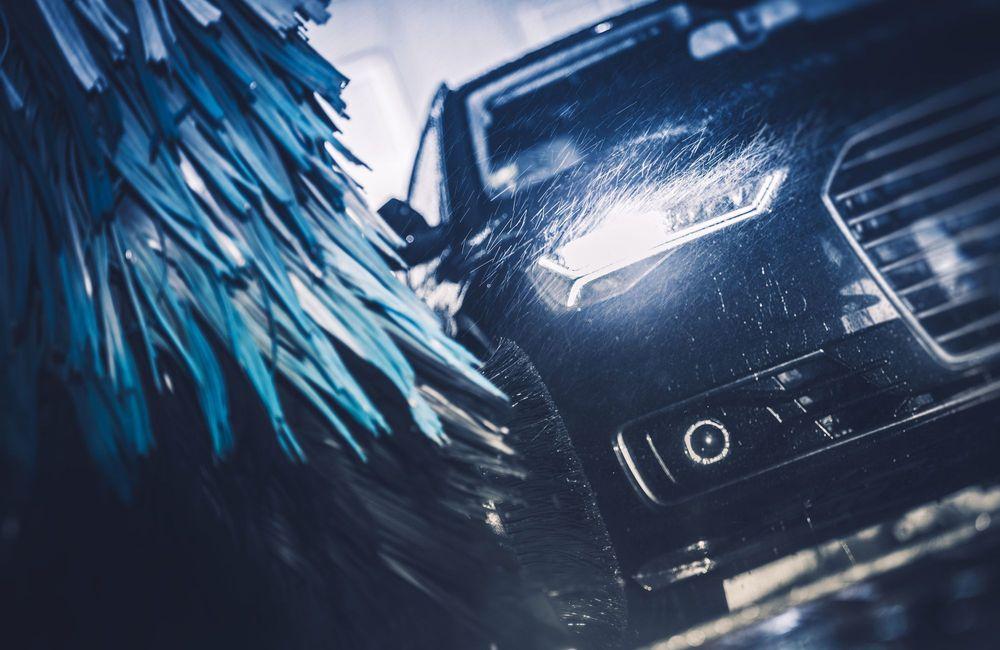 Learn More About Buying a Used Car With PrivateAuto
These steps help you enjoy a stress-free experience after you buy a used car in California. Buy a car through PrivateAuto to manage the entire process easily and conveniently. Discover your premier technology-driven, self-service solution with verified sellers, e-signing, PrivateAuto Pay funds transfer, and more.