From tune-ups to body kits, there are many ways to customize your ride. Show off your personality or prepare for an off-road adventure with one of these best cars to customize. Don't settle for a sub-par vehicle, but prepare for a truly personalized ride.
Jeep Wrangler
Look for a Wrangler to enjoy a rough-and-ready off-road experience. Consider a 2011 Wrangler for a surprisingly smooth drive or a 2018 for a well-balanced driving experience. The Jeep Wrangler is known for being one of the most customizable options on the road, particularly for rugged driving, so you can let your imagination run wild.
Consider lifting your Jeep, adding an air intake snorkel, or upgrading the chassis. Some vinyl or decals let your Wrangler stand out in a crowded street.
Ford Mustang
You don't need to have a 1966 Mustang to appreciate the raw power and iconic look of this Ford muscle car. Classic Mustangs are great project cars, and there are plenty of custom car clubs around the nation. These clubs offer a supportive community and restoration tips as you tune-up the old V8 and get it ready to roar.
Modern Mustangs still offer a lot to love. Check out computerized tune-up components, superchargers, ignition upgrades, and other state-of-the-art options to get more out of your muscle car. Swap out interior details and fire up the engine for an eye-catching ride.
Volkswagen Beetle
From a quaint commuter to a 4x4 dune buggy, the classic VW Beetle is a truly customizable vehicle. There's a reason this is known as one of the best-selling cars of all time. If you're considering buying a classic car, you can't go wrong with a charming Beetle.
Start by identifying your customization goals. Do you want an off-road beast, a race-ready sports car, or a quirky city ride? Swap out engine, suspension, and interior components to reach your goals.
Honda S2000
The S2000 has plenty of power and style as a stock sports car, but this Japanese dream car has a lot of customization potential. Tune-up the engine, give it a slick paint job, and look for ways to make the handling even more responsive.
A Honda S2000 may not be an American icon like a Mustang or Challenger, but that makes it a unique option that may draw more attention at car shows or weekend rallies. From the 1999 model to the 2009 one, you can't go wrong with an S2000.
Dodge Challenger
Not to be outdone by the Ford Mustang and other muscle cars, the Dodge Challenger deserves a spot on any list of the best cars to customize. All you need is a shaker hood scoop to make a memorable ride, but you can also upgrade the chassis and brake system.
Part of the appeal of a Challenger customization project is the wide range of parts available. Thanks to the long history of mods, trim packages, and tune-ups, you'll have your pick of convenient packages and parts to mod your Challenger your way.
BMW 3 Series
A luxury sedan may not seem to fit on the same list as a Challenger, but this iconic BMW offers a lot of ways to create a personalized driving experience. Consider the E46, E30, or another highly rated model as you consider the best option to start your custom project.
The BMW 3 Series is available as a coupe, wagon, hatchback, or convertible. Be sure you have the right auto insurance to stay safe as you see what you can get out of this 4- or 6-cylinder dream.
Honda Civic
The humble Civic makes the list as a highly modifiable and affordable car. A used Honda Civic may be a more affordable option than a 3 Series or a Mustang, but it still comes with some serious aftermarket kit and part options.
Pre-2000 models are known for having great handling. Older models can also be more affordable. You may need to perform some restoration steps before diving into performance and aesthetic mods, but it'll all be worth it when you first fire up your turbocharged engine.
Mazda RX-7
A Wankel-type 13B rotary engine makes this luxury sports car a unique base for your customization project. Explore models from 1978 to 2002 to find one that fits your price and your bucket list. Older models may have a more traditional look, but a newer option typically offers lower miles and more modern conveniences inside and out.
Some customizations attempt to mirror the looks and handling of an OEM RX-7, while others are proudly unique. This one is unapologetically made for driving fast and impressing the neighbors. All you need to do is tune-up the engine, check out the rims, and make the interior comfortable enough for a driving experience you don't want to end.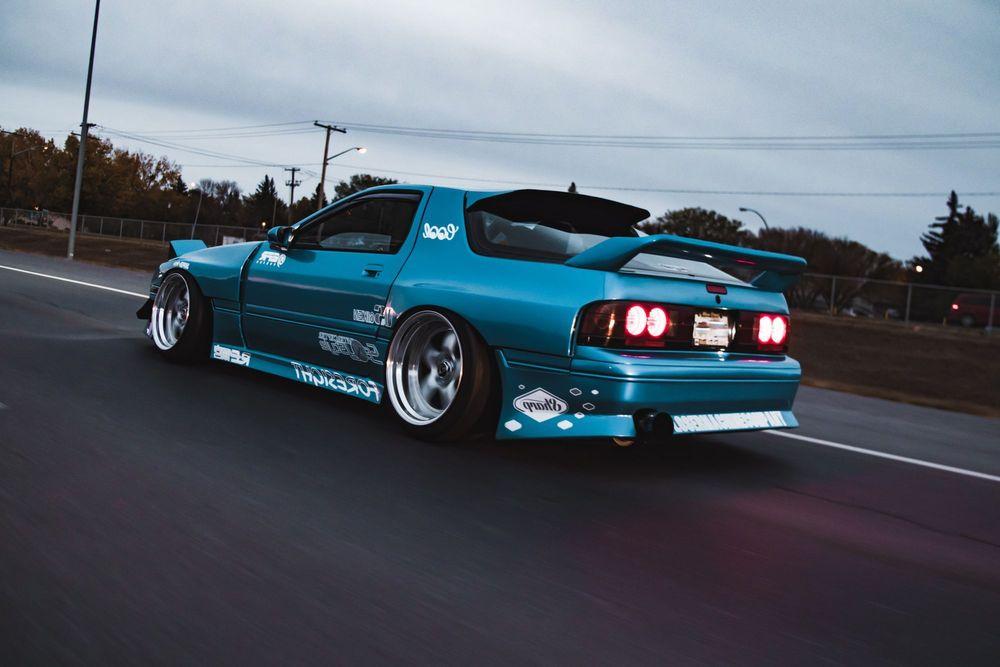 Ford Focus
Another budget-friendly opportunity to make a sedan or hatchback your own, the Ford Focus is a great option for your next custom project. Tune-up the engine, give it a paint job, and look for interior accessories that help you cruise comfortably.
Compare models from 1998 to 2018 to find the best balance of cost and custom opportunities. Shop Ford's line of performance parts for your Focus, or head to an aftermarket supplier for everything from exhaust parts to seat covers.
Toyota Supra
Make one of the most popular Toyota models even more eye-catching. Crank up the horsepower by improving airflow and tackling other performance modifications to see what your Supra is capable of. Expect to invest more in a Supra than a Honda Civic or another sedan, but also expect one-of-a-kind horsepower and style.
Modified Toyota Supras are known for their excellent horsepower, race-ready looks, and personal flair. You don't have to be headed to the racetrack to appreciate the additional scoops, flairs, and engine upgrades available for this iconic Toyota.
Find One of the Best Cars To Customize Today
Take the first step in your next custom car project today. Search listings on PrivateAuto to find a custom car or stock vehicle ready for your tune-up project. Explore affordable used vehicles safely using a secure, technology-driven solution.