Before You Install License Plates
There are a few things to keep in mind before you install your license plates.
Make sure that the plate is placed in the correct position. Most states have laws that tell you how and where to put your license plate, so check your state's rules.
Be sure to attach your registration sticker to the plate. Without it, you could be subject to a ticket.
State Rules When Mounting License Plates
The rules for mounting the license plates vary from state to state, but there are some general guidelines that must be followed:
The plate must be securely fastened to the vehicle so that it does not become dislodged
The plate must be clearly visible and not obscured by any part of the car
The plate should not swing when mounted and should be positioned right side up and reading left to right
The plate should not be more than 60 inches off the ground
The plate should retain its original reflective coating.
By following these simple guidelines, you can ensure that your license plate is in compliance with your state's plate law.
Choose The Right Tools and Hardware
Choose the right installation tool for your license plate before you put it on your car. Look for mounting hardware that is made specifically for your car's make and model. You can find base-mount hardware and tools at most auto parts stores. Follow the instructions that come with the installation tool or hardware.
Front License Plate Mounting Kit
Mounting a front license plate on your car is much easier with a quality front license plate mounting kit.
Front license plate mounting kits come with all the screws, bolts, and other parts you need to attach the plate to your car, so you don't have to guess what you'll need. The kit will include instructions that explain how to install the plate correctly.
How To Put a License Plate On The Front Of a Car Without Drilling Holes
All states require vehicles to have a rear license plate. Some states require front license plates, while others do not.
Depending on the type of vehicle, there are several ways to attach a front license plate. Here are some of the most common front license plate mounting options that do not require drilling.
Mounting a Front License Plate Using a Tow Hook Bracket
Some vehicles have a tow hook anchor in the front bumper. If yours has it, you can use it to install your license plate—without drilling holes.
Before purchasing a tow hook license plate bracket kit, check the front of your car for a tow hook bracket. Look in your vehicle's manual, or search the front for any sign of the tow package. Some vehicles have small rectangular shapes in the bumper that can be popped out. Others have the tow package in other locations.
If you have the right tow anchor, license plate installation only takes minutes and requires no special tools. Just purchase the correct tow hook bracket for your vehicle and follow these steps.
Attach the bracket on your front bumper's tow eye using the provided screws and holders.
Screw in the tow hook stud from your kit and place the threaded end into the hook slot. Insert the bolt through the bracket and tow hook stud threads.
Mount the license plate bracket. With the bracket in place, the only thing left to do is screw on the license plate. Remember to install the license plate frame over the plate if your product includes one.
Mounting a Front License Plate Using Sticky Tape
You can use double-sided tape or pads to secure your license plate to the front of your car. Choose an industrial-grade adhesive suitable to the task.
Just cut a section the appropriate size and follow these instructions.
Choose a location for your license plate that will be visible and that meets state guidelines. Don't block any air intakes or other functions.
Clean the area with a damp cloth to remove dirt and loose debris to ensure easy adhesion of the sticky pads. Wait for the area to dry.
Attach the adhesive to the back of the license plate and press the plate firmly against the car's surface until secured.
What to Do If My Car Does Not Have a Front License Plate Holder?
If you drive a vehicle that doesn't have a front license plate holder, don't worry! Here are some solutions.
Buy a universal front license plate bracket holder and install it on the front of your car.
Use the vehicle's tow anchor to attach the plate (covered above).
Use adhesive applied directly to your license plate to secure it (covered above)
Using a License Plate Bracket Properly
Look online or in your local automotive store for a no-drill mounting bracket that suits the make and model of your vehicle.
Just make sure you adhere to all applicable legal requirements and follow the instructions. There are two main types of bracket holders:
Adhesive-mounted
Magnetic-mounted
Using an Adhesive-Mounted Bracket Holder
An adhesive-mounted bracket is an effective way to install your front license plate without any specialized tools. Look for installation instructions in your bracket's user manual. Also, different vehicle makes and models may have their own installation instructions.
Here are some general steps that are common to most adhesive-mounted front brackets.
Clean the surface where the bracket will be installed. Use a cloth and rubbing alcohol to remove debris, oils, or grime. Dry with a microfiber cloth.
Without removing the protective coating, test the fit of the bracket. Place the bracket on the mounting location to ensure that it fits and matches your model. If it does not align with your car's bumper, get the right bracket.
Remove the protective film and press the adhesive-mounted bracket to your vehicle in the proper location.
After allowing it ample time to set, carefully attach your license plate grip onto the bracket. If your product includes a license plate frame, position it over the plate and match the holes in the frame with the holes in the bracket and plate.
Mounting a Front License Plate Using Magnetic Mounts
If you need to attach a front license plate, but don't want to drill holes in your bumpers, a magnetic front license plate mount might be the way to go.
A magnetic license plate mount is fairly easy to install. You don't need specialized tools, nor do you need to add permanent hardware to the vehicle.
All you need to do is attach the plate's metal backing to two strong magnets, then center them on the bumper of your car.
Mounting a Front License Plate Using Zip Ties
We don't recommend using zip ties to attach your front license plate.
Some states don't permit it
Zip ties can become brittle and break eventually, causing you to lose your license plate
Zip ties are more unsightly
If your state permits it and you want to do it, though, go for it. Drill holes in the four corners of your license plate and attach away.
How To Attach a License Plate Frame
License plate frames are metal or plastic frames that go around your license plate, usually for decorative purposes. You can purchase license plate frames at most auto supply stores.
In order to properly and securely attach a license plate frame, it is first important to understand the different types of frames that are available.
The most common type of frame is the bolt-on frame, which attaches to the vehicle with bolts or screws. These frames are typically made of metal or plastic, and they can be decorated with designs or logos.
Another type of frame is the adhesive frame, which uses double-sided tape or an adhesive pad to attach to the vehicle. These frames are often made of plastic or vinyl, and they are less likely to damage the paint on the vehicle.
There are also magnetic frames, which use magnets to attach to the vehicle. These frames are often made of metal, and they can be removed and reattached easily.
If your goal is to attach your plate with no drilling, use an adhesive frame or the magnet frame.
If you are using an adhesive frame, remove the backing from the double-sided tape or adhesive pad and press it firmly into place.
If you are using a magnetic frame, simply position the magnets on the vehicle and attach the frame. Once all of the magnets are in place, the frame should be secure.
License plate frames can add a personal touch to your car and help protect your license plate from damage.
How to Install License Plate Fasteners
In many states, license plates must be attached to the front of a car with fasteners that make it hard to take the plate off. While some plates are sold with these fasteners already attached, others must have the fasteners installed separately.
Putting on license plate fasteners is a fairly easy job that can be done in a few minutes.
Begin by lining up the fastener with the hole in the plate. If the fastener has a lip, be sure that the lip is facing up.
Once the fastener is in place, use a screwdriver or allen wrench (depending on the type of fastener) to tighten it until it is snug. Be careful not to overtighten the fastener, as this could strip the threads or damage the plate.
You can use fasteners for your back license plate or your front plate.
Where To Get Your License Plate Installed
If you're not handy with tools—or if you're just too busy—a license plate installation service can install your front license plate for you.
There are a few different places that you can go to get your license plate installed.
Local Dealership
Many dealerships offer installation services. A dealership will probably be the most expensive option, but they should have the right products and tools, and will know exactly how to install the front plate.
Local Auto Shop
A local auto shop is a less expensive option, and they will also have the right tools and know-how for the installation.
This may be a bit more work, but it can often be cheaper than going to a dealership.
Self-Service Kiosks
A self-service kiosk still requires you to install the plate yourself, but it provides tools, materials, or info to help you get the job done correctly. Most of the time, these kiosks are near offices of the Department of Motor Vehicles or at rest stops along major highways.
What to Do with Old License Plates?
If you just sold a vehicle and need to dispose of your old license plates, one option is to simply send the old plates back to one of your state's Department of Motor Vehicle office locations. You can also use them for decorative purposes.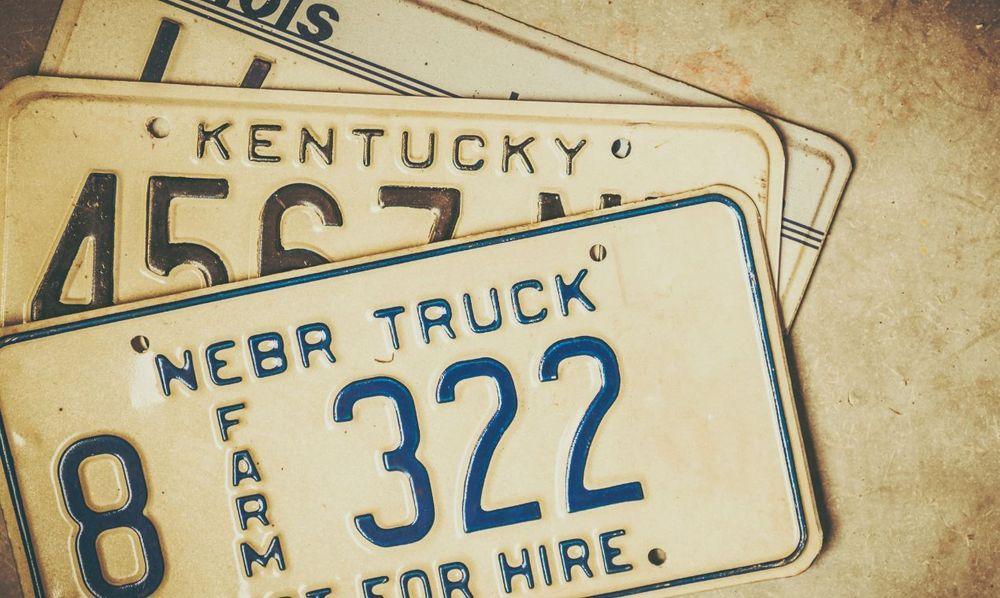 Different states have different rules, so it's best to check with your state's DMV or equivalent organization.
Experience the PrivateAuto Advantage
Avoid scams, keep personal information private, and guarantee funds with PrivateAuto. Fast, convenient car transactions. Get started today.
FAQ on Front License Plates
How do I install a front license plate without drilling holes?
There are a variety of mounting brackets available that can help install the front plate without drilling holes. Such mounting brackets typically mount to the vehicle's existing tow hook or allow mounting with industrial strength velcro, by using magnets, or adhesive tape. The mounts typically come with all necessary hardware and can usually be installed easily in minutes, making them perfect for those who want to avoid the hassle of drilling holes in their car.
How do I affix my front license plate?
Attaching your front plate can be a simple task, depending on your make and model of car. In most cases, two screws will do the trick. Be sure to check if they're included with the license plate or if you need to purchase them separately. You'll also want to verify the correct size and be sure to secure the screws tightly by hand or with a screwdriver. If you're still having difficulties, visit a local auto parts store for assistance with installation.
Can you drill new holes for number plates?
By making use of your old plates, you can alleviate the guesswork that often comes with preparing a new no holes license plate for installation. Simply lay your existing license plates on top of the new ones, and drill holes in them to serve as a guide. Not only will this make it easier to get the holes properly placed, but it may even save time.
Is it best to remove a license plate when selling a car?
Different states have different requirements for what happens with the license plates following a private vehicle sale.
In most states, the license plate stays with the seller, who will need to remove the plate from the vehicle. The new vehicle owners of the car will need to apply for their own license plate.
In a few states, the license plate stays with the vehicle and passes to the buyer.
Our state-by-state license plate guide will tell you the proper protocol for your state.
Some states require that you surrender your license plate when you sell your car, so be sure to check your state's requirements.
What can I do if my license plates are stolen?
If your license plates are stolen, the first thing you should do is report the theft to the police. This will help to ensure that your vehicle can't be used for illegal purposes. Once you have filed a police report, you should also contact your state's DMV office to let them know that your plates are missing. In most cases, you will be able to obtain a new set of plates or a temporary tag that will allow you to drive legally until your replacement plates arrive. While losing your license plates can be inconvenient, following these steps will help to ensure that you can get back on the road as quickly as possible.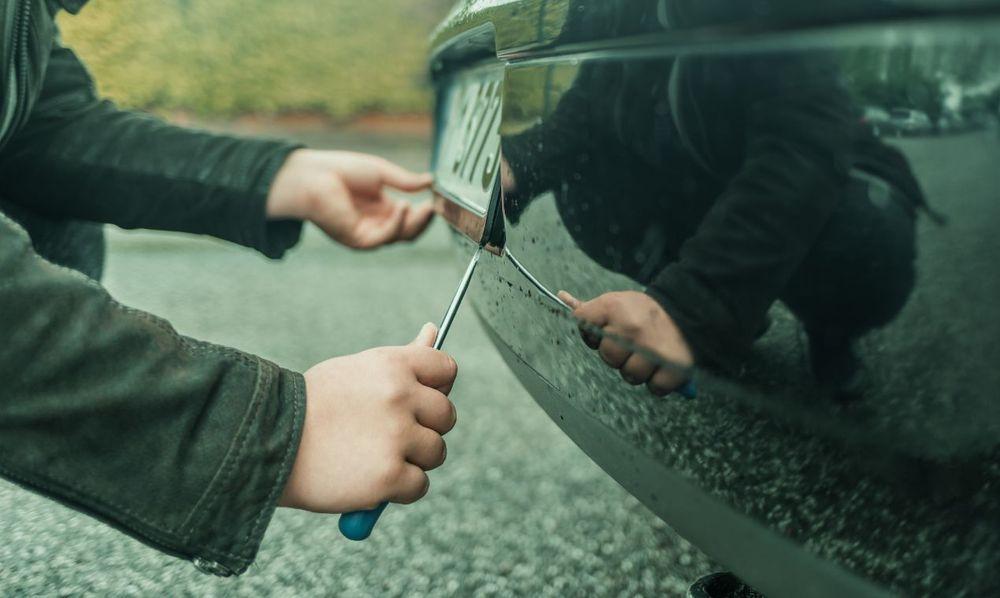 How can I clean my license plates?
License plates can become dirty over time, making it difficult to read the numbers and letters. Fortunately, there are a few simple ways to clean your license plates quickly and easily.
One option is to use a mild soap and water solution. Apply the solution to a soft cloth, and then gently wipe the plate.
Another option is to use a commercial cleaner designed specifically for license plates. These products can be found at most auto parts stores. Simply follow the directions on the package. In most cases, all you need to do is spray the cleaner onto the plate and then wipe it off with a soft cloth.
How to get new license plates?
To obtain a new license plate, you must register your vehicle in the state in which you live. Displaying a license plate indicates that your vehicle is properly registered. Once your car is properly registered, the state will give you a license plate and any tags that go with it. You will need to pay the registration fee. If you've just purchased the vehicle, you'll need to pay your state's used car sales tax—unless you're lucky enough to live in a state with no sales tax. See our complete guide to used car sales taxes for more on this topic.
How much do license plates cost?
Depending on where you live, your license plate cost might be included in your registration or billed separately. Some states allow you to transfer license plates from your old car to your new one, while others require brand-new plates. For more information on how much license plates cost in your state, you should contact your state's DMV office.
How to get temporary license plates?
Every state has different requirements for issuing temporary license plates (also known as a temp tag), but common documentation requirements include:
Temporary tag application
Proof of car insurance
A valid driver's license
Results of inspections or emissions testing, if applicable
Loan documentation or release, if applicable
Some states require you to show multiple forms of identification. One of them must be your government-issued ID card, while the other can be something like a utility bill. This is done to prove residency.
In many states, buyers need temporary permits to drive the vehicle while they await new license plates.
What is a passenger license plate?
A passenger license plate is a standard-type plate used on passenger vehicles, such as cars, pickup trucks, and SUVs. Passenger license plates usually have a simple design with the name of the state and a numbering system that is easy to read. In most cases, passenger license plates are made of metal, though some states also offer specialty plates that are made of other materials.