A title certificate is a legal document that establishes ownership of a car. If you are selling or buying a used car in Missouri, transferring the title is one of the most crucial steps in the entire process.
Quick links:
How to fill out the title transfer form?
Private car sales need a safe, legal title transfer process. This Missouri title transfer guide gives you everything you need to know to sign over a car title in MO.
The Process of Transferring the Title
A car title transfer establishes the buyer of a car as the new owner.
As the seller of a car, you will formalize the transaction when you transfer the ownership of the car by signing the title over to the buyer.
As the buyer in a private car sale, you will become the legal owner of the car as soon as the seller transfers the title to you.
The seller and buyers are together and in person. Once the buyer has approved of the vehicle, and both have agreed on the purchase price, it is time to transfer the ownership.
This is where the seller will sign over the title to the buyer. It is one of the single most important steps of the whole translation (along with the buyer paying for the car).
Important Info for Signing a Missouri Car Title
When signing the title certificate, always keep the following in mind.
Only use blue or black ink. Any other color will void the title.
Never erase anything or use white-out.
Write neatly.
Do not use nicknames.
Any spelling mistakes make the document invalid.
Front of Title
The front of the title has sections for the seller (red), and the buyer (teal). Here is the process for filling out the front of a Missouri title.
The seller enters their name, state, county, city, zip code, and street address, as well as the car model, and date of sale in the rectangle shown in red, marked "1".
The seller enters the exact odometer reading and signs and prints their name (never include tenths of a mile).
The buyer enters their signature and printed name.
The buyer enters the name and address of the lienholder to appear on the new title and the lien date (if applicable) in the teal rectangle marked "4".
There, you've completed a Missouri transfer of ownership. Pretty easy, right?
Finalize Ownership Transfer with Missouri DOR
You've done the deal and are officially the owner. Your work is not yet done. There are still steps you need to take to finalize the title transfer with the State of Missouri. You also need to get new license plates and register the car with the Missouri Department of Revenue (DOR).
You will need to submit the following documents to your local MO DOR office:
Completed Missouri Certificate of Title
A signed application for Missouri title and license (Form DOR108)
An identification number and odometer inspection certificate
Emissions certificate
Lien release (if applicable)
Identification (driver's license or other government issued ID)
Proof of title payment ($8.50 title fee and $6 processing fee)
Proof of sales tax payment (Missouri charges 4.225% state tax on car sales; individual cities and counties charge additional local sales tax)
To avoid any fees or penalties, make sure you are registering your new car right after transferring the title.
In the state of Missouri, you will have 30 days from the initial purchase to title the car and pay the sales tax. If you don't title your car within those 30 days, you will pay a penalty of $25 on the 31st day. Every 30 days, the penalty increases by another $25.
Perform Emissions Testing
In order to complete a title transfer in Missouri, certain counties require you to perform emission testing.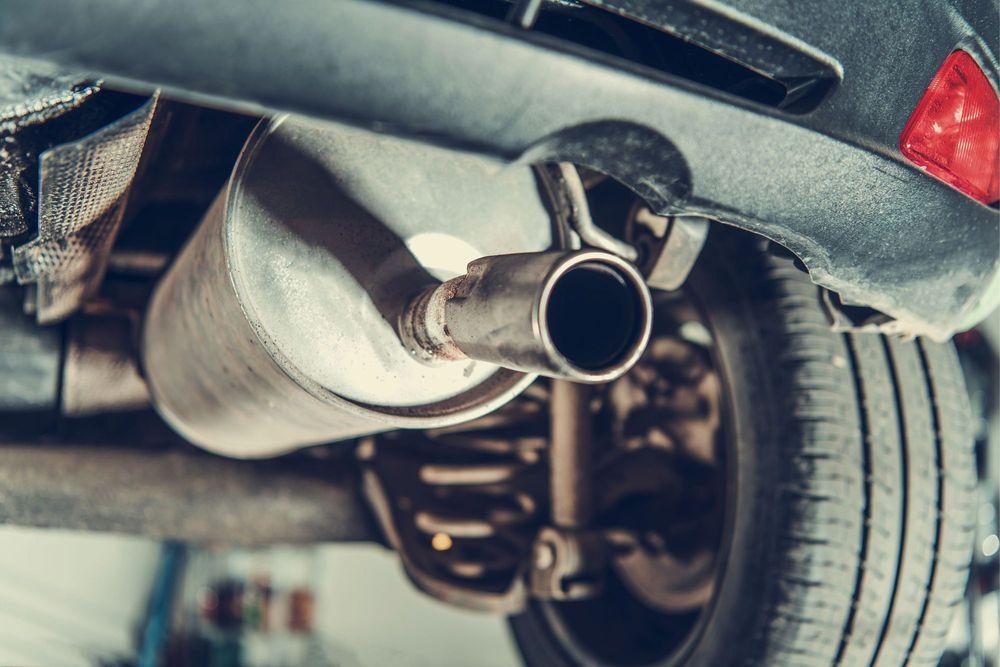 Missouri Emissions and Smog Check Requirements
In the State of Missouri, the following counties require emission testing to complete a title transfer:
St. Louis
St. Charles
Franklin
Jefferson
Emission inspection fees in Missouri vary by station, so make sure you shop around to find the best deal in your county.
All MO emissions inspection fees will include one free retest, as long as:
You do the retest within 20 business days of your initial test
You take your car to the same station where you did your initial emissions test
Emission Check Exemptions in Missouri
In the state of Missouri, certain vehicle types are exempt from smog inspections.
Cars that are 10 model years old or newer
Low-speed gasoline cars
Cars made in the 1995 model year or older, and 1996 model year or older for the diesel cars
Solar power, electric, hydrogen, or dual-fueled cars using fuels other than gasoline, diesel, E10 and E85
Plug-in electric cars
Missouri Bill of Sale
In the state of Missouri, a bill of sale (Form 1957) is required for transferring the title. A bill of sale is a legal document that acts as a receipt of the sale.
Here are the necessary elements in a bill of sale:
Your full name and signature
The other party's full name and signature
Price of the car
The make, model, and year of the car
VIN
PrivateAuto includes an official Missouri bill of sale as part of our standard in-app transaction process. At the appropriate stage in the transaction, the buyer and seller will be prompted to e-sign the Missouri bill of sale within the PrivateAuto mobile app.
The whole transaction, the bill of sale included, can be completed in minutes when you meet for the test drive and approve the car. It's easy and convenient. You won't have to keep track of all the documents: you will always have the electronic bill of sale accessible in your PrivateAuto account to prove that the transaction was legitimate.
Missouri Title Transfer Forms
You'll need to submit a transfer of title form to the Missouri Department of Revenue. A Missouri car title transfer form will require you to fill in the following info:
Your name and address
The name and address of the previous vehicle owner
The date of sale
Car mileage, condition, and purchase price
Odometer reading
Additionally, when you submit the form to the DOR, you'll need to provide the following:
Completed bill of sale (included in your PrivateAuto app)
Completed Certificate of Title
Government-issued photo ID
Missouri License Plates
Some states mandate that the seller leave license plates on a vehicle when it is sold. Missouri is not one of those states. MO DOR requires the license plates to be removed. As the buyer, you will apply to your local DOR for new plates.
In Missouri, license and registration fees are based on either taxable horsepower or vehicle weight.
Buy and Sell Cars in Missouri With PrivateAuto
Complete private vehicle transactions easily and legally with PrivateAuto. Our technology-driven platform connects buyers and sellers and gives them all the tools to complete the deal, from in-app financing to secure messaging to integrated payments. See how it works today to buy and sell your used Missouri car today!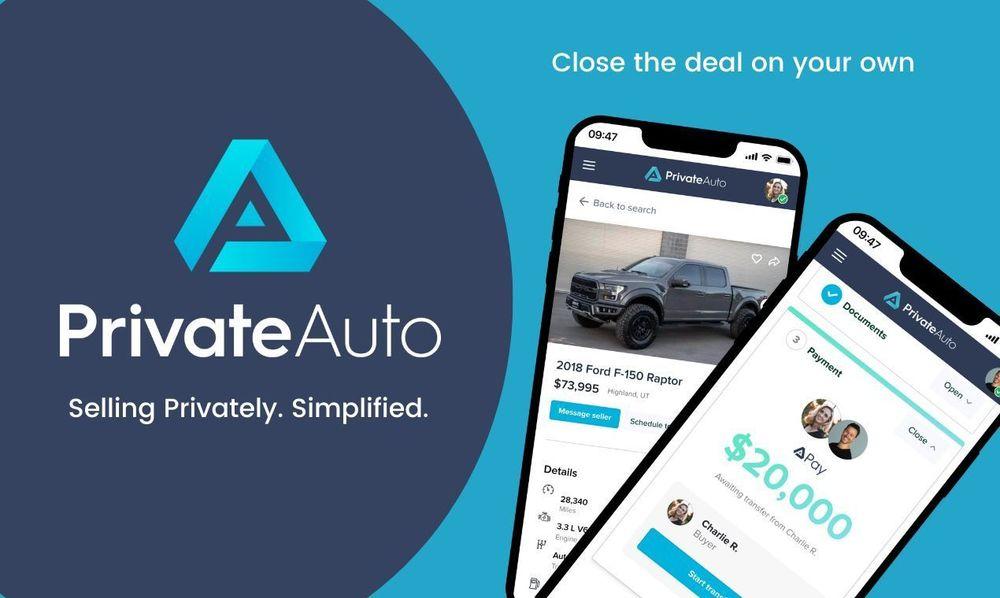 Steps for Selling Your Vehicle through PrivateAuto
PrivateAuto makes selling your used car hassle-free. The sales process consists of a few simple steps:
Gather necessary paperwork
Create your profile on PrivateAuto and get verified
List your car
Set your terms
Look through the incoming offers
Choose a buyer
Schedule a test drive
E-sign paperwork
Get paid, instantaneously
Perform a title transfer
Remove license plates
Cancel car insurance
Interested in Buying a Used Car in Missouri?
If you're looking to buy a used car, browse our used vehicles for sale in Missouri. Whether you're looking for a Ford F-105, a Chevrolet Silverado 1500, or a Tesla Model S, you're sure to find a great deal on the car of your dreams.
MO Title Transfer FAQ
How to transfer a title after a lease buyout?
After you have paid off the car loan, you will need to submit a lien release, notice of lien or authorization to add/remove a name from the title (Form DOR-4809) at your local Missouri Division of Revenue office.
How to transfer a car title when the owner is deceased?
When completing the application for Missouri title and license form, you can assign a beneficiary by name for the transfer of death. All you need to do is check the "transfer on death" box and fill out the name of the beneficiary.
If there is more than one individual named on the title certificate, you will also have to check the "tenants in common" box.
How to transfer a vehicle title when you have an out-of-state title?
If you own a car with an out-of-state title, you will need to begin a process of a cross-state car title transfer. In the state of Missouri, you will have 30 days to complete an out-of-state Missouri vehicle title transfer after establishing residency.
The following documents need to be submitted to your local MO DOR office:
The out-of-state vehicle title certificate or a registration certificate if the vehicle title is unavailable
A completed and signed Missouri vehicle title application
A valid vehicle safety inspection certificate or an emissions inspection certificate (if required)
Proof of a valid MO vehicle insurance policy
A vehicle identification number (VIN) and odometer reading inspection document
Can you transfer ownership of a vehicle without a title in Missouri?
No, you will not be able to transfer ownership of a vehicle in Missouri without a title. Apply for a duplicate title (Form 2519), if you have proof of ownership of the vehicle.
How to request a duplicate vehicle title in Missouri?
If your car title is damaged, lost, or stolen, you can apply for a duplicate vehicle title online, by mail, or in person at your local DOR office.
To receive a duplicate Missouri vehicle title, you need to:
Submit a completed and notarized application for Missouri title and license (check the box on the title application labeled "duplicate")
Provide a reason you are requesting a duplicate vehicle title
If you can, provide the damaged vehicle title (if applicable)
Provide a notarized notice of lien, lien release, or authorization to add/remove name from title (if applicable)
Provide payment for all required car titling fee
You can apply for a duplicate title in person at your local MO DOR licensing office or by mailing it to the following address:
Missouri Department of Revenue
Motor Vehicle Bureau
301 West High Street
P.O. Box 100
Jefferson City, MO 65105
Should I remove my license plates when I sell a used car in MO?
Yes, the seller must remove the vehicle's plates when selling a used car in Missouri. The buyer will need to apply to Missouri DOR for new license plates.
What is the safest method of payment when selling a MO car?
In most cases, the safest and fastest way to transfer money when selling a vehicle is cash. Until PrivateAuto Pay, that is. With PrivateAuto Pay, you can avoid the risks and hassle of other payment methods and transfer large sums of money instantly and securely.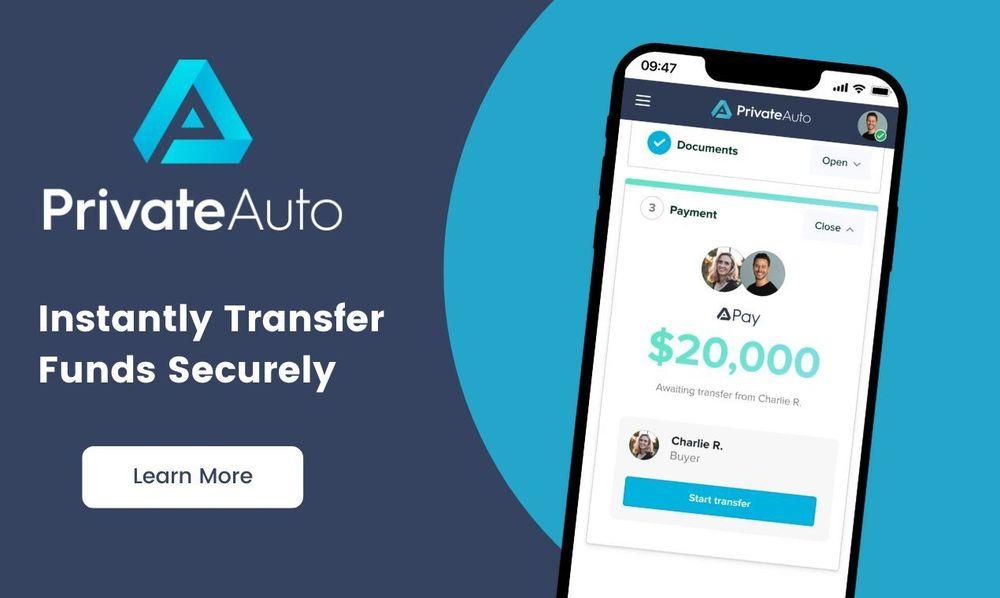 Sellers and buyers can stay safe while exchanging large sums of cash: as they don't have to share their contact or banking information during the vehicle buying process.