Transferring your car title in Arizona is a bit more tedious than in other states due to AZDOT's strict regulations. For starters, Arizona law requires that all supporting documents for a title-transfer be notarized. The stringent environmental regulations mean your vehicle will need to pass an emissions test and inspection before you can hand over the keys.
Knowing what the DOT expects of you is half the battle. Luckily, Private Auto is here to assist you with all of that.
Step 1: Address any liens
A vehicle lien occurs when a person uses their vehicle as collateral for a debt that they owe. The lender may hold your original title until the balance is paid. If you have a copy of the title, you'll see the lender named in the lien section of the title.
Liens can fall under many categories, below is a list of all the lien types that the state of Arizona recognizes.
Financial liens
When you take out a financial car lien, the lender essentially becomes the owner of the car. The borrower signs over rights to the car, and if the debt isn't paid in full within an agreed-upon amount of time, the lender can repossess the vehicle. You'll be issued either a paper or electronic title once the debt is satisfied.
Operation of Law liens
According to the AZDOT website this type of lien, "can be placed on the vehicle record that prevents the title from being transferred to a new owner until those fines/fees are paid."
Child support liens
Child support liens are similar to the Operation of Law liens, but occur when the vehicle owner is behind on child support payments.
Criminal Restitution Liens
This type of lien occurs if a judge orders you to pay for damages caused by involvement in the commission of a crime. Criminal Restitution Liens can be filed either by the court or by the victim to settle the debt until the restitution is paid off.
How to remove a lien from the title
Arizona DOT requires a notarized release form and the original receipt for each lien before the vehicle can be sold or gifted to another individual. Once you've paid off any outstanding debt, the lien holder will submit the information to the DOT either electronically or by mail.
When will I receive my title after I pay off my lien?
If the company submits the documents by mail, the Motor Vehicles Dept. will send you a paper title in the mail within 30 days. If the lienholder files electronically you won't be issued a paper title but the DOT database will be automatically updated to show change of ownership. You'll still need to request a physical copy of the title from the MVD to transfer the vehicle to another person when selling or gifting a vehicle.
Step 2: Fill out a lot of paperwork
You'll need to fill out and submit a few different documents to the DOT to finalize your title transfer. If you're selling the vehicle, you'll need to draft a bill of sale with the party's information, the vehicle description, car mileage, vehicle identification number, and signatures of all parties and a notary.
If the car has a co-owner or is being transferred to two people, the bill of sale and any additional documents should include their information and signatures, as well. Vehicles with co-owners are ineligible for an e-Title.
The new owner of the vehicle must fill out a Title and Registration Application for the state of Arizona to register it in their name. The seller or gifter must also hand over the notarized vehicle title with their signature on the back, to the new owner.
If the owner has passed or is unable to sign these documents, a power of attorney document or personal representative papers may also be needed.
The AZDOT website states that when transferring a vehicle with a current lien, "written permission from the lienholder/lender will be required to add or delete a name."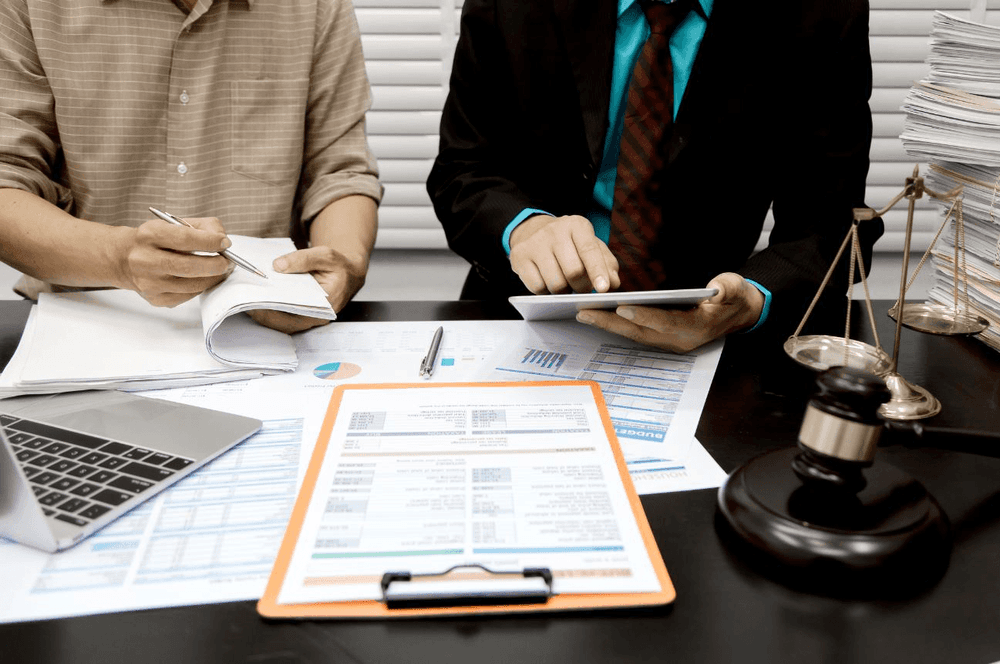 Step 3: Pay a visit to a notary public
When you transfer a car title in Arizona everything has to be notarized. Arizona law requires paper titles, lien release forms, bills of sale, and title-transfer documents all to be stamped and signed by a licensed notary. If you fail to have these supporting documents notarized they won't be accepted by the AZDOT.
Finding a local notary can be time-consuming, but it isn't expensive. According to the National Notary Association, the maximum notary fee for the state of Arizona is $2 per signature.
Step 4: Schedule a vehicle inspection
Arizona law mandates that all vehicles over 5 years old have an annual emissions test at a designated inspection facility. The Arizona Dept. of Environmental Quality (ADEQ) states cars will receive automatic fail if the check engine light is on.
The ADEQ website suggests you either repair the issue prior to the inspection or apply for the Voluntary Vehicle Repair Program if you can't afford a mechanic bill. The Voluntary Vehicle Repair Program helps those with a limited income to make the repairs needed to get the car up to code. Visit this website to see if you're eligible for financial assistance.
Step 5: Pay all registration fees and taxes
As with most things involving the Dept. of Motor Vehicles, you'll have to pay some filing fees to finalize the process. You can expect to pay $4 for the title and another $8 to register the vehicle (it's an extra dollar for motorcycle registration.) If you're registering a commercial vehicle, you'll be subjected to an additional fee based on the vehicle's weight and a higher registration rate.
You'll also be charged a $1.50 emissions testing fee and a $32 public safety fee. According to the AZDOT website, the Public Safety Fee helps support Highway Patrol operations. Instead of a personal property tax like in most states, Arizona has an annual "vehicle license tax" to help with the cost of road maintenance. This rate depends on the retail value and age of the vehicle.
Vehicle license tax rate explained
The AZDOT factors this rate by taking 60% of the retail value and subtracting a 16.25% depreciation rate for each year after it was first registered, the number left over is the adjusted value. The used car tax rate factors out to $2.89 for every $100 of the adjusted value. For instance, the tax rate for an $18,000 car will be $302.40 for the first year and $261.40 for the second year.
What if the title is issued from a different state?
Transferring an out-of-state title involves a few extra steps since Arizona's environmental regulations are more rigorous than most other states.
Depending on which state issued the title, you may need a Level 1 vehicle inspection. If for some reason your out-of-state title or registration card is missing, you'll need an inspection regardless of where the car is registered.
The inspector will document the VIN and mileage and make sure the car is up-to-code. Before you head to the inspection site, make sure you have your driver's license, proof of ownership, and invoices for any mechanical work done on the car. If you live in the Phoenix or Tucson area and your car is 5 years old or more, you'll need to submit an Emissions Compliance Form too.
Arizona guidelines require transferors to turn in their out-of-state license plate, either at a DOT office or authorized third-party location when filing a title-transfer.
Transferring a vehicle with an e-Title
For most people, an e-title transfer is more convenient than acquiring a paper title, since the process is done entirely online.
You may be eligible for electronic title transfer if:
you're transferring a passenger vehicle
The car is titled and registered in Arizona
There are no co-owners involved
Here's a comprehensive list of all the e-title transfer requirements.
If you choose to go the e-Title route, you won't receive a paper title at all, though you can pay the fee to request a paper copy, if you need it. Due to high customer volumes, AZDOT has started limiting in-person office visits and are instead encouraging customers to file paperwork at designated 3rd party offices. Use this map to find your nearest third party location.
Interested in selling your car with no hassle? Try PrivateAuto
PrivateAuto makes it easy to sell your car privately and close the sale on your own.