You want to get the most money with the least amount of stress when selling your used car. One popular method is to trade-in your vehicle at a local dealership. In many states, you can receive a tax time credit for a trade-in. Weigh the pros and cons of tax time credits vs. private sales to see how you can get the best price for your used car.
Trade-in Tax Credit
A trade-in is a convenient method for both you and your local dealer. When you bring a vehicle to a dealer, they inspect it to determine the value they can receive on their lot or when selling your car wholesale. You'll be given a trade-in value that can count toward your new or used car purchased from their lot.
Before PrivateAuto made selling an old car easy, this was a popular choice for many used car owners looking to make a quick sale. During a trade-in, you drive to a dealer with your old vehicle and drive away with the one you want. In most states, you can also receive a tax credit for trading in your car.
How Credits Are Calculated
It's important to understand the calculations on trade-ins before choosing this option. As long as your state and sale qualify, you can receive a sales tax credit on the net cost of your vehicle.
When you offer a vehicle for trade and purchase another vehicle, your new vehicle is typically worth more. You won't have to pay sales tax on the offered trade-in value of your old vehicle in a participating state.
If a dealer offers you $10,000 to put toward a $25,000 vehicle, then you will only pay sales tax on the remaining $15,000 of the new vehicle. If you live in Utah and have a sales tax rate of 4.7%, then you'll save about $470 on the sales tax of the transaction.
States With Tax Time Credit Opportunities
Not every state offers this opportunity. See if your state offers a trade-in tax credit before making your decision to trade in your used car. It's worth checking out the tax rate in your state and local area as well, as a lower rate may not make this credit a major factor in your selling decision.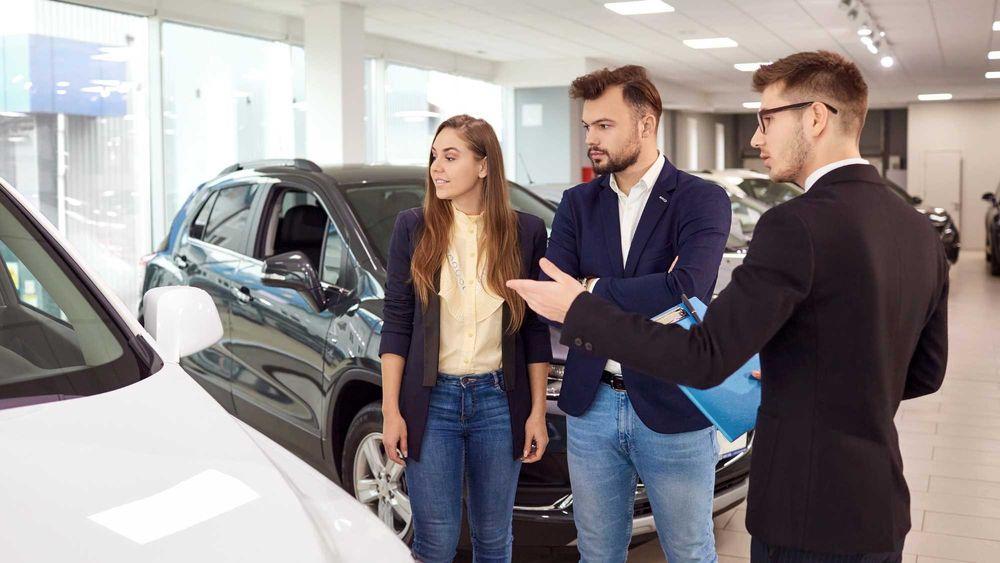 Tax Time Credits vs. Private Sales
No one wants to pay more in taxes, so any tax time credit is a great bonus when selling a car. The above example, however, only saved you $470. In many cases, you may earn more in a private sale than you would save with this tax credit and the trade-in value. Explore the benefits of trading your vehicle or selling it on PrivateAuto to see how you can get the best value out of the sale.
Benefits of Trading in a Used Car
When your goal is to sell one car and buy another, trading in your ride is a convenient way to go. You don't have to schedule a test drive, negotiate an offer or work with a buyer to receive a reliable payment.
Working with a dealer helps you avoid mistakes when selling your car to a private buyer. You'll be working with a friendly sales representative the entire time.
Compare this with the stress of selling a car on Craigslist and you'll see why trading in a vehicle is a popular option. Your dealer will probably be quick to point out the tax time advantages of a trade.
The alternative of a trade is selling your car privately. Here are the basic steps you need to take to complete a private sale:
Advertise your vehicle.
Schedule test drives with prospective buyers.
Negotiate the price.
Sign necessary paperwork and receive payment.
Most private sales are to strangers, so you need to be sure you and your vehicle are safe throughout every step. You aren't working with a car dealer, so you need to make the effort to advertise your car to local buyers.
Once a buyer reaches out to you, it's important to schedule a safe place to have them test drive your vehicle. A dealer has a garage to inspect your ride before a trade-in, but a private buyer will want to kick the tires and drive around the block before making an offer.
Depending on the buyer, the negotiation process can be difficult to handle on your own. You'll need to weigh prices and, potentially, field offers from multiple buyers. This can become chaotic if you don't have a system in place to manage all your offers.
Finally, you need to understand the necessary paperwork and the risks of receiving payments from a private buyer. A cashier's check, cash, personal check and other forms of payments all come with risks of fraud.
Benefits of Private Sales
Of course, you're paying for the convenience of working with a dealer. According to the LA Times, you can earn more on a private sale than a trade-in. A car that was only valued at $13,000 could sell for up to $14,500. Even the added sales tax can't beat that higher price.
Compared to trade-in values and a Kelley Blue Book Instant Cash Offer, a private sale has the potential to give you far more. A $470 tax credit may sound appealing, but if you can sell your car for an extra $1,000 or more, then a trade-in may not sound like such a great deal.
Selling privately allows you to negotiate prices and work with multiple prospective buyers to get the best price. Take advantage of a hot market and see how much your vehicle is really worth.
If you work with an online listing service that offers secure transactions and electronic signing, many of the risks of a private sale disappear. You won't have to worry about losing a payment, receiving a bad check or investing heavily in local advertising when you sell privately through an online listing service.
Take the Stress Out of Sales With PrivateAuto
With PrivateAuto, you can enjoy a competitive price for your used vehicle without the stress of a private sale. Create a listing today to see how you can quickly connect with motivated buyers on a secure platform. Enjoy the convenience of a one-stop selling experience without the lower price of a trade-in.