What Is a Bill of Sale For a Car?
A bill of sale is a document that confirms a sale agreement. It's a legally binding document that shows you've transferred ownership and the new owner is responsible for the vehicle.
When you sell a car privately, a bill of sale may be the only document you retain that proves you've transferred possession to a new owner.
While the specifics of a bill of sale can vary, here are some key features that yours should include as a proof of purchase:
Vehicle information, like make, model, and year of manufacture
Vehicle identification number
Current odometer reading
Buyer's signature and name
Seller's signature and name
Buyer's address, city, state, and zip code
Date of sale
Purchase price
Terms and conditions
Notarization, if required by your state
There are other items that you could put on the bill of sale for added clarity. For example, some sellers include a more detailed description of the vehicle to avoid any confusion or disagreement about its current condition. Some also include the payment method and their own mailing address if the buyer needs to ask any questions or forward any information.
Other sellers choose to include more specific information about a warranty, or lack of warranty, and any financing included in the sale. Consider having your document notarized by a notary public to verify the buyer's name and signature.
Think of these documents as official receipts for the private transaction. Signing the title is a legal requirement to transfer ownership, but you can't refer to a signed title after you give the certificate of title to the new owner.
It's also a way to confirm that you're selling the vehicle "as is." This means you aren't giving the buyer any warranty of the condition. In the event that the vehicle has a major breakdown or some other unforeseen issue, a bill of sale helps protect you from being liable for the damages.
Be sure you verify the make, model, and other information on the bill of sale, as well as the odometer disclosure statement. Failure to do so could result in the penalty of perjury and jeopardize the sale agreement.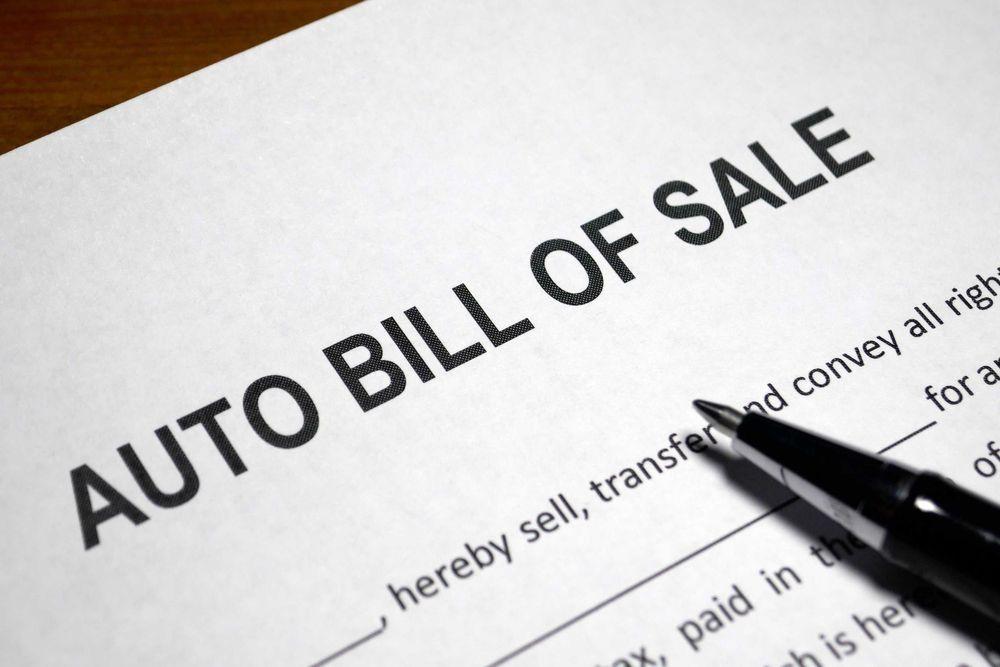 When a Bill of Sale Is Required
Some states require a bill of sale for any valid sale of a vehicle to a private party. Verify any state requirements with your local Department of Motor Vehicles or DMV. Some DMVs also require any bill of sale to be notarized.
Laws may change in your state, so be sure you've reviewed the latest laws. An online listing service can help you determine which documents are necessary for your location. This takes the stress out of contacting your local DMV and reviewing any recent changes to state or county laws.
Bills of sale are legally required in the following states:
Alabama
Arkansas
Colorado
Connecticut
Hawaii
Idaho
Maine
Nebraska
New York
Ohio
Rhode Island
South Dakota
Vermont
Washington
West Virginia
Wyoming
In many cases, a bill of sale is used to transfer ownership of a car, boat, or other vehicle. In some states, the bill of sale must be notarized in order to be considered valid. This means that a notary public must witness both parties signing the document.
Louisiana, Nebraska, Maryland, New Hampshire, West Virginia, and Montana all have this requirement. Even if your state doesn't mandate a notarized bill of sale, it may still be in your best interest to create one.
A motor vehicle power of attorney form is a prior written authorization for another person to represent you in legal matters concerning your car. This could include things like buying or selling a car, transferring ownership, or making changes to the registration.
The person you appoint as your agent will have different levels of authority depending on what you specify in the power of attorney form.
For example, you could give your agent broad authority to handle all matters related to your motor vehicle, or you could limit their authority to a specific task. You should only appoint someone you trust to act in your best interests, as they will have a great deal of control over your motor vehicle.
Be sure to read the power of attorney form carefully before signing it, and make sure you understand all of the implications. If you have any questions about what kinds of authority you can give your agent, you should consult with an attorney who can provide legal advice.
Benefits of a Bill of Sale Form
This document can still be beneficial even if you don't live in a state that requires it. You can enjoy greater legal protection and convenient registration when you use a bill of sale form. It also can give you peace of mind, knowing that you're clearly selling the vehicle in its current condition and not offering any warranties.
Where can you find a bill of sale? While you can create your own document or hire a lawyer to draft one for you, a bill of sale template is a convenient alternative. Use a bill of sale form for a free alternative that's already set up for your state.
Dangers of Not Signing a Bill of Sale
Delay or failure to sign this legal document may cause significant issues for you and the new owner of your vehicle. Whether you're selling on Craigslist or selling to a family member, not signing a bill of sale could result in a number of issues.
Without a Bill of Sale, the buyer may claim that they never received the car, or that it was damaged when they took possession. The seller may also be held liable for any loss or damage that occurs after the sale.
Don't wait until after the sale is over to discover you need to meet the buyer again to fill out a bill of sale for legal title transfer in your state.
First, this legal document helps the new owner confirm the current state of the vehicle. You'll be less likely to have any disagreements about the condition of the vehicle, its odometer reading, or other features of the sale when you have a signed bill of sale.
It helps the owner quickly fill out a registration form since most of the required information for vehicle registration is right on this document. This saves them time and helps them avoid stress as they head to a local DMV to have the vehicle title transferred and registered.
Second, a bill of sale helps you legally sell your personal property in many states. States that require this document may also have fines or restrictions if you attempt to sell a vehicle without the proper paperwork.
Finally, failure to sign a bill of sale can result in you or your insurance provider being at risk for any accidents, parking tickets, or other issues that the new owner is involved in. If you sell a car and the buyer doesn't transfer the title and register the vehicle, then your registration is the only one on file for the vehicle. You'll have to dispute any ticket or lawsuit and there isn't a guarantee you'll win.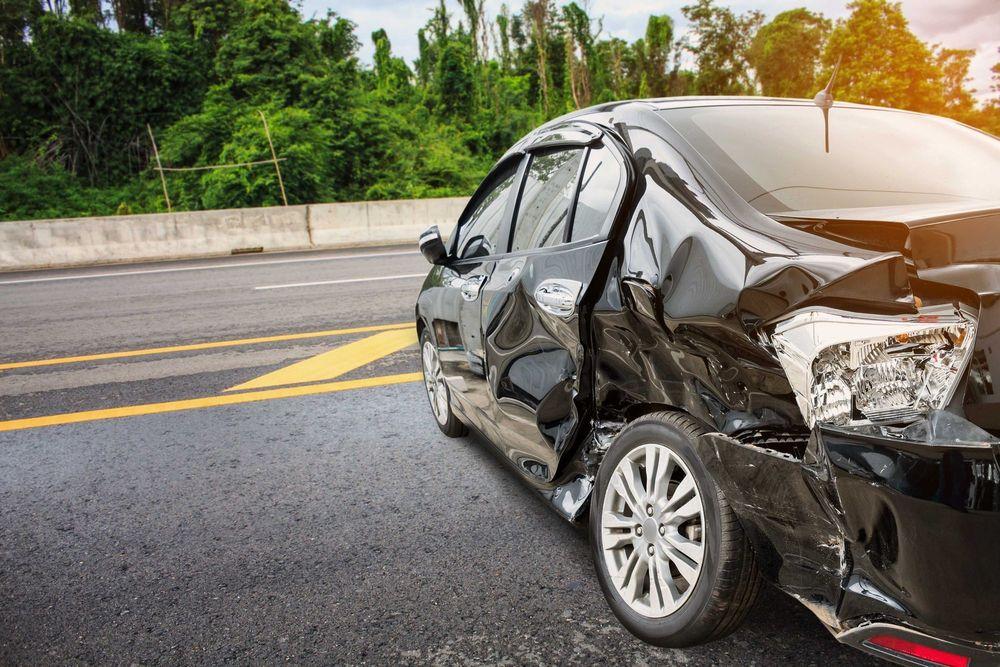 Why Use an Electronic Bill of Sale Template?
Printing out a paper document and obtaining a signature from the buyer is a time-consuming process. You'll spend your time finding the right agreement template and filling in the relevant information.
An electronic bill of sale, on the other hand, can be immediately shared with a buyer, who can then e-sign the document.
Sign Your Documents Electronically With PrivateAuto
PrivateAuto offers an electronic bill of sale template for simple signing and legal transactions. See how it works today as you prepare to list your vehicle or wrap up a private sale the right way.
Experience the PrivateAuto Advantage
Avoid scams, keep personal information private, and guarantee funds with PrivateAuto. Fast, convenient car transactions. Get started today.
Steps for Selling Your Vehicle through PrivateAuto
PrivateAuto makes selling your used vehicle easy. The sales process consists of a few simple steps:
Gather necessary documentation
You'll need your vehicle title and other paperwork discussed above. Have it handy, so you're not scrambling to find it at the moment of completing a sale.
Register on PrivateAuto and get verified
To make PrivateAuto a safe place for everyone, we require email, phone, and driver's license verification, including facial recognition. Get started here.
List your car
Easily create your PrivateAuto listing with our step-by-step guide. Bonus: we include a window brochure with a QR code scannable to your listing.
Set your terms
It's your car, so you drive the deal! You can control where, when, and who you meet. Decide whether to accept only ID-verified buyers, or buyers with verified funds. Don't waste your time with buyers who aren't verified to your preference.
Vet incoming offers
Manage offers in one place with the ability to accept, reject, or counter offers within the app. Listing on multiple sites? Filter all communications through PrivateAuto by sharing your listing link on all platforms. Your personal info is protected: no more giving out your phone number or email address. All communication happens in our app.
Choose a buyer
When you find an offer you like, accept it and proceed to the next step with that buyer.
Schedule a test drive
The buyer will want to test drive your car. No more back and forth texts. You never have to give out your phone number. Rather, use our handy scheduling feature to coordinate a time and place for a test drive. (Oh, and you'll be able to finalize the transaction instantly at the test drive location, FYI.)
E-sign documents
After the buyer is satisfied with your car and the two of you have agreed on a purchase price, you can easily e-sign the Bill of Sale within our app, from your phone. With our shared documents feature, you can easily locate the vehicle paperwork needed after the sale.
Get paid, instantly
Before PrivateAuto, receiving funds was the most stressful part of the entire selling process, especially for any used car sale over $5,000. There just aren't a lot of good ways to move large amounts of money quickly and conveniently. Those days are over! Verify and receive funds instantaneously with PrivateAuto Pay, our innovative banking integration. Guaranteed funds for transactions large and small.
Transfer title
When you sell your vehicle, fill out the necessary information on the back of the title transfer document to transfer the title to the buyer.
License plates
In some states, you'll remove your license plates, while in other states you'll leave them on and let the buyer take them with the car. See our complete guide to vehicle license plates for more.
Cancel car insurance
You don't want to pay for insurance on a car you no longer own, so be sure to remove the sold vehicle from your insurance plan.
Interested in buying a used car? Browse used vehicles for sale!
How do you write a sales agreement?
A Sales Agreement, sometimes called a Sales Contract or Purchase Agreement, defines the terms of a transaction between a buyer and a seller. This agreement sets forth the rights and obligations of both parties, including such things as the price of the item being sold, any warranties or guarantees that are being made, and when and how the item will be delivered.
Example of a Purchase Agreement template
The following text represents a typical sales or purchase agreement.
"This agreement is made between the parties on the date of [insert effective date], and sets forth the rights and obligations of both parties with respect to the sale of [goods] ("the goods") by [Seller] to [Buyer].
The provision of this agreement is that the price of the goods being sold is $[amount], and [Seller] hereby warrants and guarantees that the goods will be delivered in accordance with the terms of this agreement.
[Buyer] agrees to pay this amount within [time period] days of receipt of the goods. If, for any reason, [Buyer] is not satisfied with the goods, [Buyer] may return them within [time period] days for a full refund.
This agreement constitutes the entire agreement between the parties, and any modifications must be made in writing and signed by both parties.
This agreement shall be governed by the laws of the State of [STATE]. Both parties hereby agree to submit to the jurisdiction of the courts located within [STATE].
In the event that any portion of this agreement is found to be invalid or unenforceable, the remaining terms shall remain in full force and effect. This agreement constitutes the entire agreement between the parties, and any modifications must be made in writing and signed by both parties. By signing below, both parties agree to be bound by the terms of this agreement."
A Sales Agreement is typically used when selling physical goods—for example, a used car—but it can also be used for services. When drafting a Sales Agreement, it is important to be clear and concise in order to avoid any misunderstandings later on. Both parties should read the agreement carefully before signing it, and each should keep a copy for their records.
With a well-written sales agreement in place, both buyers and sellers can rest assured that their rights will be protected in the event of any problems.
How do you write an agreement between a buyer and a seller?
Any contract or agreement between a buyer and seller should state the specific terms of the sale, including the price, quantity, and delivery date. In addition, the contract should identify the parties involved by name and address.
It's important to have a written agreement so both parties can avoid misunderstandings and ensure that their interests are protected. Having a contract in place helps to protect all parties—whether a private individual or business—and ensures that everyone knows what to expect.
When drafting an agreement, it is important to begin with a clear statement of the purpose of the document. The agreement should also specify what rights and responsibilities each party has during the transaction.
For example, the buyer may be responsible for obtaining any necessary permits or approvals, while the seller may be required to provide clear title to the property.
In order to avoid future disputes, it is important to include a section detailing how any disputes will be resolved. This could include an arbitration clause or a provision for mediation. The agreement should also state which state's laws will govern the transaction.
By taking the time to create the entire agreement in detail, both sellers and buyers can protect themselves from potential problems down the road.
It is always advisable to have a lawyer review any contract before it is signed.
By taking these steps, you can help to ensure that your agreement is legally binding and will hold up in court if necessary.
With PrivateAuto, the sales agreement, or bill of sale, is handled via our mobile app. Both parties can sign the bill of sale electronically, making the process quick and easy.
How do I write a letter of agreement?
With PrivateAuto, you don't need to: the bill of sale is built into our in-app transaction process. However, if you're needing a letter of agreement for some other type of transaction, here are a few guidelines.
When you need to formalize an agreement between you and another person or party, the best way to do it is with a letter of agreement. This document should include all the important details of what you're agreeing to, so that there's no misunderstanding later on.
Start by titling the document "Letter of Agreement." Then list your personal information at the top, including your name, address, and contact information. Include the date underneath. Then add the recipient's personal information, including their name, address, and contact information.
Address the recipient by name. In the introduction paragraph, briefly state what this agreement is for. For example, "This agreement is for housekeeping services to be provided twice per week at 123 Main Street."
In the body of the letter, go into more detail about the services being provided, any fees or additional costs that may apply, the timeline for when the services will be performed, and terms of payment. For example: "I agree to provide housekeeping services twice per week at 123 Main Street. The fee for these services is $100 per week, payable in cash at the end of each week. Services will begin on Monday, January 1st and continue for 12 weeks." Be sure to include any other important details that both parties should be aware of.
Conclude the letter with a polite sentence thanking the recipient for their time and attention. Then sign your name beneath it. Once both parties have signed and dated the letter of agreement, it becomes legally binding. Make sure to keep a copy for your records.
When you're ready to buy or sell your next car, PrivateAuto makes the bill of sale process easy with our in-app walkthrough process that allows buyer and seller to e-sign from their mobile phones.
What is an agreement with an example?
An agreement is a legally binding contract between two or more parties. For an agreement to be enforceable, the parties must have the legal capacity to enter into a contract and must exchange something of value, known as consideration.
For example, when you purchase a car, you and the seller are entering into an agreement. The seller is promising to transfer ownership of the car to you, and you are agreeing to pay the purchase price.
This is all reflected and contained in the PrivateAuto app, in which buyer and seller each go step by step through each part of the transaction process, including agreeing to the purchase price, signing the Bill of Sale, and more.
What are some examples of agreements?
Different business scenarios require different types of contracts to address specific business needs. There are many different types of legal agreements, each serving a particular purpose.
A sales agreement is needed if an individual is selling a product or service. This contract will outline the terms of the sale, including the price and any warranties or guarantees. You can use a free sales agreement template which can be easily customized to fit your needs. A sales agreement sample can be found online.
A payment agreement is a contract between two parties in which one party agrees to make regular payments to the other party over a certain period of time.
A commission agreement is needed If a business is commissioning another individual or business to provide a service. This contract will specify the terms of the commission, including the amount of money that will be paid and when payment is due. There are a number of downloadable templates available online, so it's easy to get started.
Partnership agreements are necessary for businesses that are entering into a partnership, as they outline the roles and responsibilities of each partner.
A real-estate purchase agreement is used when buying or selling property, and loan agreements are used when borrowing or lending money. The real-estate agency agreement outlines the terms of the sale, including the price, the down payment, the loan terms, and any other conditions of the real estate purchases.
An agreement to sell contract is often misunderstood. People often confuse this with a sales contract, but there are subtle yet important differences between the two. An agreement to sell is a binding contract in which one party agrees to sell a piece of property to another party at a future date. The key difference is that the agreement to sell does not transfer ownership of the property immediately; rather, it sets up a schedule for the transfer of ownership within a specified number of days from the date of signing. This can be useful in situations where the buyer needs time to arrange financing or the seller needs time to find a new home.
A sales agency agreement is a contract between two companies, in which one company agrees to sell the products or services of the other company. This type of agreement is often used when one company specializes in sales and marketing, and the other company wants to tap into that expertise. The sales contract template should include a clause that outlines the terms of the agreement, including the commission structure and any geographical restrictions.
A LLC operating agreement is used by limited liability companies to establish ownership interests, roles, and responsibilities of members. The LLC operating agreement sets out the percentage of ownership interest held by each member, as well as how the company will be managed and run. There are many online resources where you can find a LLC operating agreement sample.
A confidentiality agreement (also known as non-disclosure agreement) is used to protect sensitive information from being shared.The agreement sample outlines the confidential information that the employee is not allowed to share with anyone outside of the company, as well as the consequences for breach of contract.
A loan agreement would be used in a situation where an individual or business is borrowing money from another party. There are many different contract templates available online, and it is important to choose one that is appropriate for the situation. A loan agreement is a legally binding contract, and it is important to consult with an attorney before signing.
A consignment agreement is a contract between two parties in which the parties agree that the owner of certain goods will store and sell those goods on behalf of the other party.
A separation agreement would be used in a situation where two parties are ending their relationship. In each of these scenarios, the appropriate contract must be drafted in order to protect the interests of all parties involved and mitigate the risk of loss to each.
Lease agreements are contracts between an individual or business and a landlord, in which the individual or business agrees to rent property from the landlord.
A business agreement is a legally binding contract used to formalize relationships between businesses. This type of agreement can cover a wide range of topics, from joint ventures to prices and payments to supplier agreements. A business agreement can be used during a business purchase—merger or acquisition—or during the formation of a new venture.
A bill of sale is an agreement specific to a vehicle trading ownership from one party to another. PrivateAuto makes private vehicle sales easy by bringing the entire transaction process—including e-signing the bill of sale—into our intuitive application.